Despite giving up 35, 35, 59, 45, and 45 points in the last five games, the Wahoos have an experienced defensive line that gets into the gaps and shoots up the field. This poses a tremendously challenging matchup for a Virginia Tech offensive line that has excelled against base looks, but has struggled with communication on stunts and blitz pick ups against variable fronts that are more interested in getting up field and creating chaos instead of maintaining gap control. If the Hokies can't control the Virginia defensive line, a Virginia offense that stays committed to running the football can score enough points to pull off a major upset in Charlottesville.
Defensive coordinator Jon Tenuta utilizes a 4-3 scheme, often eagling right defensive tackle Brent Urban on the inside eye of the left guard.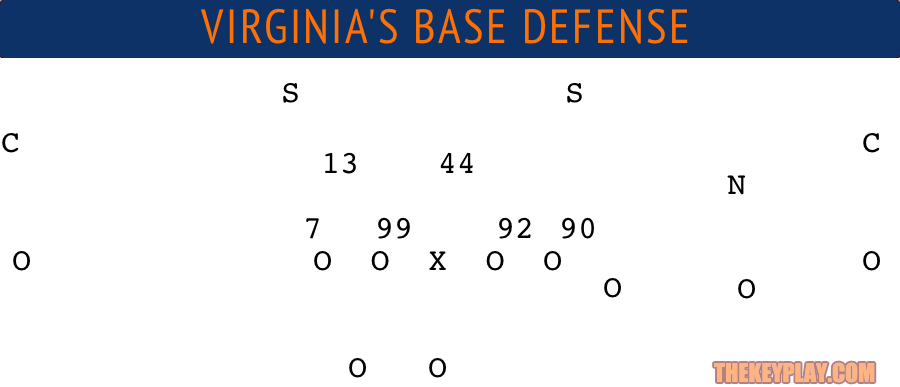 Everything I have read about Tenuta is that he LOVES to blitz. I don't necessarily see that reflected on film from his first year at Virginia. Yes, he blitzes on third down in obvious passing situations, but I think that Tenuta leans heavily on his front-four to be disruptive on early downs and create third-and-long situations. Tenuta wants his front-four in the backfield and disrupting the timing of the offense. They shoot gaps and take risks to create second- and third-and-long situations. To cover for the seams created by the defensive line's aggressive posture, Tenuta leans heavily on using an Inverted Cover 2 in his secondary. The Inverted Cover 2 has his safeties (who usually align 7-10 yards off the line of scrimmage) coming forward to play zones in the short flat, while his corners fall back to play as deep Cover 2 safeties. Since his safeties are coming forward at the snap, they can look into the backfield, identify the run, and provide additional support for the linebackers.
UVA's secondary could be the reason that Tenuta has not blitzed as much this season. The Hoos best corner, Demetrious Nicholson, is out for the season. True freshman Tim Harris has struggled as Nicholson's replacement at boundary corner. Tenuta will also be without the service of outstanding safety Anthony Harris, who is suspended for the first half of Saturday's game after being flagged for targeting against Miami.
He also has an outstanding defensive front. Eli Harold, a heralded former five-star recruit at 6-4 230 pounds, plays right defensive end and can be a disruptive force with his first step off the edge. Left defensive end Jake Snyder is a senior. He is big at 6-4 270 pounds and has an uncanny knack for absorbing double teams, leaving linebackers free to scrape to the football. Defensive tackle David Dean is a stout three-technique tackle who is very strong at the point of attack while backup defensive end Mike Moore could start at many ACC programs.
Tenuta's ace in the hole is senior defensive tackle Brent Urban. Urban is a 6-7, 295-pound monster at defensive tackle, and he is a bull in a china shop when he lines up as a one-technique defensive tackle. Urban missed a good portion of the season with a leg injury, but in only five full games, he has 9.5 tackles for a loss. While the numbers are impressive, his real value is the chaos he creates in the backfield to disrupt the running game. He can either tie up multiple blockers by absorbing double teams, but he creates the most chaos lining up inside of the guard and getting into the backfield.
The following is a typical Urban play. Here, Miami runs a zone stretch on a 3rd-and-short. UV uses a five-man front, with Urban lined up in the gap between the center and left guard. Harold is lined up over the tackle, and the outside linebacker is on the line of scrimmage head up on the tight end.
00:33:46–00:33:54
The Miami center is responsible for reach blocking Urban. Urban uses his quickness to beat the Hurricane center up field, and then uses his strength to avoid being pushed laterally. He gets nearly four yards into the backfield, almost grabbing Dallas Crawford for a huge loss. Unfortunately for the Hoos, the UVa outside linebacker gets sealed inside, and their defensive backs and middle linebacker takes a poor pursuit angle. Crawford bounces outside of Urban and Harold (who gets deep into the backfield but loses outside leverage) and ends up with a nice gain.
Urban is good at the point of attack, but he is almost impossible to scoop block on the back side of plays. Here, Miami tries to scoop him with their left guard on a zone stretch away from Urban. The film speaks for itself.
00:50:05–00:50:15
If Virginia Tech wants to have success in the running game, they must contain Urban. He will be matched up all day with Caleb Farris and David Wang. If the Hokies run zone plays from under center or from the pistol, it puts tremendous pressure on both Wang and Farris to keep their feet and keep a body on Urban. He will get up field, but if Farris and Wang can keep contact on him, he can get too much separation from his teammates and that creates cutback lanes inside. Body position is critical. The Hokies could mix things up and use double teams and down blocking to direct Urban away from the play. His own aggressiveness would work against him. But, if the Hokies have to try to reach Urban, Farris and Wang must get their head on the right side of Urban and keep their feet moving. If they can get good position, it creates lanes where the back can cut even if Urban gets into the backfield.
Here, Miami has a first and goal. They run the stretch play to the left. Urban is lined up as the nose.
02:08:36–02:08:45
The Hurricanes' center gets his head to the left of Urban at the snap. Urban gets into the backfield, but the center has his body in between the big tackle and the ball carrier. Urban can't flatten out to the sideline to make the play. The Miami tailback is patient, works to the outside, and when the edge gets sealed, he strolls in for a touchdown with Urban lagging behind. This is a huge challenge for the Hokie interior linemen, but they have improved so much since last season that I think they can contain the monster.
On obvious passing situations, Tenuta gets more aggressive. He often brings five defenders, mixing up his safeties and outside linebackers on the edge with stunts by the defensive line.
Note, he RARELY blitzes middle linebacker Henry Coley. Rather than bringing the house, he prefers to overload one side and make the offensive line make a mistake in calling their protections. Behind the blitz, he often incorporates soft zones, usually with a three deep man under zone.
Here against Duke, Tenuta dials up an outside linebacker blitz, coupled with a stunt that outnumbers the blockers to the left side of the Blue Devil line. Behind it, UVA inverts their free safety to take a short zone and confuse the quarterback, but the Hoos still have three deep coverage. Let's take a look.
00:29:31–00:30:00
The play starts with alignment. Outside linebacker Demeitre Brim aligns wide, almost like he is going to play head up on the receiver. As the Duke quarterback finishes his pre-snap read, Brim sneaks to the edge. Duke correctly rolls their protection left. At the snap, the defensive tackle (Snyder here, but normally Urban) stunts off the outside shoulder of the left guard. If he can defeat a reach or scoop block, it forces the running back to bounce outside, which allows the UVa safeties and linebackers more time to read the play and pursue.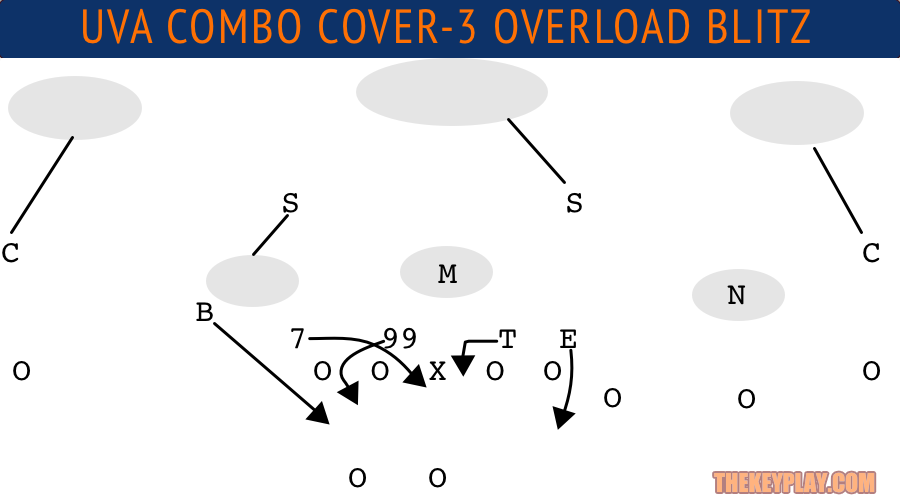 The guard goes with him, and Snyder also "picks" the left tackle. Eli Harold loops to the inside and uses Snyder as interference, then shoots in the space evacuated by the left guard. Snyder gets free as the tackle leans outside to intercept Brim on the stunt. Behind the stunt, the Hoos are playing a soft cover three zone, but it appears that the Duke quarterback is surprised that the UVa safety was in the short zone and almost throws an interception. Harold's quickness coupled with Snyder sacrificing himself to create a pick makes the play effective, and UVA still has a safe defensive look behind it to prevent a big play.
On long down and distance situations, Virginia also used some two down-linemen fronts, with Snyder moving inside and two stand up defensive ends.
02:04:13–02:04:21
Those oddball fronts gave the Hokies fits against Maryland and Boston College. I expect Tenuta to use more of them if they get the Hokies in 3rd-and-long.
There are a couple of ways the Hokies can damper Tenuta's ability to blitz. Most importantly, they need to run the football effectively and Scot Loeffler has to show his o-line that he trusts them enough to run the ball. If they can win some early battles up front the offense will feed off that success. The option game disappeared against Maryland, but I bet we see more of it (especially the inverted veer) this week as the option prevents defenses from blitzing. Also, running the football makes misdirection and play-action more effective. UVa struggled to contain the edge against Miami, and with their soft zone some crossing routes will get open underneath. Forcing Urban and friends to move sideline-to-sideline will wear them down, and the Cavaliers have very little depth at the tackle spot. Second, the Hokies need to mix in some throwing on first down. UVa's corners play very soft, and quick curls and out patterns will be open for chunks of 5-10 yards. I would like to see D.J. Coles get some plays aligned wide, where he can use his physical strength on the boundary against freshman Tim Harris.
Against Maryland, Virginia Tech had their boot on the Terrapins' throat, but let them off the canvas when they could not finish drives. The Maryland defensive line kept them in the game. The UVa defensive line can be just as disruptive, and may be more physically imposing. The Hokie offensive line better bring their hard hats this weekend and make a statement going into bowl practice. The starters have had a good season, but there are some talented players that will be competing for jobs next year. Saturday will give us a good idea as to how many spots really will be up for competition.