By

BeerControlOffense
staff
on August 19, 2010, 10:33 AM
| 17 comments
And now for the finale of The 20 Years of Memories. If you're unfamiliar with what this is all about check out Part 1. These last ten are fresher in my mind than the first and therefore they are a bit more satisfying and sobering.
The Wedding - November 25, 2000 (-)
VT 42
UVA 21
Let's see, the most electric football player of the last decade was playing in Lane versus an over matched Hoo squad. That certainly sounds like a good memory to have, but I have a different one for a much better reason. I was married that day... during the game. It was a beautiful ceremony and reception in the Chrysler Museum. I missed all of Michael Vick's last home game. I still get grief from my friends over the date selection FAIL.
The Head Ringer - December 1, 2001 (Live)
Miami 26
VT 24
Eventual National Champion Miami dominated everyone in 2000 with their two-deep NFL roster. They were putting it on the Hokies early, but the lunchpailers eventually fought their way back into it. Eric Green* blocked a punt with a little over six minutes to go that was scooped up by Brandon Manning and taken to the house for six. The fans erupted during the block then seconds later after the score that left the Hokies only two back of the mighty Canes. It's almost unfathomable that my loudest Lane moment came during the SEZ expansion when the stadium was at less than total capacity. Minutes later the deafening joy turned to silence when Ernest Wilford dropped a gimme two-point conversion.

via: http://tiptop25.com/
The Long Night- November 2, 2002 (Live)
Pitt 28
VT 21
Whatta day that's truly impossible to explain in a paragraph! Pittsburgh was in town for a rowdy night game in Lane. That meant an especially long tailgate for the fans, who got very lubed up for an expected Hokie win. There was one problem, Pitt coach Walt Harris was the first to dissect Bud Foster's 8 man front and man to man coverage scheme. He just always lacked talent. Now armed with Larry Fitzgerald, Brandon Miree and formidable defense of his own he was able to execute on the field. It was a hard fought loss, but the better team won, which did not sit so well with the fans.
One person it did sit well with was a Panther's player mom, who while leaving section 19 gestured and let it be known to all the Hokies around her what we could do with ourselves and who just beat our ass. Ole number 2 sure had an expressive mom. One person the loss didn't sit well with was a friend. To make a long story short he drunkenly f-bombs at everyone in his section, walks off in the wrong direction from our tailgate spot, ends up going through the VT farm, stumbles and passes out in a small creek. Four hours later after a long search, turning back up at our tailgate spot claiming, "I've been through Hell." in a deadpanned delivery Keanu Reeves could admire. Needless to say, he said less words than that on the 5 hour drive home the next day. It only took about 3 years for his wife to even half smile at this event. Not a day to be forgotten.
The Perfect Day - November 1, 2003 (Live)
VT 31
Miami 7
Whatta DAY! Easily my best day spent in Blacksburg for a football game. A prime time ESPN game meant 10 hours of tailgating and we started out of the gate fast. I can't even begin to describe the debauchery that happened around us and how sauced Hokies were for this game. Everyone in our tailgate has memories to last a lifetime.
You could feel the intensity...
It wasn't just Frank who had the don't eff with me gameface that day. The game was a Beamerball ass whippin' that VT needed at the time, not just to shake off the the disappointing w-Fn-wu loss the week before but to stop Miami from adding to their recent dominance of the Hokies. To top the day off more memories were made that night at the reverse tailgate in the Prime Schultz parking lot. Soon after the game downtown was totally shutdown as thousands of fans filled Main Street. Pandemonium broke loose. Chants of "Let's Go Hokies" and self fornicating chants to da U filled the air. It was wondrous.
The Interfence - August 28, 2004 (Live)
USC 24
VT 13
It was the first game of the season against the top ranked and defending National Champion Southern Cal Trojans. They journeyed east to play the afterthought Hokies in a made for ESPN ratings kickoff game. A long, brutally hot tailgate did not zap the Hokie spirit. For even Pete Carroll was amazed at the Hokie players entrance to 85k strong bouncing to "Enter Sandman" making FedEx more reminiscent to RFK than the Skins had in 13 years.
Unfortunately that is not the memory of the season. The bullshit offensive pass interference call on Josh Hyman**, that stopped the slightly rejuvenated Hokies who were reeling after dominating the first half, was. If that penalty is not called, the Hokies have great shot at winning the game and history is changed. USC doesn't have to forfeit a championship (karma). Auburn likely gets to hoist their own for the Tide to groan about. VT plays a lessor opponent in the Sugar Bowl and likely leaves with a win, finishing the season with only one loss. Oh, what could have been.
The Stomp - January 2, 2006 (TV)
VT 35
Louisville 24
This will be unpopular with some, but I really dislike the 2005 Gator Bowl win. Prior to that day Marcus Vick was someone I had to lie to myself to accept. Then the deliberate stomp late in the 1st half on Elvis Dumervil shaded that game in a negative light. The game should have been about a resilient, extremely hard hitting physical Hokie win, but due to number five it was not.
My lie was over after that moment. A man's gotta have a code and my eyes were open to just what code Marcus lived by. He did not deserve to be a Hokie and certainly did not deserve to finish the game vs Louisville. Louisville is a team I dislike based on their treatment of VT from the 80's through the mid 90's, but I would have taken that loss to them to have Marcus yanked. Maybe another player gets more rope, but Marcus had reached the end for me. He cast a grey cloud on VT during his four years in Blacksburg. Thankfully, we've rebounded quite nicely since, not only on the field, but off as well.
The Retribution - October 26, 2006 (Live)
VT 24
Clemson 7
Everyone remember the debacle in Beantown when BC pasted VT 22-3 on a Thurday night. Two weeks later the Hokie returned to ESPN's Thursday night lights, this time hosting the talented but soft Clemson Tigers. This was a must win after back-to-back conference losses to GT and previously stated BC. The team did not disappoint as Brandon Ore had his best game and Bud Fosters defense "got after it." Not the best season for the Hokies, but they did refuse to roll over at least once.
The Dadgumit - November 10, 2007 (Live)
VT 40
FSU 21
Ever since I was a freshman in college there hasn't been a team I have disliked more or wanted to beat than the Florida State Seminoles. I hate their players, I hate their fans and I hate Bobby Bowden. Yeah, I said it. I find him to be a fake and a phony that has fooled thousands, but not me. Yes, he owned VT and he owned Frank Beamer, but not in 2007. Not that day and not in our house. I wanted this victory like no other, more than even beating UVA or the cousins. I am not the over confident type, knowing anything can happen and often does, but I knew this day the Hokies would win. I knew the VT players, coaches and fans were going to break this streak for Frank and that for one day, Bobby would be kissing his ass walking off the field. The game did not disappoint, getting that monkey off Beamer's back was awesome, even if I did have to move my two-years old's birthday (same day) to the following weekend.
The Drive By Trucker - November 6, 2008 (Live)
VT 23
Maryland 13
This game was all about one thing... Darren Evans trucking Maryland. It's a top three non Michael Vick Hokie performance. Thirty two ran like a man that day and to see it live was something to behold.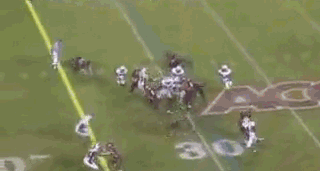 The Play - September 19, 2009 (Live)
VT 16
Nebraska 15
Very Seldom do plays like this happen in college football and even more rare is that VT is on the giving end. The Huskers dominated for 54 of the first 58 minutes with Ndamukong Suh and their defense destroying the Hokie offense piece by piece. Then the OMG moment of the year happened when all looked lost, Tyrod to Coale. It was shocking because it came from nowhere. Not only did that reception set us up to win the game, but it acted as a catalyst to spark the Hokie offense for the rest of the year. In my 20 years only the the Druck to Holmes pass play to beat UVA in 1995 rates above this one for last minute Hokie comebacks. Amazing. To this day, I still feel like Hokie nation owes Nebraska fans an apology for stealing that win!
Damn, now I am pumped for the season and to start my next 20 years of memories!
* drunk error 1 fixed
** drunk error 2 fixed
thanks for the corrections, my bad on the info.