By

joe
staff
on August 8, 2010, 6:15 PM
| 7 comments
Since I'm not a member of the "media" I wasn't in Blacksburg for the Hokies' 2010 Media Day, but thanks to the magic of the Interwebs and excellent coverage from talented writers and reporters I felt like I was. As always, I do have opinions...
It felt like there was a lot of buzz around two kids who probably won't see the field much in '10.
David Wilson is a special, classy kid and when he gets his opportunity he will prove to be a special player. He exhibits the heart of a champion training to win the starting job this year, but, and we all know this, because of the depth and talent at running back he will redshirt. That doesn't mean we can't ogle his ninja skills.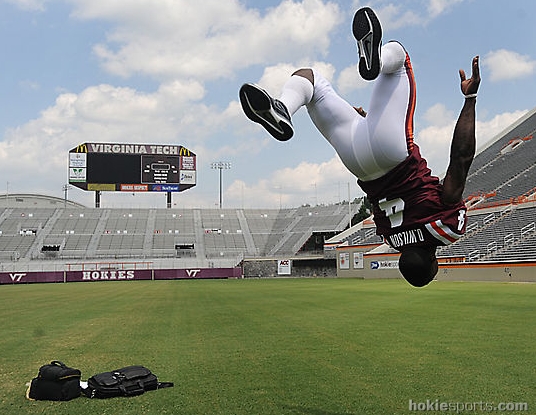 In his world, gravity isn't a law, but rather a suggestion. Watch the video here.
Simply put Nick Acree is a freak (who we need to come up with a nickname for). It's like Beamer Co. got their hands on some real life NCAA 11 create a recruit and voila Acree appeared. However, he's raw and will no longer be playing against pushovers on the offensive line. It will take him time to learn the playbook and proper techniques. I was hoping he'd be able to get up to speed mentally and technically in camp and be able to contribute this year, but the coaches seem very impressed with how much bigger and better looking the rest of the iffy defensive linemen got. Both Isaiah Hamlette and Joe Jones were moved from defensive end to tackle and have filled out. Hamlette and Jones were 6'4" 247 lbs, 6'2" 265 lbs in the spring and now check in at 6'4.5" 270 lbs, 6'3" 277 lbs respectively. It's a no-brainer that the experienced players will have the edge on playing time. Coach Wiles did drop this quote about Acree's role against Boise State, which was my favorite among coaches.
Well, we're going to walk him out to the coin flip regardless – with a chain around his neck, going, 'Arr! Arr! Arr!'
As for the veterans, a lot of attention was paid to Ryan Williams talking about the Heisman. Let's start the officially unofficial campaign right now, RMFW FOR HEISMAN Y'ALL. Thankfully he's focussed on something much more important.
"So if we don't go undefeated or anything of that sort, nobody on this team will win the Heisman regardless of what you do. And that's how I feel about the Heisman. Even if we go undefeated, I still won't be worried about the Heisman, really. It would be great to have it, but I'm worried about trying to go to the national championship rather than win the Heisman – and win the national championship. So that's how I look at it."
Williams showed up to camp slimmer weighing 202 lbs down from 211 lbs in the spring. On the one hand, being lighter should mean being quicker and that much more elusive. But on the other hand, he will be less durable. But I guess that isn't as important with Evans back and able to truck defenders.
And in other news from the meat market Blake DeChristopher came into camp overweight. Alex Jackson notes that it was a sensitive issue for the big man.
DeChristopher seemed offended I asked about his weight... maybe others asked about it before me. "I may lose about 5 pounds during camp"

...

He collapsed like a bag of dirt after sprints yesterday. "A lot of people thought I wasn't (carrying it) yesterday, because they saw me..."

...

"But I actually dehydrated and got cramps, which has happened every year since I've been here, so I'm not worried about that."
Frankly, I'm not worried about it either. DeChristopher is a two year starter who knows what it takes to go the distance during a game. He'll be ready to go.
Finally, Kenny Lewis Jr. didn't report to camp effectively ending his career as a Hokie. I'm bummed. The best of luck to him with whatever he embarks on next in life.