By

joe
staff
on July 22, 2010, 8:24 AM
| 2 comments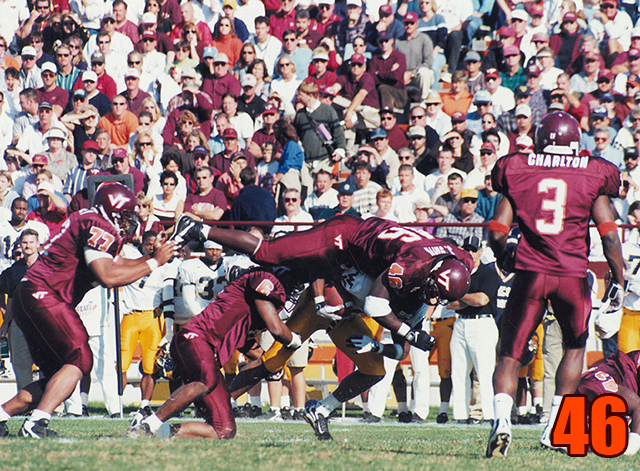 via: http://spec.lib.vt.edu
Smith was a four-year letterman and a three-year starter for Virginia Tech from 1996-99. He finished his career with 301 tackles with 27 tackles for losses, including six sacks. Smith was voted second team All-America by the Associated Press in 1999 and first team All-Big East Conference. He was a semifinalist for the Dick Butkus Award, given annually to the nation's top linebacker, as he led the Hokies with 89 tackles (52 solos) as a senior with eight TFL and one sack. He also led Tech in tackles as a junior with 99 stops.
via: Coastal Carolina Official Athletic Site
However, his top rope frog-splash onto a WVU ball carrier may be his most impressive accolade.
And here's an interesting factoid: in 116 seasons and 1,142 games played VT has tied opponents 46 times.
Trivia*:
Virginia Tech played their first game against a ranked opponent on Oct. 26, 1946 against #12 __________ a 14-6 win in Blacksburg.
The Hokies ended that season with a berth in the _________.
If anyone has pictures of general Hokie awesomeness that they'd like featured on the countdown email them to me (thekeyplay [at] gmail [dot] com). I'd appreciate it.
*The first person to leave a comment with the correct answer(s) gets a point. Each correct answer is worth a point. At the end of the season the most points wins a free tee from GameDay Passion.