By

BeerControlOffense
on October 14, 2010, 3:52 PM
| 24 comments
BCO's College Football TV Viewing Guide
Some weekends the College Football Gods give us great game after great game, and then there are weekends like this one. This Saturday offers up a ragtag collection of games surrounded by only a couple that are noteworthy. However don't blink, schedules like this are the ones that lead to upset Saturdays. So try as I might to write this weekend off, I think come Sunday morning one or two upsets will have occurred, maybe even a season defining one.
That said finding six games to preview this week was tough. How many times have you gone to the beer cooler at a grocery store spying the last sixer of your favorite beer only to find it missing one 12 oz soldier. That's this week's 6 pick. I am not going waste my time or yours in forcing a sixth game on you. It would ring hollow and read poorly because my heart is not in it. So in honor of those 5-packs and the Big Ten that really is 11 this week's column is going to be numerically incorrect.
Saturday, October 16th
Ar-kan-saw +4 at Auburn 3:30 pm CBS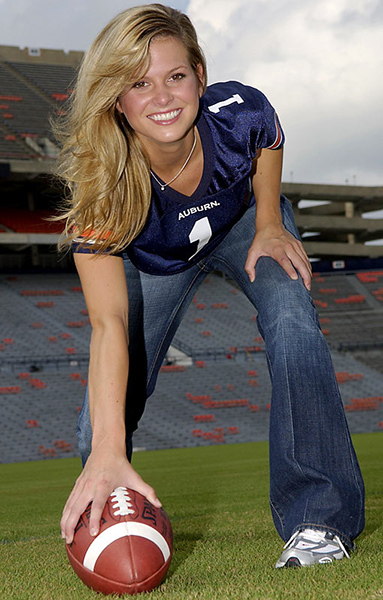 The eyes of the nation will be fixed on the plains of Auburn when the undefeated Tigers play host to the one loss Razorbacks. Alabama's loss last week opened the $EC West up for bidness. If Hog Sooey wants to be a player for Hotlanta, they need a win on Saturday, otherwise they will be regulated to spoiler. The Tigers are just getting started on the road to Atlanta, LSU and Bammer are stops still ahead of them. Everyone knows about both teams explosive offenses and their stud quarterbacks, but who knew Arkansas (19th) is ranked twenty two spots higher in total defense than Auburn (41st.) Arkansas is weaker versus the run than pass, something the Tigers do a lot of. While Auburn is more susceptible to the pass, playing right into the Razorbacks' hands. These teams are going to figure out ways to exploit one another.
What to look for: Tons of points for each team... which only means upper 20's to lower 30's in the $EC. Neither defense is going to be good at stopping what the other wants to do. The question that needs to be answered is can Arkansas QB Ryan Mallet come through with a good 4th quarter on the road?
Pick: Ar-kan-saw getting the points.
***
Iowa -3.5 at MissAgain 3:30 pm ABC / ESPN
The Wolverine offense that was roaring down the interstate needs a tune up after blowing a tire against Michigan State last week. It's likely an omen of things to come for Heisman front runner Denard Robinson. Shoelace was severely slowed on the ground as he was bottled up, exposing the Wolverines lack of an alternative rushing option. It's not going to get any easier for them either. Iowa is ranks 2nd against the rush, Wisconsin and Ohio State rank 22nd and 4th respectively. Denard's PlayStation numbers are in for a steep decline without other viable options to keep teams honest.
What to look for: Iowa to play elite defense and stymie the DickRod offense while systematically moving the ball on Michigan.
Stat to know: Defensive yards per play: Iowa 4.1 and Michigan 6.1.
Pick: Iowa to go into the big house and smash the Wolverines by a couple of touchdowns.
***
Tejas +9.5 at Nebraska 3:30 pm ABC / ESPN-GP
That video was released in July by the Nebraska Athletic Department with "October 16th 2010 BEAT Texas" originally at the end. Those words have since been removed, but certainly not the sentiment. Even with Tejas coming in wounded, playing for pride after two losses and their consecutive weeks ranked in the top 25, stopped at 162, the Huskers want it more. Believe that. Everyone associated with Nebraska thinks they have been crapped on by Texas and the Big 12 since the inception of the league in 1996. It goes deeper than last year's B12 Championship Game, where the officials (correctly) put 1 second back on the clock allowing the Longhorns to kick a field goal to win the game and play for the National Championship. However, the Longhorns are likely to take it personal that the Cornhuskers are leaving the B12 for the Big1+10 because of them. This game is going to get chippy and will be played with a lot of intensity.
What to look for: Will Muschamp's Texas defense selling out everything to stop the Nebraska run game, paying absolutely no respect to Taylor Martinez's passing abilities. Pelini shutting down the Longhorns passing attack and in effect their offense. This game is going to be low scoring and likely ugly.
Pick: Nebraska wins it in a a close, ugly game.
***
Mississippi State +7 at Florida 7:00 pm ESPNU
This isn't a great game on the national level, but it's a huge one for two SEC coaches that know each other well. Many questions can be answered this week, including how far has Florida slipped, not only nationally, but in the $EC as well? Can Mississippi State really make noise in the extremely difficult $EC West? How many series will it take the Gator crowd to boo offensive coordinator Steve Addazio?
Just a couple of years ago with the Chosen One at quarterback and current MSU coach Dan Mullen coordinating Urban Meyer's spread offense, this team looked unstoppable. Now that the brains and the brawn are gone from Gainesville making Florida look very vulnerable. The Gators have recruited far superior talent than the Bulldogs, but the coaching, experience and execution all favor the visiting team. That's evidenced by how much better the Bulldogs offense is–running the same system, but averaging 1.2 yards more a play. It's hard to see Florida losing back-to-back games in The Swamp, but if the team comes out flat it's quite possible. Meyer will have to have these guys fired up because MSU is going to bring everything they have to give Mullen a win over his former boss.
What to look for: Florida's offensive struggles to continue as long as QB John Brantley is leading the Gator charge, but if any defense is made for him to pass on it's this one. The Gators will have a good passing day. The Bulldog's balanced attack will find success, keeping the Gator Nation uncomfortable all day.
Pick: Florida but by less than a touchdown.
***
theOhio State at Wisky +4 7:00 pm ESPN
Can the Badgers turn college football on its head by beating tOSU and firmly placing our blue friends out west in the BCS Championship catbird seat? This is the game of the week. So far if previous Saturday night games have been any indication, then this will be the weekend's outcome talked about at the water cooler on Monday morning. Madison is going to be loud, crazy, drunk and very hostile for the Buckeyes. Both teams are very balanced on offense, effectively running and passing for 6.7 yards a play. However Ohio State's defense (237 yards per game ) is noticeably better than Wisconsin's (308 yards per game). Something tells me, this will be one of those intense games that has the town, the fans and the team buzzing for days leading up to it. That kind of energy can feed young men.
What to look for: Wisconsin playing over their heads on defense, shutting down Boom Herron and the Ohio State running backs making QB Terrelle Pryor beat them through the air and qb scrambles. Wisconsin will run fairly effectively on the Buckeyes, manning the hell up in the trenches and taking it personal. It will be a close back and forth game.
Pick: Against better judgement ... Wisky to get points and win outright.
***
Beer of the Weekend: Olde Hickory Hickory Stick Stout
An excellent Imperial Stout from a very small western Carolina brewery, at 10.2abv it will get after ya.
*As always picks are against the spread.