By

BeerControlOffense
on October 7, 2010, 9:31 AM
| 24 comments
Week 5 of the college football season delivered many entertaining contests, here's hoping week 6 continues the ride. Last week I failed myself and readers with another round of poor prognosticating. This week I am going to try and find my groove a different way. I will not watch one game on the list. It's not because they are dogs, actually this is a solid slate of games. Instead, I will be spending a crisp October Saturday outdoors, tailgating and attending the Old Dominion-Cal Poly game. I will be taking my lovely wife, an ODU alum on our date night to watch football with friends while enjoying some beers, brats and of course cornhole. I will miss the rest of the action, but thanks to my Droid I will not be blind to the results.
The keen observer will notice that the next three weeks of Six Pick will be Virginia Tech free. Don't worry, the final four games all make the cut. Here are the games I hope you get to watch...
Saturday, October 9th
Arkansaw -6 at aTm (Jerrah World, Arlington) 3:30 pm ABC / ESPN-GP
All college traditions are not awesome. Above is a picture of aTm cheer yell leaders. At first glance these fine looking young men may look like they are working at a 1950's ice cream parlour, or are orderly extras from One Flew Over the Cuckoo's Nest, but I assure you these swell fellas do lead the cheers in College Station, Texas. Thanks to their overzealous efforts they keep the yokels yelling... for the whole game. Be it when the Aggies are on offense, down 30 to Texas, or on that rare occasion they may be winning, those guys show school spirit. It's more than just "Gig 'em Aggies," oh yes! A typical cheer goes like this...
We've got spirit, yes we do
We've got spirit, more than Cow poo. (dead horns sign)
1-2-3-4 we'll be drunk lying on the floor
5-6-7-8 fighting farmers are great
9-10-11- were the 12th man (stupid Fonzie thumb signal)
Thinking it really can't be that bad? Judge for yourself.
Jerrah's World plays host to another intriguing matchup this season (Oregon State-Tejas Christian). It's the first time Arkansaw and A&M have played since '91, a showcase of two regional public colleges. Unlike the Beaver-Horned Frog game, this one will sell out and make Jerry Jones a lot more cash. The man knows bidness, well, except when it comes putting together his Cowboys.
What to look for: Lots of points, poor defenses, some roller coaster quarterback play. Arkansas's Ryan Mallet will rebound from melting down in the 4th quarter against Alabama by playing very well against a far inferior Aggie 3-4 defense. A&M's Jerrod Johnson will continue to one up Jacory Harris with his constant barrage of turnovers. That said Johnson really is must see TV, he routinely alternates between Michael Vick one moment and LSU's Jordan Jefferson the next.
Pick: Arkansas to cover
Bammer at Souf Cackalacki +7 3:30 pm CBS
This games reminds me of one of those Presidential summits where the sitting president is joined by all the living former Presidents. The current HMFC shows respect to all those that came before him, but deep down he looks at all the has-beens and thinks, "Get off my damn lawn, I'm the boss now, bitches!" Steve Spurrier is one of those former presidents and even though the game is in Columbia, SC, he's sitting on Nick Saban's lawn and EVERYONE knows it. During the Ole Ball Coach's reign they might have tossed it around a bit to win the $EC, but Saban's regime is about power football on both sides of the ball. In my 25 years of watching college football, I am hard pressed to think of any team outside of possibly the mid 90's Cornhuskers that combined this much speed and that much physicality.
What to look for: Power football. Spurrier's current team plays more like Saban's Tide than the Fun 'n Gun system he built his rep on on Florida. Stylistically these teams mirror each other, pound the damn rock on offense and stonewall the opposition's ground game on defense. Their strengths may cancel each other out, so look for the Tide's depth, more dependable quarterback and proven big game heroics to carry the day.
Pick: Souf Cackalacki to keep it interesting and close getting the points.
Michigan State +4.5 at MissAgain 3:30 pm ABC / ESPN
Wolverine: A thousand Robinsons of the DickRod empire descend upon you. Their winged helmets will blot out the sun!
Spartan: Then we will fight in the shade.*
We all know about Mark D'antonio's heart attack after the Notre Dame win. He's had to sit out Sparty's last two games while recovering. Well, this week he plans to give coaching a go from the press box. If defending the Irish caused his heart to stop, wait til he gets a look at Denard Robinson. Shoelace is a bad, bad man even at an undersized 6 even, 193 pounds. He is doing things Pat White never did for DickRod at WVU, and that in itself is pretty amazing. Chew on his potential stats if you take his current PlayStation numbers and extrapolate out twelve games: 2,400 yards passing, 2,200 yards rushing and 40 touchdowns. DAMN. The problem is the Wolverines have needed every single bit of that greatness to get four of their five wins. The MissAgain defense coached by Greg Robinson has taken shitty to new lows leaving many a Wolverine fan in need of stint themselves... make room for D'Antonio will ya.
What to look for: The balance and depth of the Spartans on offense and defense to edge out the one man show that is the Michigan Wolverines. You can only tempt fate but so many times with a defense that poor.
Pick: The Spartans getting the points and winning outright.
LSU +7 at Florida 7:30 p m ESPN
I am not sure how to dress this pig up and make it look pretty without pictures of either schools coeds, so I will go for the cheap thrill. Both the Tigers and Gators are extremely talented and well coached on defense and for the most part the exact opposite on offense. With a combined three national titles in the last five years and roots running deep through the most fertile grounds in the talent rich deep south it should be damn near criminal for these schools to be so turrible on offense. It is so God awful for them, I am not sure the two offenses combine to score 20 points. So please watch to see great defenses, each coach to blow a few gaskets and to see if Les Miles can lower the bar on poor clock management, again.
What to look for: The defenses and special teams of the two schools to out score their counterparts on offense. I'm serious.
Pick: LSU may be the most overrated team in the country, but they aren't letting the Gators win by a touchdown.
SouthernCal at Stanford -9.5 8:00 pm ABC / ESPN-GP
Both teams took home L's last weekend, so this game has lost a little luster. It was only a matter of time for the boys of Troy, as they have looked mediocre in their four wins against below average competition. Stanford however looked liked the best team in the nation for the opening 20 minutes last week vs Oregon. Unfortunately for the Cardinal the remaining 40 minutes revealed them to be brass not gold. Don't get me wrong, I still love Coach Jim Harbaugh's team, their makeup and believe they are a top 10 team, just not quite elite. Lane Kiffin on the other hand looks to have completed the transformation USC started last season by big balls Pete Carroll. The Trojans are boringly efficient, but not overpowering on offense and even with highly recruited athletes they play bend then break defense. When a dynasty goes, it tends to go quick and without warning. Countless schools in the past fifty years, Texas, Oklahoma, Notre Dame, Miami and Florida State to name a few have all had incredible runs that looked liked they would never end ... til they did. I think we can safely tuck away the SouthernCal dynasty into our history books, with an asterisk of course.
What to look for: The more physical, hungry, better coached Cardinal coming out steaming, fucking mad and wanting to prove the second half of last week's loss was fluke. The backend of the Trojan defense is bad (116th in pass defense) while the front end is average. (44th against the run). Not good news considering this is by far and away the best team the Trojans have faced all year. SouthernCal will score points, they have proven talent, even if the play calling is uncreative.
Pick: Stanford to wear down the thinner USC team and win by 10 or more.
Florida $tate +6.5 at da U 8:00 pm ABC / ESPN-GP
From the mid 80's through the early 00's this was the best rivalry in all of college football. Sure the Iron Bowl or tOSU-Michigan had history and hate, but when it came to pure talent and level of play on the field everyone else was Mickey Mousing it compared to Canes versus Noles. Wide right and wide left are a part of college football vernacular because of this rivalry. They owned the NFL Draft, won a combined seven national titles, had three Heisman trophy winners and most importantly, they created swag. These two teams revolutionized college football placing more importance on incredible speed rather than brute strength. Most viewers have no love for either team, but Christ we could not keep our eyes off them when the squared off on the gridiron. That isn't to say they are back, their fans trumpet that loud enough already, but both are trending upward and this game is relevant nationally for the first time in almost a decade.
On a related note John Swofford can't catch a break when it comes to the ACC Championship Game. For the first five years he anticipated heavy participation from the Florida colleges, but only got the Noles once. Now that he moved the game closer to ACC HQ, Florida State and Miami both look like the favorites to actually play in the game. Doh!
What to look for: Jacory Harris keeping the Canes, and the Noles in this game. da U has the better defense, but Captain Interception will give the Noles a few extra chances. Ponder is not as a dynamic passer as Harris, but he will not make the bad decision. The Seminoles will likely try to establish the run game (26th nationally) to keep All-American bad ass defensive end Allen Bailey from pinning his ears back and coming for Ponder.
Pick: Florida $tate getting points but Jimbo Fisher losing his first heartbreaker to the Canes.
Ale of the Day: Bell's Two Hearted India Pale Ale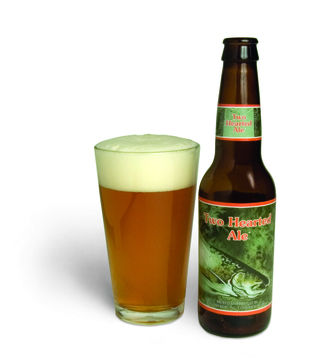 I am going to cut to the chase, there are not 5 better breweries in all of the U.S. than Michigan's Bell's. Their Two Hearted has a permanent residence in my beer fridge ... only two other beers can make such a claim. Smooth, crisp, citrus and creamy, a sixer of this disappears in a hurry in my house.
*300