By

BeerControlOffense
on September 29, 2010, 4:48 PM
| 35 comments
Greetings college football junkies, the schedule makers have prepared a treat for us this weekend. If week two was dubbed "Monster Saturday" than week five is Lo-Carb, all the energy and excitement, but with less of the sugary bullshit from the worldwide leader.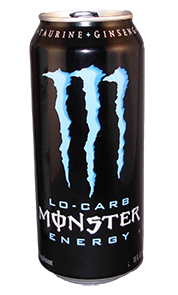 As my picks so far show (45%), I am no expert, but last week's 2-4 record has made me refocus...
"I promise you one thing. A lot of good will come out of this. You will never see any handicapper in the entire country pick as hard as I will the rest of the season. You will never see a guy choosing teams for entertainment purposes only push the rest of this collective group as hard as I will push everybody the rest of the season. You will never see a drunker prognosticator gamble harder than I will the rest of the season."*
If I don't deliver, one thing you will not see is me crying and needing Joe and Josh to pick me up.
The first weekend in October, that means move the TV to the deck or Volkswagen bus, fill up a cooler and tailgate outside with the games on.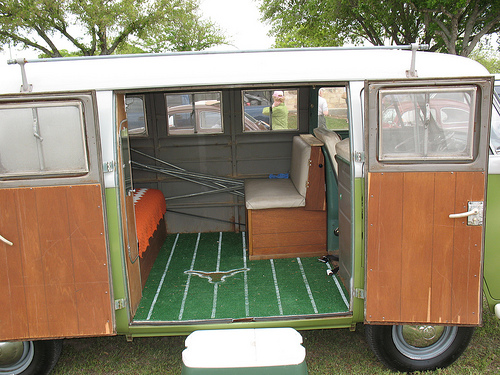 Saturday, October 2nd
da U at Clemson +3 noon ESPN2
The first important ACC cross divisional matchup features two teams with their eyes on the conference prize. While I think every team in the ACC is going to have at least one and likely two conference losses, the loser here potentially moves behind a couple divisional foes. Neither school is quite ready for prime time nationally, but having seen enough of their athletes the last couple weeks, they aren't that far off. A few Clemson fans are already going hard on Dabo Swinney, but that's a bit premature if you ask me. While there might still be a few strategic and tactical mistakes, this is by far the toughest, don't back down Tiger bunch in well over a decade. That has to account for something, somewhere... Let's hope it doesn't rub off on the 'Canes.
What to look for: Clemson to be able to run the ball with some success, certainly more than the 'Canes. That will put more pressure on Jacory Harris to get it done through the air and avoid interceptions. Conversely, will the Tigers wide outs be able to deliver when Miami bottles up the run game? I also fully expect the Tigers to bring the heat and try to knock out Harris from the game, his backup A.J. Highsmith is a colossal step back.
Pick: Clemson to win outright.
Oklahoma -3.5 vs. Tejas 3:30 pm ABC/ESPN
First weekend in October means one thing: The Red River Shitout Shootout. Do you think they were just looking ahead last week or were both fundamentally exposed? Tejas loses at home to UCLA who had lost to Stanford 35-0. The Bruins passed for 27 yards and won by more than three touchdowns over the Longhorns. Looking overrated in Austin, but not that OU looks much better. Sure they shellacked FSU, but that was more Bob Stoops not wanting to be embarrassed by his kid brother. What should rattle Stoops is the Sooners defense against Air Force and Cincinnati giving up a combined 919 yards. This games looks like a contest of strength on strength and weakness on weakness. It might come down to which weakness, OU's D or Tejas's O plays better. Not the classic on paper the Shootout more often than not has been, tradition is carrying the flag for this game in 2010.
What to look for: Even with their 93rd ranked rush defense OU will slow down the inept Longhorn rushing attack. The Tejas defense will be playing up for Muschamp keeping the game relatively low scoring, but the UT just doesn't have the right pieces to take it to the Sooners.
Pick: After a lot of internal back and forth, I think Boomer Sooner wins by a touchdown, in a ugly game.
Wisky -2 at Michigan State 3:30 pm ABC/ESPN
This game is another example for the growing list of reasons why one shouldn't be a football coach. Two weeks after suffering a heart attack following the game winning fake field goal for six against Notre Dame Mike Dantonio will be back and coaching from the box.
If he thought that game was stressful, wait til he sees the Badgers. Sparty will have to rally around their returning coach and use the occasion to raise their game if they want the win. Wisky is at worst the 3rd best team in the Big1+10 and that actually means something this season.
What to look for: Both teams are very balanced on offense, but Wisconsin defensively has the edge, because they are superior at defending the pass. Wisconsin is also bit better on both lines. The Spartans will be inspired early, but I can see them that emotion waning as the game progresses.
Pick: Wisconsin to win by more than a touchdown.
VT at NC State +3.5 3:30 pm ABC/ESPN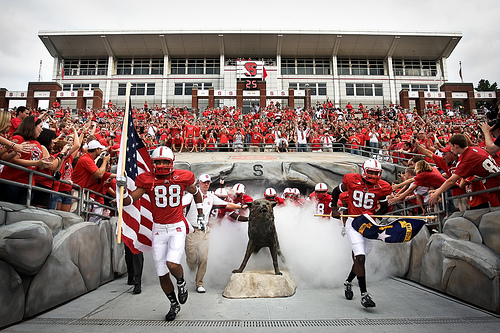 Nothing says intimidation like a wall of plastic rocks guarded by the statue of a dog, errr I mean wolf, looking like it's taking a piss.
The second, and most important, cross divisional matchup of the weekend in the ACC is a role reversal. NC State is undefeated and ranked while VT is disappointed, sluggish, injury plagued and looking for answers. The State defense is much improved with their line backing corp leading the revival. You can sense the State crowd starting to swell up in pride, ready to unleash 25 years of pent up athletic frustration. A recap of the last few months: their terrible basketball coach delivers a top ten class on campus, their prettier wildly more successful rival looks to be headed to NCAA probation and their much ballyhooed football coach is delivering a good football team. A win on Saturday will be the tipping point sending them into lunacy, talking undefeated season, Carolina getting the death penalty and their basketball team being the 2nd best in the conference.
What to look for: The Hokies shutting down NC State's running backs, letting the rapidly improving defensive ends and Bud's zone blitzes come after Wilson. Wilson having success in the passing game and scrambling. The Wolfpack defense shutting down the run, putting the Hokie offense in 2nd and 3rd and long. Tyrod will have one of his best passing games as the game turns into semi-shootout mode.
Pick: NC State getting the points, VT winning a close game.
Florida at bammer -9 8:00 pm CBS
Conference season is in full tilt and in the $EC that usually means another matchup of top 10 teams. The past two national champions meet up for a rare regular season game that heavily favors the number one and just recently tested Tide of Alabama. Arkansas gave bammer all they could handle. They went down early, teetering on the bring of being blown out, but their resolve and power won out. Florida possesses better defensive talent thank Arkansas and that will make it more difficult to get run over by Alabama. However, if the Gator offense does not sustain drives, own the clock and score the Gator front seven will get worn down. Offensive coordinator Steve Addazio better find another play than just throw the ball to scat back Jeff Demps in space, because Nick Saban is going to eat that shit for breakfast.
What to look for: Nothing from the Gator offense, as they are down to one play, the bubble screen to Demps now that Harvin's sweep and Tebow's bull runs up the middle are in the NFL. Saban can't be happy with last week's performance to start the game, so expect the Tide to start out hot and not let up.
Pick: Bammer to cover, they will roll large.
Stanford +7 at Oregon 8:00 pm ABC/ESPN2
The game of the week and the atmosphere is going to be intense as Gameday heads to the Pacific Northwest. What makes this matchup so great is contrast in offensive styles, the speed 'em up, spread 'em out and let 'em go that is Oregon compared to the set 'em up, line 'em up and knock 'em down that is Stanford. From day one Jim Harbaugh instilled a Midwestern toughness in Palo Alto. Now in his 4th season, his program has arrived, they are tough, mean and hungry giving the Cardinal the physical advantage in the left coast conference. Chip Kelly's second year in Oregon is going along a lot smoother than his first. Out are some head cases and in are his guys, and his guys are fassssssssssssst. In a conference known for speed, primarily through the air, these Ducks are the fastest and mostly deadly on the ground. Let's cut to the chase, these two teams are a nightmare to prepare for and it's a real treat when they have to prepare for each other.
What to look for: Defensive stops, last year's game had a total of 93 points, 490 rushing yards and 585 passing yards. I can easily see more of the same, I don't care that both have defense's ranked in the top 25, it's a mirage. This game is about offensive fireworks, so any forced turnovers are obviously huge, but almost as important is making the other settle for field goals.
Pick: Stanford, all things being equal, give me the team that is more physical, better defensively and has the more proven quarterback.
*************************
Bonus Game for Viewing Fun
Thursday, September 30th
aTm at Okie State 7:30 pm ESPN
Most weeks this makes the Six Pick. I suggest everyone tune in and see the new and improved Okie State offense. The former coordinator for the Houston Cougars high flying passing attack, Dana Holgorsen is now the chief architect behind the nation's number one offense. Dana was Mike Leach's understudy for seven years, now he's one upped his mentor's offense the last three years; it's a helluva fun watch.
Ale from the Deck: Big Boss Bad Penny Brown Ale.
A good local brewery in Raleigh with one of the baddest ass labels around. I enjoy their Brown Ale as a good session beer, easily one you can pound all day long... on your deck in the autumn air.
*A hat tip to the Tim Tebow speech after the home loss to Ole Miss in 2008. True to his word, Florida won the national championship in the very end.