By

BeerControlOffense
on September 9, 2010, 11:34 AM
| 22 comments
BCO's College Football TV Viewing Guide
No time to pout about last Monday night, the college football season keeps moving and waits for no one. The games are so good this week I could have easily done a twelve picker, but time limitations will keep it at six. A little pre-weekend warning, whatever ration of shit you have to go through from your lady to watch football from noon to midnight is more than worth it. The entire six pick of games are being played on Saturday. To come correct you will need to man the hell up with a case of beer, three TVs and lots of artery clogging food.
This week's picks against the spread are a lot harder, as the games have gotten better. Last week 13 people picked and the results can be found here. Please keep picking and if you missed out last week, that's OK, it's not too late to start. All picks are against the spread, straight up would be too easy.
So let's take a look at what I'll be viewing while being a couch warrior on Saturday.
Saturday, September 11th
ugga at Souf Cackalacki -3 noon ESPN2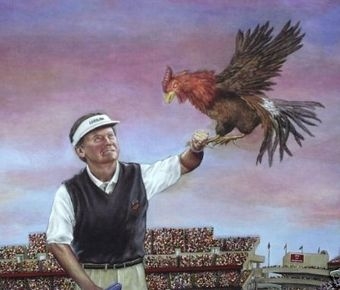 Looking for the second best SEC team this year after just one week? Might not want to look any further than the Gamecocks. Yes, they only beat up on Southern Miss, but they did what they needed to do, right fighting Ackbars? More importantly Steve Spurrier is talking shit again, that must mean he is confident in his product. He called out Tennessee for dropping UNC off their schedule for being too tough. Then he discussed John Blake's "recruiting practices" before he "resigned" from North Carolina. Maybe not a vintage barb like "Free Shoes University" in the '90s, but he's been noticeably more vocal this year. The game misses a smug Ole Ball Coach, a sincere "Welcome Back" from the BCO.
What to watch for: Will the Dawg's newly installed 3-4 defense cause problems for the Spurrier attack, that features a heavier ground game? Will it be difficult for Mark Richt be that offensive guru he has been in years past with WR A.J. Green sitting out four games for selling his jersey?
Pick: The Gamecocks to win and cover.
South Florida +15 at Florida 12:21 pm SEC Network / ESPN-GP
Right here, right now, the Gators are the most overrated team in college football's top 25. If I crapped on the floor and dressed it in orange and blue it would be as productive as anyone in Urban Meyer's offense last week versus Miami... of Ohio. Eight weeks from now this may be a different story, but so far I am not sold on offensive coordinator Steve Addazio, nor am I sold on pro style QB John Brantley in a spread offense that lacks a dominant ball carrier and has no good wide receivers.
What to watch for: Skip Holtz pulling out the stops and putting real pressure on the Gator defense showing them what a spread offense looks like. The QB center exchange from Florida was embarrassing last week, is it possible to clean it up in seven days?
Pick: South Florida will keep the game closer than Vegas thinks.
f$U +7.5 at Oklahoma -7.5 3:30 pm ABC / ESPN2
Hey Jimbo, want to get out of Dadgumit's shadow? Ride into Norman and knock off a top 10 team. That would clearly tell Bobby, Anne and his dwindling loyalists to eff off. A great early season out of conference matchup, though one that may be a year too soon for the up-and-coming Noles' defense. OU's coach, formerly known as Big Game Bob, can attest his Sooners have been on the wrong end of a big time matchup more than any team not coached by Frank Beamer.
What to watch for: The matchup of the Stoops brothers. New f$u D coordinator Mark will know exactly what his big brother Bob likes to do on offense and conversely Bob will know how to attack Mark's partially installed defensive schemes. This game could be very interesting if it is decided on brains, not brawn.
Pick: f$u makes this a close game.
MissAgain +4 at Notre Dame 3:30 pm NBC
In my formative college football years, the mid 80's through the early 90's, this rivalry was as good as ANY in the country outside of da U and f$u. The Rocket, the Bus, Zorich, Stonebreaker, Elvis, Desmond, and countless rough offensive lineman among others made it riveting. Now the matchup is about DickRod, Brian Kelly and a couple sissified spread offenses... not the Midwestern way. Bo and Lou* must be looking down from the college football heavens in disgust.
What to watch for: Both teams had better than average warm-up games and will be reasonably prepared for big boy football. Robinson for MissAgain, while not Pat White, sure looked more electric than anyone ND had on the field versus Purdue. On the X's and O's front, it's hard to go against Kelly in the battle of former Big East Coaches of the Year, but a win here for the Wolverines certainly cools down DickRod's hot seat considerably.
Pick: MissAgain to cover and for fun... win outright.
da U +8.5 at tOSU 3:30 pm ESPN
"We're Back" & "Swagger" have been the Hurricane's themes for the 15 years since they lost their mojo after the Dennis Erickson regime (save a 4 year window fueled by well compensated Butch Davis recruits). Randy Shannon has done a fine job restocking the talent in Coral Gables, players and coaches even garnering a few wins over top 25 teams, but something in the program is missing. I am not sure if it is seasoning, leadership, consistency or chemistry, all things that championship contenders need, but one piece was missing last season. That can all change on Saturday, a win in the Horseshoe and I'll be the first to agree, they are back.
What to watch for: Can the Cane OL keep the the Buckeye's DL off QB Jacory Harris long enough to let OC Mark Whipple's NFL passing attack work? Does Jim Tressel continue to let Terrelle Pryor run an opened up version of the Buckeye O or does he revert back to self and play it close to the sweater-vest?
Pick: da U will keep this game closer than a touchdown, a barn burner.
State Penn at Bammer -12 7:00 pm ESPN
Try as I might, the only reason to watch is to see the carnage left by the premier program after they kick the shit out of a fading legend ... one last time. Not many schools own a winning record vs JoePaPa, but Bama at 8-4 does and they are going to add one more Saturday night. It's so bad for 83 year old Paterno now, that I won't even make a soiling his pants joke.
What to watch for: Let's see State Penn is traveling to Tuscaloosa and starting a true freshman QB against a Nick Saban's defense... umm, okay. Even without Heisman winner Mark Ingram, the Tide will have no problem running (or passing) all over State Penn.
Pick: Bammer winning, covering and totally annihilating the Nittany Lions.
Six More to Consume
Thursday, September 9th
Auburn at Mississippi State 7:30 pm ESPN
A great way to start the weekend with two "I'm a limousine ridin', jet flyin', kiss stealin', wheelin' dealin' son of a gun offenses. WOOOO!"**
Saturday, September 11th
Colorado at Cal 2:30 pm FSN
A soon to be every year occurance... it's round one of 'The Schwag Bowl'.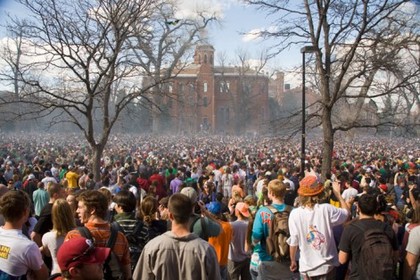 Iowa State at Iowa 3:30 pm ABC / ESPN2
Say what you will about Iowa State football (lil of it good) but they've played the Hawkeyes almost straight up during Kirk Ferentz era.
Oregon at Tennessee 7:00 pm ESPN2
Last week these two teams combined to beat their opponents by a score of 122-0.
Stanford at UCLA 10:30 pm ESPN
A test for both, does Stanford stay lofty without Toby Gerhart and when will Rick Neuheisel turn it around for the Bruins?
uva at USC 10:30 pm FSN
I like going to bed giggling and in a happy mood...
Sitting on the couch beer of the weekend: Blue Mountain Rock Fish Wheat

Blue Mountain, a local brewery to Harrisionburg, makes a pretty decent filtered wheat beer, good for a warm weekend.
*Lou isn't really dead, he just acts that way on TV.
**That's a slight mod to an often used Rick Flair quote.