By:

cae182
on April 18, 2011, 9:20 AM
Editor's Note: Cody Elliott is a junior Communications student at Virginia Tech and attended Friday night's scrimmage. He put together this summary.
Virginia Tech's second public scrimmage of the spring showcased Logan Thomas' potential, David Wilson's improvements, and a defense that is looking better and better with each practice.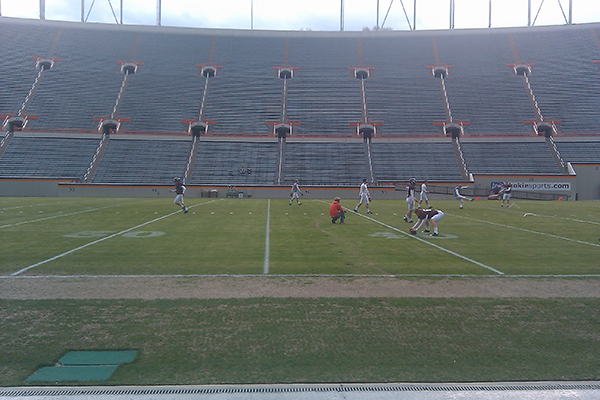 So far during spring, Logan Thomas has impressed coaches and onlookers during practices, but was merely average in the first scrimmage. Tonight's exhibition served as a stepping stone for him. Despite a few passes dropped, including one by newly converted tight end Chris Drager, Logan looked much more comfortable behind center. Danny Coale was Thomas' favorite target. Thomas and Coale connected on multiple 30+ yard passes, including two touchdowns. Thomas also showed some potential game-breaking speed getting loose for several scampers as well as two Tyrod-esque sideline throws to Coale and Jarret Boykin. Both the first and second team offenses struggled in the final two minutes of the half. They were each given multiple attempts at running a two minute drill but did not gain much yardage. Logan finished the night 9-16 for 214 yards and two touchdown passes. Coale finished with 7 catches for a solid 158 yards.
While Logan looked in command for most of the scrimmage, backup Ju-Ju Clayton did not. Ju-Ju struggled with a lot of throws. He threw two INT's including one for a defensive touchdown. Mark Leal, who has appeared to take over as the third quarterback, actually had a better performance than Ju-Ju. Leal scrambled on a few nice plays and hooked up with D.J Coles and Marcus Davis on several nice throws including a 70 yard TD pass in which Davis showed great ability to gain yards after the catch breaking free from several defenders as he went down the field. Davis continued what has been an extremely strong spring for him. He looks like one of our best options at wide receiver this year with Dyrell Roberts still sitting out with an injury. His final stat-line was 5 catches for 107 yards and that one touchdown. DJ Coles may be starting to live up to his potential--he finished with 6 catches for 80 yards.
David Wilson made the most of his last spring football scrimmage for the year. Wilson came out of the gate strong. He had a blistering 22 yard run around the right edge on the opening play, and did not stop after that. His speed looked incomparable to anyone else, and it appears that his strength has improved as he knocked around several defenders on different runs. If Wilson plays anything like he did tonight throughout the season, he will live up to Ryan Williams' expectations of breaking several VT records.
Josh Oglesby continued taking reps as the second running back but still struggled a bit. He never managed to get more than 4-6 yards a carry and got stopped in the backfield multiple times due to inability to hit holes. James Hopper also got quite a few reps tonight, but struggled tremendously. The transition from rover is going to take some time.
The offensive line had a pretty solid performance from the first and second team. They had multiple hiccups throughout the night letting the defense squeak through, but overall the line looks experienced and ready. David Wang went out during the scrimmage with an injury but it did not appear serious.
The defensive side of the ball looked extremely impressive for the most part. Antone Exum had multiple hard hits on receivers including one on Jarret Boykin that got the entire sideline standing up. The secondary struggled a few times against the deep ball but a lot of the damage by the offense was done on the second team defense. Jayron Hosley sat out tonight with some sort of injury. While James Gayle has been a highlight for the defense this entire spring, J.R. Collins looked just as impressive tonight with multiple sacks and several pressures on all three quarterbacks.
The battle at the Whip LB spot looks like it has come down to Alonzo Tweedy and Jeron Gouveia-Winslow. Despite GW's supposedly solid week of practice, Tweedy got a lot of reps tonight and for the most part showed tremendous speed and a great knack for knowing for where the ball was at all times. Both Dominique Patterson and Nick Dew also got reps but neither got quite the work the others got. Dew went out with an injury midway through the scrimmage.
Overall, the first unit defense looked good and especially during the final two minutes. Neither offense could move the ball on them and as previously mentioned, the pressure on the quarterback was consistently there throughout the entire night.
The kicking battle seems to have settled down a bit as Cody Journell appears to have taken the job. He hit 5/6 field goals tonight and the other kickers only got one or two attempts. Despite missing a 45 yard field goal, Journell was impressive. The wind was pretty strong tonight in Lane. Beamer also threw in a small surprise on the field goal block team as he put Marcus Davis on the interior in an attempt to use his athleticism to block kicks. He jumped over the offensive line several times and came close to blocking the kicks.
The punters were as bad as the kickers were good. They all struggled kicking and botched several kicks onto either sideline. The protection was there but the execution in the kick was extremely poor.
Overall, the Hokies had a solid night on the field, and I would certainly say it was the best overall performance so far. Fans were energetic and excited as we left the stadium and everyone seems to be looking forward to the Maroon and White Game next Saturday.