We are at the point in the year where students are graduating from college, as I did over 4 years ago, and going out into the real world. Of course these kids are now aspiring to do big things in life as no one wants to just be merely average. In that way I would like to segue to Virginia Tech football in which average has risen to winning the ACC and attainable greatness for the program is now the national title.
When a team has to replace one of the greatest QBs ever to play at the school usually there isn't any chatter about contending for a national championship, but a couple of factors lead to that possibility in 2011. Even the national media has started to pick up the cause. You can listen to the positive spin on ESPN's College Football Live.
Really appreciate the analysis of VT, feel like the 2011 key will be more about how the defense improves than how LT performs. Enjoy Craig James recognizing how good the campus food is at VT. Feel like this video would be great for every VT recruit to see.
They have us ranked at #19 but the roundtable makes the case that we could be a lot higher. Of course Logan Thomas and his Cam-Newton-like measurables and how he looked in the preseason was a major part of the conversation. I really think the big key that was mentioned was the defense and how it should be a lot better. The 2011 Hokies also face a very favorable schedule. Some people are weary of the chatter after last year's crushed dreams but I always contend it's better to be in the talks than not mentioned. The VT football program since 1998 has made it an organizational focus to win the national title so it's great for the media to already start suggesting the possibility of that narrative for 2011.
The Empty Trophy Case
Virginia Tech as a program aims for the goal of winning a national title and there is a constant reminder in the Merryman Athletic Center. Over looking the practice field there stands a unfulfilled promise which can't be found in places such as Tallahasse, Tuscalosa, and Baton Rouge, because they've won they crystal. Neither can it be found in places like Charlottesville, where it isn't a realistic goal. The empty trophy case was put up in 1998 after VT had already achieved its goal of winning big bowl games, such as beating Texas in the Sugar Bowl. In 1999 the empty trophy case was almost filled by the team led by Mike Vick that fell short to Florida State in the Sugar Bowl.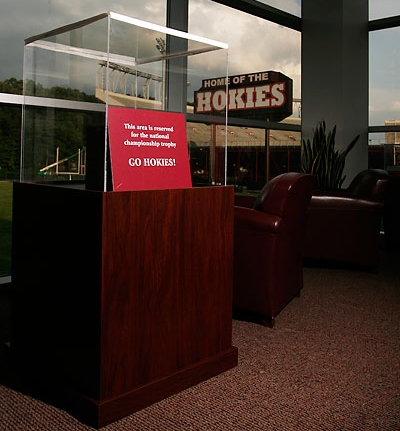 We are in the 13th year of having the empty trophy case which stands as the program mission statement, that we are all in for going for the national title.
As with every grand unaccomplished ambition, the goal of getting to a national title is heavily scrutinized. In most years since 1999 we've been apart of the talk, but haven't delivered yet. As VT fans we have all experienced the heartache that has been accompanied by dashed hopes, especially me personally, as I've been to the 2005 Miami, 2007 LSU, 2007 Boston College, 2009 Alabama, and 2010 Boise State games. The talk is that Frank Beamer is one of the greatest coaches to not win the national title, but that he can't win the big game which was also a stigma that Bobby Bowden had until his 17th year at Florida State when he won his first national title in 1993. The Stanford game was big in prolonging that national perception of our program: we have good teams that feast on teams in division but can't beat the elite teams out there, especially ones in the top 5. The changes made after the Standford game are an indicator that the empty trophy case isn't just for show and that the 10 win plateau isn't good enough.
Virginia Tech's football program has shown a commitment to fulfilling their goal of the national title. There was an $18 million investment to build a new locker room facility, right now we have the largest lockers in the country. Also, this offseason produced additions to the coaching staff. The shake up on the staff is not something that Beamer likes to do and was a message that status quo isn't good enough for this program. Being a perennial ACC title contender VT in most years is in great position for the possibility of a national title.
Is Aiming for the National Title S.M.A.R.T for the Program?
At my work one thing that is stressed in the organization is making S.M.A.R.T goals and I do believe that VT's goal of winning a national title meets the criteria. S.M.A.R.T stands for Specific, Measurable, Attainable, Realistic, and Timely. We already know that winning the national title is specific and measurable. In terms of timely we could say that every year the time we have is the length of the season. In terms of how many years from when we set up the empty trophy case, there is no expressed limit, but it can be inferred to be Beamer's tenure as head coach. The criteria of attainable and realistic is where further analysis of the program needs to be made. The attainability of the national title goes into looking at the position of program and how realistic it is to get the title leads to discussion specific to this year's team and schedule.
As a program Virginia Tech is currently in a position where the national title is attainable. I'm not saying it's probable, but it is attainable for the organization. Virginia Tech isn't in the top tier of football programs that come into every season with expectations they will win the national title (and isn't in the discussion to be there until we win a national title), but we are on tier two (along with programs such as Oregon) where we can realistically hope for a national title. It would be a nice thought saying that every year all 120 teams have a chance to win the title, but that simply isn't true. The BCS system makes it very likely the two highest ranked champions of the six BCS conferences will be in the national title game. With each of the 6 conferences there are likely 2-3 contenders for each so we could say in any given year there are at most 18 teams that have a chance. Since ACC expansion VT has won the conference more than any other team, and has been positioned high enough in rankings to be on the cusp. In fact, since going to the national title game we've held a top 5 ranking in 7 seasons.
| Season | Highest Rank | Last Date of Highest Rank |
| --- | --- | --- |
| 1999 | 2 | Final Ranking |
| 2000 | 2 | 11/2/2000 |
| 2001 | 5 | 10/27/2001 |
| 2002 | 3 | 11/2/2002 |
| 2003 | 3 | 10/22/2003 |
| 2004 | 9 | 1/3/2005 |
| 2005 | 3 | 11/3/2005 |
| 2006 | 11 | 9/30/2006 |
| 2007 | 5 | 1/3/2008 |
| 2008 | 17 | 10/18/2008 |
| 2009 | 4 | 10/17/2009 |
| 2010 | 10 | 9/16/2010 |
In the 11 years since making the National Title game we've been ranked in the Top 5 at some point during the season 7 times.
In the beauty contest that is the BCS, we have a great perch to attain a national title from. Now it's time to look at how realistic it is for the 2011 team to win the title.
Is 2011 realistic for VT to fill the trophy case?
These guys have the potential to be a special team, and this is taking into account the caution of the pre-season hype of the 2010 team. The biggest improvement from last year will be seen on defense in which VT had the worst defense of their ACC era last year being ranked 52nd in total defense.
| Year | Total Defense Rank | Total Yards Allowed Per Game | Scoring Defense Rank | Points Allowed Per Game |
| --- | --- | --- | --- | --- |
| 2003 | 51 | 367.46 | 45 | 23 |
| 2004 | 4 | 268 | 2 | 12.85 |
| 2005 | 1 | 247.62 | 2 | 12.92 |
| 2006 | 1 | 219.46 | 1 | 11 |
| 2007 | 4 | 296.93 | 3 | 16.07 |
| 2008 | 7 | 279.43 | 9 | 16.71 |
| 2009 | 12 | 295.46 | 9 | 15.62 |
| 2010 | 52 | 361.5 | 26 | 20.57 |
As discussed in the round table the hype of the 2010 team put too much assumption in that the young defensive players would carry the top defense tradition at VT. Giving up the big play led to the lowest defensive ranking during the ACC era.
The old saying is that defense wins championships, and by looking at the past few title winners we can see that holds true. When last years offseason expectations of national title talk were made there wasn't the realization that the youth and inexperience of the defense would result in mistakes that would cost the defense big plays, but we now have experience at many positions with everyone on our starting defense having had significant playing time last year.
| Position | 2011 Projected Starter | 2010 Experience |
| --- | --- | --- |
| DT | D. Hopkins | Backup, 169 defensive snaps |
| DT | A. Hopkins | Starter, 569 defensive snaps |
| DE | Gayle | Backup, 228 defensive snaps |
| DE | Collins | Backup, 270 defensive snaps |
| LB | Taylor | Starter |
| LB | Edwards | Backup |
| OLB | Gouveia-Winslow | Starter, 373 defensive snaps |
| ROV | Exum | Backup Safety / NickelBack, 486 defensive snaps |
| FS | Whitley | Starter, 747 defensive snaps |
| CB | Hosley | Starter, 699 defensive snaps |
| CB | Fuller | Backup, 417 defensive snaps |
It could legitimately be argued that VT should see significant improvement at every defensive position besides the corner spot vacated by Roc Carmichael.
As far as our offense, even though we lose 3 major stars in Tyrod Taylor, Darren Evans, and Ryan Williams, there shouldn't be much of a drop off. A big cause for hope is that our offensive line returns 4 starters and the new center, Andrew Miller, played last year and has received high praise. The most criticized position group at VT over the past few years has been the o-line, but this year indications point to it no longer being a weakness. Logan Thomas replaces Tyrod and has had a great spring, LT doesn't have to be great for VT to contend for a national title. He just has to not lose games for VT with turnovers and also can't get injured. David Wilson has shown he's capable of being a star, and for VT to be in the national title talk he has to be great. From spring practice reports indications are that he will be. Also, he can't get injured either. All of the wide receivers are back from last year which could give us the strongest group there ever at VT. The only position group that causes some worry is at tight end, but Drager should be able to hold his own as a senior now. Internally we are looking good on both sides of the ball but now its time to look at the external factors such as schedule and rankings.
Highly Speculative Possible Schedule Projection for National Title
In 2011 VT has the favorable type schedule to support a national title run. We should be favored in every game on the schedule, but the JMU loss last year should stand as a reminder to the team not to take any game lightly.
| Date | Opponent | Location | Driving Time from Blacksburg |
| --- | --- | --- | --- |
| September 3rd | APPALACHIAN STATE | Blacksburg, VA | - |
| September 10th | East Carolina | Greenville, NC | 5 Hours |
| September 17th | ARKANSAS STATE | Blacksburg, VA | - |
| September 24th | Marshall | Huntington, WV | 3 Hours |
| October 1st | CLEMSON | Blacksburg, VA | - |
| October 8th | MIAMI | Blacksburg, VA | - |
| October 15th | Wake Forest | Winston-Salem, NC | 2 Hours |
| October 22nd | BOSTON COLLEGE | Blacksburg, VA | - |
| October 29th | Duke | Durham, NC | 3.5 hours |
| November 10th (Thursday Night) | Georgia Tech | Atlanta, GA | 7 hours |
| November 17th (Thursday Night) | UNC | Blacksburg, VA | - |
| November 26th | UVA | Charlottesville, VA | 2.5 hours |
Favorable schedule with all games within driving distance from campus and VT should be the expected team to win in every game. VT could realistically enjoy the home crowd advantage in every game besides ECU and GT (yes, even Charlottesville could be a majority maroon affair as evidenced by the crowd a couple years ago).
Now comes the fun part of speculation, what will happen for a 19th ranked team looking to climb up to number one or two. VT has 4 non-conference games in which they will be heavily favored against teams that aren't ranked in September. If VT starts off 4-0 they are likely to move up to a ranking in the mid-teens because of other teams losing. October starts off with playing Clemson at home, which should be a win and Clemson will likely have at least one loss against either Florida State or Auburn (probably will lose to both), so this game won't help the strength of schedule too much, but another win getting to 5-0 should get us to close to top 10 ranking.
The Miami game is where it gets really fun, Miami plays an Ohio State team that won't have Pryor/Tressell and every VT fan should be cheering them on September 17th, because if they win that game Miami should come into Blacksburg as VT's first ranked opponent of the year (possibly a game for College Gameday to come). It could also drop Ohio State below VT in the rankings. Miami always captures a lot of national attention and if they are undefeated coming into Blacksburg they should be ranked at least around mid-teens and if we beat them in this scenario VT should then be ranked in the Top 10 at 6-0 even though they will have played only one tough team. Miami will be a battle and will be the first test to see if the defense is legit.
| Date | Opponent | Location |
| --- | --- | --- |
| 9/5/2011 | Maryland | College Park, Md. |
| 9/17/2011 | Ohio State | Miami Gardens, Fla. |
| 9/24/2011 | Kansas State | Miami Gardens, Fla. |
| 10/1/2011 | Bethune Cookman | Miami Gardens, Fla. |
| 10/8/2011 | Virginia Tech | Blacksburg, Va. |
If Miami takes care of business there will be all the hype of "da U" when they come into Blacksburg similar to 2009.
We skip ahead two weeks, past a still young Wake Forest team. Then, Boston College comes into town undefeated after blowing through the easy beginning of their schedule. If VT should beat Boston College, and they are undefeated, they should be ranked around the high teens. Boston College will provide a tough challenge, but the Lane Stadium atmosphere and our strength on defense should provide a win which will make us 8-0 with a Top 10 ranking, speculatively somewhere between 6-8. It should really stoke some national attention and a lot of ire among other fanbases since the talk would be we hadn't played anyone really good even though it would be October 22nd, more than halfway through the season, at the time.
| Date | Opponent | Location |
| --- | --- | --- |
| 9/3/2011 | Northwestern | Chestnut Hill, MA |
| 9/10/2011 | Central Florida | Orlando, FL |
| 9/17/2011 | Duke | Chestnut Hill, MA |
| 9/24/2011 | Massachusetts | Chestnut Hill, MA |
| 10/1/2011 | Wake Forest | Chestnut Hill, MA |
| 10/8/2011 | Clemson | Clemson, SC |
| 10/22/2011 | Virginia Tech | Blacksburg, VA |
On paper Boston College should most likely be undefeated when they play us. With the way Clemson looked in the spring with a new offense and new QB not expecting them to have a good season
The next huge game will be against UNC on Thursday night in Lane. I'm forecasting that we will be 10-0 after beating Duke and GT on the road (GT should take a big hit this year without Nesbitt). UNC is likely be undefeated at the time because of their favorable schedule. For the sake of our national title hopes we want them to be which would result in them being ranked close to the top 10, possibly higher, cynically some could say they will be ranked inside the top 10, if undefeated, because ESPN will want them to be since it's a Thursday night game on their network. Even though UNC had a ton of players drafted they still do return a lot of talent and a good bit of their returners got extra experience when the cheaters were suspended during last season.
| Date | Opponent | Location |
| --- | --- | --- |
| 9/3/2011 | James Madison | Chapel Hill, N.C. |
| 9/10/2011 | Rutgers | Chapel Hill, N.C. |
| 9/17/2011 | Virginia | Chapel Hill, N.C. |
| 9/24/2011 | Georgia Tech | Atlanta, Ga. |
| 10/1/2011 | East Carolina | Greenville, N.C. |
| 10/8/2011 | Louisville | Chapel Hill, N.C. |
| 10/15/2011 | Miami | Chapel Hill, N.C. |
| 10/22/2011 | Clemson | Clemson, S.C. |
| 10/29/2011 | Wake Forest | Chapel Hill, N.C. |
| 11/5/2011 | NC State | Raleigh, N.C. |
| 11/17/2011 | Virginia Tech | Blacksburg, Va. |
Memories of 2009 scare me with UNC as they did beat us that year on a home Thursday night game with the defense unable to stop Ryan Houston who is back this year. This game will be a battle.
If we beat UNC and are undefeated the roar of national title talk will be strong. VT should be a top 5 team, and in the best scenario for VT to go to the Nati, should be on a collision course with an undefeated FSU team that should be ranked in the top two. Much like the last 7 years I'm going to mark the UVA game as a win as all indications are that the Hoos won't have much success this season, especially with the second half of their schedule. So after getting to 12-0 with an undefeated regular season VT could enjoy the highest rank it's enjoyed since 2009 when it was ranked the #4 team in the country.
| Date | Opponent | Location |
| --- | --- | --- |
| 9/3/2011 | Louisiana-Monroe | Tallahassee, Fla. |
| 9/10/2011 | Charleston Southern | Tallahassee, Fla. |
| 9/17/2011 | Oklahoma | Tallahassee, Fla. |
| 9/24/2011 | Clemson | Clemson, SC |
| 10/8/2011 | Wake Forest | Winston-Salem, NC |
| 10/15/2011 | Duke | Durham, NC |
| 10/22/2011 | Maryland | Tallahassee, Fla. |
| 10/29/2011 | North Carolina State | Tallahassee, Fla. |
| 11/3/2011 | Boston College | Chestnut Hill, MA |
| 11/12/2011 | Miami | Tallahassee, Fla. |
| 11/19/2011 | Virginia | Tallahassee, Fla. |
| 11/26/2011 | Florida | Gainesville, Fla. |
FSU seems to be ramping back up considering their recent recruiting and past year success. With Oklahoma coming to Tally in primetime I can see FSU winning that game. If they beat Oklahoma I see them ripping through the rest of the regular season schedule.
Ironically, for VT to get back to the title game we would have to root for our 1999 title game opponent FSU to be undefeated when we play them. That would mean they beat elite opponents such as Oklahoma and Florida, and likely hold a top two ranking. FSU would be the first team that we would be underdogs to the entire year. If we get to 13-0 by beating a potentially top ranked FSU team our prize will be a #2 national ranking and trip to New Orleans to probably play one of the two SEC teams that defeated us over the past 4 years, Alabama or LSU, with the understanding that a SEC team has won the title every year since 2006. Alabama gets LSU at home after a bye week so I give them the early edge. Any given Saturday anything can happen, and of course VT would be underdogs again, but this team is better than it was in 2009, while this Alabama team isn't likely to be as talented as it was in that same year when we played them closely for 3 quarters before running out of steam.
Probability
For 2011, my initial analysis of the team and schedule can lead to the conclusion that a national title is a realistic goal, keeping in mind that realistic doesn't equal probable. If we are going with probability, then I would say that the title game will likely be Alabama playing Oklahoma with the SEC team winning the championship again, but the great thing about sports is that you never know what will happen and that the favorite team doesn't always win.
Now you can't really put a number on all of that happening. One thing to remember is that a couple of things can't happen like injuries at key positions. I never like to say that it is likely for a team to go undefeated, but considering that we should be favored in all of the games in the regular season I'll say that we have around a 20% chance of being undefeated before the ACC Championship Game if we stay healthy. To have a chance at the national title we need FSU to be undefeated heading to the ACCCG, and I would say FSU has a bit less than a 13% chance to be undefeated because they have Oklahoma on the schedule. All rankings have FSU as being the top ACC team, and one of the top teams in the country. Even though we beat FSU last year, we are projected to have an uphill battle against them.
A lot of luck goes into winning a national title. For example Alabama needed a remarkable field goal block against Tennessee during their run, and Auburn was nearly derailed last year in an overtime game against Clemson. I'm not predicting a national title for VT as I don't want to jinx it, and I believe that VT will go 12-2 if no significant injuries happen with a win against South Carolina in the Chick-fil-A Bowl. With that in mind, I still do dream of VT beating the odds and getting lucky enough to celebrate a national title with a couple of hand grenades on Bourbon Street.