By:

ltrepeter2000
Hoops Wiz
on January 10, 2017, 6:57 PM
| 79 comments
IT'S GAMEDAY! #BeatCuse Cassell 7 PM ESPNU pic.twitter.com/V9HZOhbO7Z— VT Men's Basketball (@VT_MBBall) January 10, 2017
GAME INFORMATION
Date/Time: January 10, 2017 / 7 p.m.
Opponent: Syracuse
Site: Blacksburg, Virginia (Cassell Coliseum)
Radio: Virginia Tech IMG Sports Network
Talent: Jon Laaser & Mike Burnop
TV/Internet: ESPNU
Talent: Rich Hollenberg & Dino Gaudio
Live Stats: HokieSports.com
Game Notes: Virginia Tech
XM Radio: XM Internet 961
Happy 41st BDay to 1of my fave in the : @Chris_ClarkeeI this is your absolute best yet palI you > than all the in the pic.twitter.com/wtWFuJIIiR— Buzz Williams (@TeamCoachBuzz) January 9, 2017
Home Again, Now what?
Buzzketball continued down that steep slope on the ACC roller coaster ride. Duke was a great high, but after 30 point loss to NC State and a 15 point loss to Florida State, the Hokies have come down really fast. Fortunately the Hokies return to the comfy confines of Cassell Coliseum tonight to face Syracuse. Syracuse comes in having won its last two ACC contests over Pitt and a then ranked Miami team. A team that is a bit of Jekyll and Hyde this season.
Still no students, middle of the week, school night, doesn't necessarily set up for a huge crowd in Cassell but the team should be rested and ready to go but may have to go another game without Seth Allen who remains a game time decision according to several sources. Syracuse enters this game 10-6, with some really surprising losses. There are losses to struggling UConn (6-9) and Georgetown (9-8), then they got their doors blown off by St Johns. Couple those with a beginning to ACC play by getting thrashed by Boston College 96-81. They made some significant changes to player rotation and style of play that then saw them beat Pitt and Miami in back to back home contests. One number that seems to jump out about Syracuse is their 3-3 record in road/neutral site games. The wins are over Holy Cross, Monmouth and, South Carolina State, while the losses are to South Carolina, Wisconsin and Boston College. Zero quality wins on the road should sound familiar to Hokies fans.
This will be the eleventh meeting between the Hokies and Orange. Syracuse leads the all-time series 8-2, starting all the way back in 1968. The Hokies will be looking to end an eight game losing streak that goes back to 2000 while also looking to get some revenge for letting a seven point lead slip away in the final two minutes of their last meeting.

The Orangemen are coached by Jim Boeheim, in his forty first year at the helm of Syracuse, having started in 1976. In forty years, his team has won 20+ games thirty seven times(three of these seasons were redacted after the investigation). They have won 30+ games an incredible 6 times. Boeheim has an incredible career record of 888-347, that doesn't include the 101 wins that Syracuse vacated due to an NCAA investigation. Syracuse is still dealing with a suspension of scholarships as part of that investigation as well, short 8 scholarships over a four year period starting in 2015. Boeheim will retire following the 2018 season.
Two interesting notes on Boeheim, the first being that he has been an assistant to USA basketball for the last decade working under Coach K, the second being that for all his sideline animation, Boeheim was not ejected from a game until 2005, going almost thirty years without an ejection. If you go all the way back to 1978, the Hokies do have one victory against Boeheim at home against a #10 Syracuse squad. Since then its been all Orange.
Defensively, the Orange for as long as Boeheim has coached employ a 2-3 zone. You will almost never seen them vary from this defense. The closest to variation is that when down big they will press full court but once in the half court they return to the zone. Boeheim keeps the defensive end simple because he wants his team to perfect the intricacies of playing one defense rather than having to be good at multiple looks. This season though I wouldn't expect to see much use of the press as Boeheim has gone to a six man rotation, which doesn't work with the hustle required for a full court press.
Offensively, Syracuse has changed from being perennially focused on using their bigs down low to a perimeter shooting offense based on personnel. This season they are averaging 23.3 attempts from outside per game and they make them at almost 40%. That's over 27 points per game from beyond the arc. The outside makes the Orange go. That said, they still manage 50 more points per game between the line and inside the arc. 15 of those points come from the line. Leaving only 35 points scored in the paint.
What does that mean for the Hokies?
The Hokies need to dominate the paint. Driving to the basket or finding Leday down low so he can work inside will be critical to this contest. Syracuse has gone to six man rotation with three guards and two forwards to start. Similar to Tech and Leday, they have a forward that sits the first few minutes and then enters the contest for almost the remainder of the game. If Sy starts than expect to see him going up against freshman Taurean Thompson to start out with and then both will give way to Leday vs the two Tyler's, Roberson and Lydon. If Tech is able to get any of the three Syracuse bigs into foul trouble, it may force Boeheim to change his entire strategy, which should work to Tech's advantage.
The Hokies are going to need to hit their perimeter shots though because this is a team that can drain it from three and has the talent to get open regularly against them. Tech does not want to be trading outside shots all day with this team so clamping down on perimeter shooters is critical.
This game should not be the high paced affairs that the last two road games were. That said, the Hokies still need to look to push the pace to be able to score baskets in transition before the Orange can set their zone in place. Forcing the pace can also draw fouls from the Syracuse starters which is critical to getting them out of their gameplan.
Orange Backcourt

Andrew White III (#3) 6'7, 210 Lbs Senior Guard is Richmond native that is a graduate transfer from Nebraska after playing two years at Kansas to begin with. He has averaged 16.1 PPG, 4.8 RPG, 1.4 APG and 1.5 SPG. He is shooting 40% from behind the arc and 43% overall. He is also shooting 76% from the free throw line.

John Gillon, (#4) 6'0, 178 Lbs Senior Guard is also a graduate transfer after playing for Colorado State for two years and Arkansas Little Rock for one season. He comes in averaging 9.5 PPG, 1.8 RPG, 5.1 APG and 1.7 SPG. Gillon controls the point for the Orange. He is the best of this group off the dribble but also shoots 40% from outside and 73% from the line.

Tyus Battle, (#25), 6'6, 205 Lbs Freshman Guard is averaging 8.8 PPG, 1.8 RPG, 1.6 APG, and 1.1 SPG. Battle came in averaging 25 MPG but the last two games, just like the other two guards, has been called upon to play every minute. He is Syracuse best all around shooter, hitting 44% from outside and 81% from the line.
Orange Frontcourt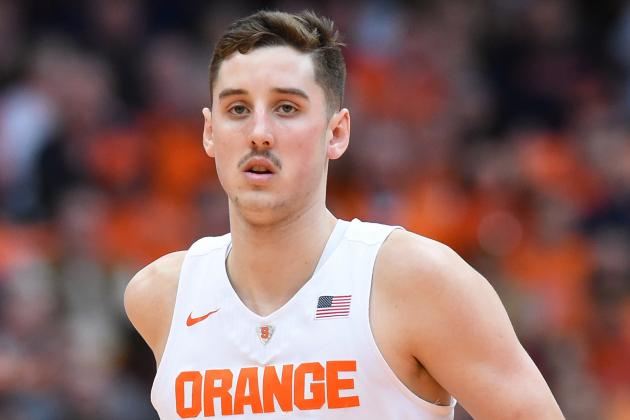 Tyler Lydon, (#20), 6'9, 223 Lbs Sophomore Forward is averaging 13.5 PPG, 7.8 RPG, 1.9 APG, 1 SPG, and 1.3 BPG. Lydon is a big potential problem as he stretches defenses with his ability to shoot consistently from outside. He comes in averaging four attempts per game and is shooting 45% while doing it. His interior scoring is only slightly better at 47%. He is averaging 32 MPG but as with the other starters the last two games that number is 36.5 minutes. He also has a very strange Stache problem.

Taurean Thompson, (#12) 6'10, 225 Lbs Freshman Forward, is called upon to start, and was averaging 16.5 MPG but the last two games has seen that diminish to a 7.5 minute average. He comes in putting up 8.6 PPG, 3.4 RPG, and 1.1 BPG. He is shooting 55% from the field but only 65% from the line

Tyler Roberson, (#21) 6'8, 226 Lbs comes off the bench after Thompson gets a few minutes in as a starter. He is averaging 6.3 PPG, 5.4 RPG, and 1 BPG. He is averaging 20 MPG on the season but the last two games are a different tale, where he has averaged 35 minutes per contest. His numbers are not dramatically higher for the additional playing time, which only works in Tech's favor. He has an average of one block per game but six of the sixteen came in their last game against Pitt. He shoots 50% from the field and 60% from the line.

Names the Announcers will Butcher
Doyin Akintobi-Adeyeye may be the season winner in this category. Paschal Chukwu get's the only honorable mention.
What to expect from Syracuse?
The Orange will come out playing their new found short bench focused on shooting from outside while occasionally feeding their center the ball to keep the Hokies honest. It has helped them beat 11-2 Miami team and a 12-3 Pitt team. That was in the cozy confines of the Carrier Dome.
They don't really have the size to dominate Tech like most of the other ACC programs and with their bench using fewer players than even Buzz has going out there, expect to see a slower paced game plan from Syracuse.
2-3 Zone defense all game. They will attempt to disrupt passing lanes at the top of the key but will collapse into clog the lane with penetration. With this they are hoping to make Tech make mistakes with the ball as they deal with a lot of bodies inside.
The starters are not terrible from the free throw line but almost everyone else on the roster is. The depth of their perimeter shooting is also limited to the starters. Beyond those five or six players it is a significant drop off with the rest of their roster.
The Hokies
Tech needs to keep a high paced tempo for as long as they can to start the game. Three Orange guards have played all 40 minutes of their last two contests so fatigue has to drift in at some point. They have to be able to get a high number of transition baskets like they did against Duke to prevent Syracuse getting in its stingy zone defense in time.
The Orange zone will only help them slow the game, which allows their players time to recover. Tech needs to be ready to break the zone quickly. Getting the ball down low to Leday and letting him work their bigs for fouls could turn this game dramatically in the Hokies favor.
Hopefully Sy will be a bit more recovered and can give Leday a bit of a breather down low. He could also have a pretty successful day going up against this team.
Hitting perimeter shots will be another key factor. Buzz needs Bibbs to reappear from his two game disappearing act and really help the Hokies put some distance between themselves and the Orange.
One critical area the Hokies must improve as it could as it continues to haunt them game to game. They have to not turn a great defensive play immediately into a poor offensive play. They cant go from getting a stop or creating a turnover to throwing the ball away. Tech did that at least seven times during the NC State contest at least another five times against FSU. Scoring in transition is nice but scoring period is most important.

Highlight of the Florida State Game
Buzz got a great workout in, just ask his dry cleaner.
In Closing
Expect to see a faster paced game than Syracuse would like but maybe not as fast as Buzz would prefer this evening. Both teams are now using short benches and will be susceptible to foul trouble. Hopefully Tech can inflict more damage here than it takes.

Boeheim will put both hands on his head at least five times in this contest. He will be a show worth seeing unto himself. Add Buzz to the act and you have a circus. Expect to see some animated coaching tonight.
Game could get a little chippy. White and Clarke will likely have words at least a couple times during this contest.
Tough to know which version of Syracuse shows up tonight. I think its more the rest of the season version rather than the last two games. Tech wins 81-73, by hitting enough from outside and then making critical free throws down the stretch, which is what they didn't do last year against this squad at the end of the game.
pic.twitter.com/iBtGbp2z7k— Buzz Williams (@TeamCoachBuzz) January 10, 2017