CBSSports has bowed down to their ShieldBall masters and now there are no college games to pick this week. Which makes sense; it's not like there are any games left or anything. Oh, there are? Well then I guess that means we're picking them here. In the comments. Again. Like with Week 1, just post them here and I'll tally them up.
Friday, December 1
PAC-12 CHAMPIONSHIP

Stanford vs USC (-4)
Factoid #1: This is one of several conference championship games that's a rematch.
Factoid #2: Sam Darnold denied rumors this week that he'd rather stay in college another year than end up with the Browns. Can't say I'd blame him.
PICK: Both teams have improved down the stretch compared to where they were early in the season. Tough call, but I'll take Stanford to cover.
Saturday, December 2
AAC CHAMPIONSHIP

Why does Nebraska want Tommy Wiseau again?
Memphis at UCF (-7)
Factoid #1: Mike Norvell led Memphis to their first 10-win season since 1938.
Factoid #2: Scott Frost told Florida to go pound sand, leading to them hiring Dan Mullen.
PICK: Frost is likely gone after this; I'll take his UCF team to cover in his final game.
BIG XII CHAMPIONSHIP

TCU vs Oklahoma (-7)
Factoid #1: Gary Patterson likely turned off his phone, as he does every time this year, which is why he never got a call from Tennessee for their job opening. And, like, every other job opening.
Factoid #2: Lincoln Riley guided Oklahoma to the Big XII championship in their first year, slightly lessening my own worries that he would be bad, get fired, and have the Sooners come after Justin Fuente.
PICK: TCU probably isn't as good as their record indicates. I'll take Oklahoma and lay the points.
SEC CHAMPIONSHIP

With all the anger in the game these days, it's nice to see some brotherly love
Georgia vs Auburn (-2)
Factoid #1: This is another one of these rematches, though the line suggests Vegas suspects an Auburn letdown.
Factoid #2: Gus Malzahn is rumored to be in the running for the Arkansas job. Can you imagine him leaving Auburn during the playoffs to start recruiting at Arkansas?
PICK: Auburn's been on fire lately, but the same voice that told me to take them against Georgia last time now tells me to take UGA. I'll listen.
MWC CHAMPIONSHIP

Fresno State at Boise State (-9)
Factoid #1: Fresno State beat Boise State already. Like, last week. By two scores.
Factoid #2: Boise State lost to UVA this year. At home. Bad.
PICK: I'm having a hard time believing in a team that got pummeled at home by UVA. Give me Fresno State.
ACC CHAMPIONSHIP

I thought this was Dabo at first glance
Clemson (-9) vs Miami
Factoid #1: Dabo Swinney got the rare coach personal foul last week against South Carolina for complaining about their fans throwing bottles at his players. He's got a point, really.
Factoid #2: This is Miami's first appearance in this game. Just as the ACC planned when they setup the divisions.
PICK: Miami's lost a bunch of starters to injury recently. Uh oh. Clemson blows them out.
B1G CHAMPIONSHIP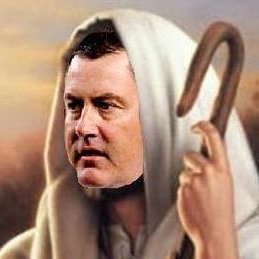 Googling "Paul Chryst" gets you some weird results
Ohio State (-6) vs Wisconsin
Factoid #1: Ohio State is likely out of the CFP, but you'd never know by talking to their fans here, who all assume they're in with a win regardless.
Factoid #2: S&P+ says the Badgers have the best defense in the country. I can't say I knew that about them.
PICK: I'd be lying if I said I had seen much of Wisconsin this year, but I can't help being reminded of Iowa a couple of years ago when they lost to Michigan State in the B1G championship. Ohio State by a TD.
PILLOW FIGHT OF THE YEAR

Green skin, grimacing face, holding his stomach...probably got food poisoning from Chipotle
Georgia Southern (-3) at Coastal Carolina
Factoid #1: Georgia Southern upset Louisiana Lafayette by going back to their traditional triple-option roots. Yuck.
Factoid #2: Coastal Carolina actually lost their coach to a season-ending injury before the season started.
PICK: Georgia Southern's actually playing something resembling football since hiring Chad Lunsford this season. I'll take them to win & cover.
DRINK OF THE WEEK:


Full disclosure: I'm a Maker's Ambassador. Basically that just means they have a barrel aging in a warehouse with my name on it (literally). Yet they send me free stuff every Crimbo, including a little scarf and hat for my Maker's bottles, and a bunch of Maker's Ambassador business cards. I put some of them in my wallet as a joke, then almost accidentally handed one to my current employer when I interviewed for my current job. Alcohol really can sabotage your life if you're not careful.
Remember, we're making our picks IN THE COMMENTS BELOW this week.