By:

OHokie
on September 19, 2017, 11:20 PM
| 69 comments
An even worse week than last week awaits us, with loser-leaves-town matches going on at a couple of venues this Saturday. Again no perfect picks last week; since the odds of 8-for-8 are 1 in 256 (I finally get some real-world use out of my Discrete Math class), you'd think we would have had somebody get them all now. Several got 7-of-8. Not me, as the law of averages drives me back to 12-12 on the season.
Remember, you make your picks at CBSSports.com (LINKY HERE).
SATURDAY, SEPTEMBER 23
Texas A&M (-3) at Arkansas
Factoid #1: An uptick in sales of Duluth Trading's Armachillo Cooling Cargo Pants in College Station this season was brought on by Kevin Sumlin's absurdly hot seat.
Factoid #2: Bret Bielema is on the rules committee, which is worth at least +1 in turnover margin per game.

PICK: Neither of these teams makes you feel very confident here. I'll take A&M.
Factoid #1: Since the start of 2013, NC State has a total of 2 wins over P5 teams that finished the year with a winning record. Pictured: their typical behavior in their losses.
Factoid #2: Colorado State has already played 4 games going into the weekend, while FSU has played only 1.
PICK: This is FSU's first game without Deondre Francois, but it won't matter because NC State has hit their ceiling under Dave Doeren. FSU covers.
Michigan (-10) at Purdue
Factoid #1: Michigan has gained 1 yard or less on 43 of their 88 first down plays on offense.
Factoid #2: Purdue is one of the few schools bold enough to name their team after an alcoholic drink. Kudos to them.


PICK: This looks like quite the little trap for Michigan, with Mike Hart's favorite little brother up for them next week. I'm taking a greatly improved Purdue team to cover, and wouldn't be surprised if they spring the upset.
Mississippi State at Georgia (-5)
Factoid #1: MSU pounded LSU last week, just their third win over LSU since 1992.
Factoid #2: Kirby Smart indicated QB Jacob Eason may have lost his starting job due to injury Tuesday. Don't see that one too often.


PICK: I believe MSU's better this year, but not as good as they looked against an LSU team that'll underachieve. Georgia covers.
Florida (-3) at Kentucky

Factoid #1: Florida's last-second TD against Tennessee last week was their first completion over 10 yards the entire game.
Factoid #2: Kentucky has somehow appeared in the top 8 games two weeks in a row. Like, Kentucky football. Huh.
PICK: Florida gets caught on the road against an improved Kentucky squad.
Penn State (-10) at Iowa
Factoid #1: Penn State RB Saquon Barkley returns after calling out Iowa's defense following last year's game.
Factoid #2: Kirk Ferentz is the longest tenured coach in FBS, having taken over from Craig T. Nelson after his show was cancelled.


PICK: While I'd love to take Iowa here, they're well on their way to a typical 8-4 finish and can spare this loss. Penn State covers.
Notre Dame (-4) at Michigan State
Factoid #1: Did you know this is a trophy game? They apparently play for a megaphone. Midwest rivalries are weird.
Factoid #2: This is the last time Michigan State will play Notre Dame until 2026. Conference realignment is gross sometimes.


PICK: I wonder if Mark Dantonio hasn't entered late Beamer territory. Give me Notre Dame.
UCLA at Stanford (-7)
Factoid #1: UCLA managed to lose as a ranked team to a G5 team last week (Memphis).
Factoid #2: Stanford managed to lose as a ranked team to a G5 team last week (San Diego State). Plus the lights went out.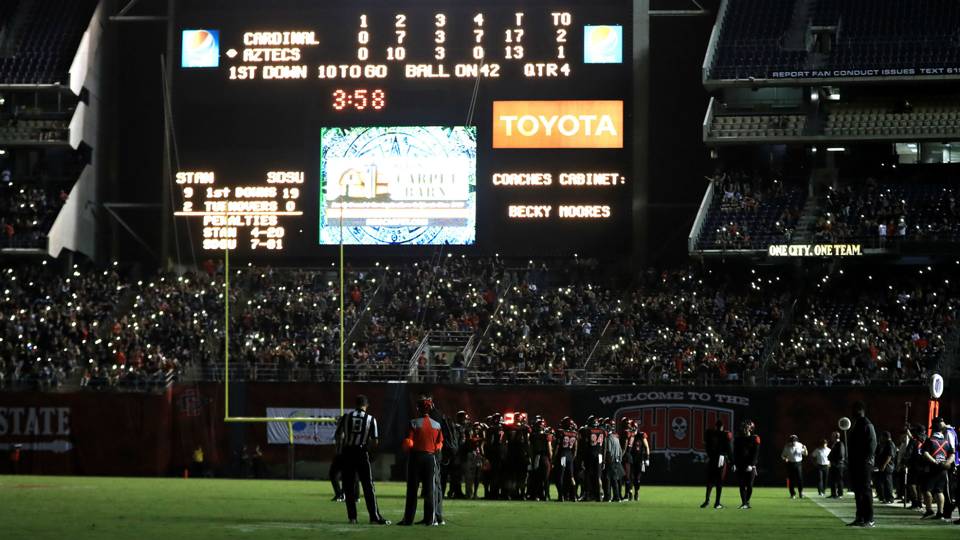 PICK: Stanford's loss can be excused as a hangover, but Memphis actually looked like the better team vs. UCLA. I'll take Stanford and lay the points.
DRINK OF THE WEEK:


I've always liked Gentleman Jack, the mellower, less bar-fight oriented version of it's older brother Jack Daniels. The fact that they had it on sale for $28 at my local liquor store made it a must-get this week. Come to think of it, I've never seen it at a discount before anywhere. Is it not as popular as I thought it was?
Remember, we're making our picks on CBSSports.com (LINKY HERE), though feel free to let everybody know what the correct answers will be in the comments.