By:

ltrepeter2000
Hoops Wiz
on February 21, 2018, 6:19 PM
| 183 comments
IT'S GAMEDAY!🏀 #BeatClemson | #HokiesSocial 📍 Cassell Coliseum🕖 7 PM📺 RSN (https://t.co/AuNiK3j6RN) pic.twitter.com/SFZoze4hKR— VT Men's Basketball (@HokiesMBB) February 21, 2018
GAME INFORMATION
Date/Time: Feb. 21, 2018 / 7 p.m.
Opponent: Clemson
Site: Blacksburg, Virginia (Carilion Clinic Court at Cassell Coliseum)
Radio: Virginia Tech IMG Sports Network
Talent: Jon Laaser & Mike Burnop
TV: Regional Sports Networks
Talent: Tom Werme & Jason Capel
Live Stats: HokieSports.com
Game Notes: Virginia Tech
SIRI 134 (Internet 955)
MUST WATCH ----- MUST WATCH
Doors are open & #HokiesSocial is officially underway 👊🦃 x 🐯 pic.twitter.com/WVTZliyJwc— VT Men's Basketball (@HokiesMBB) February 21, 2018
Catch the Tiger When Their Down
Buzzketball comes home to face a ranked Clemson Tigers team with both Tournament implications and overall ACC ranking on the line. Clemson is coming in off a disappointing loss to Duke, where they came back from a double digit deficit only to let it slip away in the final moments. That loss came on the heels of a terrible loss to Florida State, where the Tigers allowed the Seminoles to come back from an 18 point deficit to steal a win in Overtime. The Tigers also took a big blow injury wise in this game, losing Shelton Mitchell to a concussion that will keep him out of tonight's game. That means Clemson will be missing two of its top four scorer's this season as well as their starting point guard in Mitchell and Donte Grantham who was lost for the season early in ACC play. The Hokies win and they keep pace with the surprising NC State Wolfpack and even things out with Clemson, and will have the edge over both for fourth place in the ACC.
ALL. SOLD. OUT. Thank you, #HokieNation, & see you in Cassell!!📰 » https://t.co/kqFTHmcIMo pic.twitter.com/Cj3f9rVDTZ— VT Men's Basketball (@HokiesMBB) February 20, 2018
At home, middle of the week, with a packed student section and most of the rest of the Cassell. Vegas currently have the Hokies a slight favorite over Clemson. Clemson this season has likely saved their head coaches job but will have difficulty doing much more if the concussion persists with Mitchell. Outside of their original five starters, all averaging double digit scoring, the highest scorer behind them is averaging 4 points a game and that's with Grantham having missed the last 7 games from his injury. Clemson this season had big wins over Ohio State, Florida, South Carolina, Louisville, Miami and UNC. Since the injury to Grantham though, the Tigers have gone 4-3.
This will be the Thirty Second meeting between the Hokies and Tigers. Virginia Tech leads the all-time series 18-15. Hopefully the Hokies come out with the same energy they had against Georgia Tech and put the Tigers away early but this is a much more talented and cohesive opponent than the Yellow Jackets.

The Tigers are coached by Brad Brownell, who has been at Clemson since 2010. He has finished with winning teams in all but one year guiding the Tigers. They are a consistent middle of the ACC team throughout his tenure. He was thought to be on the hot seat this season after the Tigers finished 6-12 in conference last year but with the way the Tigers have played this season, calls for Brownell to be out have calmed down.
Defensively, the Tigers focus primarily on a smothering man to man defense. The Tigers have forced opponents into over 13 turnovers per game. Their perimeter defense is also very stout, holding opponents to 35% shooting from the perimeter.
Offensively, Clemson runs a constant motion offense which with his current group of players has been quite successful this season but now Brownell is being forced deep into his bench which will likely be challenging to have his team operate smoothly because much of the constant motion offense is about anticipating your teammates moves and providing leading passes which when you haven't spent much time together on the floor is hard to achieve at game speed.
What does that mean for the Hokies?
The Hokies size wise might have been better off facing the starters as the Tigers will bring some bigger guys off the bench now as a result of the injuries. That said, several will be inexperienced so using Blackshear down low will be critical. This needs to be a focus of getting baskets or getting to the line today especially with how foul happy these Tigers are.
The Hokies have a second opportunity in a row to essentially lock down a team tonight which will force all kinds of issues offensively for the Tigers. They will likely struggle offensively with their point guard out for this contest. The Hokies need to come out with their energetic defense and create a large gap between these two squads. I would hope that Buzz turns the pressure all the way up, especially coming out of the gate.
I would expect a high paced game, Tech needs to get out and run early and often. Change the pace of play so that the Tigers are forced to constantly reach for opponents. The three remaining starters for Clemson all average more than 2 fouls per game and several of the bench players even in limited playing time are averaging over 1.5 fouls per game. Forcing Clemson to adjust even more than the initial two injuries could really turn this game.
Today, the Hokies perimeter players must find a way to make their shots even being a bit uncomfortable. Buzz needs to get in Bibbs ear that he needs to shoot if he has a sliver of a chance, rather than just passing it around. It would also be nice if the Hokies could build enough of a lead to have Buzz focus on Hill and his perimeter shot.
Tigers Backcourt

Marcquise Reed, (#2) 6'3, 180 Lbs Junior Guard comes in averaging 15.6 PPG, 4.7 RPG, 3.4 APG and 1.9 SPG. He is shooting 36% from outside and attempts over five per game. He also shoots better than 85% from the free throw line. Reed will be used to break down the zone defense that the Hokies like to play, crossing the middle of the court to create space for drives or passes. Also expect to see him play at the point a majority of the game with Mitchell out. He is the one guy they have that could possibly will them to victory as an one man show. Hard to imagine where this team would be if Reed had not transferred in from Robert Morris a couple seasons ago.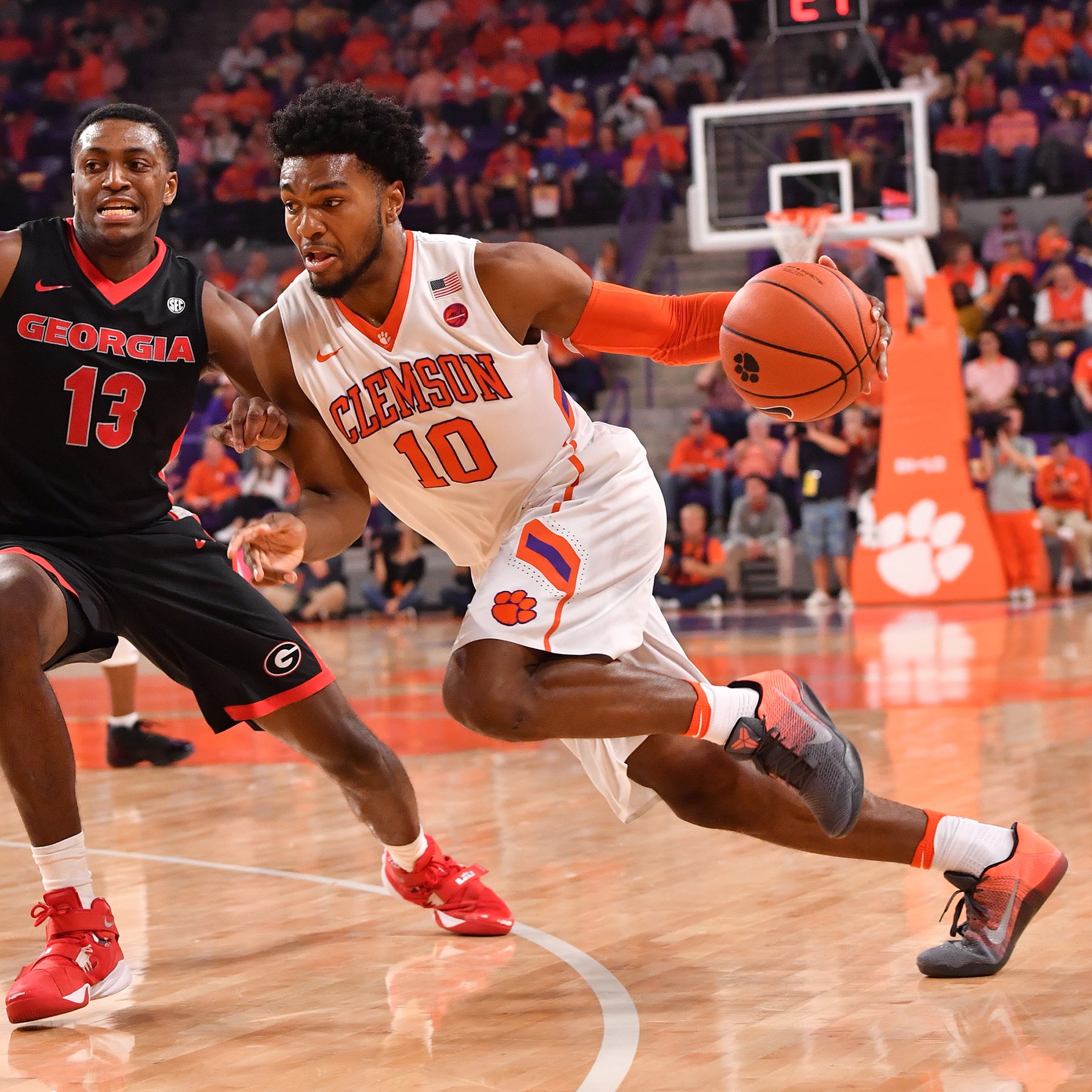 Gabe Devoe (#10), 6'3, 200 Lbs Senior Guard is averaging 13 PPG, 4.5 RPG, 1.7 APG and 1.1 SPG. Devoe comes in averaging 34 MPG. Devoe is the primary shooter from the perimeter that the Hokies should be focused on as he is shooting 42% from outside on almost 6 attempts per game. He also shoots 77% from the charity stripe.
With Shelton Mitchell, (#4), 6'3, 195 Lbs Guard out for this game, who was averaging 11.8 PPG, 2.8 RPG, and 3.8 APG, expect to see a combination of a few guards to replace his minutes on the floor if not his ball handling prowess.

Freshman Clyde Trapp (#0), 6'4, 192 lbs and Sophomore Scott Spencer, (#22), 6'6, 195 Lbs will spend a bit more than 15 minutes they have been averaging while putting up a combined 3.6 PPG, 1.4 RPG, and 1 APG. More of Mitchell's minutes will likely be taken up by some other Forwards as well.
Tigers Frontcourt
Donte Grantham, (#15) 6'8, 215 Lbs Senior Forward, was one of the leading Tigers until suffering a season ending injury early in ACC play.

Elijah Thomas, (#14) 6'9, 230 Lbs Junior Forward has seen his minutes steadily increase with the changes to the lineup. He is averaging 10.3 PPG, 7.8 RPG, 1 APG, and 2.4 BPG.

He will be down low with Michigan graduate transfer Mark Donnal, (#5), 6'9, 240 lbs Senior Forward who up to this point has averaged 13 minutes, 4 points and 1.9 rebounds.

Donnal will be joined by Freshman Forward Aamir Simms (#25), 6'7, 237 lbs, from Palmyra, VA and Junior Transfer David Skara, (#24), 6'8, 215 lbs who comes in from Valparaiso. Together they were averaging 6.8 points, 4.9 rebounds, 1 assist and 1.2 Blocks.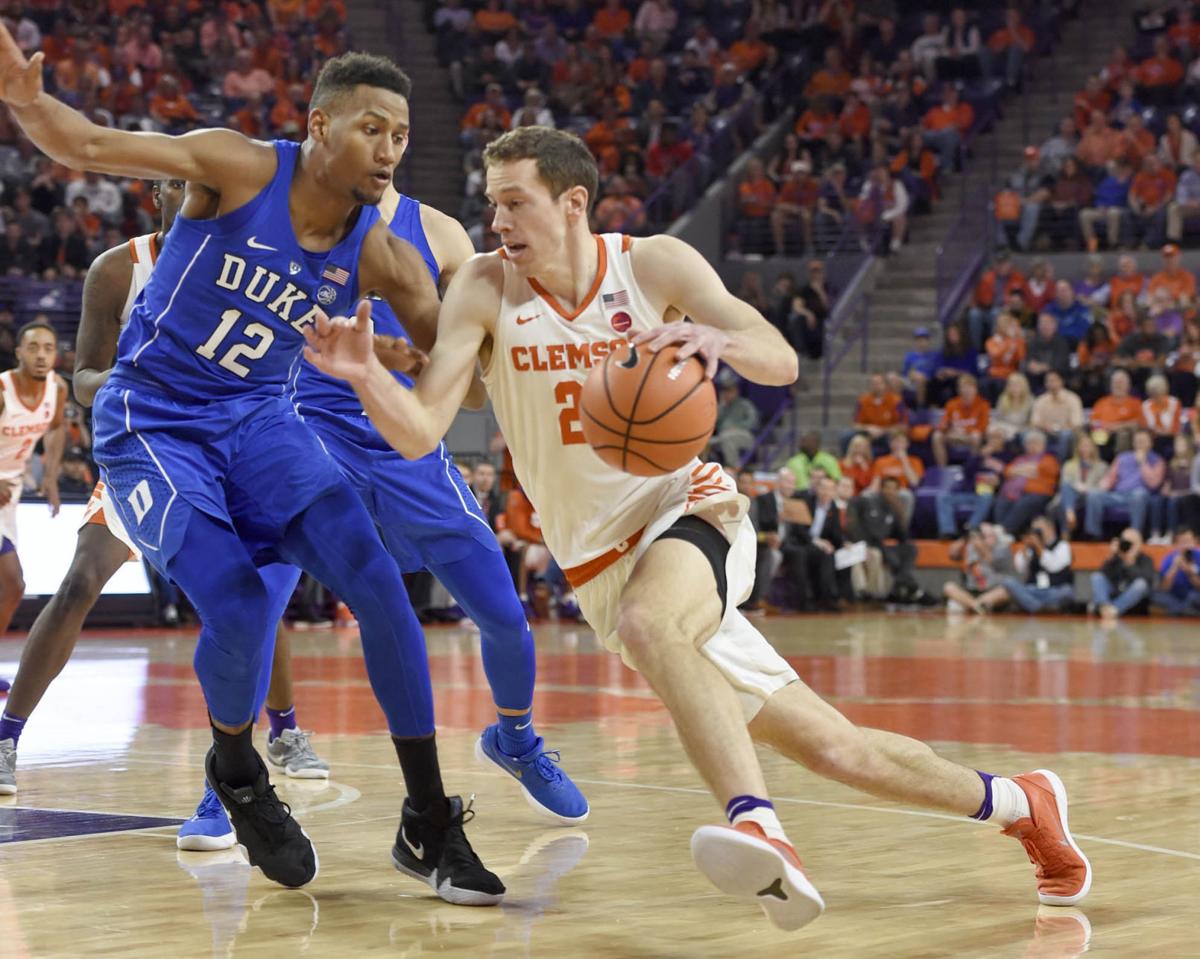 What to expect from Clemson?
Clemson shooting three's. They have averaged over 23 attempts per game in ACC play, hitting 39% of them. Not being challenged on the perimeter will allow Clemson to stay in the last contest to the very end. The Hokies have to challenge the perimeter in this contest to create space.
The Tigers have to expand their roster usage to fight off these injuries. Expect to see eight or nine Tigers tonight. Even without their stars, this is still a potent team so the Hokies can not afford to take them lightly.
Expect to see a full court press utilized quite often by Clemson, even if it is just perfunctory to slow the ball from reaching the half court. Every second they take off the clock is that many fewer passes the Hokies have to find an open shooter.
The Hokies
Tech needs to be focused and moving around on offense to limit the Tigers ability to get in passing lanes and create turnovers. Hopefully what the Hokies showed against the Yellow Jackets will carry over into this contest at home.
Tech needs to be able to get to the basket frequently but doing so intelligently. They did this exact thing against the Yellow Jackets last time out. Don't overcommit so much that you essentially hand your opponent the ball at the rim.
Get into the body of the Clemson bigs and they will respond by fouling. Its been their one big weakness defensively this season.
Bibbs or Hill have to deliver some outside punch in this contest as our other shooters likely wont match how well they shot in the last game. Need to get at least five trey's from these two on the game.

Highlight of the Georgia Tech Game
ALL-TIME ASSISTS LEADERS AT VT6. @realdellcurry - 4075. @5Alive_ - 408Congrats, 5 👏 pic.twitter.com/HJZzdjzNbN— VT Men's Basketball (@HokiesMBB) February 17, 2018
The Outside Magic Touch was back in fashion, with the Hokies hitting 50% of their perimeter attempts in the Georgia Tech game on 8 of 16 shooting. Oh and 21 Assists on 28 Baskets!!! Justin Robinson passed Dell Curry for Fifth all time in assists with his 408th assist as a Hokie.
Not 1, but 2 impressive slams by Tyrie Jackson (@jacksonT_1) for @HokiesMBB in a road win at Georgia Tech #MustSeeACC pic.twitter.com/b0L3WzwPg9— ACC Digital Network (@theACCDN) February 17, 2018
"AND I'VE SEEN PIGS FLY!" - @LazeVT on a Tyrie Jackson @HokiesMBB slam 🐷✈️ pic.twitter.com/d4G7qfgbhp— IMG Audio (@IMGAudio) February 17, 2018
In Closing
Clemson will look to kick start their offense through Hokies turnovers leading to uncontested threes. The Hokies have to limit these opportunities because even with the great offensive effort against Georgia Tech, the Hokies still gave up 25 attempts from outside, fortunately only 4 of those went in. Don't let the Tigers hang around. Close out on the perimeter and open up a double digit lead by the half.
Keep the pace that they found against Georgia Tech, moving the ball and themselves and create the openings that either lead to fouls or open looks.
Clemson is going to be hungry for a win as they are teetering on the edge of being knocked out of the rankings and getting a top 6 seed for the Tournament. The Hokies can ill afford to let Clemson jump out on them early in this contest.
The Hokies win 69-61 by being stout on defense and hitting their shots. Shutting down the Tigers on the perimeter while getting their bigs in early foul trouble will create some space between these two teams. Take that step towards the tourney by notching the 9th conference win to guarantee no worse than a .500 finish in conference.
Your greatest source of motivation is finding untapped potential within you.Your future isn't what lies ahead of you. It is what lies within you.— Buzz Williams (@TeamCoachBuzz) February 21, 2018
2017-18 ACC Standings
TEAM CONF GB OVR
Virginia 13-1 - 24-2
Duke 10-4 3 22-5
North Carolina 10-5 3.5 21-7
Clemson 9-5 4 20-6
NC State 9-6 4.5 19-9
Virginia Tech 8-6 5 19-8
Louisville 8-6 5 18-9
Florida State 8-7 5.5 19-8
Miami 8-7 5.5 19-8
Syracuse 7-7 6 18-9
Boston College 6-9 7.5 16-12
Notre Dame 6-9 7.5 16-12
Georgia Tech 4-10 9 11-16
Wake Forest 3-12 10.5 10-17
Pittsburgh 0-15 13.5 8-20