Just like VT, I put in a very mediocre performance last week and still came away with a win (i.e. I tied for the weekly lead). Which really isn't saying much. That's now back-to-back weeks that nobody did better than 3-3. It's looking like Birdman & VTBandit's 2 game lead (not counting the first week) is pretty much insurmountable at this point, and that's kinda pathetic.
Make your picks at http://keyplay.football.cbssports.com/opm.
October 20
Michigan (-7)
Michigan State
Fun Fact #1: Michigan's defense has been nasty all year, ranking #1 in pass defense and 2nd overall.
Fun Fact #2: Mark Dantonio's 8-3 against Michigan. That has to be the best record of any Spartans coach against Michigan.
PICK: This line feels about right. I guess I'll take Michigan by 10?
Oklahoma (-7)
TCU
Fun Fact #1: Oklahoma's won 4 straight against TCU, including twice last year (regular season & Big XII championship game).
Fun Fact #2: Under Gary Patterson, TCU's 38-13 coming of a loss in the regular season.
PICK: TCU just isn't what they have been. Oklahoma wins handily.
UVA
Duke (-7.5)
Fun Fact #1: UVA actually knocked off Duke 65-63 last year at Cameron Indoor Stadium. Their only losses were to WVU, VT, and another one I can't remember. Nobody said these have to be football facts.
Fun Fact #2: Last week GT fumbled on three consecutive touches (!) in the third quarter against Duke. Duke turned those into 21 points.
PICK: I really don't believe in UVA. They have a letdown game here and lose by two scores.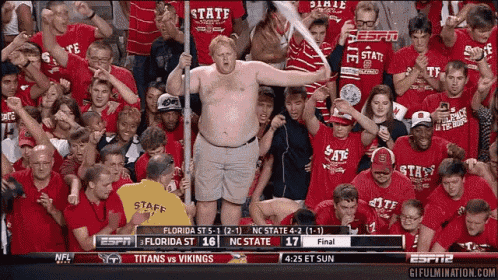 NC State
Clemson (-17)
Fun Fact #1: Over the last three years, NC State's 2-7 against AP ranked teams.
Fun Fact #2: Clemson's a whopping 2-4 against the spread this year, with the two covers coming in road blowout wins against disappointing GT and Wake teams.
PICK: That's an awfully big spread. I'll take NC State to cover that for sure.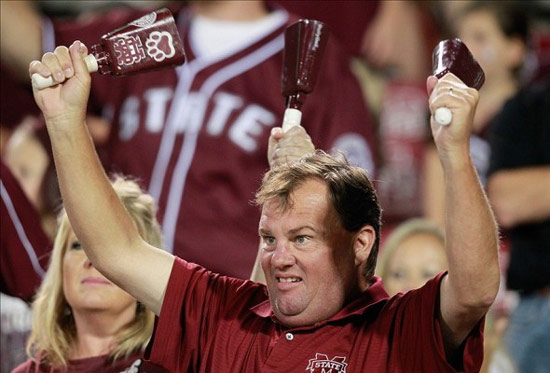 Even this guy is unsure about the LSU game
Mississippi State
LSU (-6.5)
Fun Fact #1: Mississippi State was apparently intimidated by the 60K fans at Kroger Field against Kentucky, causing 5 false starts.
Fun Fact #2: While LSU's win over Georgia last week was big, it's important to remember that none of Georgia's wins were over a team with a record over .500.
PICK: If MSU thought Kentucky's stadium was bad...I'll take LSU here all day long.
Oregon
Washington State(-2.5)
Fun Fact #1: College GameDay will be at Pullman, but that's maybe not the best thing for Wazzu. Oregon's 5-2 at College GameDay sites.
Fun Fact #2: Washington State's won the last three over Oregon. While that would have seemed unheard of just 5 years ago, they actually won 12 of 14 against the Ducks between 1971-1984.
PICK: I mean, they've technically been involved in almost every GameDay, but Wazzu chokes here against Oregon and loses outright.
----------
DRINK OF THE WEEK

Mrs. OHokie made a grocery run to Kroger last week and I asked her to pick me up some beer. She ended up picking up a six-pack of Kentucky Vanilla Barrel Ale. She knew I loved Bourbon Barrel Ale and thought this would be just as good. It's not, but it's still good enough. The vanilla flavor makes it just a touch sweeter than my ideal, plus the 5.5% ABV means you don't get much help cutting that sweetness. Still, it kinda works as a session version of Bourbon Barrel Ale.