By:

VPIVMI15
on January 11, 2020, 4:43 PM
| 15 comments
Match Information
Location: Cassell Coliseum - Blacksburg, VA
Day & Time: 11 JAN 20 at 7:00pm
Viewing: ACCN Extra and in-person (free)
Updates: Twitter @HokiesWrestling, and Trackwrestling
The Opponent: West Virginia Mountaineers
2018-2019 Season and Now
West Virginia's dual record last year was an abysmal 4-14 (3-6 Big 12). To West Virginia's credit, they did wrestle five more duals than the average team would take in a season. The Mountaineers would go on do do worse in their conference tournament, finishing a disappointing 9th place. This year's West Virginia squad is looking the same as last year. To their credit, they are a very young team which is going through overhaul. They only have two starters that are considered upperclassmen. WVU also has one ranked wrestler on its squad, undefeated sophomore Noah Adams at 197lbs. West Virginia started off the season with five straight losses, but has responded with three straight victories since then. Only two opponents that the team has faced were ranked and they lost to both, Army and Pittsburgh. West Virginia did participate in the Hokie Open at the start of this season, so there will be a rematch. West Virginia does currently have the lead in the dual series though, 12-10.
Coach: Tim Flynn
Coach Flynn is another legend amoungst the wrestling community. He is in his second year of coaching the West Virginia Mountaineers and was considered a home run hire at the time. He was selected mid-year of 2018. Previously he was the head coach of Edinboro, where he had coached for 21 years. To many, it was a shock to see him leave, but most saw it as opportunity at a school that had more financial endowment. Since its early in his tenure at WVU, Coach Flynn has yet to produce an All-American or National Champion for the Mountaineers.. At his previous school he did coach 38 All-Americans, with three of them finishing as National Champions (John Koscheck 2001, Gregor Gillespi 2007, and Jarrod King 2009)
Tim Flynn's coaching record stands at 230-113-5 as of right now. With Edinboro, he won the Eastern Wrestling League Championship 15 times, and getting the squad to their highest placing in the NCAA Tournament at third in 2015. Because of his success that year, he has earned the NWCA, Dan Gable, and InterMat Coach of the Year award each. Prior to coaching, he wrestled for Penn State from 1984 to 1987. His collegiate wrestling record of 105-32-2 ranks with the best to have grappled as a Nittany Lion..
The Line-Up
125lbs: Joey Thomas (r-SO, Mount Airy MD)
Thomas has gone back-to-back seasons going up against a Hoke wrestler. Last year he defeated Joey Prata 4-2 in sudden victory, but has lost this year to Sam Latona 7-4. His record for 2019-2020 is 13-8 and his complete record stands at 42-40.
133lbs: Lucas Seibert (r-SO, Westerville OH)
Seibert is the 133lber as former starter Matthew Schmitt is taking an Olympic redshirt (see Mekhi Lewis). Seibert is currently 7-11 this season with a loss against Virginia Tech's own Cole Rhone. His overall record is 16-18 and has yet to beat a wrestler that is ranked over #100 in his weight class.
141lbs: Caleb Rea (SO, Weirton WVI)
A two year starter at 141lbs, but mostly do to Keegan Moore's injuries in 2018 and 2019. If Moore was healthy, Rea would be redshirted. He has already competed against a Virginia Tech wrestler, Jack Darling, where he picked up the decision win. He is 11-9 for the season, with a career record 30-25.
149lbs: Seth Hogue (r-JR, Masury OH)
The Bucknell transfer is in his first year with the Mountaineers. He has faced two Hokies so far in the 2019-2020 season with wins against Caden Darber and Jake Hart, and has a record of 13-8. His career record is 45-56 so far.
157lbs: Alex Hornfeck (r-FR, Mars PA)
Hornfeck is listed as a 149lber, but has bumped up in weight due to the transfer of Hogue. This is his first year wrestling attached for West Virginia. He is currently at 12-9 for this season and 30-18 overall when adding his redshirt campaign.
165lbs: Nick Kiussis (JR, Brunswick OH)
Kuissis is one of the more seasoned wrestlers for WVU, as he narrowly qualified for the NCAA tournament in 2019 going 1-2. This year he is 9-5, but did not wrestle in the dual with Pittsburgh (Brock Godzen was given the start). His overall record is 43-31.
174lbs: Scott Joll (FR, Belle Verne PA)
A true freshman, which is rarely seen, getting the start at 174lbs. It is one of the weakest and least depth weight class for West Virginia. Joll is still looking for his first collegiate dual victory, but has a record of 9-11.
184lbs: Jackson Moomau (SO, Mayesville WV)
The 185lb sweight class for the Mountaineers is going through roster management, as they have three other wrestlers taking a redshirt year. Moomau has yet to take advantage of a redshirt so he is the sacrificial lamb. His 2020 record 8-10 and he has picked up his first dual victory this year. He was 3-17 last year.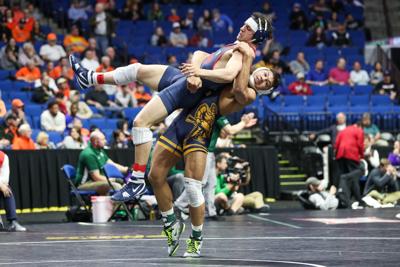 197lbs: #4 Noah Adams (r-SO, Coal City WV)
The best wrestler on this WVU squad as he is the only one ranked. He is currently undefeated with a 21 victories with wins over #10 Ethan Laird (Rider) and #7 Nathan Traxler (Stanford). He qualified for the NCAA Tournament in 2019, finishing 1-2. VT's Stan Smeltzer will look for revenge as it is the second time the two will meet this season.
HVY: Brandon Ngati (SR, Gaithersburg MD)
The lone senior on the Mountaineer wrestling team. He qualified for the NCAA tournament last year, but only went 1-2. His current record is 13-8 and his collegiate is 33-68 as it comes to an end. His 0-3 against Virginia Tech. with a loss coming each previous year.
Match Thoughts
Virginia Tech goes into this match with six ranked wrestlers, one more than last weeks match: #11 Joey Prata (125lbs), #19 Mitch Moore (141lbs), (#19) BC Laparade, #4 David McFadden (165lbs), #2 Hunter Bolen (184lbs), and #20 John Borst. At 141lbs Mitch Moore will return to the line up. Brent Moore will still not return to the line up. Look for Bryce Andonian to be cemented at 149lbs for the remainder of the season. This match will be important for Andonian as its against a season wrestler with an average record, and will strengthen is resume. The same can be said Borst as his opponent is not too long and a win against a senior always looks good.
Predictions
125: #11 Prata dec. Thomas (3-0 VT)
133: Gerardi dec. Seibert (6-0 VT)
141: #19 M. Moore maj dec. Rea (10-0 VT)
149: Andonian. dec. Hogue (13-0 VT)
157: #19 LaPrade dec. Hornfeck (16-0 VT)
165: #4 McFadden maj. dec. Kiussus (20-0 VT)
174: Hughes dec. Joll (23-0 VT)
184: #3 Bolen tech fall. Moomau (28-10 VT)
197: #4 Adams maj dec. Smeltzer (28-4 VT)
285: #20 Borst dec Ngati (31-4 VT)
Once again Virginia Tech is gonna out class its opponent. West Virginia is in too much of a rebuild and don't have any mismatches to go against Tech's weaker wrestlers. Mitch will either get the decision or major, I'm hoping he's gonna come out aggressive after having time off last week. LaPrade has a good chance to build on his record and make that ranking stick with a win. And my favorite underdog Hughes has a great change to go on a three match win streak, he may even get a major. The only loss I'm predicting is at 197lbs. Smeltzer held on close, losing 10-5 in the first match against Adams, but it will probably end worse. And lastly, Borst needs a win badly to keep his ranking as he has yet to beat a ranked wrestler.