By

BeerControlOffense
on November 18, 2010, 8:42 AM
| 23 comments
It's week 12, the calm before the storm. This week isn't grabbing hold of the national attention, but these are some solid games. Don't worry though, the turkey and championship weeks are going to be red hot. The end is drawing near and I am getting worked up to see how it plays out. History tells us there are surprises to come.
If anyone is wondering why the games this week are just solid and not particularly good, look no further than the Southeastern Conference. There are only two games of consequence down south this weekend, Arkansas at Mississippi State and maybe Ole Miss at LSU (if one is feeling charitable.) The majority of college football's elite conference either paid an opponent for a victory, or scheduled a bye in prep for next week's rivalry games. That's weak. I don't want excuses, man the hell up and play someone. One group I don't want to hear a peep from are the Crimson Tide. I want no bitching and moaning about Auburn's bye before the Iron Bowl. Alabama is playing playing Georgia State this week, this is their first year of football... in the FCS. The Georgia Academy for the Blind would put up more resistance.
I would be remiss if I did not mention this Big 1+10 / Wrigley Field end zone fail. I got 10 bones that says a player coached by the Zooker is sure to smash into it with his face.

via: Teddy Greenstein's twitter posting, another is here.
Friday, November 19th
Fresno State +30.5 at 4 Boise State 9:30 pm ESPN2
Often I imagine what one head coach could possibly be thinking about his adversary. This week I wonder what goes through Fresno State coach Pat Hill's mind. Is he proud, jealous or both of Chris Peterson's success at Boise State. About a decade ago, Fresno State, not Boise, Utah, BYU or TCU was the non AQ team that everyone talked about. The Bulldogs beat quite a few BCS schools and came, oh, so close a few times to breaking through. Boise's success could have been Fresno's had the stars aligned and few bounces gone their way. Pat Hill obviously wants his team to knock off a top five opponent, but I got to think deep down, if that can't happen, he would be very happy if Peterson led Boise State to the BCSCG.
The now weekly Boise / TCU watch is going to really heat up. I think both sense a spot to Glendale will open up. The jockeying for position has begun. If Fresno (a comparable team to San Diego State) plays BSU close, does TCU re-jump the Broncos in the polls? If not, why the double standard? Either way there could be a big fallout this week. The Broncos would be best served winning by two plus touchdowns.
What to look for: Say this about Boise State, they hammer every opponent they are suppose to. Name the spread, they'll cover it, but this week will be a lot tougher. They'll get their 40 plus, but this is the second best offense BSU has faced all season and they are likely to give up 3-4 touchdowns themselves.
Pick: Fresno State getting the points.
Saturday, November 20th
7 Wisky -4.5 at MissAgain noon ESPN
Hey, Bret Bielama, after hanging 83 on Indiana last week, DickRod thinks you're an asshole. Consequentially, he admires the shit out of you. I expect nothing less than 90 points versus the Wolverine defense. A bit tongue in cheek, but unless it's raining sheets of ice, the Badgers should easily break 40. The question is can the Wolverine's spread keep up and make it interesting late? A matchup of old school versus new school offensive philosophy, the one difference is the Maize & Blue keep forgetting to field a defense, while the Badgers front seven is likely to hurt Denard Robinson (again.)
Is Whiskey the best one loss team? A case can be made for them. Right now the Badgers can play with anyone and whoever gets them during bowl season is not going to be too happy with that "reward". I would give my left nut to see Wisconsin-Stanford in the Rose Bowl. Talk about a slobber knocker.
What to look for: Running downhill by the Badgers with a few play action passes for giggles. Wisconsin will control the clock and wear down the Wolverines. Michigan will score enough early to make it look close at half time, but will be absolutely winded and then worked over as the game progresses.
Pick: Wisconsin hammering Michigan.
***
9 theOhioState at 20 Iowa +3 3:30 pm ABC
I am not going to lie, this game is disappointing to me. When I first saw the schedule this summer and noticed this game, I was hoping for battle of unbeatens. Though some luster was lost when both took early season losses, it was still a big game. The shine completely wore off last week, when Iowa lost their third game of the season. There is no disgrace losing to Arizona, Wisconsin or Northwestern, but this team was a preseason National Championship dark horse, so it has to be disappointing to the Hawkeyes. Did the Hawkeyes fail to play up to expectations or were they overrated due to the dominating Orange Bowl win last year? This week's game may provide the answer. tOSU on the hand is just plugging along waiting, hoping for Wisconsin to lose and regain their Big1+10 birthright, the Rose Bowl.
What to look for: Can the Hawkeyes regroup after another loss? If they bring their A-game Iowa is more than capable of beating the Buckeyes, but if they are demoralized and haven't got off the mat after losing to Northwestern... they will be blode out. The first five minutes of the game will make it clear if it's an old fashioned slug fest or if Iowa has cashed in their chips for the 2010 season
Pick: Iowa getting the points and winning outright.
***
16 VT -2.5 at 24 da U 3:30 pm ESPN or ABC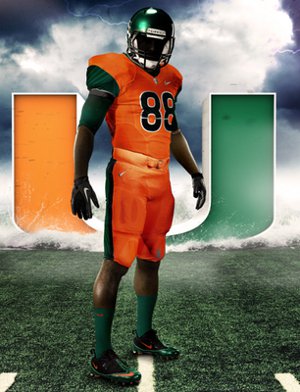 Miami's uniforms have gone through Nike-fication, causing the Hokies to wear white lids again. Sigh.
The Hurricanes continue to live off past glory. They are that middle aged celebrity who isn't producing like they did in their prime. Don't get me wrong, occasionally they can still go out and make a great song or movie, but most their new material is slightly better than mediocre. da U is one of college football's former superstars. The 'Canes lost their edge years ago and for numerous reasons can't reclaim it. Soon they'll fire their adequate coach and remarry to someone younger and hotter, but that won't address their core problem of being dated. Oh, they'll have great games, maybe even a season from time to time, but their glory days of dominance is never coming back.
Since freshman quarterback Stephen Morris replaced the concussed Jacory Harris, the 'Canes have had a more balanced offensive attack. Morris is not not asked to do as much and thus hasn't forced as many bad game changing turnovers. Bud Foster is going to have to slow down the run if the Hokies are going to win this week. On offense the Hokies will see a completely different style of defense this week. No more seven or eight guys dropping in coverage with little to no pass rush. This week it's a lot of man to man behind a defensive line that can generate pressure without bringing extra bodies. It is imperative that the running game work, in order to bring the safeties down in the box and give Boykin and Davis one-on-one looks.
What to look for: A 'Canes team with their backs against the wall, still holding out hope for a chance to play in the ACCCG. They're looking for retribution after last year's ass kicking in Blacksburg. They'll move the ball on the Hokies bend, but don't break too often defense. Running the ball will set up their passing, but Torrian Gray's ball hawking secondary is going to pick off a couple of passes. Virginia Tech will not have long sustained drives but will hit on just enough big plays to put the team in position to score points.
Pick: For no reason other than being a homer, Hokies win by ten.
***
25 F$U -4 at Maryland 8:00 pm ABC

An oldie but a goodie... I love this pic.
Another November Saturday in the ACC means one more contender being moved down to pretender.
Annette on the ESPN ACC blog has an update on who has the edge in the division. It's too hard to pick a winner out of this group, but like last week's FSU-Clemson affair this is an elimination game for one of these teams. The game will be hard fought, making it the 'Noles 5th such game in a row while the Terps got a breather in C-Ville last week. Offense, defense and being battled tested after playing a hard schedule favors the 'Noles. The only thing going Maryland's way is it's a night home game in Byrd. The place should be electric, and many FSU cars will be keyed and missing magnets.
What to look for: Florida State to have success moving the ball, but settling on field goals keeping the Terps in it. Maryland doesn't have the greatest offense, but they'll gut out enough points to have a shot at the end of the game.
Pick: Florida State by a touchdown.
***
8 Nebraska at 19 aTm +2.5 8:00 pm ABC or ESPN2
I put the Aggies out to pasture to watch over their Longhorns a couple weeks back, not expecting to see them crop back up in the Six Pick. To my surprise aTm is now 7-3 and ballin' with a four game winning streak beating Oklahoma, Texas Tech and Baylor along the way. The change in direction happened when talented but turnover prone senior QB Jerrod Johnson was benched in favor of Ryan Tannehill. Can the success continue when they face their biggest test of the season, the Nebraska Cornhuskers? I am undecided on how good Nebraska is, but they have a chance to be a one loss team heading into the Big12 CG–a conference that has a lot more depth than was expected going into the season.
A few weeks ago, I trashed the yell leaders of aTm, now it's time to make nice. Here are reasons VT fans should like the Aggies, their corp, Robert Earl Keen, Dixie Chicken , and Bonfire. It sounds like a great place to visit.
What to look for: I don't really know. I am curious to see if Nebraska's rushing attack will have another off day going against a very solid aTm rush defense. There will be opportunities for big pass plays if T-Magic can find the open receivers. I also expect Huskers' head coach Bo Pelini to show a lot of different zone looks to confuse Tannehill into throwing into coverage. This has the look of a late game thriller.
Pick: aTm winning outright.
Beer of the Weekend: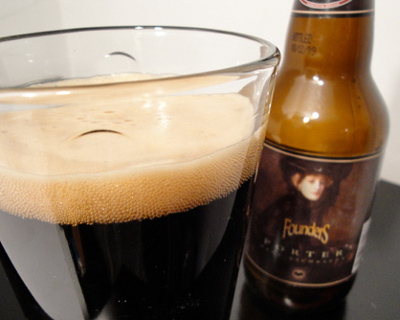 Drinks like a stout, it's very robust and delicious–a great Fall beer.