By

BeerControlOffense
on November 23, 2010, 9:18 AM
| 23 comments
It's Turkey Week, the end of the regular season for many college teams, only the Big East, Pac-10 and conference championship games are left. My how time has flown by this season. In honor of Wednesday night, one of the best drinking nights all year, Thanksgiving and its great rivalry games I present you a double Six Pick! Ham, turkey, stuffing and family rule Thursday, but college football dominates on Friday and Saturday. Sadly, there are just too many good games this weekend, so even selecting twelve leaves some games on the chopping block, like Florida at F$U or GiT at ugga. Due to time constraints and the number of previews I would have to write, a Google image search, rudimentary Photoshopping and a quick caption is this week's write up. If a picture is worth a thousand words, then this a 24,000 word column. Who's really going to read my gibberish for a dozen games anyway?
No, I have not made my picks yet, I will sometime on Thursday, fat and happy on honey smoked turkey from my Bubba Keg Smoker. This is the week to make up ground down in the pick 'em standings.
Thanksgiving Thursday, November 25th
The Lonestar Showdown - 17 aTm -3 at Tejas 8:00 pm ESPN
They do everything big in Tejas ... be it a bonfire or advertisement for fornication. I approve.
Black Friday, November 26th
The Backyard Brawl - w-FN-vu at P.I.T.T. -2 noon ABC

I weep with joy thinking back to the 2007 game, which might be the only time after a big game the Wannstache had an expression other than the one above.
***
The Iron Bowl - 2 Auburn at 11 Bammer -4 2:30 pm CBS
You pick, beating Bama and get 2 coeds on your arm or beating Auburn and get another tat of The Bear or Nick Saban.
***
21 Zona at 1 Oregon -18 7:00 pm ESPN
The mid 90's Wildcats' Desert Swarm is the exact type of defense to beat the Ducks' spread. While Oregon further proves mucho Fulmer Cup points equals a highly ranked football team.
***
4 Boise State -14.5 at 19 Nevada 10:15 pm ESPN2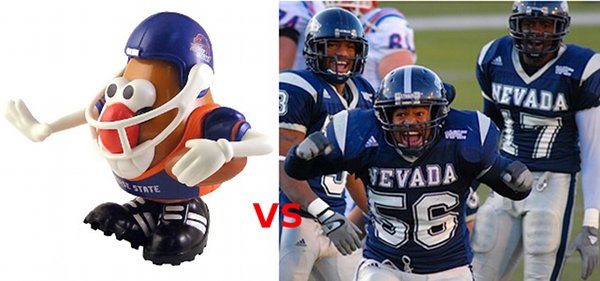 Irony defined, every Bronco fan owns this Mr. Potato Head, but feel insulted at tater jokes? Nevada football literally has nine images in existence and they all get recycled infinitely.
***
Saturday, November 27th
The Battle for the Commonwealth Cup - uva at 16 VT -23.5 noon ACC Network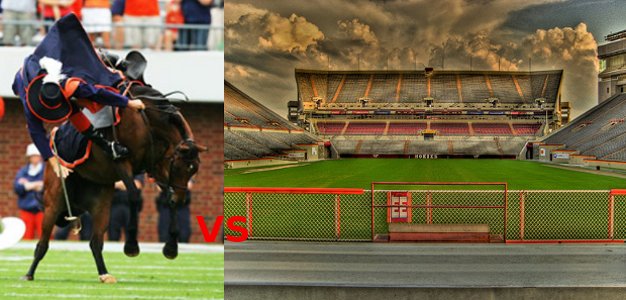 The Hoos typically get thrown from their horse in the house that Beamer built. Lately though, it's a trend that's traveled.
***
The Battle of the Land Grants - 10 Michigan State -1.5 at State Penn noon ESPN
Like my friends @solidverbal say, the old man from UP is a carbon copy of Joe Pa. Then there's this creepy Spartan.
***
The Game - MissAgain at 8 theOhioState -17.5 noon ABC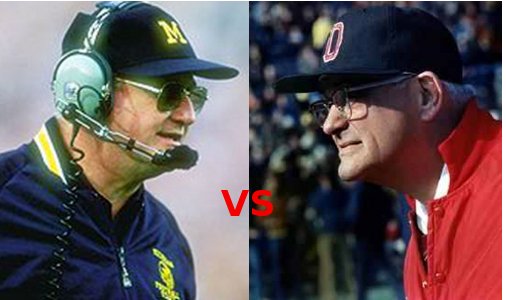 Somehow, I don't think DickRod will ever be the Bo to the Senator's Woody.
***
23 NC State -2.5 at Maryland 3:30 ESPN2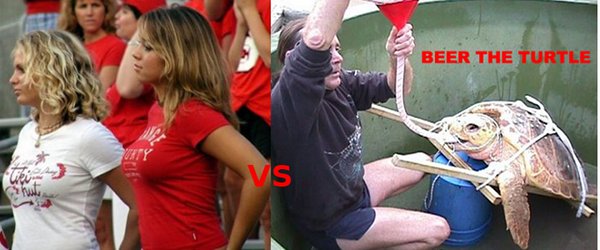 The BCO has a healthy amount of respect for the talent in Raleigh and the drinking prowess of the Turtle.
***
The Battle for the Golden Boot - 5 LSU at 12 Ar-kan-saw -3.5 3:30 pm CBS

Here's some hog pig sooie name #FAIL.
***
The Battle of the Palmetto State - 18 Souf Cackalacki -3 at Klempson 7:00 ESPN2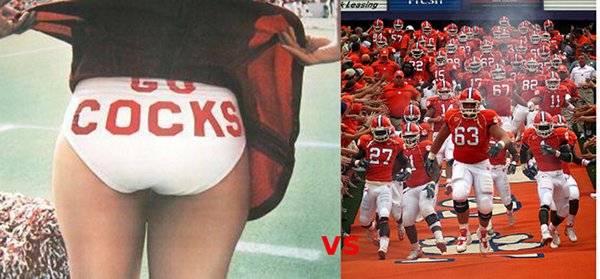 The most exciting 25 seconds with a coed or the most exciting 25 seconds in college football, your call.
***
Bedlam - 13 Oklahoma at 9 Okie State -2.5 8:00 pm ABC
The Boz was a man well before forty.
Beer of the lonnnnng weekend:
A good, easy drinking stout from Charlottesville... like the hoos, it takes a while to knock you on your ass.