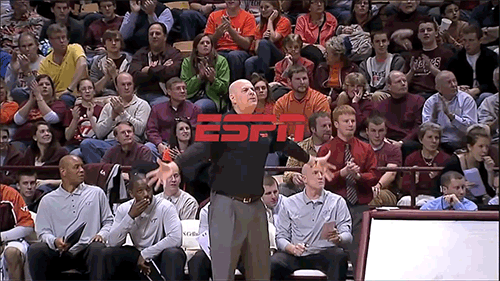 Who: Virginia Tech Hokies (18-8, 8-5 ACC) vs #1 Duke Blue Devils (26-2, 12-1 ACC)
When: Saturday, February 26 @ 9:00 p.m.
TV: ESPN
Where: Cassell Coliseum, Blacksburg, VA
The Opponent: Alright ladies and gentlemen, it's that time. We've been thinking of this weekend since the season began. It's time to get off your rear end and get out to Cassell for what many are calling the most important game in Virginia Tech basketball history. You know the setup: ESPN broadcasting College Gameday from Cassell, the No. 1 Duke Blue Devils coming to town, and a national broadcast of the game at 9 p.m. on Saturday night. Need I say more? if that doesn't get you pumped for this weekend, you might need to check your pulse.
This isn't your older brother's College Gameday. This, as Seth Greenberg so eloquently stated in another letter to the student body is an infomercial for the Hokie Nation. People know Virginia Tech as a football school and it's time to show the nation that we are ready to become a two-sport school and we have the crowd support to do it.
Alright, enough ranting, on to the actual game at hand. The Blue Devils ride in on their high horse at 26-2 on the season coming off a 78-61 over No. 24 Temple on Wednesday. Duke has played just eight road games this year. Yes, eight. Both of their losses have come on the road in rowdy environments in Tallahassee and New York City. They're definitely vulnerable when not playing at Cameron Indoor.
As has been duly noted throughout the week, Tech is 2-3 against #1 teams in the nation under Seth Greenberg. Those games:
12/4/05: @ Duke 77, VT 75

Sean Dockery's half-court shot at the buzzer. Cameron Crazies rush the court.

1/13/07: @ VT 94, UNC 88

Hokies hang on after big lead in the second half.

3/15/08: UNC 68, VT 66

Tyler Hansborough hits turnaround jumper in final five seconds in ACC Tournament.

1/21/09: VT 79, @ Wake 71

Hokies in control of entire game and start Wake's rapid decline to this year.

3/13/09: UNC 79, VT 76

A.D. Vassallo misses game-tying three-pointer in final seconds in ACC Tournament.
Obviously the Hokies have been in every game and there's no reason they shouldn't be in this one, especially with the setup. Here's a look at Duke's projected starting lineup:
| No. | Name | Pos. | Ht. | Wt. | Yr. | PPG | RPG |
| --- | --- | --- | --- | --- | --- | --- | --- |
| 2 | Nolan Smith | G | 6-2 | 185 | Sr. | 21.4 | 4.9 |
| 30 | Seth Curry | G | 6-2 | 180 | So. | 9.0 | 1.9 |
| 12 | Kyle Singler | F | 6-8 | 230 | Sr. | 17.2 | 6.3 |
| 5 | Mason Plumlee | F | 6-10 | 234 | So. | 6.8 | 4.0 |
| 34 | Ryan Kelly | F | 6-11 | 240 | So. | 4.0 | 5.4 |
The Duke offense revolves around seniors Nolan Smith and Kyle Singler. Smith had almost sealed the ACC Player of the Year title and is still in the running for National Player of the Year as well as first team All-American. He is Duke's team leader and point guard and his production has only gotten better as conference play has progressed. In ACC games, Smith is averaging 23.4 ppg and will probably get that many no matter the outcome. He's averaging 25.5 ppg in Duke's two losses.
Singler broke out of a mini slump with a 28-point performance against Temple on Wednesday. The wing/forward hybrid is Duke's leading three-point shooter in both makes and attempts, connecting on 55-of-155 three's this season. If he gets hot early, it could be a long night. The Hokies, specifically Terrell Bell, must force Singler into some bad shots early and get him off his game.
The big reason for Duke's success since the loss of Kyrie Irving has been the play of Seth Curry. The son of former Hokie Dell Curry and brother of NBA prodigy Stephen Curry, Seth is making a name for himself with his recent play. Despite averaging just 9 ppg for the season, Curry has taken his game to another level in ACC play, averaging 10.5 ppg. Of course like any true Dookie, his coming out party came against North Carolina, where he dropped a career-high 22 and led Duke back from a 14-point deficit.
Inside, the Blue Devils are big. Mason Plumlee and Ryan Kelly have done the damage on the boards, averaging nearly 15 rpg in ACC play, 10 of which come from Plumlee. Miles Plumlee (6-10, 245) is the older of the two brothers and comes off the bench for 5 boards per game, but doesn't offer much offensively. Duke averages 13 offensive rebounds per game, something the undersized Hokies need to contain if they want to win this game.
Off the bench, the main threat is Andre Dawkins (6-4, 205). The sophomore sharpshooter is pretty efficient from beyond the arc, connecting on 31 percent of his treys. As a team, Duke is nearly 40 percent from deep. Yea, that indicates you probably need to stop that.
Keys to VicTory:
Transition Game

The Hokies like to run and in games they've been able to for 40 minutes, they usually come out victorious. Duke isn't the most athletic team despite being No. 1 and has shown weakness in playing transition defense. If Tech can run the Devils a little bit early and get a lead the Cassell will be rocking. On the flip side, Duke is very good once they get into their halfcourt defense and subsequent transition offense. The Hokies can't settle for bad shots and then not get back on defense. Otherwise, you'll see those patented Blue Devil runs with white guys dunking, not a thing many people like to see.

Post Play

Despite being undersized in the post, Jeff Allen should have an athletic advantage over whoever is guarding him, presumably Ryan Kelly. Allen has developed a beautiful mid-range jumper that he's hitting on a consistent basis. If he establishes that early, he could potentially use a shot fake (Bobby Knight approved) and get into the interior of Duke's defense. However, he must be careful of the ever popular Duke flop charge. Simply put, Allen and Victor Davila can NOT get in foul trouble if Tech wants to win.

Three-Point Defense

The Blue Devils live and die by the three. When they don't shoot well, they lose, as evidence by their combined 16-of-61 (26%) performance against Florida State and St. John's. Some of those shots just didn't go in, but others were because of good perimeter defense by the Seminoles and Johnnies. Tech had trouble against UVA in guarding against the three the entire 35 seconds and it came back to bite them in the rear end. Obviously, Duke is better than UVA, which means the Hokies must be alert for the entire length of the shot clock.

I'm In. All In.

As said in the opening of this lengthy preview, this is essentially a day long infomercial for Hokie basketball. You know damn well that this team, especially Delaney and Allen will put everything they have into winning this game and there's no excuse as to why the crowd shouldn't as well. Be there early Saturday for Gameday, but also be there early for the actual game. Don't lallygag until 8:45 and show up at tip-off. Instead, show up at 8:00 and get the home court advantage going early. Plus, there's another Gameday at 8:00 so it will look great on TV to have the Cassell filled early.
I realize this preview was sort of half rally cry/half information, but these games don't come around too often. This team is going to give it's best effort on Saturday night and we need to return the favor. Below is a list of events going on in Blacksburg this weekend. I look forward to joining you in the Cassell for what is sure to be a memorable weekend.
Friday, February 25th

Chalk Talk with Seth Greenberg at D2 at Noon

FREE Admission with cost of lunch

College Gameday Poster-Making Contest at Cassell Coliseum from 5-7 p.m.

Open to all fans. FREE PIZZA.

Saturday, September 26th

College Gameday at Cassell Coliseum from 10 a.m.-Noon

Admission is FREE. Doors open at 8:30 a.m. FREE shuttle service starts at 7:30 a.m.

College Gameday Primetime at Cassell Coliseum from 8 p.m.-9 p.m.

Show broadcast live on the court during warm-ups. Doors open at 7:30 p.m.

Virginia Tech vs #1 Duke 9 p.m.

MAROON MONSOON Game. Wear Maroon to support the Hokies.