By

BeerControlOffense
#beercontrolfather
on February 3, 2011, 4:48 PM
| 14 comments
Lets get this out of the way, our Hokies recruited a solid class at best including some very good players, though almost all on defense. With that said, it's not what it could have been... not even close. It lacks star power and beef and perception wise, it looks bad. It's a B class, that looks like a C class. Realize that all things recruiting are not equal, VT isn't going to recruit like FSU, Florida, Texas or USC, but by realistic standards, this is a B.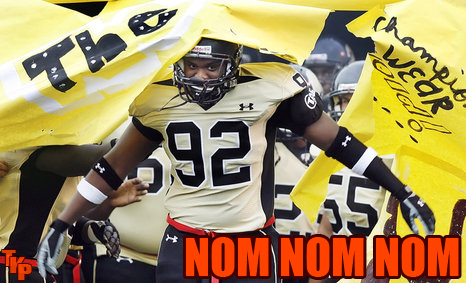 Kris Harley
I am not going to try and come off as a guru evaluator of high school talent. I am not. I have seen most of the highlight films and they are pretty awesome, but then again all highlight films are usually awesome. What is impossible to gauge is how good the kids are based off of supposed blue chip ability and how much is due to exploiting subpar high school competition. The game changes that first day of practice when these kids are going against the same talent level. So with that I will leave the minute details of the positives and negatives to others, but I caution everyone to think about the variables too. Is the kid a grinder, is he motivated on the field and in the classroom, will he get homesick, is this his first structured meal plan and weight training? I came to college as a 6'2" 160 lb freshman, by the end of the year I was 6'3" 190 and this was all Owens Dining Hall, 4 Star Pizza and beer workouts! All I am trying to say, is these kids aren't finished products, their physical peak is a good 7 years down the line by the time they make it to Blacksburg.

James Farrow
The stars players get isn't always about production. A lot of it is physical. Right size, right frame and right speed gets you a bump, even if you couldn't tell the difference between a cover 2 and cover 3. Lots of All-Americans have been flawed 3 star kids and VT has certainly shown that you can win ten games with them. However, there needs to be game breakers, something absent from this class for the most part.
The 2011 Hokies
The Offense
| Position | Name | Height | Weight | From | Notes |
| --- | --- | --- | --- | --- | --- |
| RB | Michael Holmes | 6-0 | 200 | Harrisonburg, VA | Decent athlete, uses his blocks well, is patient waiting for the hole, won't dazzle like David Wilson, is more a Cedric Humes type. |
| WR | Kevin Asante | 6-0 | 175 | Charlotte, NC | A 4.4 speedster, who made a lot of plays this year. |
| WR | Demitri Knowles | 6-1 | 175 | Lynchburg, VA | Nice speed, needs to be more physical, but he adjusted well to double and triple team as the season went on. |
| WR | Robert Lockhart | 6-2 | 175 | Boca Raton, FL | Big time sleeper... Good size, speed combo, he should be a star in a couple of years. The best offensive player in the class. |
| WR/TE | Christian Reeves | 6-3 | 220 | McDonough, GA | Tweener, is he a TE or WR? He could be utilized as a H-Back, think Stanford's Coby Fleener skill set |
| OL | Jake Goins (GS) | 6-5 | 285 | Midlothian, VA | A typical Curt Newsome OL recruit. He can move OK, but needs to learn pass blocking and put on weight. |
| TE | Chris Hall (GS) | 6-4 | 225 | Dinwiddie, VA | Learning curve moving from QB to TE, but a very good athlete. |
| TE | Ryan Malleck | 6-5 | 235 | Point Pleasant, NJ | The best true receiving tight end. Great size, played iffy competition, he did have lots of high caliber offers though. He will play as true freshman. |
| TE | Darius Redman | 6-4 | 239 | Washington DC | A little unsure about him to be honest. More H-Back skill than tight end. He needs to learn how to block, but can certainly catch. |
The Defense
| Position | Name | Height | Weight | From | Notes |
| --- | --- | --- | --- | --- | --- |
| DT | Kris Harley | 6-2 | 265 | Indianapolis, IN | Needs to put on weight, will bust his ass and play hard, but if he can't get to 3bills, he could be overpowered/ |
| DT | Luther Maddy (GS) | 6-2 | 275 | Delray Beach, FL | Limited information, is athletic, but one year of experience with no other BCS offers. Maturity might be an issue. |
| DE/DT | Corey Marshall | 6-1 | 255 | Dinwiddie, VA | Combo player like Jim Davis. Expect him to move inside on passing situations by the time he is an upperclassmen. Will play the stud end, more run stop responsibility. High motor. |
| DE | Dewayne Alford (GS) | 6-2 | 220 | Suffolk, VA | Speed end, will have to get stronger at the point of attack, minor sleeper. |
| DE | Matt Roth | 6-4 | 230 | Ponte Vedra, FL | A good all around grinder, may not be a stud, but won't be a waste of scholie either, had a lot off quality offers. |
| DE | Wedley Estime | 6-4 | 215 | Delray Beach, FL | Comes off the edge hard, very good speed. Only one year of experience, very raw, needs weight or could be like Stephen Friday, though his dad is pretty thick man, so I'm optimistic about weight gain. He's another big time sleeper. |
| Whip/Rover | Michael Cole | 6-2 | 200 | Roanoke, VA | Looks like a Whip linebacker, very good speed with good pursuit. |
| Rover | Ronny Vandyke | 6-3 | 196 | Lorton, VA | Future stud in Tech's scheme. Injury his junior year has him a little devalued, he will be a multiple year starter though. |
| CB/FS | James Farrow | 6-0 | 175 | Minnetonka, MN | Against shaky competition he blew by everyone in highlights. Highly recruited, has a skill set that works at multiple positions and great return skills. |
| CB/FS | Adeboye Aromire | 6-0 | 180 | Washington DC | Similar to Farrow, potential at either corner spot and free safety, already enrolled. |
| CB | Kyshoen Jarrett | 6-0 | 180 | East Stroudsburg, PA | Physical and Tech's next great boundary corner, best player in this class. |
Off the Cuff Opinions
Weakest Area:
Offensive Line and Defensive Tackle: Yes, the Hokies whiffed at linebacker but where the team really needs studs are in the trenches. After Stanford, Bama, LSU games of the past few years it's apparent the Hokies' lack of stud DT and OL is the team's downfall. This will keep haunting VT against elite competition as this class did little to help these areas.
Strongest Area:
Secondary: I love the corner back and safeties, potentially the best secondary class VT has ever recruited. Gray will mold this group into a top 5 unit like he always does.
Other thoughts:
Wide Receiver: All three of these guys are relatively new to organized football, so there will be a learning curve. Lockhart looks special, even Beamer gushes about him. Asante and Knowles look to be clones of Dyrell Roberts.
Tight End: As a group none of these guys are like Nosal, Brown or Wang, they don't have the frames to move to OL, it's TE/H-Back or bust.
Defensive End: A lot of bodies, good combination of skill set, all will redshirt.
Fastest: Asante, Knowles and Farrow, all 3 can fly.
War of Attrition: Tight end and defensive end, due to sheer numbers someone(s) will pan out and be really good and outside of Marshall and Reeves these guys look locked into their positions.
Losses:
LB Curtis Grant, tOSU - something turned sour in this relationship and no one is saying a word
CB Derrick Nicholson, UVA - very good corner back, may be better than Jarrett, but not for Bud's defense
LB Travis Hughes, UNC - almost, but bought into UNC and not what VT does with their backers
OL Landon Turner, UNC - ask his dad
QB Marquese Williams, UNC - verballed to the coaches twice, Butch Davis resold him
LB Stephone Anthony, Clemson - bought into Dabo's incoming class and negative recruiting about the the Whip LB
OT Kiaro Holts, UNC - no comment
QB Lafonte Thourogood, Vanderbilt - the kid wants to play, even on a losing team, more power to him
WR Dominique Terrell, UVA - not that much of loss to me, VT doesn't use slot receivers much and that's all he can really play at the collegiate level
The OL and LB misses hurt the most, by far. There is no way around it, UNC amidst potential probation cleaned our damn clocks. Say what you will about his coaching ability, ethics or lack of knowledge all things internal to UNC football, Butch Davis can recruit his ass off. Big question, will he be around long enough to see it mature?
UVA did very well with quite a few 4 star players, backing them up with a lot of the state's 11-25th ranked players. These are the guys VT has made a living off of, they are firmly back in the 757, that hurts. Now let's see if London can coach them up at all.
To say our coaches outside of Stiney, Cav and Gray don't recruit well is a huge understatement, at this point we are NBC... never be closing. Word I got, is recruiting territories will be changed, but no coaching changes... this year. Potentially 2012, but we have heard that song and dance before. However if that happens, look for Shane Beamer and Cornell Brown added to the staff. Unfortunately, I am privy to some "inside" information that I can't speak of, but the coaches aren't unaware or clueless to all things recruiting, even if they look like it at times.
Looking Ahead to 2012: The obvious needs are QB, OL, DT, RB and LB, but more importantly will we start to recruit like an elite program. How is that so damn hard?