This game will make or break our season. I don't know about y'all, but I don't want to put on a happy face and drag my ass down I-81 to Blacksburg next week and pretend like nothing is wrong. Another win in Paris won't mean a whole lot if a trip to Charlotte doesn't follow it. I don't want ten forgettable wins and the Peach Bowl. I don't want to hear The Frankinator say, "we did a lot of things right," or "we're so close," after a loss in Atlanta. I want this team to say we've arrived, so very badly. They've worked their asses off for that.
Actions speak louder than words and this is our chance to make a statement in front of a national audience. The last time we had that opportunity we squandered it and were embarrassed by Clemson, at night, in a nonchalant Lane Stadium. Not this time. I'm going to be incredibly selfish and greedy here. I just don't want a win. I want us to slap the shit out of Georgia Tech.
Have you ever slapped someone? Aside from controlling OddJob and knocking around James Bond and company in GoldenEye 007, I haven't. I've punched a few people in my day and gotten into a few scuffles defending myself, but I've never slapped another person. Pimps slap, parents slap, Ric Flair slaps; you slap someone to put them in their place. The sting immediately puts the recipient at attention and bluntly delivers the message: know your role.
Georgia Tech's never won the ACC Championship Game*. They're a second-class citizen in their own state. They don't come close to selling out Bobby Dodd Stadium, a venue that's considered historic only because it's been standing up in downtown Atlanta for a long time, not because the Bees won an abundance of important football games there. Their fans read books and study at football games. Those same fans started a #avengenesbitt movement.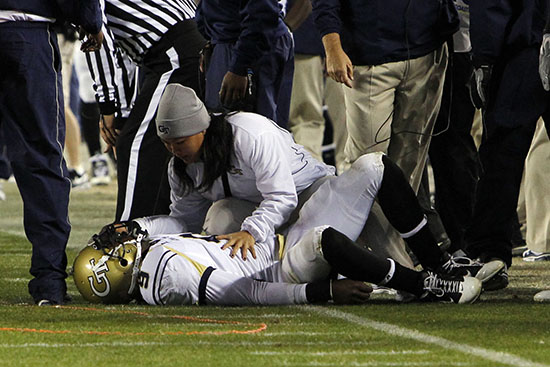 Since 2004 Georgia Tech is 63—37, and Virginia Tech is 81—22. I'd figure they have sore necks from looking up at us, but they don't. Year in, year out, they stare us straight in the eye, thinking they deserve our respect because they play us close. They believe we're equals. That shit needs to stop. We're not, you're just Georgia Tech. Enough with giving them excuses to feel good, and Paul Johnson reasons act like an obnoxious, insufferable, disrespectful asshole.
You might think it's overkill to kill a single bee with a machine gun mounted to the back of a Jeep. It's not. Box is a genius and you guys need to get your mock on.
We need to make sure David Wilson gets his touches. We can't miss tackles in the open field. The offensive line has to be able to finish blocks to the second level against the 3-4. Punts need to go far, can't miss field goals either. Logan has to play with poise and confidence. The d-line needs to control their gaps. We need to avoid the slow start. The receivers need to block downfield better. We need to do all these things to win, and I believe we can. We've done them before. But, sometimes you can analyze a game to death on paper.
In high school my o-line coach would preach that if you didn't know what to do, then just find someone and "hit 'em hard". My dad would always tell me before every game that the most important play was the first. No matter how I did it, I had to put the guy across from me on his ass. Set the tone for the next sixty minutes. It was sound advice. It's an all-time cliché, but the team who wants this game more and sets the tempo is going to win it.
Let's go.
*Vacated, fuck them.