Arkansas State is the second largest college in Arkansas and is located on Crowley's Ridge in Jonesboro. ASU was founded as an agricultural school in 1909 and changed names multiple times finally settling on their current name in 1933. The Red Wolves, who are part of Sun Belt, finished 4-8 last year. ASU has put a lot of players in the NFL such as Ray Brown, Tyrell Johnson, Ken Jones, Ron Meeks, and Elbert Shelley. What comes to mind when you think of Arkansas? Barbeque should. Arkansas BBQ may not be as well known as NC, TN, TX, or KS, but is that because of the food or the people? Rex Nelson wrote an interesting article with his view that Arkansas BBQ is not often spoken of because the people of the state are modest.. Arkansas barbeque is almost always pork and is a mix between sauce and rub. So here is my interpretation of Arkansas baby back ribs.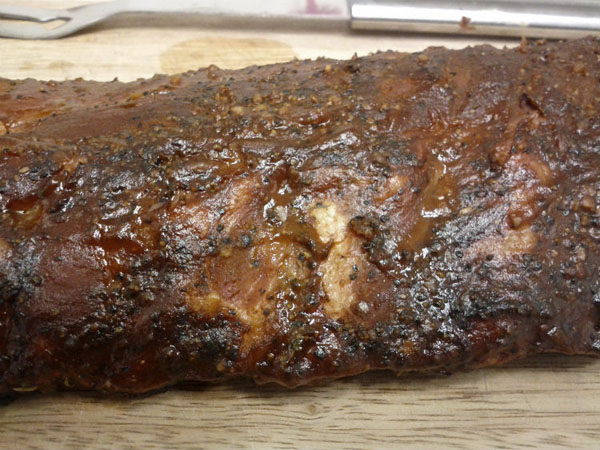 Ingredients
2 slabs of baby back ribs
Ground ancho chile pepper (if you can't find this then use chipotle, just make sure that whatever you buy is not mostly salt)
Olive oil
1/2 cup minced onion
Honey
3 oz tomato paste
Apple cider vinegar
Brown sugar
Worcestershire sauce
Salt and pepper
Bourbon
Garlic powder
Garlic flakes
Onion powder
Tabasco
4 cloves garlic
Ketchup
Stone ground mustard or Dijon
Cayenne pepper
Seems like a lot of ingredients? Well we are going to make our own BBQ sauce. I avoid store bought because the first ingredient in 98.76% of store bought is high fructose corn syrup. I also avoid HFCS in ketchup but those are a lot easier to find than BBQ sauces. Once you have had homemade BBQ sauce you will probably never want store bought again. We are also going to make our own rub. My own personal rub is a secret, but I will be giving you a modified rub that is still fantastic. The most basic rub is a four part rub that is made with salt, paprika, brown sugar, and pepper. I like to spice up this rub a little though, so we will start with this recipe.
Rub
1/3 cup paprika
1/4 cup brown sugar
2 tbs pepper
2 tbs salt
2 tsp garlic powder
2 tsp onion powder
2 tsp ancho chili pepper
1 tsp cayenne
Adjust to taste
Mix together and store in an air tight container. Always use just the amount of rub needed and keep the rest in a separate container to avoid contamination.
I normally do not brine my ribs due to the fact that I cook them so slow and I mop them while I cook. If you are worried about dry ribs then by all means brine them. Heat a mixture of 1 quart of water, 1/4 cup of salt, and 1/8 cup of brown sugar until dissolved and then chill. Depending on how thick the meat is you should brine from 1-3 hours in the refrigerator and then rinse with cold water and pat dry. DO NOT put any salt in your rub if you are going to brine. Brined or not, starting with a dry slab rub a little olive oil or mustard on the meat and thoroughly coat meat with rub. Once you rub your ribs down wrap them in cling wrap and refrigerate until you are ready to head to the tailgate lot.
Sauce
You can make your sauce at the tailgate lot or the night before it doesn't really matter.
Place a small amount of olive oil, minced onions and minced garlic into a pot.
Once the onions turn translucent add 3/4 cup of premium bourbon and bring to boil.
Lower heat to simmer and add 1/3 cup of vinegar, 2 tablespoons Worcestershire Sauce, pinch of salt, pinch of pepper, 1/2 cup brown sugar, 3 oz of tomato paste, 2 cups of ketchup, 2 tablespoons mustard, 1 teaspoon garlic powder, 1 teaspoon onion powder, and about a teaspoon of Tabasco.
Let this simmer about 20-30 min stirring occasionally until sauce thickens.
Setup your charcoal grill into the indirect heat mode that I talked about a few weeks ago (charcoal on one side and a water pan on the other) and get your coals lit. If you are going to use gas to grill the ribs then use a top rack if you have one, or put the ribs opposite the lit burners. Once your charcoal is hot regulate your temperature down to about 250-275 degrees Fahrenheit by closing your vents. Throw your ribs on the grill over the water pan and have a drink, they will take about 4-6 hours to cook. Check your ribs every hour or so and mop them. A mop should be thin so it won't burn and it will help keep the meat moist.
1 cup apple cider vinegar
12 oz beer
1 tbs garlic flakes or minced garlic
1 tbs brown sugar
1 tbs salt
1 tbs black pepper
I like to put my mop in a bean pot and leave it on the grill next to the ribs. This allows it to steam a little and add another layer of moisture to the ribs. The ribs will be done when the meat starts to pull away from the bone. Some people will say that the meat needs to fall off the bone, but this is usually a sign they are overdone. The meat should easily separate from the bone when pulled, but not slide off. When your ribs are done you should add the sauce and let it caramelize on for about 10-15 minutes. Putting the sauce on at the end will make sure that the sugar will not burn and ruin the flavors you have worked so hard to create.