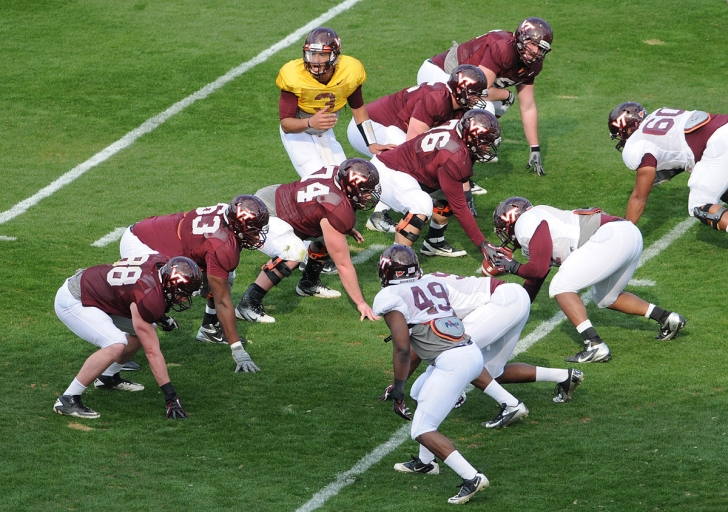 Hold on, wait a second. I'm trying to contain my excitement...can't...stop...smiling...IT'S OFFICIALLY FOOTBALL SEASON AGAIN!
Yesterday I went out to watch some classic spring football, a Tech vs. Tech scrimmage that wetted my unquenchable thirst for Hokie football, a thirst that last year's debacle of a season couldn't even quench.
I heard everything that everyone else had. The new coaches were energized, focused on the little things and have quickly become media darlings, much different than their predecessors. While that is great, I still wanted to see it. I wanted to see the progress Logan Thomas was making under Scot Loeffler and that the entire offensive line was making under Jeff Grimes.
I came away from the scrimmage with many different thoughts about the offense, most of it good.
Logan Thomas: I know the thing that stuck out to everyone on Twitter was that he threw two interceptions. To me, that's not a huge concern right now. He looked more relaxed in the pocket, and if he missed a throw he would actually come out the next pass and correct his mistake. His pocket footwork is already a little cleaner than it was last season. It's early, but I expect him to improve, at least to the median, from a disappointing 2012.
Running Backs: I'm not going to spend much time here, because what the running backs do depend on two huge things; offensive line play, and how many risks Foster takes each scrimmage. Remember when Michael Holmes was supposed to be the next great Tech back because he hit a 60-yard run in an early scrimmage? Yeah, sorry about that. The one thing I will say is that Trey Edmunds runs like a man, I wrote about it in the first scrimmage piece, so that's really all there is to it.
Wide Receivers: Again I'm not going to go over this but so much, as we talked a lot about it in yesterday's piece. Josh Stanford and D.J. Coles were Logan's go-to targets. If that keeps up it stops being a trend and starts to be a theme of scrimmages, as it was with Corey Fuller last year. All of the young guys that I saw yesterday looked good. Knowles, Asante, and Stanford all had big catches. Coles was able to beat Kyshon Jarrett over the middle for a huge gain. I didn't see Joel Caleb at all, and I don't know if I missed him or if he didn't participate. Again, I expect this year to be a bumpy one for Caleb as he continues the transition to receiver, but he is in MUCH better shape with Aaron Moorehead than he was last season.
Offensive Line: This was what I was looking at the entire time, which means I may have missed a play or two as I was focused on the dudes in the trenches. No one position, not even quarterback, will be tested as much by the coaching changes as the offensive line will.
It's a new system, and when an offense transitions from one system to another some guys just fall out of favor or don't fit the scheme perfectly. It will be interesting to see who doesn't transition, because the new zone blocking scheme does not favor the skill sets for some of the current guys which could be a problem because this system is purely zone blocking. To hammer this point home, there were ZERO plays that I saw where guards were pulling or kicking out.
I feel for Grimes, I really do. He has to take about 12 guys and fit them into his two-deep depth chart. Let's just say he has his work cut out for him. I'm going to take the twelve guys that I saw take first or second team snaps yesterday, and order them in terms of performance.
Laurence Gibson
Mark Shuman
Both of these guys stood out yesterday. While Gibson missed a block which lead to a sack, it was obvious that both guys were the class of the line. Shuman looked slow at times with his footwork, something that you never want to see as a left tackle, but also played the run very well. I have always thought Gibson should be on the left side, just from an athleticism standpoint, but no matter where he lines up I think the team will have a solid guy to block ends. His feet were pretty quick, and he showed a nastiness that was refreshing to see. Also, Gibson went against James Gayle in the ever-popular bull in the ring drill and looked to hold him to a draw, which was that was very encouraging to see. It looks like the strength of the line will be the tackles again.
Andrew Miller
It's hard to put guys in the middle slots because most guys stuck out for having good days (see above) or bad days (which you will definitely see below). Miller was the only other guy other than the two tackles to work solely with the first team, be it at center or guard. For a guy coming off an injury to his left ankle, his movement seemed to be solid, though he did get beat a few times—as did everyone else on this list. Depending on how other guys shake out, I'm wondering where we will see more of Miller. Obviously he has the most experience at center and also is a little smaller than most lineman, but if he can show tenacity in run blocking situations, it may be smarter to move him to one of the guard spots. That being said, it is good to see him back from injury.
Caleb Farris
Brent Benedict
Yes, I understand ties are just me coping out, but I don't care. Again, I don't feel great putting either guy this high, but then looking at their competition it only makes sense. Benedict surprised me with his ability to work in space better than last season. I was afraid that taking him out of his pulling comfort zone would put him behind the others in terms of development, but he looked decent. Farris got work at both center and guard (primarily left guard) and looks to be the early leader for the last starting spot on the line. He seemed okay, but there were many times in pass blocking that Thomas got pressured up the middle (not good) and a bunch of it can from Farris.
Adam Taraschke
The definite surprise of the group. For a guy listed at third team o-line, Taraschke got a ton of work with the first unit at both guard spots. Again, I think he is still adjusting, but he seemed pretty comfortable. It will be interesting to see how much of his first-team work he gets in the future, because we could be seeing a guy that is liked by the coaches and fits the system (6-5 296, as French has pointed out Grimes favors taller guards). We could also be seeing a guy that simply took advantage of some horrendous play from guys above him on the depth chart. Only time will tell.
Jonathan McLaughlin
Worked solely with the second-team as a left tackle. McLaughlin surprised me with his ability to get out and move his feet against pass rushers. Needless to say he had a little more success against J.R. Collins and then struggled a little against Dadi Nicolas, but he put himself in position to potentially be a contributor, or at least a promising backup to Shuman and Gibson.
Jake Goins
I'm not sure if the fact that I didn't really notice Goins that much is a good thing or a bad thing. The entire second team line struggled, and I'm sure Goins was a part of that, but I also know McLaughlin and Conte got many of the second unit snaps, and took up the majority of my attention.
David Wang
What I noticed the most about Wang was that he actually fit as a center. Until he got hurt (ankle), Wang got work at both left guard and center on the first and second teams, but looked better in the middle of the line. He obviously has his flaws, with size being the biggest one of them all, and struggles blocking stronger defensive tackles, making guard not the ideal position for him. I think if the injury bug stays away from him he will be able to grab the second center position behind Miller.
Augie Conte
I was on the Augie-watch all scrimmage, hoping to see him take some snaps with the first team at guard. That wasn't the case. Conte took every snap with the second team, rotating with McLaughlin and Goins, and gave up a couple of huge plays in pass protection. I think Joe, French and I agree that Conte will more than likely end up at guard, where he can use his size and not worry about space as much, but it is unclear whether or not Grimes agrees. I think he has nowhere to go but up from his performance, and I expect him to. He was very solid in run blocking already, and if he improves some in the pass protection (or at least not get poor Mark Leal killed) he will shoot up the depth chart.
Matt Arkema
To say that Arkema was overpowered would be an understatement. There were multiple times where I saw him just get bulldozed by one of the defensive tackles, but then on top of those he also whiffed on a ton of pass blocks. I'm not the blocking expert, but if Derrick Hopkins gets by you with a stutter step normally used by defensive ends, you didn't have the best of scrimmages. It happened to Arkema twice.
Nick Acree
This is a family friendly website, so let's just say that there was no question in my mind who went at the bottom of my list. While blocking next to Arkema for a ton of snaps may have made him look even worse than he played, it wasn't pretty. Acree looked lost in pass blocking, often ending up blocking air, and didn't look particularly physical in the run game either. Is Acree having trouble picking up the new scheme, or is he still working back from injury? I know the coaches still have faith in him, and I really hope he pans out because he his a mountain of a man...but it's definitely an uphill battle for him now.
My biggest takeaway from yesterday was this: no matter how good the coaching is, the players are going to need to play. Can they get five guys to have at least a decent offensive line? I think so. Can they get seven to eight guys to have line depth? I'm not going to say no...but it does not look promising at the moment.
While this all sounded rather negative, there was a noticeable change in the feel of the practice from the line. There was no lollygagging or people giving up on plays, but instead people playing right to the whistle (and in some cases, after it). This is a very positive shift from the rather casual feel of practices in prior years, and it was very clear that if you didn't bring it on a play, you were going to be pulled over to the sideline to get an earful from Grimes. This looks to be step one in making the line a "point of attack" and I think it will lead to a better overall unit.
I am going to be watching a few guys closely this Saturday, but my next report will probably be a little more inclusive of the other positions on offense, much to French's chagrin.
Until then, hope we've provided enough information to fill y'all's football addiction.