Hello. Welcome to a new edition of "Foe"Rensics: BOWL SEASON or, dare I say, BOWLRENSICS. We'll take some time a bit later to dig into both El Paso and UCLA, but seeing as how you are a well rounded college football fan, you'd like to stay up to speed on what's going on elsewhere. There are so many bowls, it's hard to keep track of what's what and who's who, right? But you know what everyone can remember? To eat. Or else we would die. So I thought it would be helpful to compare each bowl to the bowl of food it most closely resembles. This should be weird.
Also, before we dive in, I just want to note that Kyle Fuller is an All-American. Hell yes.
1. Gildan New Mexico Bowl: Washington State vs. Colorado State
This is like a bowl of Pirate's Booty at a party where they are late serving dinner. Yes, you are starving/missing college football, which is pretty much the only reason you are eating this shit. But it ain't that good. Really, the only thing going for the snack and for the bowl game are the potential for pirate themed jokes (hi, Mike Leach!) and I think they've both been stretched too far at this point.
2. Royal Purple Las Vegas Bowl: Fresno State vs. USC
This is like a bowl of crab legs and lobster tail at the Bellagio buffet. The talent on the field will be oddly far above and beyond what you are expecting from a bowl like this, just like eating lobster tail feels weird while the guy a table over is actually smoking THROUGH his oxygen mask. Sure, these two teams may not show up with any motivation and it's not like you're getting high quality lobster tail, but it's still pretty good and hey, it's Vegas. You honestly have no idea what's going to happen next.
3. Famous Idaho Potato Bowl: San Diego State vs. Buffalo
This like a cracked Dixie bowl of dog food that you are now eating due to a lost bet made while drunk. Seriously, no one wants to be here and watch this shit. The venue is terrible, it smells bad and even the people that won/got invited to the bowl lost, because you aren't going somewhere GOOD, you're in Idaho in the dead of winter.
4. R+L Carriers New Orleans Bowl: Louisiana-Lafayette vs. Tulane
This is like a bowl of Cincinnati chili. It's just like the regular chili we'll discuss later because it's in New Orleans, except somebody screwed with the ingredient list and now it's something that only people that are local like. Tolerate? Just say they like out of civic pride? Who knows, but it is a pale imitation of the good stuff.
5. Beef 'O' Brady's St. Petersburg Bowl: Ohio vs. East Carolina
This is like a bowl of Special K with too much milk. Yes, we should root for East Carolina because the better they are, the better we look, just like Special K is probably better for us than our preferred Count Chocula. But Ohio is not good and ECU is going to overwhelm them just the milk made the cereal too soggy.
6. Sheraton Hawaii Bowl: Oregon State vs. Boise State
This is like a bowl of Ruffles potato chips in a bone china bowl. The setting is glorious and the potato people are sort of happy to be here, but the quality of what's IN the bowl is lacking.
7. Little Caesars Bowl: Bowling Green vs. Pittsburgh
This is like a bowl of Chex Mix. Okay, yes it's probably better than Ruffles potato chips, but it's not great. You'll eat it if it's there. But there are definitely people who will swear by the stuff, just like people will get excited about the defenses in this game, with BGSU having a pretty good one and Pitt bringing Aaron Donald to the game. But, I dunno, two good defenses with two bad offenses is just like the problem with Chex Mix. Honestly, there's too much Chex in it for it to be good and not enough good stuff, like the pretzels and bagel chips.
8. San Diego County Credit Union Poinsettia Bowl: Northern Illinois vs. Utah State
This is like a bowl of Secret Ingredient Soup that's missing its secret ingredient. Okay, maybe more like a bowl of Two Secret Ingredients Soup that's missing one of its secret ingredients. Yes, Utah State was really fun to watch before Chuckie Keeton's season ending injury, but now, meh. But, you still get the second secret ingredient, Jordan Lynch, proving that a tight end at quarterback works just as well in the MAC as it does the ACC.
9. Military Bowl: Maryland vs. Marshall
This is like a bowl with a scoop of Turkey Hill butter pecan ice cream and a scoop of store brand cookie dough ice cream. One of these teams beat us that definitely shouldn't have, and the other team didn't and maybe should have. This is a game of contrasts. But in the end, despite some redeeming characteristics of both sides, be it the entertainment value of Gator Hoskins and Rakeem Cato or the potential for Maryland storm trooper unis to make an appearance, both sides of this bowl aren't very good and probably aren't worth turning on the TV.
10. Texas Bowl: Minnesota vs. Syracuse
This is like a bowl of store brand chickarina soup. I don't think there is anything redeeming about this bowl. It is a knockoff of something that tastes awful to begin with, just like Syracuse is an example of subtraction by addition for the ACC. Minnesota is one of the worst B1G schools year in and year out and I actually feel a bit of pity for them since they now have to go to conference away games in Iowa, New Jersey and College Park, Maryland.
11. Fight Hunger Bowl: Washington vs. BYU
This is like a bowl of deep fried crickets. Yeah, part of you wants to try one, just like part of you wants to catch a glimpse of a team that can destroy Texas' defense so badly their coordinator gets fired AND YET manages to lose to UVa. But seriously, don't watch this, it will probably be awful. Okay, go ahead, try one bite, now we've got a bowl of partially eaten deep fried crickets covered in vomit.
I think the presentation really makes this not gross in any way
12. New Era Pinstripe Bowl: Notre Dame vs. Rutgers
This is a bowl of soup made by your obnoxious friend using his own recipe. Chances are, this bowl will not be good, just like the soup will taste like he used real gold flakes and water from New Jersey. Regardless, you are NEVER going to hear the end of it, about the tradition of cooking in his family or how his ancestors invented soup. Just shut the hell up already, you and Yankees Stadium deserve each other.
13. Belk Bowl: North Carolina vs. Cincinnati
This is like trying a bowl of a new beef stew recipe you've never made before. It MIGHT be good, you have no idea, but it's probably going to be better if you add beer to the recipe/your stomach1. Also, would just like to point out this is a matchup of teams that beat the Hokies in 2012 and yet the Hokies went undefeated against them in 2013. BOOSH!
14. Russell Athletic Bowl: Louisville vs. Miami
This is like a bowl of Grandma Utz potato chips. By far the best potato chip you can eat and I will fight someone over that. Just like this is, to me, going to be the best non-BCS bowl. BUT, you can only get Grandma Utz in a limited area and I think only two of Louisville's games were broadcast outside of Kentucky, depriving the nation of Teddy Bridgewater and great potato chips. Miami is missing Duke Johnson, but I think they can figure out how to keep this one competitive.
15. Buffalo Wild Wings Bowl: Kansas State vs. Michigan
This is like a bowl of minestrone. Hey, Michigan and Kansas State! They're both pretty good, this should be a great game! Oh, they're both 7-5?! Ew. Oh hey, minestrone! I've always heard about that but never had it. Sounds great, I love Italian food. Wait...it's VEGETARIAN? WHAT IS THE GODDAMNED POINT OF THAT?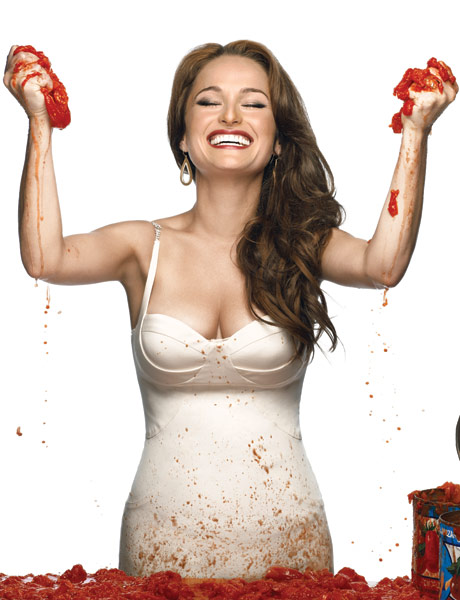 This doesn't seem like the most practical way to prepare tomatoes and WHY WOULD YOU SERVE FOOD WITHOUT MEAT, GIADA?!
16. Bell Helicopter Armed Forces Bowl: Navy vs. Middle Tennessee State
This is like a bowl of celery left over from a work lunch platter someone brought in. It's sitting there at a weird time on a Monday and NO ONE is going to eat it unless they're desperate. At this point, yeah, Navy wins games and they're good at running the ball, but is it really that entertaining? And when you remember that they were the launching pad for Paul Johnson, doesn't it make you hate them a little bit?
17. Franklin American Mortgage Music City Bowl: Georgia Tech vs. Ole Miss
This is like a bowl of Lucky Charms. Sure, there are fun parts, just like the candy in the cereal. OH, look, tons of Dr. Bo jokes on twitter! Oh, the option offense! But then you realize that even the candy isn't that great and the rest of it tastes like shit. Oh, and you have to deal with sideline shots of Paul Johnson, which is like the worst thing ever.
18. Valero Alamo Bowl: Oregon vs. Texas
This is like a bowl of pho. Everyone's going to be overhyping it because of Oregon's offense and it's Mack Brown's last game at Texas. You will hear WAY more about this than it is entitled to, and yeah, pho is good but people overhype the hell out of it. Plus, people mispronounce pho like "Foe" all the time, just like people always say "Or-e-GONE", which pisses the hell out of Oregonians...Oregoners?...people from Oregon. While this game will be entertaining, it will be much better if you ignore everything surrounding it until the game gets here.
19. National University Holiday Bowl: Arizona State vs. Texas
This is a bowl of that awesome soup your mom made you growing up. Almost without fail, this bowl delivers the goods every year in terms of entertainment, just like your mom's soup always tastes good, if for no other reason than the extra nostalgia seasoning in it. These two offenses look set to keep the pointsplosion tradition alive and it's worth it every time.
20. AdvoCare V100 Bowl: Boston College vs. Arizona
This is like a bowl of guacamole. It's going to be good, and like Andre Williams is to avocado (the main ingredient for goodness here), the addition of Arizona's awesome running back, Ka'Deem Carey (playing the part of lime, tomatoes, cilantro) makes this even better. Plus, add in a little Louisiana/tabasco sauce and it gets even better!2.
21. Hyundai Sun Bowl: UCLA vs. Virginia Tech
This is like a bowl of Turkey Hill Chocolate Chip Cookie Dough ice cream. My favorite brand of ice cream and my favorite flavor, just like my beloved Hokies. People say you shouldn't eat raw cookie dough just like the haters say we'll never win a national title. Well, I'm pretty sure they do something to make the cookie dough safe and they didn't build that damn case for nothing. BUT, just like the ice cream, the Hokies are surely and steadily contributing to and hastening my eventual death from heart disease.
Eating the cookie dough ice cream WITH COOKIES! GENIUS!
22. AutoZone Liberty Bowl: Mississippi State vs. Rice
This is like a bowl of brown rice. It's supposed to be good for you, but there's no taste and it's not actually as filling as you think it should be. Plus, someone offered it to you while you are halfway through that bowl of cookie dough ice cream, so are you really going to change the channel?
23. Chick-fil-A Bowl: Texas A&M vs. Duke
This is like a bowl of crab and asparagus soup. You may not have heard of this (much like people are just now realizing that Duke has a football team), but it's delicious. But, if you've had the soup before, while they are both delicious (and the soup is good as well) I think you'll agree that one of the ingredients overwhelms the other and I'm expecting the same thing here. Unless Johnny Football is literally drunk on the field, expect Texas A&M to score at will, but it won't be quite like the ACC Championship Game. I think Duke will definitely put up more points since Texas A&M, just like the rest of the SEC, doesn't believe in defense.
24. Taxslayer.com Gator Bowl: Georgia vs. Nebraska
This is like a bowl of butter pecan ice cream. YES, it's ice cream! It's Nebraska and Georgia! Oh, but wait, it's by far the worst kind of ice cream you can eat. And all Nebraska has going for it is the potential to lip read their coach's profanity on the sidelines. And Georgia is on roughly their third string team. Not QB, TEAM. So, to be asinine, this isn't your daddy's Nebraska OR Georgia.
25. Plainscapital Bank Heart of Dallas Bowl: North Texas vs. UNLV
This is like a bowl of the little cakes they have at the nice Korean buffet. You know, they might be pretty good, but you are so full from everything else and there's soft serve and sprinkles you could be eating instead so, you're probably never going to find out.
26. Outback Bowl: LSU vs. Iowa
This is like a bowl of gumbo. You may not have seen Iowa play this year. You may not have HEARD anything about Iowa this year other than jokes about Kirk Ferentz. Just like you may not have ever tried gumbo or know anything about it beyond people using it as a punchline in Cajun jokes. Rest assured, both are pretty good, but the real strength of this analogy is the spiciness of Les Miles combined with the blandness of Iowa; serving gumbo over rice, so to speak.
27. Capital One Bowl: South Carolina vs. Wisconsin
This is like a bowl of Froot Loops you're eating because you're too hungover to get anything else and you need some food in your stomach. You're head is pounding, Jadeveon Clowney SOUNDS like a good idea, but then you remember you aren't six years old anymore and he's been playing hobbled all year, so it isn't as fun as you think it is.
28. Vizio Rose Bowl: Michigan State vs. Stanford
This is a bowl of really good five alarm chili. This is going to smack you in the face, just like Michigan State's defense, and probably be the best thing you eat all bowl season that isn't the national championship game. But once is all said and done, it's more than likely going to come down to how well Stanford runs, which is also what the chili is going to give you in the end.
29. Tostitos Fiesta Bowl: Baylor vs. Central Florida
This is like the sad bowl of ice cream you make when you find all the vanilla and chocolate gone from the Neapolitan tub. Yeah, we've got Baylor/is still ice cream, but it's probably not going to be as great as you were thinking before you realized strawberry was the only flavor left. Plus it's going to be full of Bortles jokes on Twitter, which is the equivalent at this point of Strawberry out of Neapolitan ice cream jokes3.
30. Allstate Sugar Bowl: Alabama vs. Oklahoma
This is like a bowl of your best beef stew recipe. It'll have some high notes, because Bob Stoops will probably make at least one or two catty remarks about the SEC over the next few weeks. It's also very hearty, because it'll be out of hand by halftime and put you to sleep.
31. AT&T Cotton Bowl: Missouri vs. Oklahoma State
This is like a bowl of cheese melted over chili. The beef and the cheese came from the same place at one point (in this case, the Big XII) but the cheese has moved on to bigger and better things and are clearly the superior product at this point. However, this should still be a pretty good matchup and delicious meal.
If you weren't sure about or disgusted by that analogy, this should help. THIS IS THE BIG XII.
32. Discover Orange Bowl: Ohio State vs. Clemson
This is like a bowl of melted ice cream. This had such high hopes before it got exposed to the elements (read: FSU/USC and Michigan State) for too long. Both teams seemed to be world beaters at one point and now they are reduced to BCS at large bids because of their large fan bases. And yeah, you might watch this one just to see if EITHER team manages to show up, just like you might try to drink the ice cream even though it has been out so long it's starting to harden around the edges. I'm not sure it will be good for you, though.
33. BBVA Compass Bowl: Houston vs. Vanderbilt
This is like the bowl of salad they sometimes serve between the main course and dessert. It's light, there's nothing else to eat and you aren't really going to miss out on anything else if you eat it. Plus, Vandy being good is always kind of fun, and they both have decent passing attacks, so just watch it. You ain't got nothing else going on.
34. GoDaddy Bowl: Ball State vs. Arkansas State
This is like a bowl of the cranberry jello mold your wife's grandmother who can't cook makes for Thanksgiving. You're so close to the end (and best part) of the meal, and you get a bowl of this forced into your hand. And she's going to stare at you until you take a bite. Then she's going to start telling you about her choral group so she can watch you until you eat half the bowl.
35. Vizio BCS National Championship: Florida State vs. Auburn
This is like a bowl of pecan pie and Turkey Hill vanilla ice cream. I have reasons to root both for and against both of these teams (FSU being the devil, however my cousin went there and he's probably my favorite cousin; Auburn is a much longer story) but in terms of what's at stake (obviously) and the talent on the field, this is awesome. Despite pie not being as good as ice cream (just as people are screaming Auburn isn't as good as Alabama), the pecan pie adds some texture and compliments the greatest dessert on earth well. There is really nothing bad about this bowl, except for the off chance that Auburn wins, continuing the SEC obnoxious party. Just like some people will say this is pie WITH ice cream, rather than ice cream with pie.
1Probably no more than a bottle of beer in the stew, depending on the size of the recipe, but at least a sixer to get through this game
2Okay, that's a huge stretch of an analogy, playing this in Shreveport adds nothing of value for anyone, including the participants
3Yes, I think I just made fun of myself for making a strawberry out of Neapolitan joke.