By

french60wasp
columnist
on December 30, 2013, 1:06 PM
| 24 comments
The UCLA Bruins had an excellent 2013 season, but if a weakness stood out to me when I watched film of their games, it was offensive line play. Due to attrition and injuries, the Bruins were often featuring three true freshmen on the offensive line (Caleb Benenoch, Scott Quessenberry and Alex Redmond). Each played well enough for true freshmen, but with inexperience comes breakdowns in pass protection and short yardage running situations. The Bruins were plagued with those breakdowns early and often this season. Also, with their spread offensive sets and the use of an H-Back, the Bruins lacked a true tight end to utilize as a blocker in short yardage, and UCLA's top two running backs are both scat back types that check in at less than 200 pounds.
As those struggles mounted, Jim Mora and offensive coordinator Noel Mazzone turned to their young, talented defense for a solution to challenges in short yardage situations. Mazzone developed a series of running packages featuring talented freshmen Myles Jack and Eddie Vanderdoes at tailback; senior defensive end Cassius Marsh and sophomore defensive end Brandon Willis at tight end; and defensive end Keenan Graham and linebacker Jordan Zumwalt both aligned as offset fullbacks. Mazzone debuted this Power I formation in short yardage situations against the Arizona Wildcats, and it became a staple of UCLA's offense over the last four regular season games.
The Formation and Concept
With defensive players being utilized, and therefore not being guys who are getting regular repetitions on offense, Coach Mazzone uses the simplest possible blocking concept for his goal line package. First, Mazzone utilizes a balanced diamond formation, and on film UCLA doesn't show a preference for running right or left.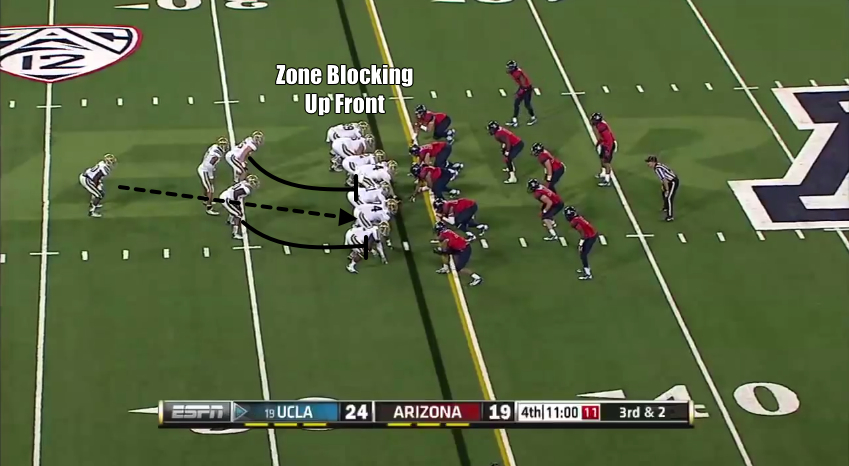 With the balanced formation, there isn't a key for the defense to load up against one side or another. At the snap, the offensive line all zone block to the play side, hitting the first defender to cross their face. The play side fullback identifies a bubble created by the offensive line, and the back side fullback crosses the formation to the play side and leads up on the first bubble forming back to the inside. The line and the fullbacks only goal is to get a hat on hat and keep a body on each defender. They don't try to reach block and bounce to the outside.
Enter Myles Jack
Jack aligns as a deep tailback behind quarterback Brett Hundley, who takes the snap from a pistol depth rather than a true shotgun depth. Hundley's first movement is critical. As he takes the snap, he turns his shoulders quickly OPPOSITE to the direction of the play, and then quickly turns back to the play side to give the ball to Jack, who is crashing straight into the line. The subtle shoulder fake, which often barely is 3 inches of movement, can freeze the opposing linebackers for just enough time to allow the fullbacks to attack their bubbles. Myles Jack is a 6-1, 225 pound athlete who is more than a big, strong body that smashes the line of scrimmage. He can bounce it outside and beat you with speed, or he can carry defenders to the end zone.
UCLA gets decent movement in the package, but Jack is the player who makes it dangerous. In limited carries, he appears to be every bit as powerful as Boston College bruiser Andre Williams, and I have not seen him get a carry on film where he gets negative yards. He will move the pile, as the Washington Huskies found out against the Bruins.
Jack drags multiple defenders into the end zone. Watching this coupled with lingering flashbacks to the Hokies missed tackles against Duke's Brandon Connette is enough to give me ulcers, especially when considering the long layoff between the Sun Bowl and Virginia game. Jack is a hammer, but he is fluid enough as a tailback to change his angle and not just run into the backs of his offensive line. He is a legitimate running back threat, not just a gimmick. And, against the Arizona Wildcats, he showed that he could be a home-run threat even in a short yardage set.
As they do on most power plays, Jack attacks the line of scrimmage at the snap, but around a yard behind his blockers, he plants his inside foot and bounces one gap to the outside. The Wildcat corner comes up to force the play, and since Jack looks like he is bouncing to the outside, the corner gets just a bit up field. That sets up the block for the fullback, and as quickly as Jack started to bounce outside, he cuts back off the fullbacks block. Jack proceeds to purely outclass both Wildcat linebackers and two defensive backs purely with his speed and balance. Excuse me for a moment while I grab my tums.
Over the last four games of the season, Jack scored seven touchdowns on 37 carries (267 yards.) Four touchdowns came against the Huskies. Mazzone became so infatuated with Jack's talent at running back that he didn't play on defense against Arizona State. State ran roughshod against the Bruins by attacking Jack's replacement at strong-side outside linebacker, so Jack was back to being a full-time linebacker and part time tailback against USC. As result, Jack won both the defensive and offensive freshman of the year award in the Pac-12.
With the success Jack had on offense, I think Mora and Mazzone realized that utilizing great athletes on both sides of the ball could benefit recruiting as well as the outcomes of UCLA's games thanks to the attention that ESPN and other national media organizations give to players who contribute on both sides of the ball. Towards the end of the season, five-star freshman defensive end Eddie Vanderdoes also started to get snaps on offense.
Those defensive players are not just in the game to block. Jack's presence draws so much attention that it opens up play-action. Against Washington, Mazzone utilized defensive end Cassius Marsh as a receiver.
00:04:01–00:04:09
The play design is relatively simple. Hundley fakes to Jack on a lead to the right side and then turns his eyes back to the left.
The "fullback" Jordan Zumwalt runs to the left flat to clear out the corner. Marsh runs a curl route, but delays so the middle linebacker has moved to his left to tackle Jack on the dive. The outside linebacker doesn't have inside position, so this is an easy throw for Hundley.
The Vanderdoes Effect
Where Myles Jack gives UCLA tremendous power to go with the athleticism of a big play back, when Eddie Vanderdoes enters the game, he is the anvil. At 6-4 305 pounds, Vanderdoes is a gigantic defensive end, but he is athletic enough that UCLA uses him in a shotgun set with Hundley.
00:00:23–00:00:30
From this formation, Vanderdoes will often cross in front of Hundley and fake taking the handoff, then become a lead blocker. He also caught a pass for 18 yards against Arizona State, and as the video above shows, against UCLA's biggest rival, the crosstown Trojans were the victims of a Vanderdoes touchdown run.
The coaching isn't particularly creative, but as with Hundley and the UCLA defensive front, the Bruins maximize the value they can get from their special talents. Bud Foster's formula in the past against teams like the Bruins has been to get immediate penetration and try to take those talented players out of their rhythm and then gang tackle the football. This high-risk approach paid huge dividends against T.J. Yeldon of Alabama, but the Hokies found themselves missing too many tackles against Boston College and Maryland later in the season where both teams found ways to neutralize penetration. Hundley's ability to run options from the same formations limit Foster's ability to blitz, without risking big plays. If the Hokies want to be successful, they must keep UCLA in unfavorable down and distance situations and hope that Hundley's erratic accuracy presents opportunities for turnovers. If the Bruins can get into these specialty situations, the Hokies must play a high risk approach and get penetration on the interior and stop Jack before he can start to get downhill. With Kyle Fuller's health a question mark, and the Bruins having a year of film showing Detrick Bonner struggling to tackle in short yardage, expect the Bruins to run heavily at the free safety in goal line sets.