By

3rdand31
columnist
on September 23, 2013, 2:12 AM
| 35 comments
It's games like these which remind me why I love college football so much. As I posted here after the game, the Marshall–Virginia Tech matchup was one of the most entertaining games I've watched in a long time. It had everything... blocked punts, a mobile QB scrambling for his life and completing pinpoint throws against great man coverage, great catches, a tipped pass that was caught to tie the game, interceptions, sacks, a long run by Edmunds, the inverted veer, overtime, a blocked game winning field goal, a second overtime, A THIRD OVERTIME! Most importantly, it featured a Hokie victory. I thoroughly enjoyed the game even though my Hokies could have played better. Wins are so hard to come by that if you spend too much time upset that a win wasn't "more convincing", then you can wake up one day and realize you spent your football program's golden years complaining about them, rather than appreciating them.
Marshall is a good football team, I think we can all agree on that now. They aren't elite by any means, but Doc Holliday (what a football coach name!) has built a solid program that is capable of hanging in there against more prestigious football teams. Marshall isn't a laughing stock of a football program anymore, and Rakeem Cato isn't that scared little freshmen he was two years ago when he made the trip to Blacksburg. Cato's mobility caused problems for Tech all day (especially early). He doesn't just hurt you with his feet though, as his short passing accuracy was at times capable of picking apart Tech's press coverage. Despite his playmaking skills, Bud Foster's game plan was able to hold Marshall's high flying attack to just 4.15 yards per play, almost two yards per play less than any of their previous games this season.
Consistent Game Plan
Foster said after the game that he didn't really need to change his game plan up at halftime. I thought he might be playing coy, considering that Marshall scored all 21 of it's points before half, but after watching the game film I was surprised to find out he was telling the truth. His plan to stop Marshall didn't change much throughout the entire game. Foster wanted to focus on stopping the run game and the short passing game.
This is an overhead look of the play where Hopkins almost scooped and scored for the win after Cato gets sacked. Foster has six defenders in the box in order to stop the zone read play. On a zone read play, the defensive line and linebackers would flow hard toward the running back. This technique made it very hard for Marshall to establish a consistent rushing attack when handing it off. Whoever the backside defensive end was would pinch down the line to prevent cut back lanes for the running back, but wouldn't give the quarterback a strong keep read. A few times the defensive end would pinch down too far, and Cato was able to get outside of the box for good yardage, but for the most part Marshall's zone read attack wasn't good enough to change Foster's approach.
Foster's biggest move was to play tight up on the line of scrimmage with his pass coverage all game long. He wanted to take away all of the cute short routes that pass-happy offenses like Marshall like to run. Teams that run pass-first offenses rely on their short passing game to help them maintain possession of the football. They can't drop back and throw it deep 40 times a game and hope to have success, so they use the defense's fear of getting beat deep against their opponent. They'll run a ton of short routes and lull the defense to sleep before taking a shot over their opponent's heads.
Well Foster didn't want to play that game. If he was going to get beat in the air, he wanted it to be on his terms. If he could make it extremely difficult for Marshall to throw it short, then he could force them to make low percentage throw after low percentage throw. Add in the fact that his pass rushers were more talented than Marshall's pass blockers, and Foster (correctly) figured that the odds would eventually catch up to Marshall, and they wouldn't be able to move the ball consistently.
Here is an example of Cato having a chance to make a throw down the field, but not being able to do it.
00:18:04–00:18:12
You can see Kyle Fuller play with inside leverage and is slow to turn his hips and run with the wide receiver because he's anticipating a break in his route. When the WR doesn't break, and instead continues running, Fuller isn't in a position to keep up. Jarrett is late coming over and Cato has an open man down the field... but doesn't have the goods to get the job done.
This is the type of high-risk high-reward attacking defense that Foster has made his reputation on. Make no mistake about it, it's definitely risky to play press coverage against an offense that practices throwing as often as Marshall does. Here, with the game tied and Marshall attempting to get into field goal range, Foster's strategy blows up in his face for the first (and at the most inopportune) time.
00:21:45–00:21:54
This could have been a back breaker. A long completion like this puts Marshall just a first down away from being in field goal range, a field goal that would have put them ahead late in the game. When their drive stalls though, they have no choice but to go back to the well and try to throw a low percentage deep ball along the sideline.
00:22:01–00:22:13
Once again, Cato can't make the throw. Jarrett was quicker getting over this time, but he's still not in a position to make a play on a perfect toss. If Cato can throw it with pace to the outside his WR will have what would almost certainly be a game-winning touchdown. Instead, Cato isn't quite accurate enough and the ball isn't thrown quite hard enough.
While Cato doesn't have the strongest arm in the country he is very accurate and his wide receivers can all catch the ball. Even against tight man coverage, Marshall was able to move the ball through the air at times simply by making fantastic play after fantastic play.
00:15:26–00:15:31
When Quarterbacks and Wide Receivers make plays like this, all a Defensive Coordinator can do is move on. Sometimes the other guys are just going to make plays, that's all there is to it. This is really good coverage by Bonner. The only way for Marshall to get a third down here was with a freak circus catch. Here's another example of Bonner having good coverage and just getting unlucky with the placement of the throw.
00:17:21–00:17:28
Press Coverage Leading To Big Plays
Cato and Co. might have won a few battles against Foster's secondary but Foster clearly won the war. Tech was very active in jumping routes all game long. Even though Tech only added two interceptions to it's already impressive season total, the playmakers in coverage had plenty of chances to make plays on the ball.
Here is Kyle Fuller playing tight, aggressive man coverage on the edge. He is using an inside technique which opens up to being beat down the sideline, but it will prevent the receiver from attacking the middle of the field (which is an easier throw for the QB) and it also allows Fuller to jump any underneath routes.
Kyle Fuller reads this route perfectly and comes back to make a play on the ball. As you can see from the coverage that Fuller is playing, the ONLY chance the WR has of getting open is to run straight down the field and have Cato make a perfect throw. Here's Kendall coming up with his first interception as a Hokie by jumping a route in the slot.
00:18:31–00:18:39
Kendall aligns in press coverage on the slot, which is where he spent most of the day. Kendall had another impressive day in man coverage. Even when he did give up a reception he was draped all over the player who came up with the grab. On this play Cato feels the pass rush come and is forced to throw it quickly, which is what Foster was hoping would happen all along. Against most teams Cato can rely on having that short route being open, but because of the unusual aggressiveness Kendall is showing by undercutting the route he is in prime position to pick it off.
Here's Brandon Facyson getting into the mix.
00:17:14–00:17:21
The interesting thing with this play, is Marshall put this play in their playbook specifically to combat this type of man coverage. With the slot defender reading and then biting on the slot inside route, the field corner shouldn't be able to cover the necessary ground to stop the pass. Brandon Facyson is so quick with his break on the ball though that he actually beats the ball to the receiver.
Facyson impresses me every time hes on the field with his closing speed. If the Marshall wide out doesn't do a good job of playing defensive back, then Brandon might have the first pick six of his career. I'm convinced that Marshall actually got even luckier later in that drive when they have a pass batted down at the line. If a Hokie defensive linemen doesn't get a hand on the ball then Facyson is in perfect position to pick that one off too.
00:18:26–00:18:31
The Great Equalizer
Mobile quarterbacks drive a defensive coordinator crazy. They have a way of taking all of their carefully constructed plans and throwing them out of the window. Have the perfect coverage called? Not once the QB starts moving around and gets the scramble drill going. Have a perfect blitz drawn up? Uh oh, dude just made your linebacker miss in space, now he's running down the field and picking up the first down. It's infuriating.
Most of the success the Thundering Herd had on offense occurred because of the fleet feet of Rakeem Cato. He extended plays by running around behind the line of scrimmage and buying his WR's extra time to get open. He kept the ball on zone reads and ran around the end to pick up good yardage. Heck, once he even pump faked Jack Tyler out on his way to the end zone.
The majority of Cato's scrambling effectiveness took place in the first half. Cato was able to slip through the defensive line pressure time and time again. Once he found green grass, he was able to make some plays for Marshall.
00:03:15–00:03:25
Nothing fancy here. Tech brings both linebackers (Tyler and Edwards) on a blitz and that leaves no one back to spy on the quarterback. Marshall's running back does an excellent job at picking up his pass protection responsibility, and Cato slides past the pressure. Once he breaks contain, it's easy running for the first down and then some. When in man coverage, it's a lot easier for QB's to scramble for big yardage because the secondary isn't focused on the QB. Most of time they are focused on the WR's and will often have their back facing the QB. If the QB takes off, they won't notice until it is too late. In zone coverage though, the defense is facing forward and is capable of diagnosing a scramble quicker.
Here is Cato buying some time with his feet and finding a player open for a first down.
00:04:05–00:04:12
Watching the tape, it became clear that if Marshall wasn't making a great low percentage play or if Cato wasn't scrambling around making some magic happen, that they weren't able to do anything on offense. The only difference between the early success that Marshall had and the second half (when they didn't score a single point) was when the Hokies started to keep Cato in the pocket. By leaving two linebackers in the game, Foster was able to have one cover the tailback on pass plays, and the other spy the QB. In the second half his defensive line did a better job at staying true to their rush lanes and not leaving open chasms for Cato to squirt through. Foster also helped his cause by allowing his linebackers to spy more instead of blitzing them as much on passing downs. When Cato was forced to stand in the pocket and throw down the field, Marshall's luck ran out.
Who Are We?
This was Tech's fourth game of the season but I still feel as if there are more questions than answers about what type of offense Loeffler really wants to run. Virginia Tech ran over 87 plays, 53 rushing attempts and 34 passing attempts, but only took nine snaps from under center. Nine snaps. Nine.
Oh, and of those nine snaps, four snaps were play action and five were rushes. Zero drop back passes from under center. That can't stay the same. Tech has to attack linebackers and safeties who are too close to the line of scrimmage with short, quick-hitting routes. It's not necessary to fake a run in order to punish a team that's too focused on stopping the run.
Here is a picture of the very first time that Tech lines up under center. Tech hasn't shown much (any?) drop back passes this season, so Marshall goes single coverage at the top of the screen and gives Stanford a nice cushion.
Now, Thomas has a monster arm and Stanford runs some of the best routes on the team. This would be the ideal time to run a quick three step slant. It would punish the defense for dropping a safety into the box and playing off on the wide receiver. If Tech completes a handful of those quick hitters, maybe Marshall takes that safety outta the box and Tech can run the ball. Or maybe the cornerback gets too aggressive defending the slant and Stanford can run a slant-and-go double move for a big gain.
This was the third game in a row (all against non-AQ schools) that Tech's game plan looked less than fully fleshed out. I'm not saying that the play designs were bad, or that Loeffler didn't make good adjustments. All I'm saying is that there should be, there has to be, more to Tech's playbook then this.
Starting on Thursday I think we'll see a more complete game plan from Virginia Tech. Ever since the season started I've written on this website that I am surprised by how few counters Tech has run. Everything under center and from shotgun has basically been outside zone, inside zone, or some derivative off of that. Imagine my joy when I noticed this little play on Saturday.
00:19:49–00:19:55
Did you see that!?! It's easy to miss if you are watching the ball instead of the offensive linemen. Tech pulled it's guard and center out in front of the running back! It made me so happy. Tech should show this type of blocking scheme way more starting on Thursday. Why? Because when your zone blocking is getting stretched out, you can downblock to really secure the edge.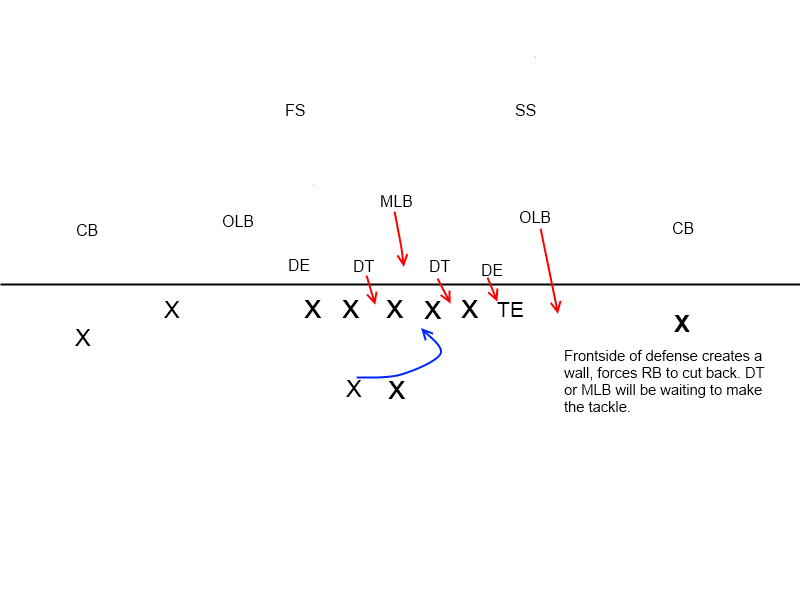 What a lot of defenses like to do against the zone (like Bud Foster) is to stretch it out. When a team is in shotgun, you know which way the zone run will go, to the opposite side of the running back. So as soon as the defense get's its "run read", the defensive line will attack that direction and maintain their gaps. The running back won't be able to get to the edge and will have to cut it back. Now the center is in a pickle because the backside defensive tackle has great leverage to defeat his block on the backside guard and crash down the line of scrimmage to make the tackle. If the center double teams the defensive tackle, then the MLB can shoot the A-gap and make the tackle.
If an offensive coordinator sees the defensive line crashing down the line, and the MLB exchanging gaps with the defensive tackle, he can down block and pull some blockers around the edge. This is called a "Pin and Pull" scheme, because the front side defenders get pinned inside by the front side blockers while the backside blockers pull and kick out the LBers.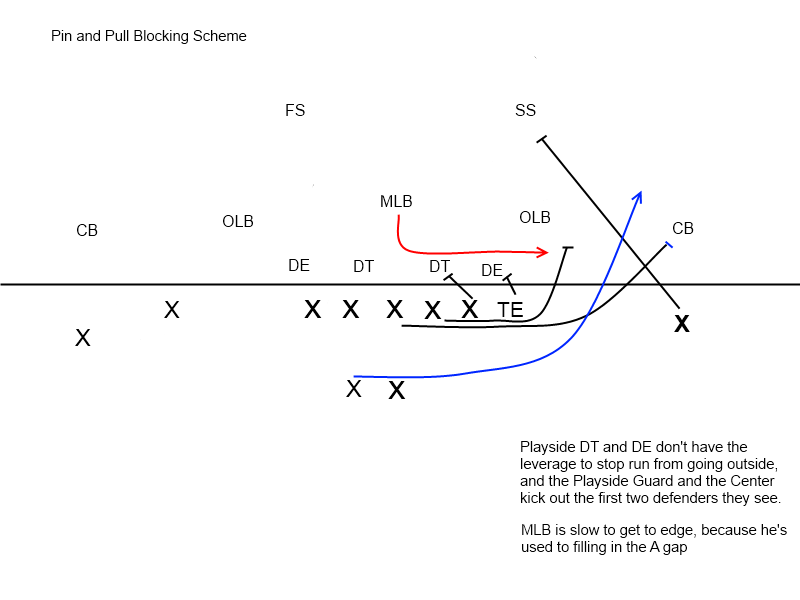 This is the type of counter Tech hasnt shown often enough this season. On Thursday night, ACC play begins for the Hokies and they face their annual rival in the Coastal Division, Georgia Tech. As always, Paul Johnson has his Flexbone offense humming and ready to go, but this season he's added in a pistol formation wrinkle which is no joke. Tech's defense is good, maybe one of the best in the country, but you can never count on shutting PJ's attack down. Loeffler's offense will have to move the ball against the Yellow Jackets new defense, now coached by Ted Roof.
While the Yellow Jackets defense isn't world class, neither is ECU's or Marshall's. Virginia Tech will have to show it's whole hand in order to get the necessary points to secure a win on Thursday night. If Loeffler doesn't break out everything he's got (Pistol veer, Inverted Veer, Five wide formations, passing from under center, inside zone, outside zone, man-counter blocking) then Virginia Tech will struggle.