Editor's Note: This is a fantastic story. Moved to front. --Joe
This story was originally for a class/possible CT article, but I figured y'all would enjoy it as much as I enjoyed writing it. Happy Friday, y'all.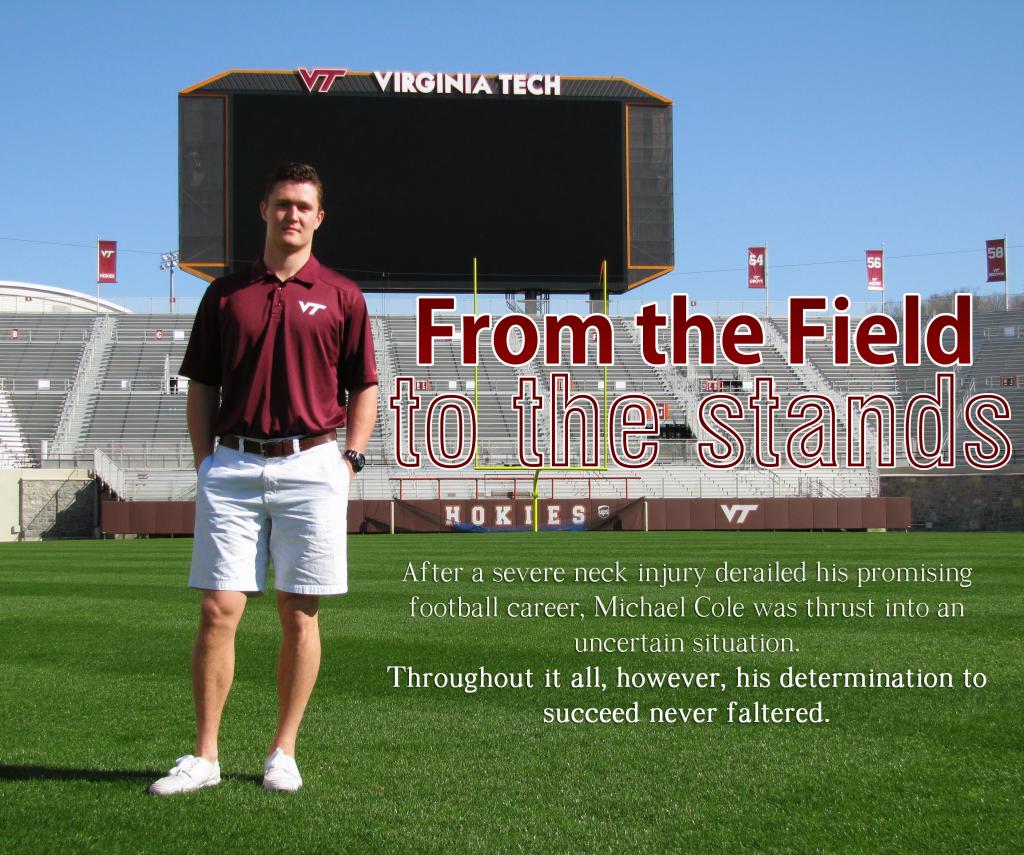 As he led the way to a secluded area for an interview in one of the tutoring rooms atop Lane Stadium, Michael Cole heard a familiar voice call out.
"EY, YO! IS THAT MIKE COLE I SEE?" shouted Kyshoen Jarrett, starting rover for Virginia Tech's football team, who was walking from the practice field with a backpack slung over his shoulder.
"WHAT UP MIKE!?"
Cole broke from his seemingly hard-shelled, all-business facade and smiled, returning the salutation.
Even though he isn't out on the practice field preparing for next season, Cole is obviously still a member of the Tech team.
Hailing from Roanoke, Va., Cole began receiving serious Division-1 interest following a number of impressive outings at various skill camps and combines during his junior year at Cave Spring High School.
He finished his senior season with a number of scholarship offers, but narrowed his list down to Penn State and Virginia Tech.
After committing and arriving in Blacksburg, Cole took a redshirt season as a freshman to recover from nagging neck stingers and to learn the nuances of the rover position.
It wouldn't be until Sept. 3rd, 2012 that he suited up for the first time as a Hokie and walked through the claustrophobic tunnel—a Monday night prime time battle versus Georgia Tech.
Cole finished the game without any stats, but what he gained was far more important than anything that could be recorded on a stat-sheet—the knowledge that he had conquered his goal of playing Division-1 football, a dream he had worked for his entire life.
This wasn't enough for him, though.
As the season progressed, so did Cole. After recording his first tackle against Austin Peay in mop-up duty, Cole's dedication to success on the football field was beginning to catch the attention of coaches Bud Foster and Torrian Gray.
He had worked himself up the depth chart, and the coaches gave him his first shot of real playing time against Pittsburgh following an injury to cornerback Kyle Fuller.
Photo courtesy of HokieSports.com
Following what could be considered a bit of a rough-and-tumble start for the Hokies in 2012, they set off for South Carolina with a 4-3 record to take on their first ranked opponent of the season, No. 11 Clemson.
After the 2011 season, in which Tech had lost to Clemson 38-10 in the ACC Championship, this game was Tech's chance for redemption.
Although Cole says the team had prepared for the game all season long, Clemson's defense prevailed in the end, defeating Tech for the third time in a row.
Still, Cole was improving.
During the game, he pulled off one of the most miraculous plays of the season: a finger-tip interception as he lay on his back on an errant Tajh Boyd pass over the middle.
Tech's record up to this point had been uncharacteristically bad for a team that had come in with eight consecutive 10-win seasons. Youth and coaching were the most popularly cited causes for the sudden drop-off, but the year's silver lining was that players like Cole were gaining invaluable on-field experience.
Cole himself had worked his way into a starting role in Tech's nickel defense, and was beginning to carve out a niche for himself as an effective run-stopper, having been credited with 41 tackles nine games into the season.
Photo courtesy of HokieSports.com
When Thursday, November 8th rolled around, most fans had already began their annual pilgrimage to VT.
Though the season was rough, this night was drenched in hope from the fan base that Beamer and his young team could right the ship and shock the nation.
Although Florida State came into town with a No. 10 etched in front of their name, this was Thursday night.
Everyone knows that on Thursday nights in Blacksburg records and rankings are thrown out of the window.
As the two teams battled throughout the game, Cole was playing well, recording two tackles and playing a large role in deterring the Florida State running game.
Near the beginning of the 3rd quarter, Tech's defense was on the field as the Hokies trailed by three points.
Hyped up by the crowd, the group was playing lights out, holding Florida State to -15 yards rushing on the game.
FSU's Lonnie Pryor took a routine hand-off from E.J. Manuel, and barreled his way for a 10-yard gain until he was dragged down by a group of aggressive Hokie defenders.
As 21 players brushed themselves off and returned to their respective huddles, everyone in the stadium took notice of the 22nd still lying on the ground, adorned in a maroon No. 2 jersey.
66,233 people stood in complete silence as they watched medics delicately strapping Cole to a spine board, hands clasped to their mouths.
At the hospital, CT scans were negative for fractures, but an MRI revealed a two-level disc herniation.
Roanoke orthopedic surgeon Dr. Jonathan Carmouche told Cole that the only way he could play was if he received a double-level fusion of the discs—similar to the procedure Peyton Manning had two years ago.
Even so, there was still a slim chance Carmouche would let him return to the field even with the procedure.
Cole made the tough decision to forgo the fusion, and instead got a foraminotomy to relieve nerve pressure on his spinal cord.
This also meant he had to give up the sport he had dedicated his life to.
Today, all that remains of the incident for Cole is a scar along the back of his neck.
Outside of football, Cole has always been an exemplary student.
Carrying above a 4.0 GPA in high school, he came to Tech and began coursework as a pre-med, focusing on becoming a doctor.
With his football career unexpectedly ending, Cole (who still has a full scholarship) now focuses a majority of his time studying for the all-consuming MCAT, which he plans to soon take. He's been interning with his surgeon, Dr. Carmouche, and says that he'd like to eventually come back to Tech as a team surgeon.
Oh yeah, and he can play hell out of a piano.
Cole now spends his Saturdays covered in maroon paint rather than a maroon jersey.
When he's not in the stands, he's behind the scenes for the team, helping with recruiting and answering any questions about academics that parents may have.
Although he believes that Hokie fans will most likely just remember him for his injury, that's where Cole's wrong.
His long-term legacy will prove far greater than anything that happened on the field during that bittersweet 2012 season.