When the focus of Black History Month turns to sports it usually means learning about or rehearing the story of Jackie Robinson, who broke the color barrier in baseball. What we sometimes lose sight of is that in many areas, and many sports, some much closer to home, integration came much later. Often, when it came, individuals were battling many of the same things Robinson did throughout his career. Even if they didn't play on a national stage, it doesn't lessen the harsh reality they were forced to endure, frequently alone.
This is probably a little out of the normal tone you're used to hearing from me, but after reading the story of Wally Triplett at Penn State and Syracuse's Wilmeth Sidat-Singh, I started digging into Virginia Tech's football past and when and how we integrated our football team. This is the story of John Dobbins, who broke the color barrier for Hokie football.
As you may expect, in much of Dixie, including Virginia, integration happened somewhat later, relatively speaking. In fact, when Penn State and Syracuse were dealing with discrimination against their players, Virginia Tech had yet to even admit their first black student. That did not occur until 1953, when Irving L. Peddrew III enrolled.
That is a bracing story itself; Peddrew was allowed to attend VPI only because his chosen major, electrical engineering, was not offered at the all-black state school, Virginia State. Peddrew was not allowed to live on campus and ended up leaving Blacksburg after his junior year. While he said he had no issue with most of the students and townspeople, he does a excellent job discussing some of the, perhaps, unconscious and institutional racism he encountered during his time at Tech which played a part in his leaving. His oral history of his time in Blacksburg is engrossing, eloquent, and thoughtful and I cannot encourage you enough to read it.
Charlie Yates arrived at Tech a year after Peddrew and was the first African American to graduate from Virginia Tech (1958). Peddrew and Yates, along with many others, who little by little brought acceptance and expanded normality and rights for black students at Tech, paved the way for John Dobbins to play football at Tech.
Dobbins grew up in nearby Radford and excelled at football (among other sports) at Radford High School in the 1960s. He grew up a Virginia Tech fan, and recalled watching games in Lane Stadium as a teenager. While I couldn't locate any footage of his playing days at Radford1 he was, as former Fort Chiswell player B.C. Mabry told the Roanoke Times, "a fast and powerful runner. Nobody could catch up with him." Allegedly, after Dobbins scored five touchdowns in a game against Chiswell, a player got so frustrated he left the bench to tackle Dobbins illegally2.
Interestingly enough, Radford had integrated its recreation programs around 1960, and Dobbins was part of the second class of black students at Radford High school. So he broke ground at Virginia Tech that had already been broken for him in rural Radford, Virginia.
Dobbins was recruited to Tech by Frank Beamer's head coach, Jerry Claiborne. Claiborne is also known for the famous (and rather cynical) quote he uttered after USC's Sam Cunningham eviscerated an all-white Alabama team in 1970, "Sam Cunningham did more to integrate Alabama in 60 minutes that night than Martin Luther King had accomplished in 20 years." And while integrating the football team wasn't an overt topic during his recruitment, Dobbins told the Roanoke Times, "No one ever mentioned it when they were recruiting me, but I knew I would be the first." Due to the significance of Dobbins joining the team, he and fellow Radford teammate Tommy Edwards had their signing ceremony televised on Claiborne's show. Dobbins enrolled at Tech in the fall of 1969, ineligible as a freshman to play varsity football.

John Dobbins on the Freshman football team
To step aside for a moment and put that in perspective, that means Frank Beamer, who had graduated that spring, played on an all-white team. I don't highlight that to disparage Coach Beamer in any way, merely to demonstrate that while we take many things for granted in society today, things were very different for many of us not that long ago. We pride ourselves on Coach Beamer being one of our own, being a tangible link to the history of our school and team. I think it's important to keep in mind that while the situation was none of Coach Beamer's doing, that was the reality of the time in which he played.
In 1970, as a sophomore, Dobbins played as a fullback for the Hokies, a position that, while certainly not as limited as it is in today's offense, meant he was generally more of a blocking back than a ball carrier. That season he rushed 74 times for 365 yards and 3 scores. He also chipped in some receptions and, somewhat surprisingly for his position, occasionally returned kicks as well. Dobbins was the third leading rushing on the team.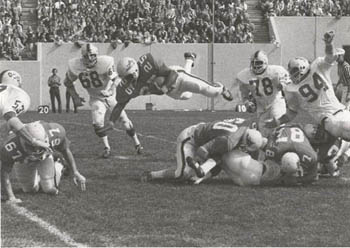 Dobbins in action against Oklahoma State in Lane Stadium, 1972
Jerry Claiborne left Blacksburg after the 1970 season, replaced by Charlie Coffey. Coffey, determined to take full advantage of the talent at his disposal, moved to a much more pass heavy offense, certainly to the detriment of Dobbins' statistics. Dobbins was in the same graduating class (1973) as legendary Hokie quarterback Don Strock, who would lead the nation in passing their senior year, as well as a familiar name at receiver, Mike Burnop.
But Dobbins' talent was certainly evident to others. According to Tonia Moxley of The Roanoke Times, "Duke University tried to recruit Dobbins away from Tech in his football days, sending a car to pick him up and bring him to North Carolina. But he and a friend hid out until the driver gave up and left."
In much the same way as Missouri standout defensive end Michael Sam's teammates were fully aware of his sexual orientation his senior year, the issues Dobbins encountered tended to come not from within the team but outside. He told the Hokie Huddler "I was well accepted at Tech. I was scared, too, at first. But after I got to know all the guys, we realized we were all from different places and different background. We seemed to blend pretty well." That was not necessarily the case with opposing fans. "There was mostly just a lot of name calling and stuff. Especially when we would visit schools down South."
Dobbins, looking for someone to lower his shoulder on
After Tech, Dobbins stayed in southwest Virginia, first working in Roanoke then at the White Motor Company production facility in Dublin (now Volvo of Dublin) as a supervisor. He also stayed active in the Radford community, coaching youth sports, playing an active role in his church and raising his two children. He was a Lane Stadium season ticket holder, and listened to his old teammate Mike Burnop do the color commentary for any game he wasn't able to attend.
Sadly, John Dobbins passed away on February 27, 2003 of congestive heart failure. His loss was mourned by the Radford community, who have since christened John Dobbins Park in his honor. Oddly, as far as I've been able to research, Virginia Tech has done little to nothing that I have found to remember Dobbins since his passing.
While change frequently moves very slowly3, occasionally the gears seem to slip into place and things push forward much faster than we realize. Twenty-nine years after Dobbins stepped onto the field for the first time, Michael Vick led a team including Shyrone Stith, Andre Davis, Ike Charlton, and Corey Moore to the national championship game. In 1981, only nine years after Dobbins graduated, Bruce Smith came to Blacksburg to begin his career as the most talented defensive player ever at Virginia Tech.
John Dobbins is a part of our Hokie family. He dealt with and overcame adversity. He lead the way for many of the players in maroon and orange we cheer on Saturdays.
1Sorry, French
2I'm sure that guy was later welcomed at UVA
3And in Virginia, often only at the behest of court orders
Photographs are courtesy of the University Archives of Virginia Tech.