I caught up with Lawrence Central (Indianapolis, Indiana) defensive tackle Eric Whitehead about his recruitment. The 6-1.5, 295 pound 2015 cycle prospect visited Virginia Tech for the first time on Saturday and went home with a scholarship offer. How did Eric feel about the offer? "I was speechless. I didn't know what to say."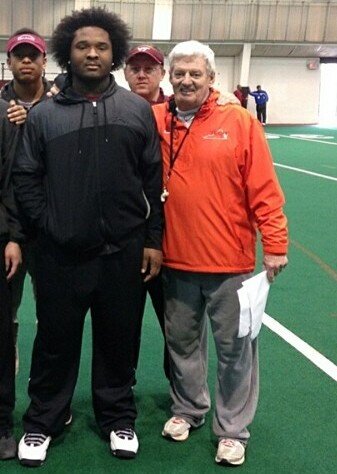 Thus far, Eric's only other scholarship offer is from Toledo. Coach Aaron Moorehead has been recruiting Eric for the Hokies. Eric said of their relationship, "He's really cool. We talk all the time, like I call him all the time."
When I asked Eric how his visit went, he responded, "I liked it a lot. The coaches were nice, the players were nice. The facilities...
"I saw that locker room and I was like, 'Dang!'"
Eric told me he plays in a gap control oriented scheme at Lawrence Central. He said stopping the run is his biggest strength on the field, "I blow people off the ball, and I have a quick first step." He's working with a trainer to increase his overall speed.
Both academics and being part of a winning program will weigh heavily when Eric commits to a college. As he put what's important to him, "A school that has a good number of graduates from their football team. How many people they graduate.
"A winning program, Virginia Tech has been in a bowl game 21 years straight."
Eric's leaning towards studying business in college, but as of right now is undecided. He plans to visit Virginia Tech again for the spring game, and wants to make his decision by "next month".