By:

ltrepeter2000
Hoops Wiz
on December 10, 2017, 12:49 PM
| 42 comments
IT'S GAMEDAY!🏀 #BeatUMES📍 Cassell🕒 3 PM EST📺 ACC Network Extra💻 https://t.co/Ox3Q9ef9QM pic.twitter.com/9peXj9IjjI— VT Men's Basketball (@HokiesMBB) December 10, 2017
GAME INFORMATION
Date/Time: Dec. 10, 2017 / 3 p.m.
Opponent: University of Maryland Eastern Shore
Site: Blacksburg, Virginia (Carilion Clinic Court at Cassell Coliseum)
Radio: Virginia Tech IMG Sports Network
Talent: Jon Laaser & Mike Burnop
Internet: ACC Network Extra
Talent: Byron Kerr & Mack McCarthy
Live Stats: HokieSports.com
Game Notes: Virginia Tech
"I wanted the competition, I wanted to play against the best.."@TheReal_NAW1's journey to Virginia Tech was always about trying to #getBETTER pic.twitter.com/oE0smmiCIK— VT Men's Basketball (@HokiesMBB) December 7, 2017
Time to raise the scoring average
Buzzketball continues its home stand after dispatching the Highlanders earlier in the week. Let's hope that the Hokies are ready for these next four games before conference play starts. They need to come into this game with a clear mindset of how important these next four games are. Three of the next four are home games, outside of Kentucky all against opponents they will be favored to beat probably by hitting triple digit scoring, and now they need to find the mental fortitude to do just that. No let downs, no hiccups.
Next up is the University of Maryland Eastern Shore Hawks, who come in 3-7 on the year with an average margin of loss of 21 points even with three wins. Their wins this season were against Valley Forge, Jackson State and a surprising victory over American. This will be the eighth meeting between Tech and UMES. The Hokies are 7-0 all time, going back to 1982.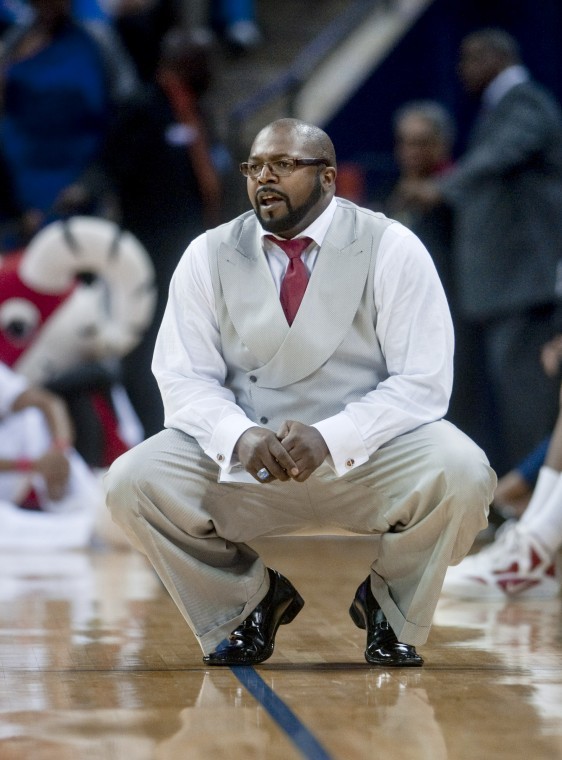 The Hawks are coached by Bobby Collins, who took over the program in 2014. Collins is 222-224 overall as a head coach and 42-57 at UMES. In his first season, he led the Hawks to an 18-15 record which got UMES into the CIT. The last two seasons and the beginning of this season has been quite tough though. This year is the second time in three years that Collins has had to replace four starters in the offseason, losing about 75% of his scoring production from last year.
Scheduling UMES allows Tech to be able to bring Ace Custis back to Cassell Coliseum. Ace is in his fourth year as an assistant on Bobby Collins staff. Custis is best known for leading the Hokies to victory in the 1995 NIT over Marquette. He was also just the third Hokie in program history to have 1,000 points and 1,000 rebounds. His #20 jersey is retired.
Defensively, the Hawks essentially will throw the kitchen sink at Tech. Expect to see combinations of zone, half court man to man, full court slow press and full court pressure depending on where the game stands. They used a full court press against American earlier this year to help get an unexpected win. They know they don't have the top talent on the floor against almost every opponent so they use their speed and defensive capabilities to at least try to limit bigger, more talented opponents.
Offensively, the Hawks are very similar to Tech. They want to get out and run, essentially trying to get baskets before their opponent is set up in a half-court defense, which then puts UMES at a definitive disadvantage. They lack height and size on this roster, except for a freshman that is playing minor minutes so far. One surprising result so far this season is that the Hawks top two scorers are their inside guys so expect Blackshear and Horne to have work to do down low. They do have a handful of players that are able to hit shots from the perimeter, so expect to see an abundance of outside shooting, considering UMES has averaged over 23 attempts from the perimeter so far this season. That said, they are shooting a dreadful 28% as a team.
What does that mean for the Hokies?
The Hokies have to play their game and not fall into a lull against a very inferior opponent. Buzz hopefully will have reminded these guys how important coming out strong is. This is a game where they hold an overall size advantage but not so much that it needs to be a focus. Move the ball, get the open shots, hit the open shots, get back and play defense.
The Hokies will likely force the Hawks into playing the entirety of their roster simply by forcing the issue on fouls. The Hawks have five players that average more than 2.5 fouls per contest so far, forcing UMES to reach into their talent deprived bench early and often.
Taking into account the foul trouble that UMES has, it is going to be tough on them to score enough to keep up with Tech as they rely on their five starters for over 85% of their scoring. As it is, UMES is only managing 59.7 PPG so far this season. The lowest output for Tech remains at 79 against Iowa.
Buzz will also probably get his entire roster involved tonight if this contest goes the way it should. Get the big lead, play Ammermann, Fullard, Horne, Jackson, and Bede at least a good solid five minutes apiece. Probably not all together but you get the idea. It would be good to see Bede get another ten minute stretch like he did against Houston Baptist.
Tech should have no problem finding open perimeter shooting, considering the Hawks come into this game ranked 339th in 3PA%, allowing 41.1% shooting from the perimeter. Tech is currently third in the nation at 45.6% shooting.
Defensively the Hokies have to be prepared for a Hawks team that just doesn't stop moving. If the UMES bench can do one thing, its move around the half court on a continuous basis. They essentially try to move and pass so much that their opponents start to lag late in the game which gives them better open shots.
🇺🇸📈 » National Offensive Rankings: #⃣1⃣ » 96.6 points per game #⃣1⃣ » 55.3% FG #⃣7⃣ » 19.8 assists per game #⃣3️⃣ » 45.6% 3FG #⃣7⃣ » 21.9 scoring margin 🔥🔥🔥#Hokies#getBETTER pic.twitter.com/s97W803N1Q— Hokies Basketball 🦃 (@Hokie_Hoops) December 8, 2017
Hawks Backcourt

Ahmad Frost, #11, 6', 190Lbs, Sophomore that returned from a bad knee injury is third on the team in scoring. He is averaging 10.1 PPG, 2.3 RPG, 2.3 APG and 1.4 SPG. He shoots 51% from inside the arc but only 29% from the perimeter. He is hitting 75% from the line.

Logan McIntosh, #3, 6'3, 180 lbs Senior who led the Hawks in almost every offensive category last season plays the point for the Hawks. So far this season he is averaging 9.9 PPG, 4.1 RPG, 4.3 APG, and 1.4 SPG. He is a terrible perimeter shooter so far this season, hitting just 24% of his shots but inside he is only shooting 40% from the field. Expect to see him drive to the basket most times he is shooting with the hopes of making it to the line if that basket doesn't fall. He hits 73% from the line.

Freshman Colen Gaynor, #4, 6'5, 185 lbs is strictly a wing guard in this offense. Gaynor is putting up 6 PPG and 4.3 RPG. Rivera is their top perimeter shooter, currently hitting at 33%. This is an indication of how tough a season this has been for the Hawks.

Hawks Frontcourt

Tyler Jones, #15, 6'7, 200 lbs. Sophomore Forward is second on this team in scoring 11.3 PPG, and 5.5 RPG, while shooting 36% from the field. He is struggling this season, as last year he shot over 60% inside. He also is dealing with it at the line where he is hitting 64%.

Freshman Forward Miryne Thomas,#1, 6'8, 190 lbs is leading the Hawks in scoring. Thomas is putting up 12 PPG, 5.4 RPG, and 1 APG while shooting 46% from the field. Thomas has had foul troubles, averaging 2.8 per contest, so getting him to the bench early in the first half could be a goal for Buzz.
The Hawks fall back on Freshman Center Leandre Thomas, #5, 6'10, 245 Lbs once the other two bigs get into foul trouble. He then proceeds to get into foul trouble of his own, averaging 3.8 fouls per game so far. Thomas adds 3.9 PPG and 3.6 RPG so far this season.
What to expect from UMES?
The Hawks play predominantly an aggressive half court man to man. So far UMES is averaging about 5 steals per game but forcing opponents into just 10 turnovers per game so this is a major flaw in their up tempo defensive strategy. Limiting their opponents shot total allows the Hawks to try to stay in the game.
In a half court set, the Hawks are very limited offensively. They have three players who average double figure scoring and not much behind them in terms of depth. Limit any of those three due to foul trouble and UMES will indeed have a nightmare scoring.
Rebounding wise, the Hawks numbers are fairly terrible, with about 30 per game, this is where their complete lack of size on the roster comes heavily into play. Opponents average over 40 rebounds per game against the Hawks. UMES has one bench player at 6'10 and one two starters above 6'7, and it only goes down from there.
This is a case of an opponent that is extremely outmatched in terms of size, speed, and talent. If UMES is in this game after the ten minute mark, it has much more to do with how poorly Tech is playing than anything UMES might be bringing to Cassell.
The Hokies
The Hokies need to methodically pull away from this opponent as the game goes along. They need to take any hope that the Hawks have of being in this game. That should allow them to be able to use the latter part of the second half as a great experience builder for those Hokies that rarely get minutes. If they don't hit the century mark in scoring its only because Buzz put his bench in that much earlier in the game. This is a thirty point game or more at the end.
Ball control, ball control, ball control. Focus on this, and play the game the way Buzz wants them to and this game should turn into a laugher. Come out flat, giving the ball away and this scrappy opponent will be right there to remind you that it's any given Sunday afternoon. Tech can't afford any Sunday afternoon. We just have to hope Tech doesn't play to their opponents.
Advantages at every turn, Tech needs to ensure that they utilize them to take the air out of this game. No first chance, let alone a second chance for this opponent. Hit your shots, both inside and out, have a field day underneath with a huge height advantage, and rack up those assists.
Highlight of the Radford Game
• @kjblack15 & @JustinBibbs10scored 2⃣0⃣ each• @5Alive_ dished out a season-high 9 assists• 10 Hokies scored at least 4 points 🔥Hokies 95 - 68 Radford📰 » https://t.co/kC3V7BKMky pic.twitter.com/yrsRSfmn8y— VT Men's Basketball (@HokiesMBB) December 7, 2017
Highlight of the game goes to Blackshear and Robinson. KJ had the touch inside enough to put up 20 points and Robinson came up one assist short of a double-double. The passing from Robinson was like watching a surgeon work. He made crisp lines through multiple opponents right on the hands of teammates again and again.
In Closing
This game will seem like kids coming out of a cannon in the early going as both teams love to run. If Tech gets a big lead though, expect to see UMES try to slow the pace exponentially.
If things go as they should, Buzz should be able to use his entire bench for much of this game. Hopefully Jackson and Bede get some serious work as I expect they will be more important as we get into conference play. The same can be said for Horne as we all know Blackshear has a tendency to take bad fouls in some games.
The Hokies should have a good game shooting open shots from the perimeter but I actually hope that Buzz works on the inside scoring against these last few overmatched OOC opponents.
Hokies 113 – Hawks 64
If your attitude gets better because your circumstances improve, then that says nothing about your attitude. It's only a sign that your situation has changed.— Buzz Williams (@TeamCoachBuzz) December 9, 2017