VT's back this week, against arguably the most hated team in college football this year. This is one of two games this year I really, really wanted to win. The other was WVU :)
Oklahoma-Texas got almost everybody last week, and Navy-Memphis did get everybody. We finally broke the streak of zero-weeks, at least. SpiderHokie currently has a one-game lead on kosuch8, with lots of time left in the season.
Remember, you make your picks at CBSSports.com (LINKY HERE).
SATURDAY, OCTOBER 21

Oklahoma State (-7) at Texas
Factoid #1: Between 1960 and 2005 (when Mike Gundy was hired), Oklahoma State finished in the AP poll just 5 times.
Factoid #2: After the opening loss to Maryland, Texas has beaten the spread in every game.
PICK: That comes to an end this week. After a deflating loss in the Red River Shootout last week, they get behind against OSU and don't catch up.
Iowa State at Texas Tech (-6)
Factoid #1: Iowa State is 5-1 against the spread this year.
Factoid #2: Texas Tech is 4-0-1 against the spread this year.
PICK: Well something's got to give here. Texas Tech had WVU on the ropes last week and let them off the hook. They'll keep their foot on the gas the entire time this week and cover.
UCF (-7) at Navy
Factoid #1: As was common in the early 1990's, UCF's mascot was designed as a take on a 1970's Japanese character, Jet Jaguar.
Factoid #2: Navy's loss to Memphis last week was just their second since October 2016. Like, almost a calendar year.
PICK: UCF's already dealing with the Scott Frost-to-Nebraska distractions. That got Memphis two years ago when we poached CJF, and they lost a couple afterward. UCF will this week, too.
Oklahoma (-14)at Kansas State
Factoid #1: Since attempting to plant their state flag in the artificial turf of Ohio Stadium, Oklahoma's 1-3 against the spread, with a couple of scares to inferior Baylor and Texas teams.
Factoid #2: Kansas State's just 3-3 on the season, with only Kansas left as a gimme. They could be looking at being home for the holidays.
PICK: Something's been off about Oklahoma. K-State gives them another scare that they'll survive, but KSU covers.
Kentucky at Mississippi State (-11)
Factoid #1: Kentucky's already sitting at 5 wins on the season, with home games against Tennessee and Ole Miss coming up after this one. They're going bowling for a second straight year.
Factoid #2: After their big blowout over LSU, MSU's gone 1-2, with their only win coming over a BYU team that's given up on the season.
PICK: That's an awfully big line. I'll take Kentucky to at least cover.
Auburn at Arkansas (-15)
Factoid #1: Auburn has two wins over teams with winning records. One was Mississippi State (which is pretty good!). The other was Mercer.
Factoid #2: Arkansas blew a 24-point halftime lead in the Belk Bowl.
PICK: This is another big home dog line, with both of these coaches looking at the housing market, but Arkansas hasn't shown much this year. I'll take Auburn by 17.
USC at Notre Dame (-3)
Factoid #1: USC is 1-6 against the spread this year.
Factoid #2: Notre Dame is 5-1 against the spread this year, with their only loss a 1-pointer to Georgia.
PICK: USC's been escaping over and over this season. They get burned here. Notre Dame wins & covers.
Michigan at Penn State (-9)
Factoid #1: While Michigan's 25-7 under Jim Harbaugh, they're just 1-4 against Michigan State & Ohio State.
Factoid #2: Something something Penn State. I really dislike James Franklin.
PICK: This is Penn State's first game against a team with a pulse, but Michigan is choosing not to play offense this year. Penn State by 10.
DRINK OF THE WEEK: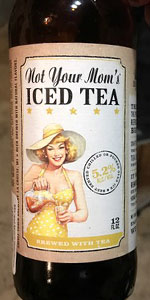 Not all new things you try in your life are good. The "Not Your (ANCESTOR)'s" line of drinks are often OK, if a little sugary. The Ginger Ale one is actually pretty good. But Mrs. OHokie bought me a six-pack of this stuff unprompted. It's taken me over three months to get through it, and I still have one left. Blech.
Remember, we're making our picks on CBSSports.com (LINKY HERE), though feel free to let everybody know what the correct answers will be in the comments.