"He is an old school, ground 'em out, kind of football player."
That's how Manchester head coach Tom Hall summarizes offensive lineman William Pritchard's game. Pritchard, a rising senior at Manchester HS, announced his commitment to Virginia Tech on July 1. Although, he actually committed to the Hokies two days prior.
Pritchard called up Tech OL coach Vance Vice, who got the thumbs up from big whistle Justin Fuente to accept the pledge.
"He was excited," said Pritchard of his future position coach. "He's happy he got his third lineman, his third spot filled up. ... He started to cheer."
Both Vice and Zohn Burden recruited Pritchard, but it was the connection with Vice which put Tech over the top of finalists Tennessee, Syracuse, Illinois, and JMU.
"(Vice is) what sealed the deal for me when I committed," said Pritchard. "I really like his coaching style. I like how he runs his offense. I like his attitude.
"When I was in there for the position meeting, I like how he doesn't put up with a lot, but he's going to be there along the way for you. He's going to support you, and he's going to correct you when you're wrong to make you a better player."
The Hokies offered Pritchard as an interior lineman, and the 6-3½, 290 pounder has the potential to play either guard of center. The 247Sports Composite rates him as a 3-star (0.8506) OG.
"For as big as he is, he's so athletic," said Hall. "He runs extremely well. A lot of his highlights are actually after he blocks his initial guy on level one, he gets up to level two, even downfield on a safety. He does a great tracking, like a defensive back, in space. He's really good with that."
Manchester runs an up-tempo, no huddle, spread offense, similar to Tech, and Pritchard's skill set meshes well with the pulling and combination blocks Tech's interior linemen are often tasked with.
"I think we run a really college type system," said Hall. "So hopefully the things that we do, are very similar to what Coach Vice is going to be doing at Tech. We make a lot of calls on the offensive line. That's Will's responsibility, and that's going to hopefully translate to what he's going to have to do at Tech as well."
As he prepares for his senior campaign, Pritchard is focused on improving his leadership (as a captain), and keeping a better center of gravity while blocking — not putting his weight over his toes. Hall hopes for continued improvement of blitz and defensive front recognition.
Hall noted Pritchard looks lean, closer to 240 than 290, and has the frame to carry 315 or 320 pounds in college, but not lose a step. Moreover, the 17-year-old has put up some impressive weight room numbers too. He benched 335 pounds, squatted 550, and cleaned 330.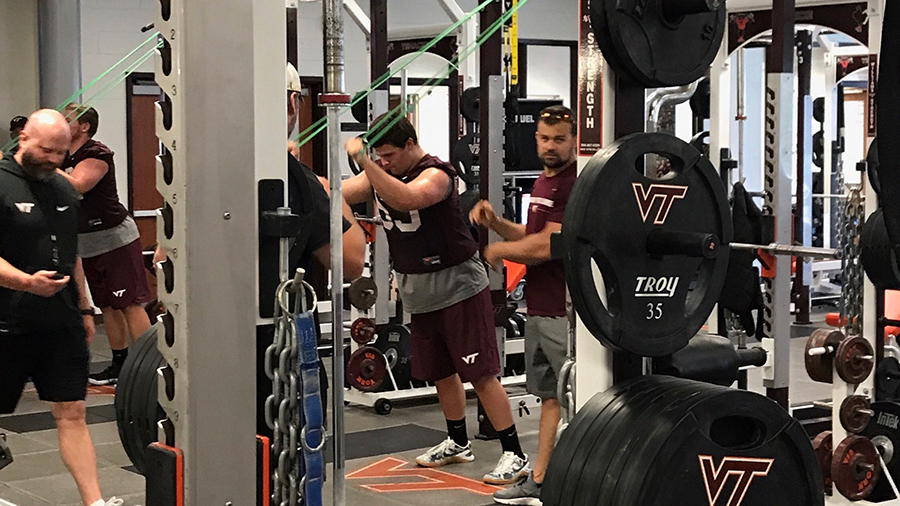 Pritchard works out during a June visit to Virginia Tech.
"He's a physical kid," said Hall. "He's obviously a great run blocker. He became a really good pass protector last year. That was one aspect of his game from his sophomore to his junior year that he had to really work on, and he did. ... He's a physical football player, and that's his strength."
Pritchard says he channels his aggressiveness from a mean mentality on the field.
"I like playing with a nasty streak," said Pritchard. "Coach Hall, he always tells me it's something you can't teach. I play with a lot of emotion. I like getting after it. I got to play dirty, but clean at the same time. Play out of anger, play with emotion, you can't be friends with anyone on the field."
Yet, that's a far cry from how Hall framed Prichard off the field.
"He's an awesome kid," said Hall. "He's one of our leaders. When the helmet's off, he's one of the nicest kids. He's a big goofy kid, and that's a compliment to him. He's a fantastic person, great student."