By:

Joe Lanza
PUBLISHER
on April 5, 2010, 1:58 PM
I visited Blacksburg the last weekend of February to watch the Hokie roundballers take on Maryland. As is customary for all my trips to the 'Burg I ate at Substation II, drank Rails and visited all the bookstores. While I was waiting in line to pay for my latest Hokie gear at Tech Bookstore I noticed standing in front of me were about half a dozen or so tall brawny high schoolers wearing black VT embroidered sweatshirts (or fleeces, I really can't remember) with name tags stuck to the front. The collection of impressive physiques were distinguishing them from the rest of the day's patrons. Ohhhh, wait a second I thought to myself, it was an unofficial visit weekend.
After paying I walked out toward my car wishing to myself all of our potential footballers were as impressed with the campus and University as I was on my first visit. When I got to my car out of the corner of my eye I noticed the most physically impressive of all the kids I saw squeezing himself into passenger seat of a powder blue luxury sedan (a Lincoln I believe). As he plopped down the car's bumper sunk. It was sporting an Indiana license plate.
Today, Kris Harley 4-star defensive tackle from Warren Central Indianapolis, Indiana committed to play for the Hokies.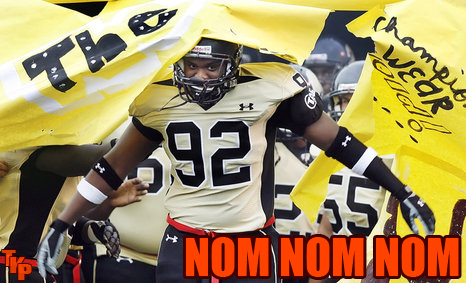 via INDYSTAR.COM
This is the second commitment the Hokies have received from Warren Central, Darren Evans committed in 2006. And the good news it may not be the last. A few of the people I have spoke with say the Hokies have a chance at landing Harley's teammate offensive tackle Kiaro Holts.