By

BeerControlOffense
staff
on November 11, 2010, 10:16 AM
| 35 comments
We have turned the corner on the regular season and are entering the homestretch. It almost brings a tear to my eye knowing there are only three weekends in the regular season left. Unfortunately, because so many teams shit the bed this season, a lot games for the week that looked promising at the start of the season are anything but now. I thought about doing a Five Pick again, but that joke only works once, so I dug deeper. While there aren't any games grabbing for national attention, there are still plenty of meaningful conference matchups. The lack of hype can only mean one thing... upsets! It's going to happen, just hopefully not in Chapel Hill.
Speaking of UNC, I would like to congratulate their fans, especially a special one I will mention below. You can forget all about Marvin Austin, John Blake, "tutor" and Coach Butch "Plausible Deniability" Davis who oversaw it all. You guys have made it... it's basketball season and all of your braggadocio can be fully restored, unless you only make it to the N.I.T. again.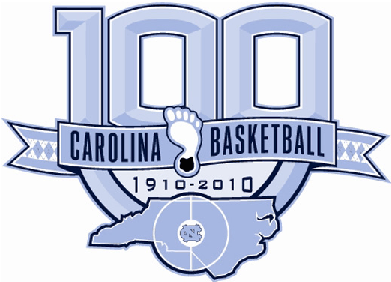 Saturday, November 13th
20 VT at UNC +3.5 3:30 pm ABC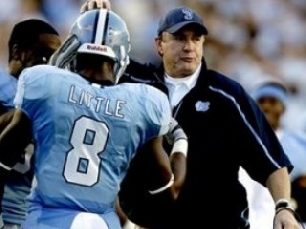 UNC Coach Butch Davis has run into a Little problem or two this season.
As I stated last week, GiT was the game I wanted most all season, even over Boise State, but coming in third was beating UNC. There are numerous reasons why. I didn't like how they manhandled the Hokies last year, and I don't like how well they are recruiting kids in the Commonwealth. But mostly it's their fan's attitude that being a Tar Heel gives them a divine right to be better than everyone else in everything … even if they aren't. They really are the hoos with hotter coeds, better basketball pedigree and bar scene. There is a reason why NC State fans get more enjoyment from Carolina troubles than their own school's accomplishments.
A true BCO story:
A few years ago, I went with a hoo and three of his friends to a VT-uva game. One of those friends was a proud Carolina man, who spent all day giving me shit about the Hokies. He bragged about UNC's academics (he did less than two years at a community college) and how great their athletics were (he'd never watched any UNC team other than football and men's basketball.) The ribbing was in jest at first, then the liquor hit and he went full on jerk mode. It was my first time meeting him, so I didn't want to be a complete a-hole, so I played it cool, until he asked me no less than 15 times (not an exaggeration) if a Hokie was really a castrated turkey. Needless to say, he was completely oblivious to the fact he couldn't his hold his alcohol or couldn't notice the annoyed look on his friends' faces. Finally, I reached my tipping point and returned fire with straight faced answer. I played it off, stating I had no clue, but I did know what a Tarheel was, which of course he was slobbering over himself to hear. So I defined his team's mascot and to lessor extent his life for him, "A Tarheel is a poor mofo who can't afford shoes and is not smart enough to get off the road." His hoo friends laughed, but only silence from the tarheel... pretty sure it took a bit to compute. Apparently it wasn't enough, after a couple moments, he asked me what a Hokie was again. Ugggggh!
What to look for: UNC's QB Yates will have some success passing the ball, falling somewhere in the middle between his impressive LSU performance and his poor Miami game. The Tar Heels will run the ball just well enough to keep Bud from pinning his ears back completely and blasting Yates into next week. The Hokies will run the ball well which will set up play action passing, but the back four for Carolina is now close to full strength and will pose a problem. Whoever turns the ball over the least wins.
Pick: UNC to cover, but VT to win in a heart stopper.
***
State Penn +18 at 9 theOhioState 3:30 pm ABC or ESPN

If rumors are true, this statue of Joe PaPa will do as much coaching as the real one.
When looking over the schedule this week I didn't see any standout games, so I decided to throw State Penn and Joe PaPa a bone for his "400th" win and put PSU in the Six Pick. ESPN must have come to the same conclusion, Gameday will be in Columbus this weekend, reinforcing the week's sad slate of games. At this point, Joe PaPa is a beloved figurehead who hasn't been in charge for the last 5 years or so. Whenever he hangs 'em up, I don't think the administration will have to look far for his replacement. His son Jay will make a pretty good successor. Saturday during his 3 hours of standing around, I wonder if Joe will look across the field and think he's looking back in time at himself some twenty years ago. Elite program that plays conservative, no frills physical football that has played for championships and won one. Or will he look across the field and wonder when it's time for pudding and where the hell did the team trainer hide his depends again?
What to look for: Ohio State will move the ball and score a fair amount points, and will eat a lot of clock in the process. However, I am not sold on their defense even with Nittany Lions starting walk on quarterback Matt McGloin, because the offense has been resurrected around him, which has opened up their running game. Joe PaPa's guys are not going to lay down, they will play hard and score a few points.
Pick: The Nittany Lions keeping it closer, a lot closer than the spread.
***
San Diego State at 3 TCU -26.5 4:00 pm Versus
OK, so outside of maybe LSU no team in college has as fierce a defense as the Horned Frogs. I do realize Tejas Christian has been a Six Pick game four times now, but I think we can all agree this team is good and their inclusion is deserved. They tore the Utes a new one last week and now the only question left is will they have a letdown game? Patterson's bunch is going to win, but will it be closer than expected, or do they do what is expected and pull a page out of Boise's book and keep hammering opponents?
Remember a couple of years back when Ball State started out 11-0 and finished 12-1? That coach, Brady Hoke is now the head man for San Diego State. It took a year, as the Aztecs were 4-8 last season, but this team is much improved. They are 7-2, but with only one notable win versus Air Force. San Diego State is 23rd in total offense and 33rd in total defense. So, does this setup as a potential letdown game for TCU? If it does, SDSU is more than capable of covering.
What to look for: TCU to dominate on defense and play good, not great on offense. They know they are two games away from playing for all the marbles. The Horned Frogs have to believe Auburn is going to slip up. San Diego State just hasn't played good enough competition for me to believe in them. They will be exposed.
Pick: TCU by 4 touchdowns.
***
23 Souf Cackalacki +6.5 at 22 Florida 7:15 pm ESPN
Hello fans and welcome to the Southeastern Conference ACC division! The winner of this game gets an all expenses paid trip to the ATL for a face smashing versus either Auburn or LSU. Just a few short weeks ago, Steve Spurrier's team looked like the class of the SEC East. Now the Gators have become the team to beat. Seems Urban Meyer has found his mojo again. Playing a Mark Richt team will do that for him. So will letting a thug back on the team and finding a quarterback; be it Jordan Reed or Trey Burton to run his offense. South Carolina on the other hand is more difficult to read. They have talent, you can see it on the field, but the Gamecocks appear to look past too many games. The week after beating the pants off Alabama, they lose to Kentucky. Last week they give minimum effort against Arkansas, knowing it was the one they needed. Doesn't strike you as championship material, does it?
What to look for: The Gators aren't great on offense, but they seem to have found a way to get yards, points and take some pressure off the defense. That will continue this week. Spurrier is going to have something for his old team for 3 quarters, but like a broken record, his quarterback, Stephen Garcia is going to blow it at the end.
Pick: Florida by less than a touchdown.
***
19 Mississippi State +13.5 at 12 Bammer 7:15 pm ESPN2
For Alabama, last week's loss was a rude awakening. National title dreams shot. SEC title dreams shot. A loss this week could strike through finishing in the top half of the $EC. If the Tide slip up again against the Bulldogs, they could potentially have four conference losses this season. That's a lot of pissed good ole boys smashing Budweiser cans while ripping down that statue of Nick Saban. If your MSU coach Dan Mullen, you play it low key and keep doing what you do ... run the ball, run the ball and run the ball some more. That's not the optimal matchup versus the Alabama and their shaky secondary. However, the Bulldogs at 7-2 have gotten to this point of this season by knowing who they are more than any other SEC team. If either team has doubts right now, it's not the group from Starkville.
What to look for: A tight, low scoring game. Saban will have his team sell out against the run and make MSU pass to win. Unless Mullen sold his soul to the devil like LSU coach Les Miles, the Bulldogs aren't passing for more than 120 yards on Alabama. Mississippi State's defense will play the Tide pretty well and keep the game within reach late.
Pick: Alabama by 10 points or less.
***
Klempson +7 at F$U 8:00 pm ABC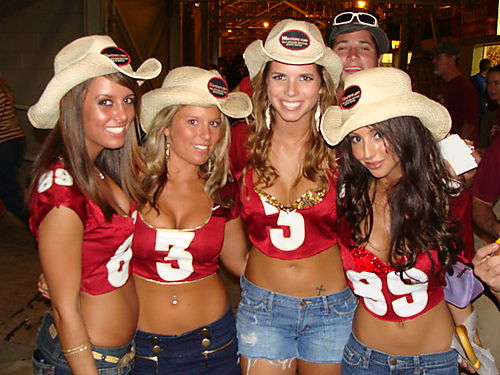 Example of why the 'Noles are a natural fit for the $EC if they ever expand.
"One Step Forward, Two Steps Back" the official story of Clemson, Florida State and the rest of the ACC Atlantic. The up and down play has to be mind boggling for fans of those teams. I had this preview all written out, trashing Clemson for being Clemson and Jimbo for being Dadgumit. I scrapped that in favor of an honest plea for some team in the Atlantic to grab the brass ring. I'm not saying the winner of this game has the division sewn up, I just think the loser can get a "thanks for playing" nod and get the hell out of the picture.
What to look for: Drama. The highs and lows that are Seminole and Tiger football. With 100% certainty each team's offense, defense and special teams will look very good and very bad multiple times during the game, making Twitter very enjoyable. The last team to not choke the bit at the end wins.
Pick: Klempson to win out right.
As always, make your picks against the spread.
Beer of the Weekend:
Shmaltz He'Brew Jewbelation Fourteen
This isn't a beer from North Carolina but it was purchased in the state and brought to me, so close enough. I have not had it, but I like Barleywines and this one reviews well, so it's probably just a formality.