By

joe
staff
on April 29, 2011, 12:01 AM
I promised more detailed analysis after I watched the tape of the Maroon-White Game. I deliver thoughts in varying lengths and in no particular order.
Mike O'Cain's passing game showed its teeth. There were a lot of three-step drops paired with aggressive routes that pushed the field vertically. If LT3 can make the reads quick enough, which he did against a base defense, we can really start using our off-the-blocks speed at receiver to our advantagee. On the 55-yard Maroon scoring drive set up by Jayron Hosley's return, Maroon called 4 straight passes (Logan took off and ran up a soft middle for 6-ish yards on one) until Logan pumped and threw to Marcus Davis for six.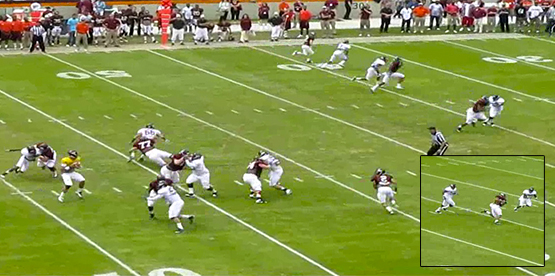 Four Verts: Randall Dunn makes the reception and Boykin is not pictured, but was indeed running down the field.
There were screens too. Screens, those plays we used to run a ton of, then stopped calling altogether. Hopefully we'll use them with moderation, when appropriate.

Willie Byrn (#82) couldn't spring MD7 on this screen.
It was also refreshing to see Thomas rolling out of the pocket by design. That was a rare treat when it happened under Stinespring.
I hate to say it, but Gayle would have had LT3 sacked if he wasn't wearing yellow before his 37-yard scramble. Nine-Nine was able to drop his shoulder, get underneath, and speed by a lumbering Painter with one nice burst. I love his ability to drop the shoulder, get low and drive. He did it at again to Painter on the play where he ignored Logan's yellow jersey and sacked him.

The run was still awesome.
Here's a perfect example of why everyone is amped up for Antoine Hopkins. Off the snap he's able to drive Laurence Gibson a couple of yards up the field to help force Ju-Ju up into the pocket.
The entire time he maintains gap control, leverage and separation. He easily comes off the block to make the sack. Beautiful.
The end-around to Marcus Davis that got blown the eff up by Cris Hill was a great read. I initially thought it was a called corner blitz, but there's no evidence of anyone covering for Hill.
I keep trying to temper my expectations for Logan, but then I keep watching him play. Each time I do I notice something else, new, that wows me. His movement in the pocket, and pocket presence is well beyond his on the field experience. I never played quarterback, but if you listen to the good ones talk most will say they can just feel the pressure, instinctively and know how to avoid it. Logan seems to have a knack for that. Over and over again he stepped up in the pocket, or slid just enough left or right, when the pressure came, stayed balanced, mechanically sound and delivered a strike.
The Maroon front seven really stuck it to the White offensive line. Example: both Tariq Edwards and GW are coming on the blitz as soon as the ball is snapped.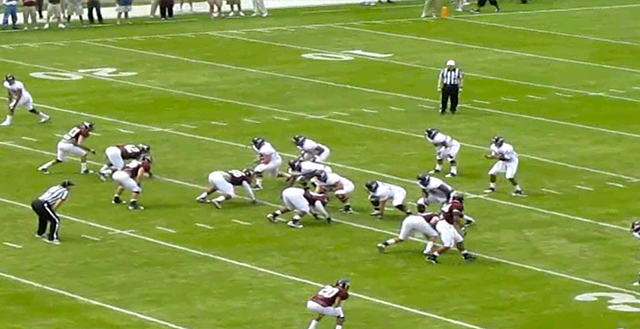 Chase Williams comes late as he has responsibility for the flats.
Blake DeChristopher blocks inside.
There are now two guys blocking one against the blitz.
This is where the shit hits the fan.
GW has a clear path to the quarterback.
And poor Ju-Ju gets rocked.
The defense sent the same blitz on the next play for the same result. Spring is all about learning from mistakes, getting it wrong the first time is bad, but acceptable. Screwing up back-to-back is cause for concern.
We're going to be back to a quick, attacking defense that swarms to the ball this fall.
GW looks more confident, seems like he found a little nasty in him. He kept coming up the field and attacking the quarterback like an animal.
I thought the starting Maroon offensive line did a fantastic job pass blocking, more than I originally gave them credit for. They weren't as dominate run blocking, but they didn't get into a flow with only a few runs sprinkled in among a bunch of passes. At the end of the game there were a couple of nice runs set up by a good push upfront. Painter struggled against Gayle, but he could end up being a top, or the top, end in the ACC. So it's hard to judge without seeing more. Andrew Miller looked fantastic holding his ground inside, but I noticed he whiffed on a block when pulling around outside to lead a run. Moving outside is probably the toughest thing for a center to do, and it will come in time.
Daniel Dyer has a nice little burst, and hits the hole hard.
After watching the tape I definitely feel good about where we are as a team heading into August camp. The line needs to get better, and Coale needs to become a better punter, but LT3 and Whip were my biggest question marks headed into spring and they showed they can ball.