NFL-Hokies. As of right now Tyrod Taylor is taking all the second team QB snaps for the Ravens. He's impressed both offensive coordinator Cam Cameron and longtime coffee critic / NFL writer Peter King.
Cameron said. "This kid is special and you guys that have watched him play [at Virginia Tech], you guys have seen him play more than I have, but you saw the practice. We have got a heck of a young quarterback. It is asking a lot out of him, but right now, we're getting him ready to play."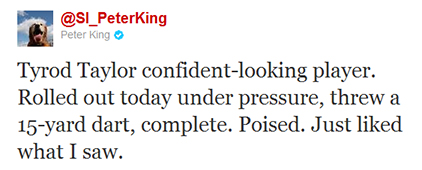 Roc Carmichael and Ryan Williams signed their NFL contracts last weekend. Saturday Roc signed a four-year, $2.43 million contract that included a $397,088 signing bonus, and Sunday Williams inked for four years, $5.007 million, including a $2.14 million signing bonus.

Suspended wide receiver Xavier Boyce was indicted on felony child-endangerment charges.
Boyce and his girlfriend, Angela Hutchins, were arrested on March 23 after an investigation by Blacksburg police. It was initiated by a call from the Department of Social Services when Boyce's infant child suffered internal head injuries on Jan. 31.

The charges against Hutchins, the child's mother, have been dropped. Boyce, a fourth-year junior, could face up to five years in prison if convicted of the Class 6 felony.
I'm going to reserve my opinions until after the legal process resolves itself, but if it means anything the first thing I did in my NCAA '12 dynasty was cut Boyce.

Heather Dinich ranks Jarrett Boykin 22nd on her top 25 players countdown.
Making the case for Boykin: You can't ignore the receiver who is poised to become Virginia Tech's all-time leader in pass receptions and receiving yards. He has big hands, can make the tough catches, and has become only the fourth receiver in school history to exceed 2,000 yards. This past spring the coaches voted him the offensive player who had the most exceptional spring.
I wonder if Boykin will be the only Hokie wide receiver on Dinich's list...

Last year's offensive and defensive rankings for our opponents, Furrer analyzes them. The Hokies don't play a I-A team this season, that were rated higher than 34th in total yards per play last year (Miami, North Carolina). The defenses hold up better in the rankings, but you can easily argue that's a function of how bad the offenses in the ACC have been.

There's only 31 more days until Hokies football.