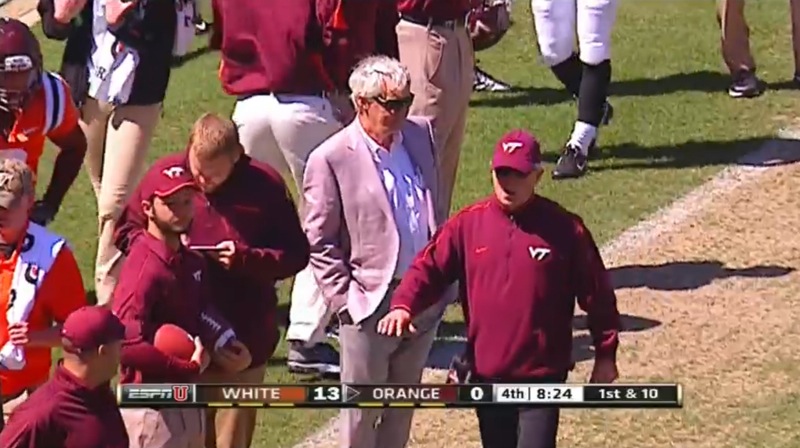 Editor's Note: If you remember these posts from during the season, these are my initial thoughts of what I just watched without the benefit of film. French will most likely have a film review completed by the end of the week. Until then, leave your thoughts below. --Joe
Like during the 2012 season, Logan Thomas was inconsistent Saturday afternoon. Overall, 16 for 29 (55%) for 214 yards is serviceable, but his 3 interceptions were all bad decisions. (Although Josh Stanford took the blame for both pick-sixes.) An offense that wants to play it close to the vest by running the ball, can't afford turnovers. On many plays, Thomas fixated on a single receiver instead of working through his progressions, and he threw a fast ball that should have been a touch pass to Holmes out of the backfield. After hearing and reading about how sharp LT3 looked in the second open scrimmage, it's disappointing to watch him struggle in front of fans looking for encouragement.
It wasn't all bad, he tossed some pretty balls too, the big gainer to Stanford comes to mind. I still believe Thomas has the physical tools, and I'm hopeful that as he continues to work on his own and with Loeffler this summer he will improve.
Considering the number of times Logan dropped back, and all the work the running game (supposedly) got throughout spring practice, this might have been an effort by Loeffler to get as much tape on Thomas in a game situation as possible for offseason evaluation. Before kickoff, I thought today would be an audition for the starting tailback job, but Holmes (7-24) and Edmunds (8-11) combined for just 15 carries. Instead, it seemed like quarterback workout.
It's hard to evaluate either tailback on so few carries. Edmunds' long run that was called back impressed the heck out of me, while Holmes' patience and strength between the tackles made me a believer of his again. I was pleasantly surprised to see Coleman split wide. J.C. might not be an every down tailback, but he is a playmaker, and I'd like Loeffler to figure out how to take advantage of that.
It was refreshing to see the tight ends apart of the passing game. McCray and Malleck finished 4-65 and 3-45, respectively. Loeffler should be able to use their athleticism to scheme some matchup problems down the road.
The starting defense is going to be pretty damn special. They limited white to 0 points and 87 yards. Additionally, some of the white team defenders had themselves a nice day. Ken Ekenam was able to pressure the maroon (orange) quarterbacks. Obviously Donovan Riley and Der'Woun Greene each had their pick six and I believe Green was the one who tracked Stanford down and prevented a touchdown. Devin Vandyke shot the gap and made a couple of tackles in maroon (orange)'s backfield. Deon Clarke led the white team with 9 total tackles. Brandon Facyson, who the coaches raved about all spring, had a nice pass breakup and a few tackles.
Frank Beamer pretty blunt about the offensive issues today: "We've got to get more consistent. You've heard that before." #Hokies— Mark Giannotto (@HokiesJournal) April 20, 2013
Beamer: "Today is kind of where we are right now. Good defense. Good kicking game. And an offense that's gotta function better." #Hokies— Mark Giannotto (@HokiesJournal) April 20, 2013
At least The Frankinator is honest. No one should have expected the offense to look crisp, it's a rebuilding process and the previous regime left a pile of rubble. The little things, like all the before the snap penalties and holds are what bothered me the most. It's all evident that offensive depth is something that needs to be improved on in the coming years.
The starting offensive line didn't look overpowering, but Grimes scheme doesn't require the o-line to blow defenders off the ball. French has thousands of words queued up on the zone scheme that'll run throughout the spring and summer, but basically the o-linemen are going to ride the defensive lineman where they want to go (east-west) while preventing penetration. When I rewatch the game I'm looking for helmets being in the right position, sharp first steps, cutback lanes, and picking off pursuing backers, none of which I can really comment on now.
Here are the post game interviews.
What did you guys think of the game?