By

3rdand31
columnist
on August 11, 2013, 11:36 AM
| 62 comments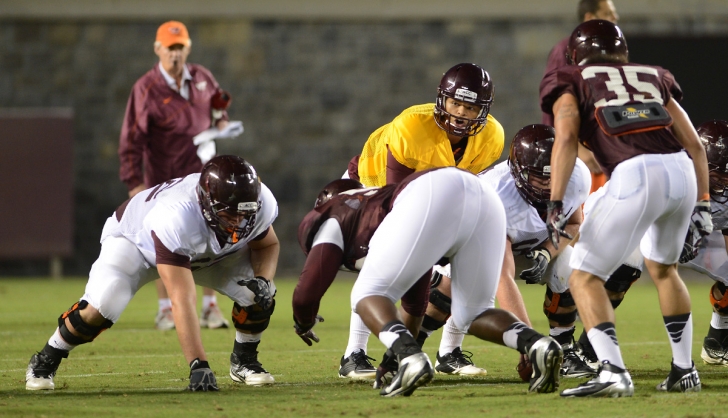 I love Virginia Tech football, more than just about anything else on the planet. It's an unhealthy obsession, one that keeps me up late at night watching old games on YouTube. I've watched every snap of every game of 2012 at least four times. Odds are it's probably closer to twice that number (shout-out to Billdozer). I've got a fever, and the only prescription is more cowbell football.
On Saturday night I did what is required of all the Hokie faithful, and made my pilgrimage to the holiest of holies. Lane Stadium. That cathedral was as beautiful last night as it was the day it was built. Sitting in our pews, I, along with hundreds of my brothers and sisters, watched the priests of our religion perform the most sacred of acts. Tackle football...
It was supposed to rain. Thunderstorm actually. I was half expecting the practice/scrimmage to be cancelled. I didn't have an umbrella so I stole a North Face jacket from a friend and decided against bringing a notepad that was just going to get soaked. Sitting in the pouring rain and dodging lightning strikes, but missing the first public football exhibition with the new freshmen of the '13 class simply wasn't a possibility.
The storm, like the run game, never did show up.
WE TALKIN' 'BOUT PRACTICE
The first thing I noticed was the new video board. It's beautiful. The thing is huge, way bigger than the old board. It's a pretty striking feature of the stadium now, and it's a shame that it took that long to get one in place.
The night started off with a full practice followed by the scrimmage (featuring those low on the depth chart). Without a doubt, I learned more about where the team is at right now from the practice than the scrimmage. The secondary was having their position drills directly in front of my seat which allowed me to get a great view of two of the defenses most promising freshman, Kendall Fuller and Brandon Facyson.
Kendall is CLEARLY an exceptional athlete, maybe the best in that position already. He makes everything look smooth and easy, and just exudes the casual confidence that all great athletes have when in their element.
Facyson, in my opinion, wasn't as impressive in the "athletic" drills as Fuller was, but later in practice when he was lined up across from a receiver he more than held his own. He clearly belonged. Facyson showed off a closing speed during passing drills that wasn't as evident during position drills. Kid is just a gamer. The future of the Torrian Gray's secondary is very bright and coaches all across the country should be jealous of the opportunity he has to coach them up for the next four (if they stay in school that long) years.
One player that really surprised me was Donovan Riley. I'm not sure how he'll do in a game (where he'll be required to provide run support) but Riley can hold his own in coverage, and might have the best ball skills at the cornerback position for Tech. He made plays all day during the spring scrimmage, and during practice last night he kept it up. Riley will be on the field this season, and I expect he'll start at some point in his career.
Maybe the best moment of the whole night was when Kendall and Kyle faced off in the secondary's version of the T-drill. The secondary split into two groups lined up ten yards apart. One player had the ball and tried to run through the teammate facing him. This drill occurred right in front of the West stands and it had everyone's attention. At the end (not sure if by design or sheer luck) Kyle and Kendall squared up. Everyone in the stands saw and recognized the match up (Hokie fans are probably the smartest in the ACC), shouted encouragement, and held their breath. The following collision was the largest of the drill. When the dust settled, Kyle had stopped Kendall dead in his tracks. Little bro isn't quite as physical as his brother (the best open field tackler in the country at his position), but he also isn't far off.
I eventually tore my eyes away from the secondary to watch the o-line vs d-line drills. First impressions? Dadi Nicolas is going to start. I love J.R. Collins, but Nicolas is an absolute monster when pass rushing. Unblockable at times. In a one-on-one drill, he faked an outside move and then cut inside. The move was so athletic he looked like a WR running a sharp route, and the lineman straight whiffed. In a one-on-one drill, Nicolas made a scholarship offensive linemen block nothing but air. It was awesome.
Jonathan McLaughlin looked like a starting left tackle. He's big, he's strong, and he moves pretty well. In the one-on-one's, he looked as good as anyone. I expect we'll see him run out with the rest of the offense in the Georgia Dome.
Of all the units, I probably learned more about the WR's than any other. They have a ton of potential, but boy do they drop a lot of balls. I mean a lot of balls. On one play a receiver (I believe Demitri Knowles) threw a double move at Kyle Fuller. Fuller jumped the underneath route which allowed Knowles to blow right past him. The QB threw a nice ball which hit Knowles right in the hands in the endzone for what should have been a 30+ yard touchdown catch. Knowles straight dropped it.
However, I walked away from the practice feeling much better about the WR's then I did before. The WR situation reminds me a lot of the time Jarrett Boykin, Danny Coale, and Dyrell Roberts were all starting as freshmen. The talent is clearly there, but they need more experience in order to play more consistently.
Joshua Stanford runs really sharp routes. Of all the WR's, he comes out of his breaks the cleanest and quickest and when you combine that with his reliable hands, I expect him to have a lot of success as a Hokie. If D.J. Coles struggles with injuries this season, don't be surprised if Stanford leads the team in receptions.
Despite his atrocious drop early in practice, Knowles still showed why he's the number one Flanker on the depth chart. The kid can fly. His route running isn't as precise as Stanford's, but Knowles can get away with it because of the vertical threat he poses. Loeffler's play-action game is really strong. He does a great job at finding ways to isolate his WR's against single CB coverage. When he finds himself in these matchups, Knowles can run past almost anyone who doesn't approach the situation cautiously enough. If the CB does give him a large enough cushion and gets his hips turned in time to run with Knowles, Demitri's routes are good enough to get into a break and catch the ball in front of the CB.
The lack of plays that D.J. Coles made in the 7-on-7 and mini-scrimmage during practice was disappointing. I'm not sure if he's just a little hobbled right now or if Loeffler wasn't interested in showing too much in public, but the "matchup nightmare" that moving Coles closer to the ball was supposed to create didn't seem to manifest itself. Don't get me wrong, if I had to bet I'd say that D.J. Coles will be the leading receiver. I just wish that the number one split end on the depth chart would have looked a little more... number oneish.
My new favorite Hokie is Carlis Parker. This guy... he's special. Really special. I admit that I rolled my eyes a little when Frank Beamer said that Parker reminded him of Michael Vick, but there's a reason Beamer is a living legend and I'm not. Parker is the best overall athlete at the WR position, and might be the best on the whole team. Parker has lots of speed, but that's not the real reason he looked great. He just has a knack for getting open. Parker's got a great competitive spirit too. He does a great job at fighting for the ball when it's in the air. He already has a good idea of how to use your body to "box out" a defender and it allows him to play bigger and stronger than his already impressive frame is. I really, really, really like him.
There's been a lot of chatter recently about Deon Newsome making some moves at the WR position. I'll be honest, I didn't see a future star when watching Newsome. When I look at young players and try to predict how much potential they have, all I'm looking for is whether they have something about them that is "special". Whether they have something distinctive about them. Stanford does a great job coming out of his cuts. Dadi Nicolas is a nightmare in passing situations. Kendall Fuller made everything look so... easy. When watching Newsome I didn't see anything in particular that made me go "wow". He wasn't bad, he didn't drop any passess, he ran solid routes... I was just hoping to see a little more sizzle with that steak.
Chris Mangus made the move to WR recently, and he had a really good moment during the scrimmage where he lined up in the slot caught the ball on a flare screen. He ran right past the first defender (who had the angle on him) then cut back against the grain to pick up some more yardage. The cut looked great in person. Mangus is definitely a playmaker with the ball in his hands, but I suspect that Loeffler will struggle to find ways to get it to him. You can only throw so many screens to a player before defenses start sniffing it out. Mangus didn't look lost running routes, but he didn't get open consistently enough either.
Where is the offense at?
The running game was very, very disappointing. A large part of the problem is that the offense only seemed to run outside zone stretch plays, which Foster's scheme has always had success against. Foster's defensive linemen always do a good job at flowing in the direction of the play, preventing the tailback from getting to the outside. His Whips/Rovers always do a great job at flowing down the line to prevent the cutback. The aggressive nature of Bud's defense leaves very little for a running back to do other than try and push the pile to get what he can. Bud's scheme can backfire against teams that do a good job on designed cutback/counters though (see Pitt in 2012 and Miami 2011), but the offense didn't run a single counter from under center all night. In order to run against Foster, you have to counter the aggressive d-line flow, and that didn't happen last night. I'm not sure if Loeffler doesn't want to show any in public (I seriously doubt that, it's not like Saban is going to be surprised by a counter), or if he just hasn't installed any other running plays yet (maybe, but that seems a little unlikely, we are a week into camp), or if he just wants to run the same play over and over to get a fair assessment of everyone's skill level (most likely).
Whatever the reasoning, the offensive line was left out to dry. They were asked to block defenders who knew what rushing play was coming. Even if the offensive line had better athletes than the d-line (and they don't) they would have struggled to execute those blocks. We'll have a much better idea of where the running game is after next scrimmage, as I assume by then more power rushing plays and counter's off of the outside zone stretch look are utilized. Loeffler/Grimes had too much success rushing the ball from under center at Auburn to be struggling this much.
Joel Caleb got a ton of reps at tailback in the scrimmage. I was excited by the move and was encouraged by the positive reviews he was getting. Imagine my disappointment when his first scrimmage consisted of running into a brick wall over and over and over. It's hard to get an idea of how good a running back is when he has zero holes to work with. It was impossible to tell how good his vision was simply because there wasn't anything for him to see.
I will say this about him though. Caleb is definitely a powerful runner. He does get that extra push when he hits the pile, and he's not afraid to put his head down and take a defender on. Until the offense starts having some success opening up holes for him (either by blocking better or adding more variety to the blocking schemes) it'll be hard to project his skill level at that position. For now though, it's safe to say that he has the potential to be a contributor this season at tailback.
The Big Picture
We all know the drill by now. In the summer, the defense is going to be further along than the offense, especially when the offense has a bunch of new coaches who are installing a new playbook and blocking scheme. The first scrimmage of the summer is never a good indication of how much success an offense or defense will have over the course of a season. As a fan, the only thing these scrimmages are really good for is to see how individual players are faring, and on that front there are positive signs all over the field for Tech.
Kendall Fuller and Brandon Facyson are both promising young players. I suspect that Fuller will get the starting nod at corner versus Bama, but will slide over to the nickel slot when Bama spreads the field (similar to what his brother did when Cris HIll used to come on as the 3rd Corner). Facyson showed flashes of brilliance though, and before these summer practices are over may very well win Foster's confidence.
Tech's young WR's showed a lot of promise. Stanford, Knowles, and Parker all stood out as gifted athletes. I believe there will be growing pains there, but I wouldn't be shocked if Tech's WR's had success against Bama's secondary, especially if Loeffler can get the running game going.
The offensive line needs work, but they also need some help in these matchups against the defense. The sooner the full running playbook gets installed the better. The lack of creativity I saw last night was disappointing, and I was hoping for better. Tech has seven days before the next scrimmage, hopefully by then battle between the offense and defense will be a fair fight.