Frank Beamer is fond of reminding reporters after his team's first game that the most improvement in a season happens between the first and second games. It's a coaching adage that is common because it is usually pretty true. The first week a coach prepares his game plan based on who he thinks his team is. It's not unusual for a squad to perform like something entirely unimagined. In that case, the changes made from week one to week two will increase productivity as scheme, practice focus, and game plan better match personnel and their pros and cons.
The Alabama game taught the Hokies coaching staff a lot about the current squad. Bud Foster and the defensive coaches saw their defense hold up very well versus one of the best pro-formation offenses in the country. The d-line looked stout against the run and the slanting scheme worked well to take away a powerful zone-rushing offense. Coach Torrian Gray's youngest pupils (Kendall Fuller, Brandon Facyson, and Donovan Riley) all looked more than capable in pass coverage, and his eldest statesman (Kyle Fuller) appeared to have taken the next step in single man coverage against one of the nation's premiere wide receivers. The defense looked to be pretty special after the first game, and simply needed to see that success continue against the spread-style offense that Western Carolina brought to town.
The Hokie offensive brain trust had a lot more to improve on than their defensive counterparts. The running game looked decent in the Dome (which was a vast improvement over the 2012 campaign), but the passing attack looked downright poor. The wide receivers... well, we all know how they played versus Alabama. Heading into the Western Carolina game Hokie fans wanted to see the offense continue to run the ball with authority (something Jeff Grimes's unit was able to do with a fair amount of consistency) as well as start to show some semblance of an air attack.
Fortunately, Logan Thomas and his targets did improve. The senior signal caller had many well thrown balls and made many correct reads while his receivers did a much better job at holding on to the football. While it wasn't all flawless football, it was certainly a step in the right direction.
Good Things Happened
Logan Thomas has shown time and time again that he has arguably the most NFL ready arm in college football. There is not a throw that has been drawn up by an offensive coordinator that he isn't capable of completing, and on Saturday afternoon Thomas completed many "next level" throws.
00:08:33–00:08:41
That is one pretty ball, the type of pas that gets NFL scouts all hot and bothered. Not many guys are capable of fitting the ball in there, and that's why Thomas is considered to have one of (if not the) highest ceilings among QB prospects. As a defensive coordinator, there's not a lot more you can do other than shake your head and tip your hat when you see a man complete a pass like that.
The defense was in "Quarters" coverage or what some people call a "Cover-4". It's a coverage that is very popular right now, especially with the amount of spread offenses that defenses are facing. A Quarters coverage will have four defenders (two safeties, two cornerbacks) each responsible for guarding one fourth (or a quarter) of the deep portion of the field.
One clever thing that Loeffler does versus Quarters coverage is he overloads the deep routes to the field side of the formation. By rule, if the "Boundary Corner" doesn't have a receiver threaten him deep, he stays shallow to defend against a late developing screen. This means that deep down the field, there is a 3v2 matchup (one corner and two safeties vs two receivers). While the defense has the numbers advantage, Loeffler uses the rules of their defense against them to out leverage the "Field Corner".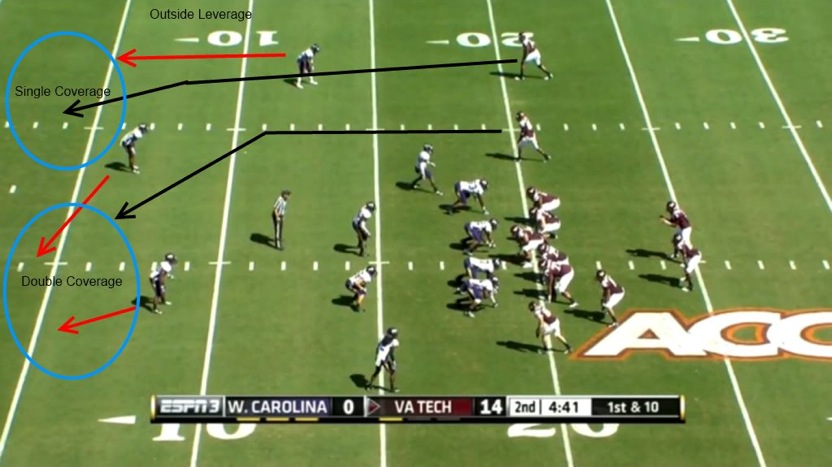 One of the few weaknesses with Quarters coverage is that often the two halves of the secondary work independently of each other. The "Field Safety" is going to follow the slot receiver's post into the middle of the field regardless of what the other safety is doing. This loophole allows Loeffler to force the safeties to double cover his decoy slot receiver, and isolate his outside receiver (D.J. Coles) on a cornerback. Loeffler then uses another rule of Quarters coverage, on vertical routes the corners play with outside leverage, against the defense.
The corners in Quarters coverage want to force the receivers they are covering to break back towards the middle of the field. That's where their safety help is... usually. In this case, the Western Carolina corner's safety ISN'T in a position to help, because he's been run off by the decoy receiver's post route. That leaves an opening (albeit a small one, but an opening) down the field for Logan to try and fit the ball through, and he does perfectly. Here's an even better angle showing the safety giving up the passing lane to D.J. Coles.
This was a great play design by Loeffler, great execution by the receivers, and a great throw by Logan Thomas. This throw is difficult because it requires both accuracy and power on the ball. A lot of people brush off the importance of a quarterback's arm strength, but this is an important example of why it matters. D.J. Coles breaks open somewhere in between the goal line and the five-yard-line. Once he gets open, Logan Thomas has very little time to get the football to him before Coles runs out of real estate in the back of the end zone. If Thomas can't throw the football fast enough it doesn't matter how accurate the throw is, Coles won't be in bounds to make the play.
That wasn't the only throw which Logan showed off his arm strength. Here he is again zipping the ball to a receiver who is quickly headed towards the sideline. A lofted ball, rather than a driven ball, won't reach the target in time.
00:10:02–00:10:08
Just a great throw. Not a bad catch either. The Hokies did a better job at holding onto the football when it was thrown to them Saturday. Stanford and Willie Byrn both made a handful of nice plays, including this beautiful one, in the red zone, on third down.
00:06:03–00:06:11
After going almost a decade watching the Hokies struggle to throw the ball in the red zone, I felt ecstatic watching this play. It's another well designed play which Logan read perfectly.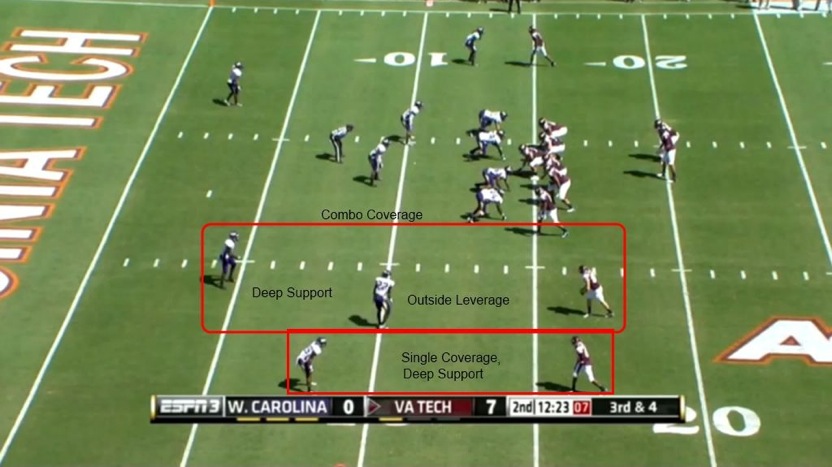 So right off the bat, we see that on the boundary side of the field the defense is going to be running some type of combination coverage. The corner on the bottom is going to keep the Demitri Knowles in front of him. He'll only come off the Knowles if the number two receiver to his side (on this occasion, that would be Willie Byrn) runs a "smash concept". If the slot receiver runs a deep flag route towards the corner of the endzone, then the slot defender will drift over to cover Knowles and the corner and safety will double team the flag route.
While this coverage does take away the ever-popular red zone "Smash" concept, it also takes a safety away from the middle of the field. The defensive coordinator now has to choose. Does it want to cover the middle of the field with the second safety and leave its other corner in one-on-one coverage, or does it want to drop a linebacker into the middle of the field and give it's second corner some deep support? The Western Carolina DC chose the second option and when Logan Thomas sees a linebacker drop to cover a streaking TE, he throws into the space the linebacker vacates. Beautiful Play.
That wasn't the only positive impact that tight ends had for the Hokies on Saturday. While I wasn't expecting to see Kalvin Cline play on Saturday, I wasn't surprised by his effectiveness in the passing game. I said back in May that Cline was my "sleeper pick" of this recruiting class after watching his film. He's an athletic tight end who can make the plays in the passing game that Loeffler looks for from that position. Cline is a player who can be a matchup problem for defenses when they over commit to stop Grimes's zone rushing attack. Here he is with surprisingly good technique on a bootleg play.
00:04:49–00:04:56
If Thomas can get that ball to him a step earlier, Cline might be have a little more room and time to try and make that first defender miss. As it is, Cline still picks up good yardage.
00:05:58–00:06:03
This time Cline again shows good technique to get free of his initial defender. Look at how violent he is with his hands to get free, if Thomas doesn't get his throw tipped here Cline will pick up the first down. Cline isn't just a "One trick route pony" either. Here he is coming across the formation on a crossing route on another bootleg.
00:07:53–00:07:59
Many tight ends will lose awareness on this route and start running parallel to the line of scrimmage, but Cline has a good feel for where he is supposed to be and picks up an extra 3-4 yards by pushing up the field. Kalvin Cline will continue to have a positive impact on the passing attack for the Hokies and if he shows good technique with his blocking responsibilities may very well become the starter.
There's Still Room For Improvement
The Hokies showed positive development on Saturday, but they were far from perfect. The wide receivers were better at catching the ball, but still had their moments when they couldn't make the play. Here's Stanford doing a good job at getting open, but not being able to hold on to the ball in traffic.
00:05:04–00:05:10
That's a play that a big time 1-A receiver makes. Stanford has the potential to be a really effective player for Frank Beamer, but he'll have to clean up that part of his game.
00:00:36–00:00:42
Above might be the worst non-interception decision that Logan Thomas made all day. Western Carolina only brought three rushers, the offensive line did a fine job of picking them up, and created a pocket for Thomas to step into. Thomas has to realize that he has plenty of time to continue to survey the field and give his receivers more time to work themselves open. There are 8 defenders in coverage here, so there aren't many windows to throw to, but given enough time his playmakers might be able to get themselves free. In the end, Thomas looks to rush the ball to Knowles who is running a crossing route right into the zone of a defender. Knowles has zero chance to protect himself here, and Thomas isn't doing Knowles' confidence any favors by leading him directly into a big hit.
Thomas is still missing his drop off targets, something Loeffler noted in postgame comments after the Alabama game. Loeffler likes to leave his RB's and TE's in pass protection for a couple of ticks, and then have them leak out once the underneath defenders have committed themselves in coverage. It's an easy way to keep your quarterback upright while also taking easy yardage that the defense gives you. Thomas has a huge arm, and I'm sure he's tempted to throw the ball down the field where he's had lots of success in the past. However, Knowles and Stanford haven't shown an ability to challenge FCS cornerbacks (forget ACC cornerbacks) while the ball is in the air. Loeffler needs for Thomas to show more willingness to take the 4-5 yards when it's available. Maybe then defenses would stop being so conservative with their coverages, which will allow Knowles to get more routes open behind safeties, rather than down the sideline.
The Interceptions
Thomas' first interception was another example of passing on a checkdown route and instead taking a shot down the field against good coverage.
00:03:14–00:03:24
It's first down, and while I respect Thomas's desire to attack the one-on-one coverage versus his speedy receiver, there's no need to. Especially not when you have a playmaker like Coleman sitting in the middle of the field five yards away from the closest defender.
After the game Logan said it wasn't a bad decision, just a bad throw. "I had one-on-one coverage there [on the interceptions]. Sometimes, my pass has to be better and I have to put it more outside, and sometimes we have to go and make a play." He's got a point, theoretically if he had placed this ball on the outside shoulder of Knowles the only way the defender could make a play is by interfering.
Let's look at the situation though, rather than punishing the defense for dropping it's linebackers 10 yards from the line of scrimmage by taking a guaranteed 4-yard gain (potentially larger, if the elusive Coleman could make a FCS linebacker miss in space), Thomas rolled the dice by trying to make a perfect throw to an undersized receiver 50 yards down the field.
Here's the replay of the second interception.
If Thomas makes a perfect throw to the back pylon, then maybe Knowles can make a play on the ball. However, this would require a perfect throw. Thomas can make those throws, but nobody is capable of making them with the frequency he attempts them at.
Logan had a solid pocket, was in no danger of getting sacked, and Knowles was not open. What could have happened then? If he spotted Willie Byrn open across the middle (freeze the video at 00:04), it would have been an easy touchdown. From the opposite end zone (watch between 00:12 - 00:14), it's really obvious that Willie is breaking free from his coverage and there are no defenders to stop a touchdown throw.
A simple lofted toss towards the right side of the end zone and Byrn makes the easy TD catch.
Almost There
The Hokies executed much better in the passing game against the Catamounts than they did against Alabama. That's to be expected though. Alabama has had the best defense in college football over the past couple years, while WCU has had one of the worst in the FCS. The passing attack has improved from game 1 to game 2, as Frank Beamer and Scott Loeffler said it would. However, this is not going to be a powerful passing team during ACC play unless both the wide receivers and Logan Thomas improve their play. The wideouts need to be more dynamic in one-on-one situations and get open. A below average (and that's putting it nicely) FCS secondary only barely looked outclassed by this receiver corps.
Moving forward, Knowles, Stanford, and Coles all have to be able to get more separation from their defenders. They have to be explosive not just when running past their cover men, but explosive when coming out of breaks and powerful when going up for the football. In short, they need to make plays.
Speaking of Coles, he wasn't on the field much on Saturday. My initial reaction was to think that Moorehead might be making a statement to his young players—anyone who isn't being productive isn't going to play. After reading Frank Beamer's postgame statements that he wanted to protect Coles by playing him fewer snaps, "I think we just got to play him less plays and get more out of him per play," I'm even more curious about what his role will be moving forward. D.J. Coles is one of the only players capable of being the athletic down-the-field threat that Thomas so desperately needs, and yet Beamer is talking about limiting his role rather than changing it. The D.J. Coles at H-Back experiment hasn't seemed particularly effective (not in the summer scrimmages or in the Alabama game), and with all the capable running backs that Tech has who can also be used lined up as receiving threats (Coleman, Mangus, Caleb), why not just line Coles up as a normal receiver? That's where he was most effective in the past, go let him do his thing.
Kalvin Cline's emergence as a threat is a big positive to take away from this game, and hopefully he will continue to contribute. If Cline can make an impact in even more packages and plays then Loeffler will have even more flexibility to toy with. If he struggles as a blocker it will keep him sidelined in too many rushing and red zone situations, and those are the scenarios where a matchup with a linebacker is most likely to yield positive results. If Cline is only making an appearance in passing situations, it'll really limit the impact he can have on the offense as a whole.
Lastly, Logan Thomas is the engine that powers the entire passing attack. If Thomas has a great game and is accurate and decisive with the ball, the Hokies will move the ball through the air. If Thomas struggles making the right reads and isn't accurate with the football, the Hokies won't. He is making progress and getting better though, and Saturday showed that he's starting to build a little rapport with his receivers. If that continues, then the Hokies have a shot at being a good offense by the end of the season. If it doesn't, then Frank Beamer will have to once again rely on a great defense and talented tailbacks to get back to a bowl game.