@UVAFBRecruiting has been on Twitter since April 2nd of this year. I'm disappointed in myself that it took me almost a month to find out about it. Among other things, it (re)-tweets the requisite motivational messages from coaches, silly things the long snapper says, local media coverage, and Photoshops. Hilariously bad Photoshops that have been created to, I don't know, relate to high school kids, encourage them to commit to UVa, keep the program relevant? Perhaps high school kids do gravitate towards this sort of thing. If so, I'm as old and out of touch as a 30-year-old should be.
Virginia is not alone in this endeavour. Georgia Tech and Florida, as well as other schools, have armed themselves with amateur doctored images and hit the digital recruiting trail hard.
However, Virginia is the school that we beat ten years in a row and still let them call it a rivalry. Obviously, I'm going to highlight its efforts.
Jay Whitmire hit the weight room hard this winter. Just look at him! The kid's bicep is almost bigger than his head. That's approaching Ronnie Coleman levels of jacked.
Hulk Smash Friday with @jay_whitmire #HoosStrong #ChooseHoos pic.twitter.com/HthC5CZvrJ— VirginiaFBRecruiting (@UVAFBRecruiting) April 25, 2014
The flames in the background, they're metaphorical. It ain't moving iron if you don't feel the burn. Hulk Smash Friday is the new Throwback Thursday. #HSF
This is rather creepy.
Even if you don't see us, we are always watching! #HoosEyzOnYou #ChooseHoos pic.twitter.com/PLJMMrL7kr— VirginiaFBRecruiting (@UVAFBRecruiting) April 27, 2014
I think the only person in the world who can get away with saying he's always watching you and you don't know it is Santa Claus. UVa football is familiar with Santa Claus because it's always home for the holidays.
What really gets me here is the #HoosEyzOnYou hashtag. Apparently drop the 'e' and add a 'z' in words with 'y' to pluralize is a grammar rule a non-Jefferson educated person doesn't learn. Was #HoosEyezOnYou not used to save a character for future hashtag use? Is it a typo? I don't know, but I wish I did. Yes, I'm the guy who grumbles when someone texts "ur" instead of "your".
I just went ahead and updated this next one to make it a bit more factual.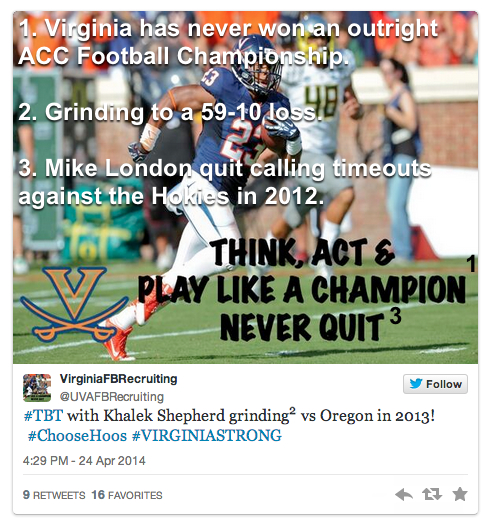 Moving along.
Looks like a Fleer baseball card from the 90s. RT @UVAFBRecruiting #hoos #VIRGINIASTRONG #wahoowa pic.twitter.com/JZMrqMExle— Deep Chatham Hokie (@TeaBagPaulus919) April 28, 2014
That about covers that.
No one is going to miss a seat from Scott Stadium.
S/O to Fred Scott who came by the office to share a gift made out of the original seats at Scott Stadium #WahooPride pic.twitter.com/jhpAihs3nj— VirginiaFBRecruiting (@UVAFBRecruiting) April 23, 2014
And finally, YOU!
WE WANT #YOU #VIRGINIASTRONG #WAHOOWA #hoos pic.twitter.com/P1J9Cjk6bc— VirginiaFBRecruiting (@UVAFBRecruiting) April 10, 2014