By

french60wasp
columnist
on February 17, 2014, 12:22 AM
| 75 comments
While most of HokieNation's attention to replace Logan Thomas has been focused on Andrew Ford and Chris Durkin, Scot Loeffler's first quarterback commitment of the 2014 cycle was Travon McMillian (6-0, 200, C.D. Hylton Woodbridge, Virginia).
McMillian is a prospective engineering student who had offers from several ACC schools along withTennessee and Auburn. In 2013 he completed 97 of 169 passes for 1,472 yards and 17 scores, and also rushed for 1,537 yards on 166 attempts and 20 scores. In 2012 he racked up 1,326 yards and 12 touchdowns, and ran for 1,242 yards and 16 scores.
Despite being named VHSL 6A offensive player of the year, McMillian is discussed among fans as a high school quarterback who will transition to a different position. Kam Chancellor and Greg Boone were also high school quarterbacks who had great careers in Blacksburg at new positions.
But, McMillian has been assured by Loeffler that he will have the opportunity to compete for playing time at the quarterback position, and Hylton Coach Tony Lilly certainly feels like he will be a good college quarterback. "He's a high school Peyton Manning is what he is," Lilly said in a February 2013 interview with Preston Williams of the Washington Post. "The kid probably studies more film than I do. He's wearing me out this offseason with plays and schemes that he comes up with that kind of fall in line with some of the things we do. He's a kid that I'd hire as a coach pretty quickly."
Unlike most high school signal callers that are labeled "athletes" by recruiting services, Travon McMillian is definitely a quarterback. When you watch McMillian on film, he excels at the nuances of quarterback play that are under-appreciated by fans (riding the mesh point on the option, footwork in the pocket, keeping the football in position to throw, using head and shoulder fakes to influence defensive backs). McMillian not only wants to be a quarterback, but he has put in extensive work to develop all the learned skills of quarterback play that some players never master. When you couple that refinement with a good arm, a knack for make big plays at critical moments with both his arm and his legs, and a competitive streak that carried his team to a spectacular comeback 22 point comeback against Tim Settle, Greg Stroman, and their Stonewall Jackson teammates, McMillian is not someone to underestimate in the upcoming quarterback battle.
McMillian has been undervalued as a pocket passer. He has excellent mechanics and presence in the pocket, and he doesn't look to run before pressure or coverage dictates it like many young QBs. He is calm, accurate, and he gives his receivers chances to make plays.
Let's take a look at McMillian as a passer. It is rare that you see a quarterback go through multiple reads and stand in the pocket at such a young age. The initial coverage prevents him from hitting his first read.
00:00:46–00:00:57
McMillian starts out looking right, and tries to pump fake his receiver open. Instead of abandoning the pocket, he looks to his second read, and then comes back to his receiver on the left who is breaking open despite being triple covered on a post route. The entire time, the ball is up at McMillian's ear, ready to throw. When he sees the receiver break open, he throws a nice deep ball (slightly underthrown but the ball travels 52 yards in the air) for a touchdown.
Here is another deep throw where McMillian is poised and patient in the pocket as his receiver breaks open deep.
00:00:20–00:00:28
Here again, he scans the entire field instead of panicking and running. He looks right to hit the skinny post off the dive fake (a staple of Loeffler's offense with Thomas and D.J. Coles last season). Then he comes back to his safety valve in the left flat. Finally he looks deep to the left post route, gets the defenders to sit on the route, and then lofts the ball over their heads to the fourth read standing alone in the deep corner of the endzone. Note, McMillian is on the right hash, so this ball is traveling well over 50 yards in the air back to the opposite pylon.
McMillian has a solid arm and his mechanics make longer throws easier. Here he throws a beautiful post route in perfect rhythm. He is a quarterback.
00:06:27–00:06:34
At the same time, McMillian is a tremendous athlete. He has excellent escapability and uses it to break contain and give his receivers additional time to get open.
00:00:58–00:01:10
McMillian can also be an impact player in the running game. Not only is he a tremendous athlete, but as an option quarterback he does an excellent job at reading the option man and then riding the mesh point to get the defender to bite on the dive fake. By keeping the football hidden in the belly of the dive back until the last second, it allows the quarterback extra time to read the defense and often it will get the defender to bite on the fake. This opens even more space for the quarterback to do damage.
McMillian's fake is so good that even though both defensive ends are unblocked and less than 2 yards from the mesh point, both bite on the dive fake.
00:10:14–00:10:24
Freeze frame the play, and you can see how McMillian has no space, but completely fools the defensive line.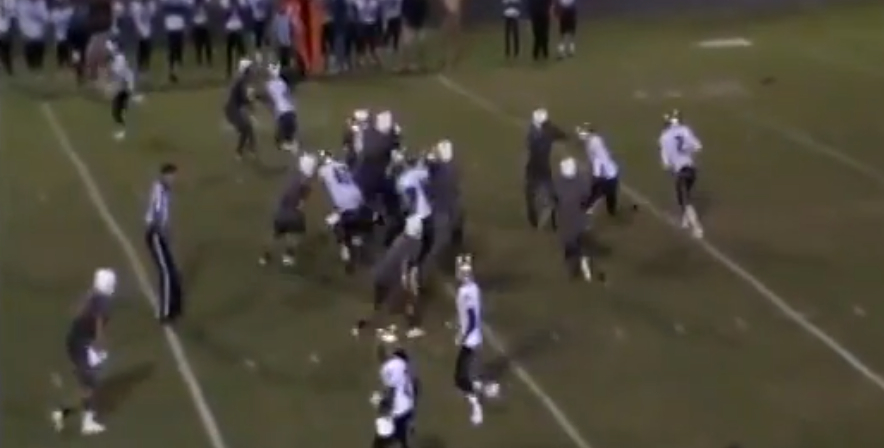 Here again, McMillian rides the mesh point. The defensive end, who has dive on the play, crashes hard on the dive back, but the outside linebacker, who is unblocked and should take the quarterback on the play, also gets sucked right down to the dive.
00:03:38–00:03:48
McMillian uses the correct angle to get to the edge as quickly as possible, and he gets well over 10 yards before any safety support comes up. His athleticism finishes the play with six points, but his fundamentals put him in the position to make the play.
Loeffler used some elements of the read option last season, but Logan Thomas lacked the speed to threaten the edge. That limited the Hokie read option mostly to inverted veer plays where the back is the outside threat and the quarterback is the inside threat.
Finally, the kid plays with guts. He runs with the same reckless abandon as Chris Durkin. He isn't a fullback at quarterback, but he gets up the field, bounces off contact, and finishes runs.
00:04:05–00:04:13
Even if he doesn't end up at quarterback, I can tell that McMillian is a kid who will work hard to learn the fundamentals of any position he is asked to play. At Hylton, he even took snaps at other positions, which allowed him to work at new skills and give experience to the next Hylton quarterback. Here McMillian scores a touchdown as running back on a read option. This kid will help the program wherever he plays.
00:01:10–00:01:21
So, Scott Loeffler finds himself in a unique situation. It is unfair to say one of the Virginia Tech quarterback prospects is "better" than the other two. Each quarterback has very unique skillsets that must be utilized in a unique offensive system, and Loeffler's 2013 offense gave us glimpses of each of those styles.
Andrew Ford is the air-raid/spread style passer who can identify the receiver that has the best matchup. He can be incredibly accurate throwing to the spot where the receiver will break open. Chris Durkin looks to be a potential game-breaker as an inverted veer single-wing style quarterback. Durkin could be a workhorse runner at QB, while also using his feet to give his receivers extra time down field. When protection breaks down, Dukin can make big plays by scrambling out of the pocket. Travon McMillian is a prototypical spread style quarterback like Marquis Williams and Anthony Boone. McMillian excels running read option and is a calm and confident pocket passer who can make throws off read fakes and in pass pro. While McMillian isn't as big as Durkin, he runs effectively in between the tackles on the inverted veer and get yards after contact. If Loeffler is considering playing a freshman in 2014, the style of offense will make a major difference in who will win the job.