By

Brian Marcolini
columnist
on March 24, 2014, 3:14 PM
| 66 comments
Dear Buzz,
Wait, is that too casual? Mr. Williams? Coach? Dad? I'll call you whatever you prefer to go by, as long as you promise to actually show up and coach the Virginia Tech basketball team.
Forgive me if I sound a little skeptical, it's just that four days ago I was drafting a column that detailed realistic candidates for the men's basketball vacancy (a list that you were not a part of), and you took the job a day later. Did you kill a piece chock full of jokes about Mick Cronin's Napoleon Complex? Yes, but let's not get off on the wrong foot. I'm not mad that I had to scratch the column, it just still doesn't seem real that you actually agreed to coach the Hokies.
I mean...you're Buzz Williams! You're the guy who won 153 games in just seven years! You consistently made the NCAA Tournament in what was once the toughest conference in the country!
Basically what I'm trying to say is that your career up to this point has been a lot of this:
While the team you're about to take over is a lot more of this: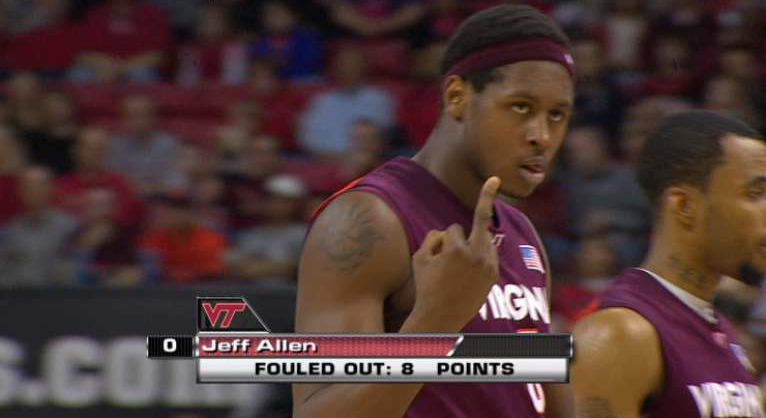 But don't get me wrong, I'm thrilled that you're coming. When I heard rumors that you were going to leave Marquette for Tech, I told anyone who would listen that there was no way it would happen. When credible reporters like ESPN's Jeff Goodman broke the news on Friday? I screamed more than a Virginia fan at Lacoste sale (we make UVa jokes here, they're preppy and annoying...you'll get it).
Anyway, on to the more formal introductions. My name is Brian Marcolini, I make jokes and write open letters to people who don't usually read them. This is The Key Play (or THE KEY PLAY during football season...you'll get it), the best damn Virginia Tech sports website on the Internet and a place where you'll be killed with kindness. One piece of advice though: whatever you do, please, for the love of God, don't chime in on the cake/pie debate. Don't ask, you really don't want to know.
The reason I'm writing you today, the day of the press conference pep rally held in your honor, is that I want you to know what it is exactly that you're getting into when it comes to the mindset of Virginia Tech basketball fans.
Current state of the fan base: Have you ever adopted a pet from an animal shelter? You know it's had a rough life before you took it home, and as much as you want to make them feel comfortable and loved, only time will make Buddy stop peeing himself every time the vacuum turns on. That's exactly where Tech hoops fans are emotionally. We've been hurt, we're hesitant to trust, and we may bite you if you come too close. Despite all of that, all we need is a little bit of love and attention to come around. That may sound harsh, but look at the last 20 years. Yeah, it hasn't been a great run.
Current expectations: Well, all I really know is that we're tired of finishing last. After that, I think you pretty much have the leeway to have whatever kind of year possible. You know what? You could finish in last place and the fans wouldn't sour on you. It's like being the quarterback after Grant Noel, no matter what things are looking up (it's a football thing...you'll get it).
Future expectations: The more you win, the higher expectations are going to be. Let's just start with consistently going to the NCAA Tournament. Hell, what am I saying, let's start with going to ONE NCAA Tournament. If you can do that, and fans start to complain just pull a "REMEMBER WHAT YOU WERE WHEN I FOUND YOU?!?!" on them and walk away. I promise we'll have no comeback.
Are there any players in which the fans are irrationally attached to? Short answer: no. Long answer: ehhhhhhhh, not really. Longer answer: you basically have carte blanche to do whatever you want with the lineup and no one will really question you for at least a year. Everyone is seriously just that happy that you're here.
Do the fans expect your jacket lining to match your tie? Tech's colors are maroon and orange, no one expects you to ever match.
Do I have any specific expectations of you? Well I'm glad that you asked.
I only have two, and they're quite simple:
Start a coaching feud. Just look at one of the other 14 coaches in the conference and kick up a pure, unadulterated, hate-fest. I'm talking thinly veiled press conference remarks, on-court eye rolling contests, handshakes so quick that they'd make Lane Kiffin feel offended, you know, the usual stuff. Tech fans need a team to despise in basketball (other than Virginia), and I think your actions can set them on the proper course. It doesn't matter which coach you pick, but if it's Mark Gottfried I will love you forever.
Put the soul back in Cassell. I love Cassell Coliseum. Whenever anyone talks about tearing it down or building another facility elsewhere, I get irrationally angry. The place is built to be one of the loudest places in the ACC, the fans just need a little help. It's not one of those fancy, corporate stadiums with luxury boxes and padded chairs that encourage sitting. It's one with wooden seats and built in a way that even fans with the worst seats in the house are practically on top of the court. I promise, as much as people may be hating on you now, if you get Cassell rocking again you won't regret the decision to come to Blacksburg.
As fans we're happy you're here. Good luck, and I hope you crush it. You know that we'll be watching.