The Hokies picked a great weekend to not play football. Four top-ten teams lost and chaos reigned. This Saturday however, Virginia Tech takes the field again. Tech faces a North Carolina team that this season has somehow failed to meet already lower expectations. In fact, with the unexpected improvements at programs like Wake Forest and Virginia, the Tar Heels are currently the lowest-rated ACC team in the Massey composite computer rating at 92nd.
Given all of that, an outsider might not be surprised at the 21-point spread in the game. But Hokies fans would be right to be wary about whether UNC has truly fallen so far, or whether the team will find a spark to pull the upset.
This week the (nearly) full set of statistics are available...
Where the Season Stands
Virginia Tech is currently 5-1. The actual and predicted score difference and odds of winning each game are: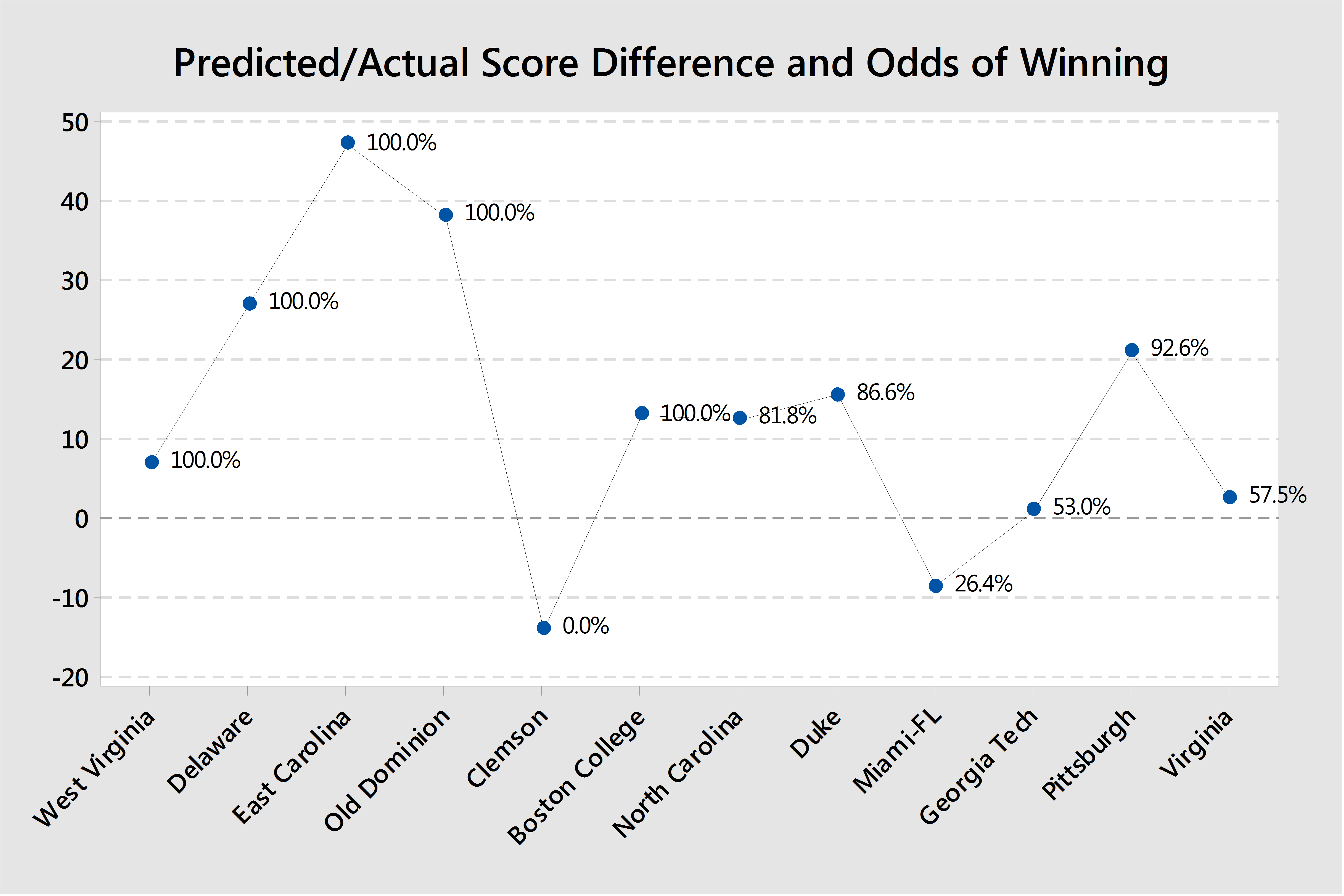 The odds of each possible regular season win total are now: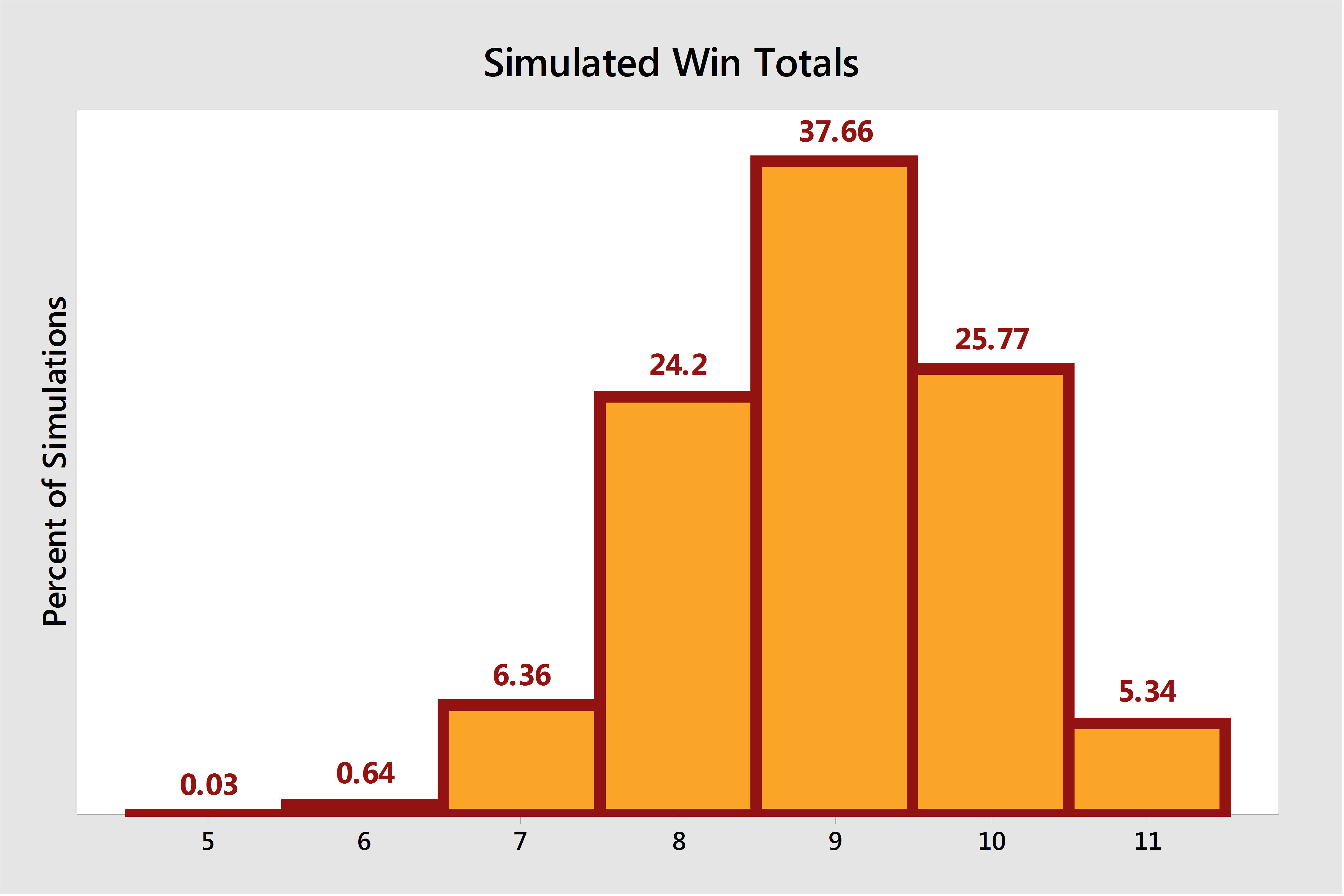 Miami remains the biggest hurdle for the remainder of the season. However, the November matchup usually ensures the U will no longer be "back" by that point, and the Hokies should be just another blip on their late season downturn. Perhaps the biggest surprise is that both Georgia Tech and UVA are currently predicted to be close matchups. Although, that considers UVA to be an away game and it realistically isn't fair to give them the full home field advantage since Hokie faithful will pack their stadium. At this point, an 8-10 win season is the most likely outcome and a bowl is almost a certainty — winning out and going to the ACCCG is considerably more likely than a 5- or even 6-win season.
Rankings and Computer Predictions
The computer rankings and predictions for each team:
Computer ratings nearly universally agree that the Hokies are a very good team this year, but disagree on exactly how bad the Tar Heels have become. Some feel they are a mid-50's team while others believe they may be among the worst teams in the country. Generally, however, most prediction computers think this will be a closer game than the spread suggests. The odds of a 21-point favorite winning is 92.6%.
Next is a look at any overall offensive or defensive advantages: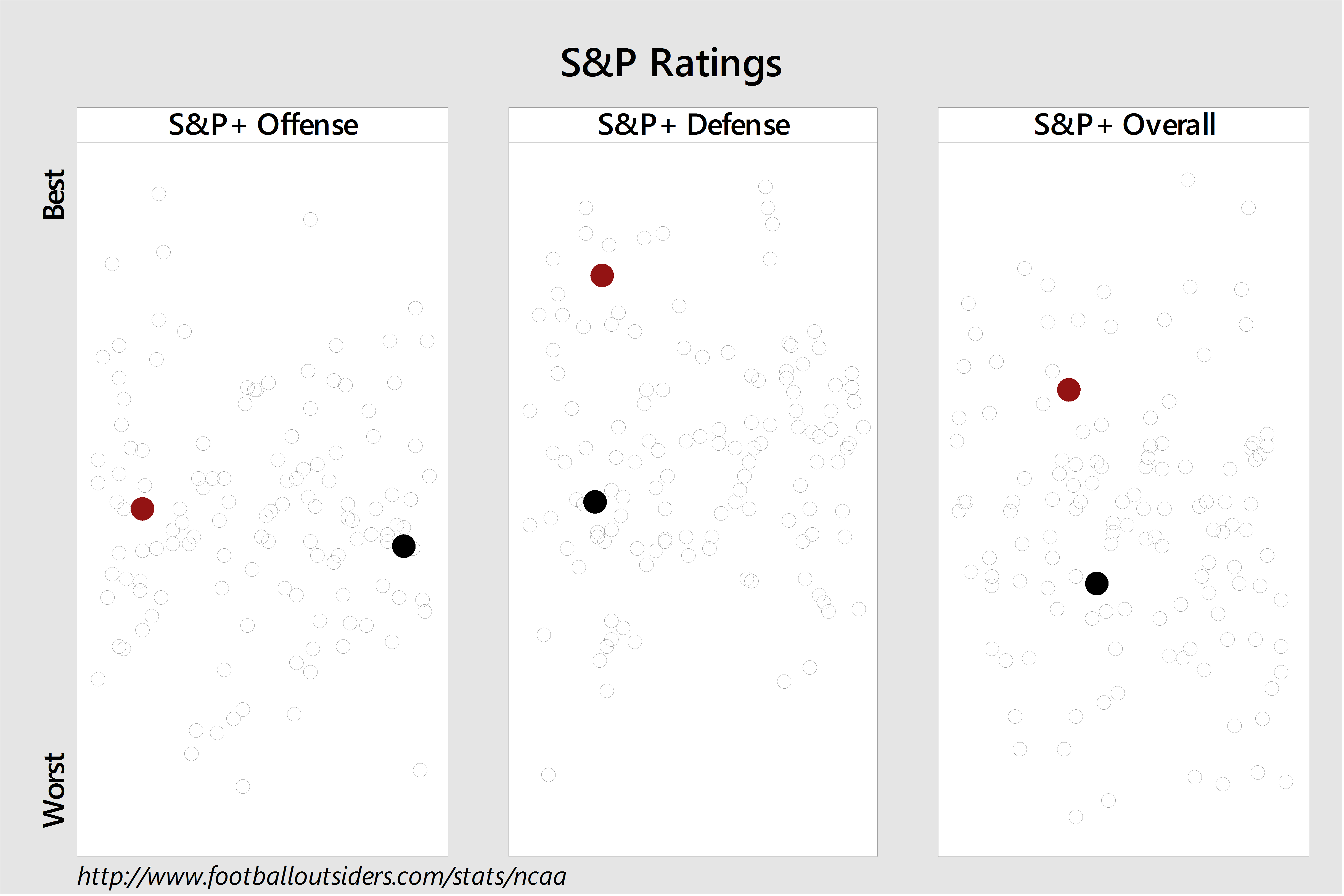 Plenty of attention has been on the inept Tar Heel offense, but statistically the unit is middle-of-the pack and hardly behind the Hokies. However, Tech enjoys a very significant defensive advantage.
When Virginia Tech Has the Ball
Here is an explanation of S&P+ ratings, and FEI ratings. All statistics are now opponent-adjusted.
Who has the advantage in the passing and rushing game when the Tech offense has the ball?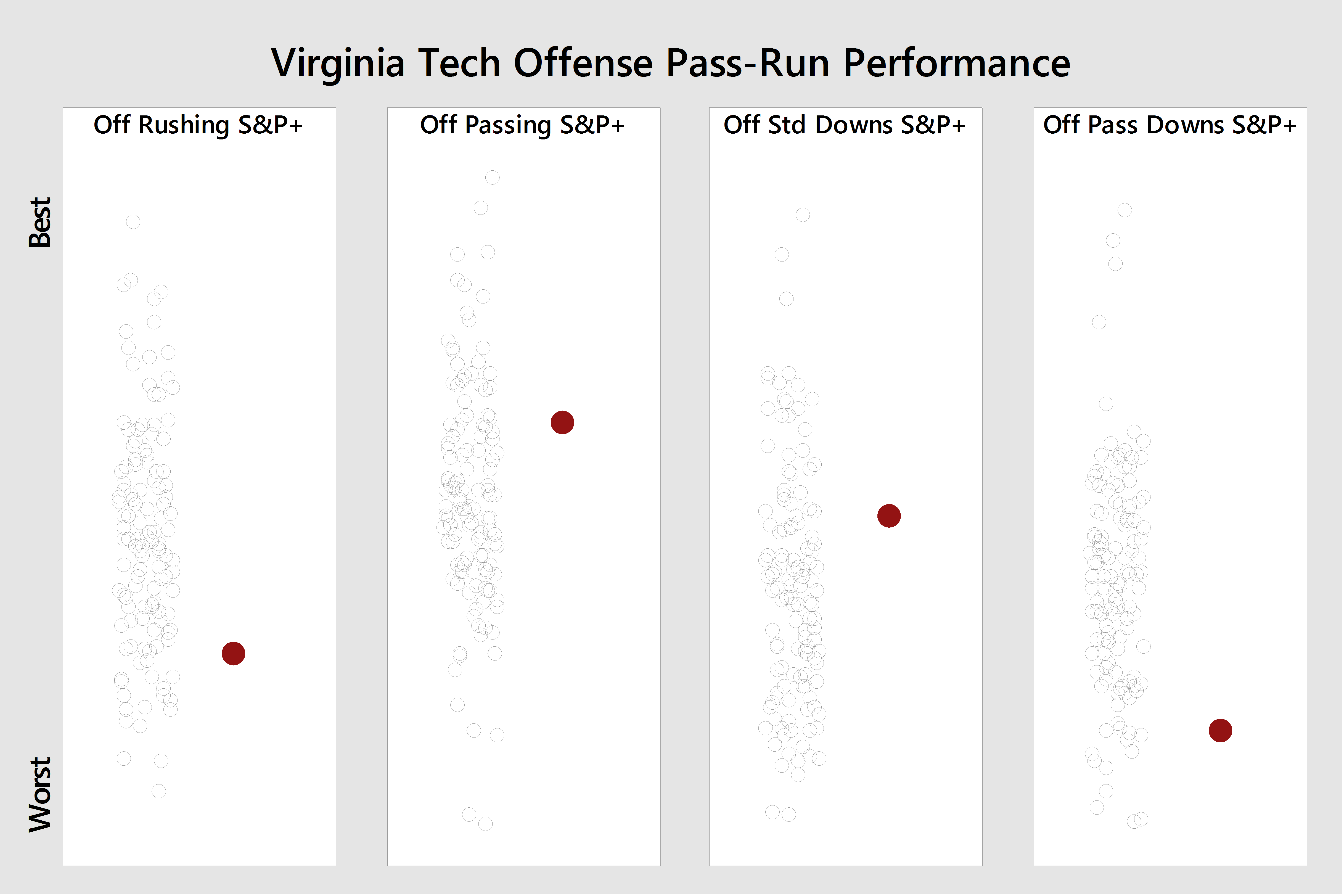 The Virginia Tech run game has been unimpressive thus far, no matter how great it has been to watch Coleman Fox scamper through second-string defenses (garbage time plays are not included in ratings). But the pass game has been exceptional, and presents a huge mismatch for a North Carolina defense among the worst in the country. More promising, the poor performance of the Hokies in passing situations aligns well with equally poor performance of UNC defending those plays.
Now let's take a look at the FEI personality traits of the Hokie offense versus the Tar Heel defense: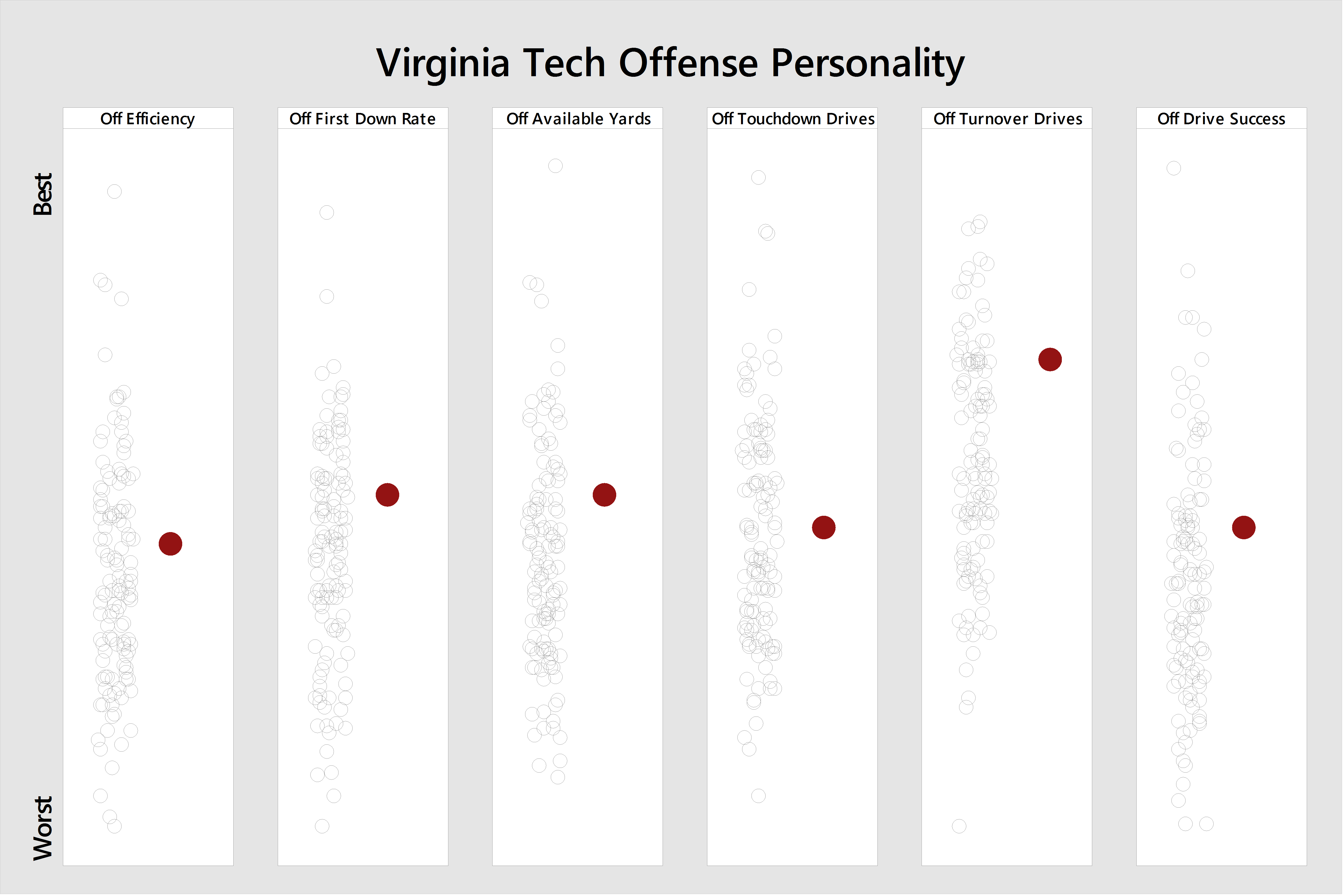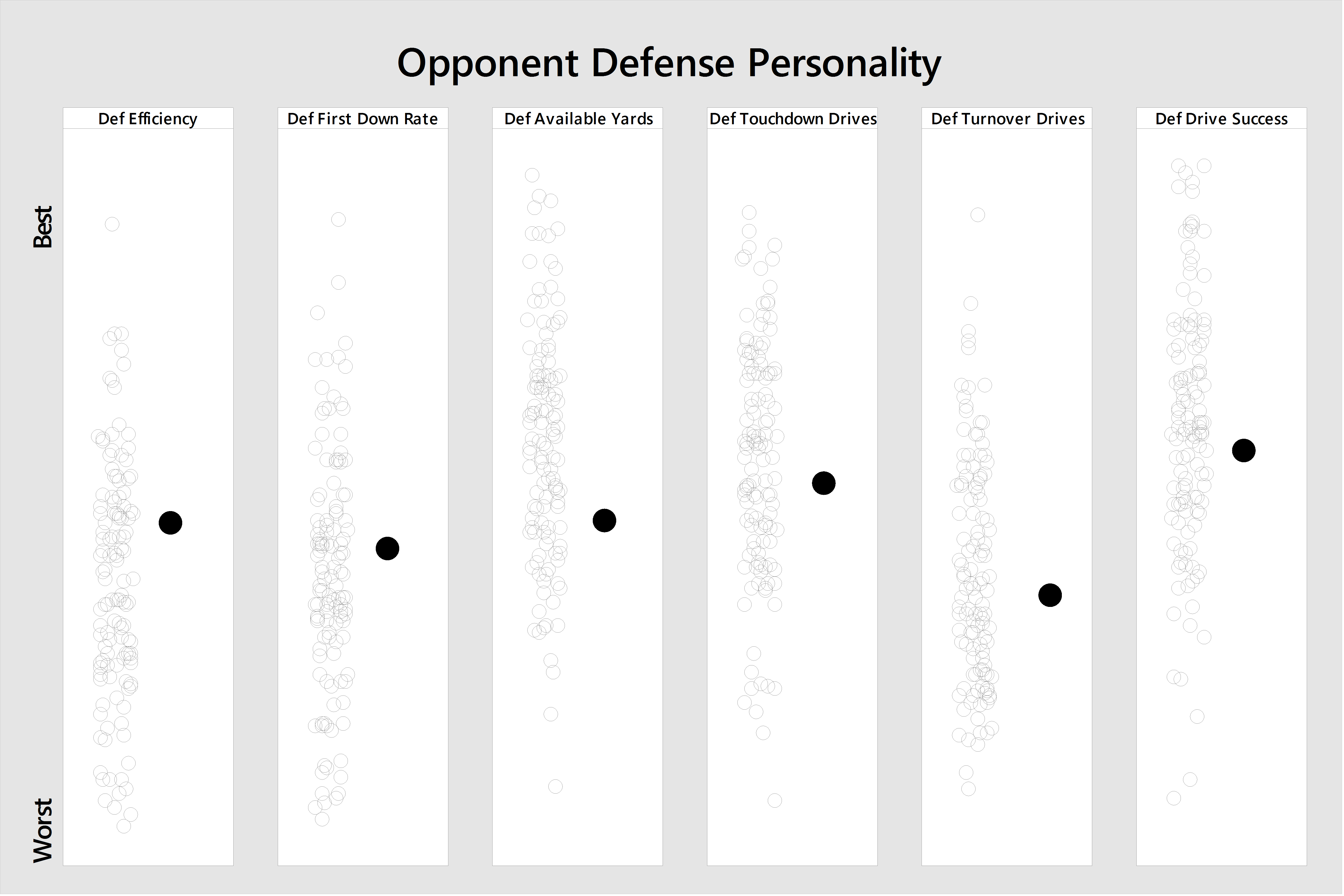 The Hokies have been fairly good at not turning the ball over, and achieve a high percentage of available yards. This matches up well with a North Carolina defense that is not particularly strong in any one area, but is especially poor in giving up a high percentage of available yards. If Tech doesn't put up points, look for it to be in stalled drives and not quick 3-and-outs.
The Virginia Tech offense is closest in personality to:
Washington State
UConn
Buffalo
The North Carolina defense is closest in personality to:
Tulane
Arizona State
Toledo
When North Carolina Has the Ball
Again, examine pass-run comparisons first: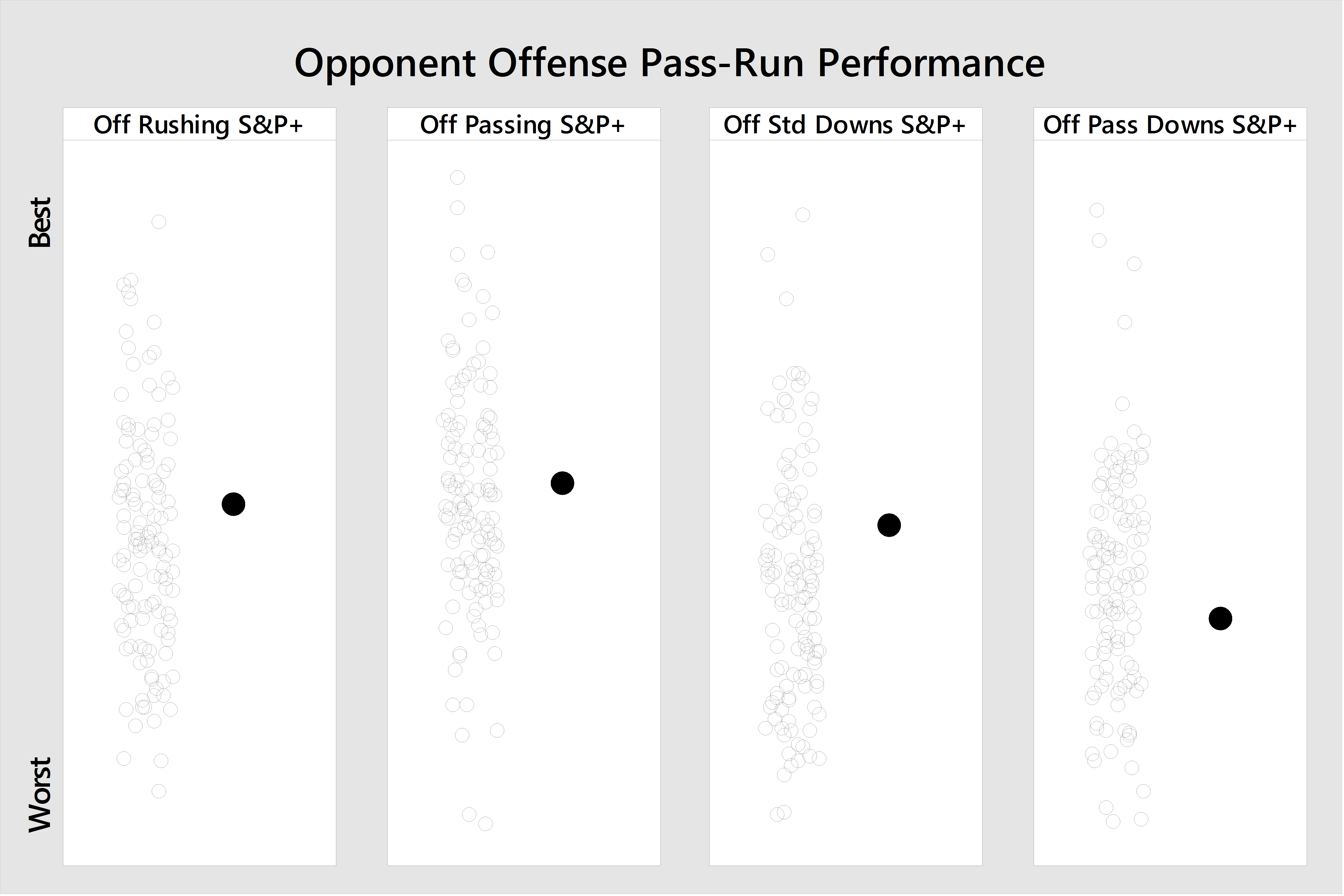 While the Tar Heels don't excel in any offensive situations, the Hokies are also fairly balanced, but feature a solid run defense. If yards come, they'll likely be through the air.
As for personality traits: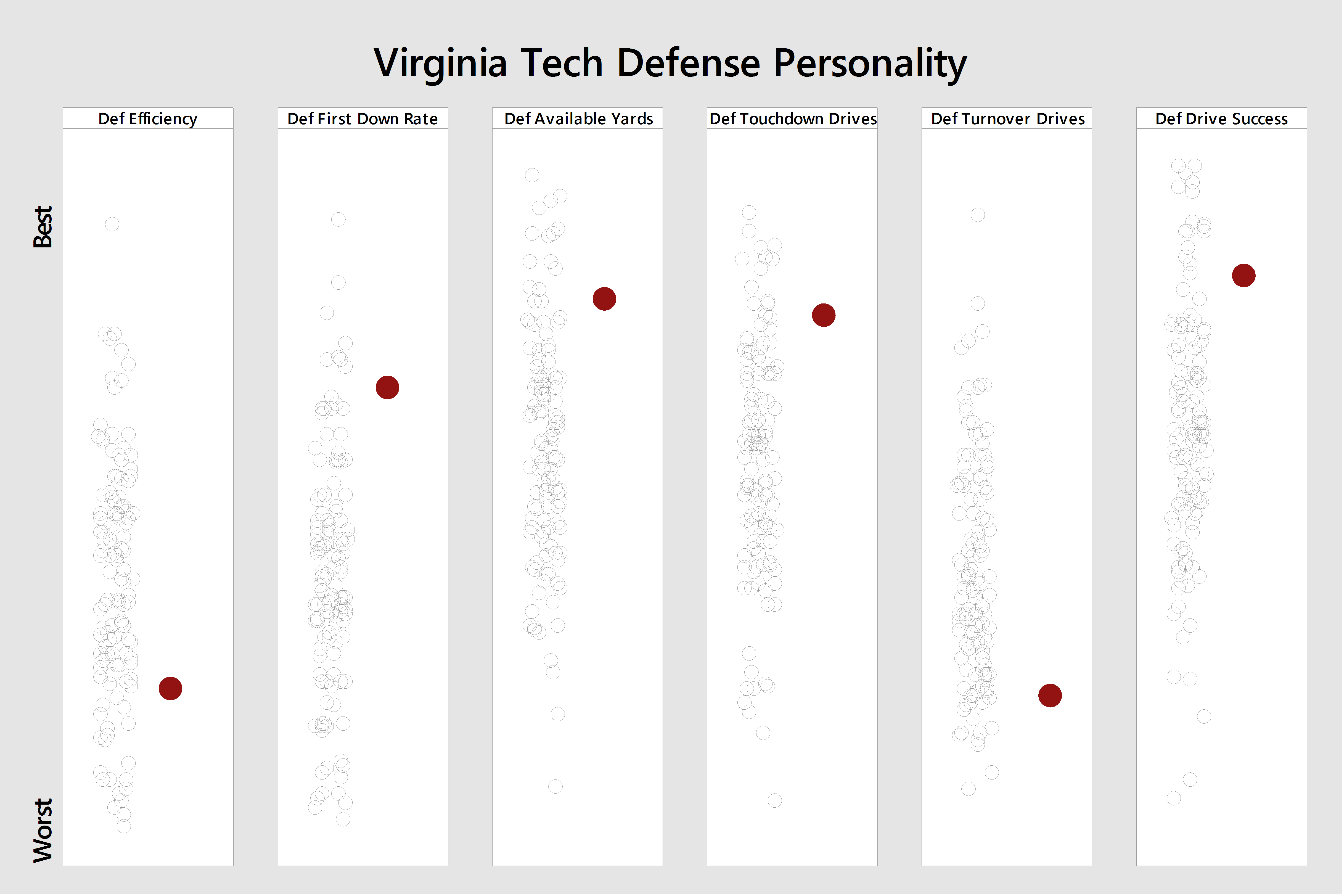 North Carolina struggles in most major areas, with the exception of percentage of drives resulting in turnovers where they are middle of the pack. However, the Hokies' defense has been excellent at stopping other teams but has not created many turnovers. Look for the Tar Heels to not turn the ball over, barring an unexpected hurricane.
The Virginia Tech defense is closest in personality to:
Notre Dame
Ohio State
Duke
The North Carolina offense is closest in personality to:
Pittsburgh
Indiana
Wake Forest
Who To Watch Out For
When a team is struggling on both offense and defense, finding playmakers can be a challenge. However, it is well known that there is talent in Chapel Hill, even if it is not translating into on-field success.
P Tom Sheldon is 5th in the country in yards per punt, averaging 46.41 yards. Given the offensive struggles, Sheldon is likely to showcase that ability regularly on Saturday.
LB Cayson Collins is 7th in the country with 40 solo tackles on the season.
VT K Joey Slye has a higher touchback percentage than all but six teams have as a field goal percentage; 2 of his 3 non-touchbacks were an intentional squib and an onside kick.
Statistical Key to the Game
The Tar Heels need two things to happen in order to pull off the upset: 1) They need to find a way to get their offense to put up points, and 2) Stop Virginia Tech from feasting on their weak defense. Given the statistical tendencies pointing to the Hokies gaining plenty of yards, the biggest threat to their chances would come from failing to convert scoring opportunities into points. My key to the game will be points per trip inside the opponent's 40-yard-line: anything over 4 and Tech wins easily.
Statistical Prediction
This game makes me nervous, mostly because I still don't believe UNC will stay down this far no matter how many injuries they have suffered. That said, the Hokies are rested and will game plan well, and barring some bad luck or missed opportunities will cruise to victory and go ahead and lock up bowl eligibility.
Virginia Tech 35, North Carolina 17
As always a thanks to Football Outsiders, cfbstats.com, and Minitab Statistical Software.