The Camping World Bowl provides the Hokies an opportunity to beat a ranked team on a national stage, an opportunity that only comes around occasionally. Right or wrong, big bowl game wins result in much higher expectations for the next season and a convincing win over Oklahoma State could propel the team to a top 15 ranking to start 2018. A big loss, however, would have the opposite effect.
Getting that big victory will be a huge challenge, especially for Bud Foster and the Lunch Pail Defense. That unit faces one of the top offenses in the country, and a lethal passing attack. Obviously Tech's defense will need to keep Mason Rudolph in check, but what are the prospects for the offense to take away the spotlight? Or for a big special teams play?
Where the Season Stands
Virginia Tech finished the regular season 9-3. The actual and predicted score difference and odds of winning each game are:
10 wins is certainly an arbitrary mark of success, but it's still an impressive one. At the end of the regular season, only 17 teams had already reached this mark; another 13 have reached it or have a chance to reach it via conference championship games or bowl games. So while a narrow loss to Oklahoma State would not reduce the Hokies' rating, a 10-3 final record would certainly feel like an exclamation point on a pretty successful season for a very young team.
Rankings and Computer Predictions
The computer rankings and predictions for each team:
Computers actually see this as a closer matchup than Las Vegas, which is interesting considering the loss of Cam Phillips did not pull the spread back away...in fact, since opening it has moved considerably towards the Hokies. Oh, and that computer that thinks VT is the 49th best team in the country? It is NCAA Game Simulator, literally the least accurate computer in the Massey Computer comparisons. The odds of a 4.5-point underdog winning is 36.8%.
Next is a look at any overall offensive or defensive advantages:
Oklahoma State's offense isn't above average or good or even great — it is unquestionably elite, expected to score 41.7 points against an average team (VT is not an average team on defense). Fortunately for the Hokies, the Pokes' defense is fairly pedestrian, as the Hokies will certainly need to score some points to win this one.
When Virginia Tech Has the Ball
Here is an explanation of S&P+ ratings, and FEI ratings. All statistics are now opponent-adjusted.
Who has the advantage in the passing and rushing game when the Tech offense has the ball?
There's no question that the Hokies' offense is not exactly intimidating, and the run game has been below average all season. While the passing game has offered some hope, veteran WR Cam Phillips — Tech's all-time leader in receiving yards (3,027) and receptions (236) — will not be playing (sports hernia surgery). It's up to a group of mostly freshman to carry the receiving corps. If a player like Sean Savoy doesn't step up big time, the team could be in trouble.
Offensive and defensive line performance are compared using Football Outsiders' metrics:
Now let's take a look at the FEI personality traits of the Hokies' offense versus the Cowboys' defense:
The highlights for Tech's offense have been avoiding 3-and-outs (first down rate), and not turning the ball over. Josh Jackson has received his fair share of criticism, but for a little perspective, consider that only one freshman has a higher QB rating: Jake Fromm, who led Georgia into the playoffs. 45 quarterbacks have thrown more interceptions. He has two fumbles on the entire season. If none of the other QB's on the roster next season are any better, Tech is in pretty good hands.
The Virginia Tech offense is closest in personality to:
Utah
Temple
Middle Tennessee
The Oklahoma State defense is closest in personality to:
Georgia Tech
Georgia State
Texas A&M
When Oklahoma State Has the Ball
Again, examine pass-run comparisons first: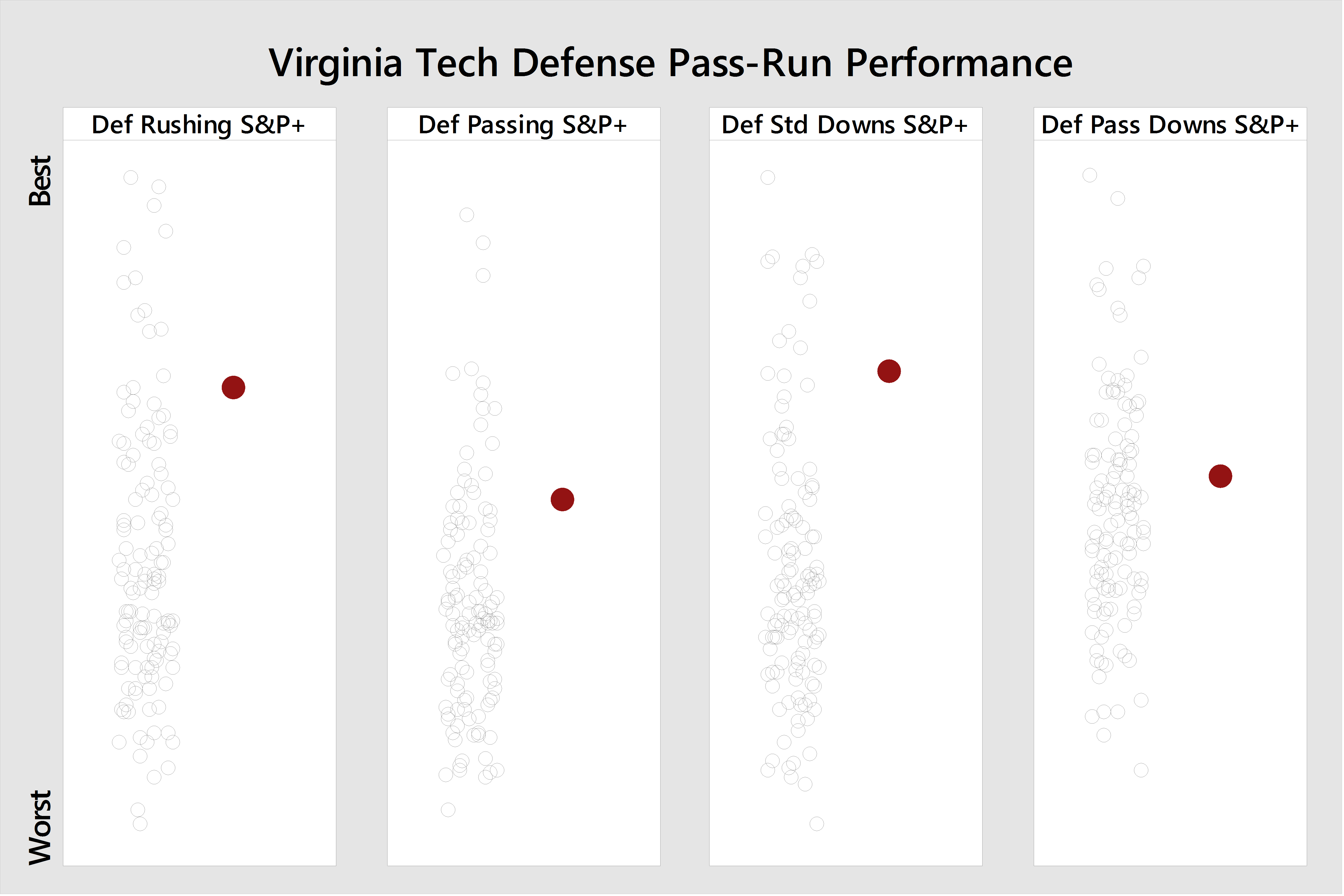 This is the matchup to watch: the elite Oklahoma State offense against the elite Virginia Tech defense. There is no question that the Cowboys like to turn to Rudolph to create boatloads of passing yards, but this opens up a very good rushing attack as well.
Offensive and defensive line performance are again compared using Football Outsiders' metrics: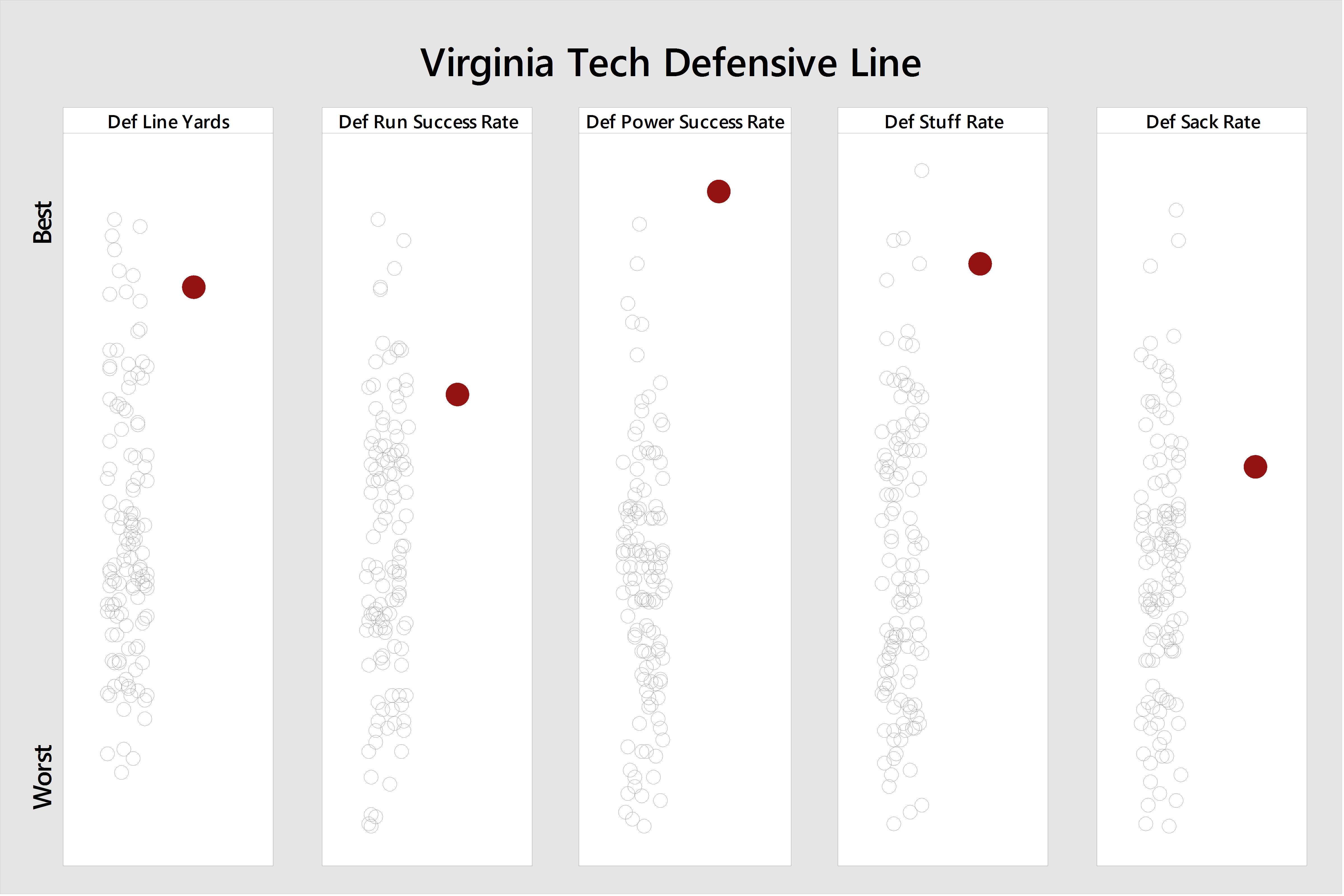 As for personality traits: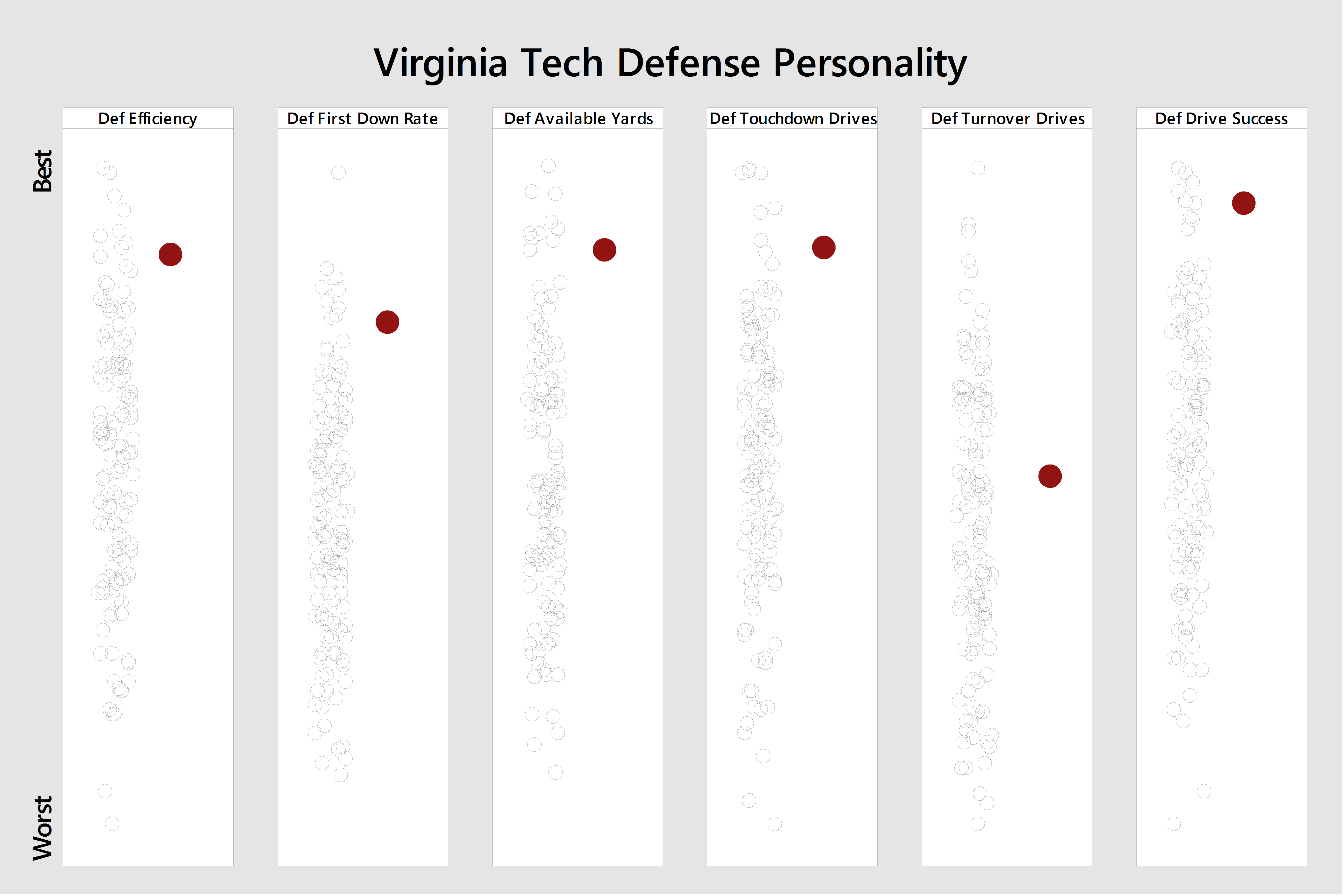 Those personalities couldn't be much more aligned. The Cowboys excel at everything except turnovers, and the Hokies excel at...everything but turnovers.
The Virginia Tech defense is closest in personality to:
Penn State
Auburn
Washington
The Oklahoma State offense is closest in personality to:
Central Florida
Army
Memphis
Special Teams
First we look at the Hokie's kicking units: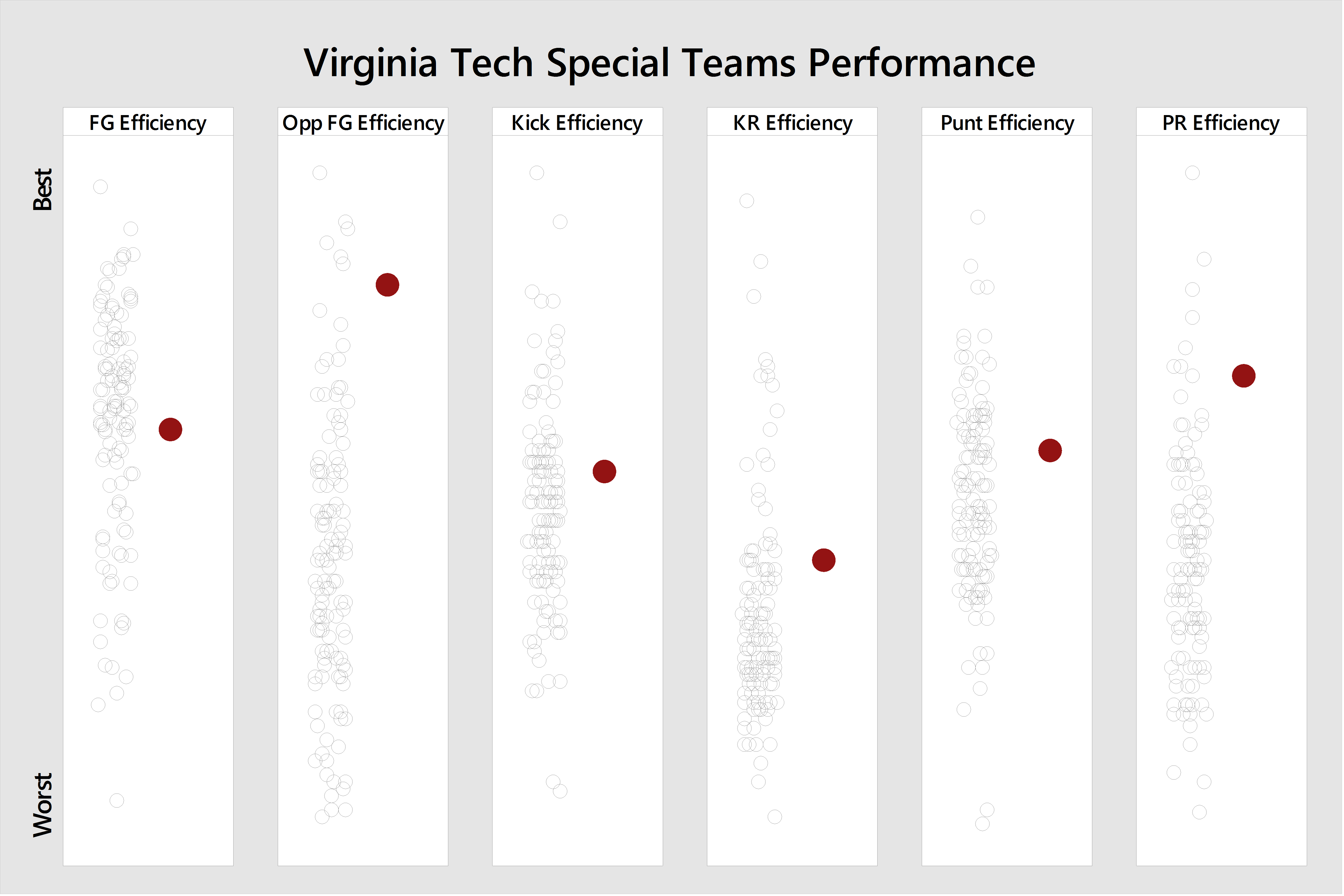 When James Shibest was hired to join Justin Fuente in Blacksburg, I pointed out how successful he had been at Memphis and suggested the team would soon return to elite special teams. While field goal kicking and punting have been pedestrian this season, the team has excelled at everything else to the extent that as a unit they rank No. 8 in FEI's special teams rating.
When the Cowboys kick: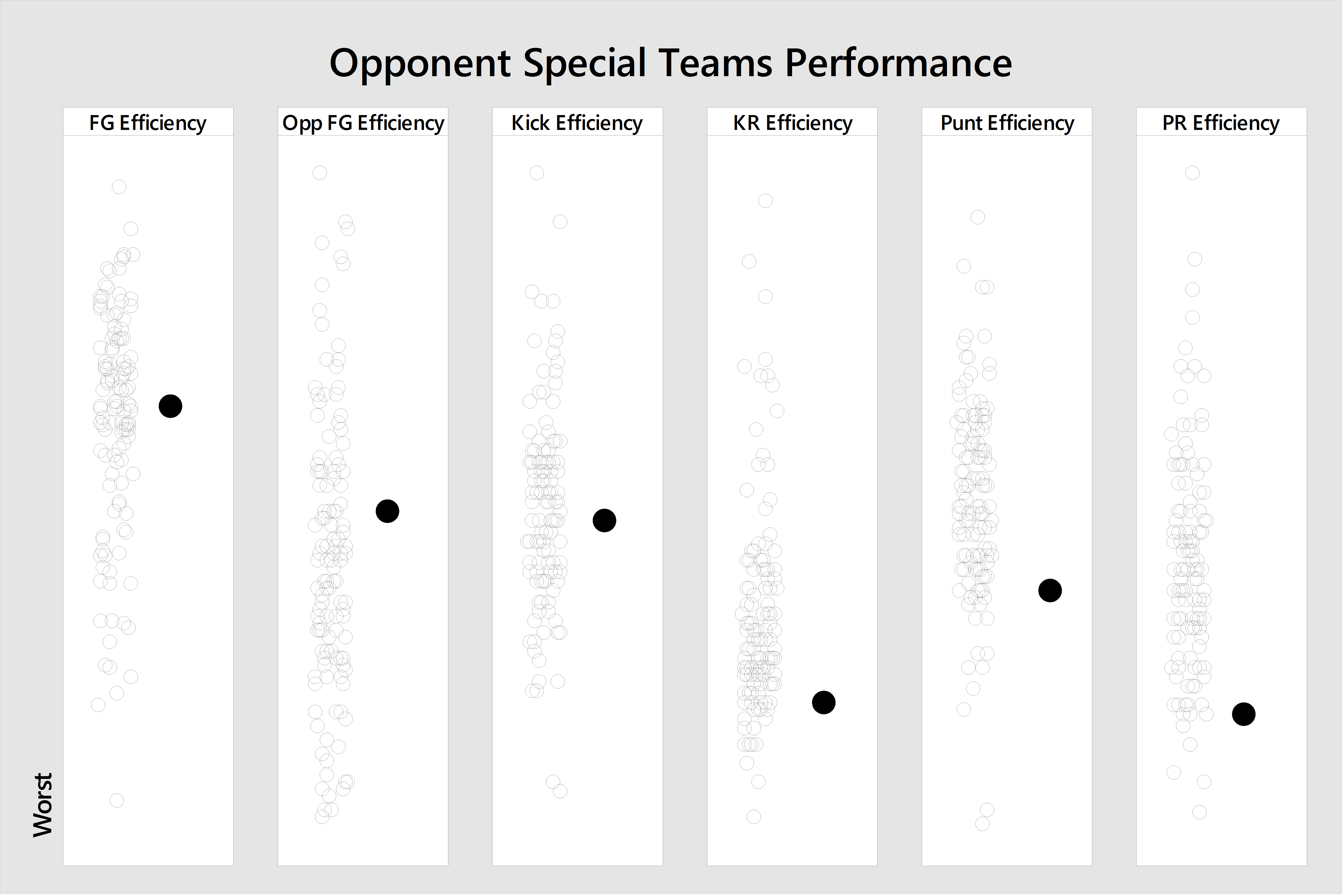 Want hope for a game-changing play that could spark a Hokies' victory? I present the 124th rated unit.
Who To Watch Out For
No need to watch out for players on the defensive side of the ball with what OSU brings on offense:
Rudolph is a production machine behind center: 1st in the nation in yards at 4,553 and YPG at 379.4, 3rd in QB rating at 170.01, 3rd in YPA at 10.0, and 5th in touchdowns with 36. The good news is he's only accounted for 56 rushes for 29 yards on the season.
All those passes have to go somewhere: WR James Washington leads the nation with 118.6 YPG and is 7th with 12 touchdowns.
RB Justice Hill still gets the ball 20 times a game, and is 17th nationally at 112.25 YPG.
Statistical Key to the Game
It would be very surprising for Rudolph to not pile up some yards in this game. While I think the Hokies' offense will be improved over how they played to close the season, I don't believe they can win a shootout. To prevent one, the Hokies will need to force turnovers; get 2 and they have a decent chance, and with 3, Tech probably leaves Orlando with a win.
Statistical Prediction
While the matchup of Foster's defense against the Cowboys' offense is not a good one, I think the unit can at least keep the Pokes' O in check by creating disruption on the line and generating a turnover or two. I believe the Hokies' young receivers and Dalton Keene will step up in this game. The time off between the Virginia win and kickoff provided an opportunity for Jackson to heal his body and potentially return to early-season form. A big special teams play ends up being a difference maker, and Tech wins a thriller for win No. 10.
Virginia Tech 30, Oklahoma State 27
As always a thanks to Football Outsiders, cfbstats.com, and Minitab Statistical Software.