The Clemson game didn't turn out the way Hokie Nation wanted, but fans can step back from the edge of the cliff just a little bit. The Tigers are arguably the best team in the country, only Alabama challenges them at the moment. While the Hokies wanted the upset, virtually all would have agreed that winning would in fact be an upset. At the end of the day, Virginia Tech finished with more yardage than Clemson, and with less turnovers/mistakes, it is a more competitive game. Let's let on-field success drive better recruiting, and trust that the many freshman and sophomores on the field need a little more development time under Justin Fuente.
On to Boston College, a team that features a very good defense paired with a Scot Loeffler offense because someone in Massachusetts is allergic to points.
Where the Season Stands
Virginia Tech is currently 4-1, and still controls their destiny in the ACC Coastal division. The actual and predicted score difference and odds of winning each game are:
The odds of each possible regular season win total are now: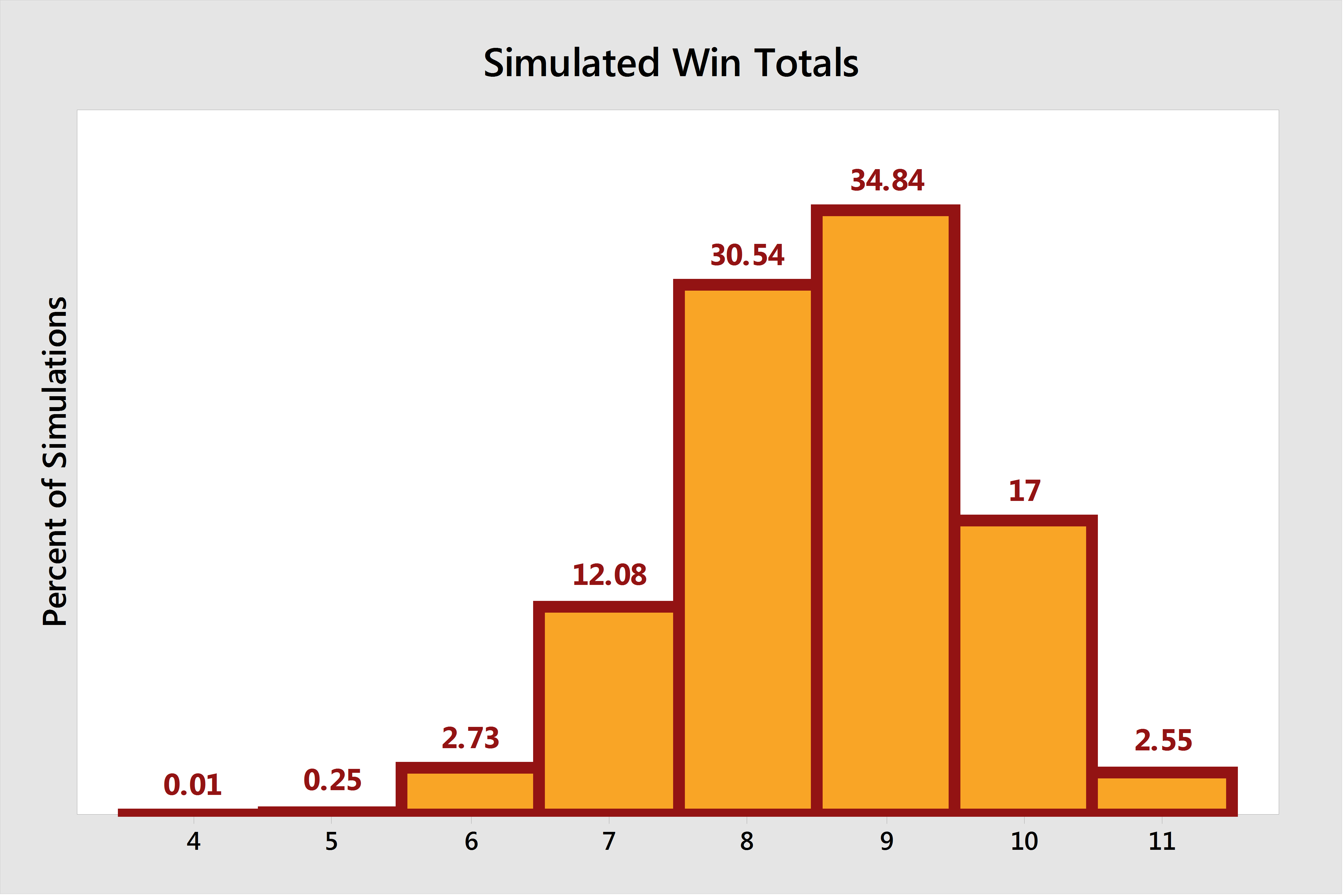 The Hokies sit at a 99.74% chance of continuing the bowl streak, but sights are obviously set on higher goals than bowl eligibility. The one record that guarantees a rematch against Clemson is 11-1, with a 2.55% chance...get there and defeat Clemson in the ACCCG and a playoff berth is still a possibility.
Rankings and Computer Predictions
The computer rankings and predictions for each team:
Computer ratings overwhelmingly favor Virginia Tech in this game, with even the most pessimistic still predicting a 7-point win and some predicting as high as 28 points. The odds of a 16.5-point favorite winning are 87.9%. S&P+ projects an even higher 92.6% chance of Virginia Tech winning.
Next is a look at any overall offensive or defensive advantages:
Given Boston College features one of the most impotent offenses in the entire country, it may not come as a surprise that screen indulger Scot Loeffler remains the coordinator for the Eagles. However, the Boston College defense remains challenging and will be a good test for Josh Jackson and the Hokies offense.
Who To Watch Out For
It's hard to tell if there are playmakers on the BC offense because the unit rates so poorly statistically, but the team is not without talent:
Lukas Denis is tied for the national lead in interceptions (5), and complements those picks with 4 pass breakups.
Mike Knoll is 2nd in the country in punting - not distance of course, but in terms of how often he has to punt: 7.6 per game! There are only 13 QB's in FBS that throw for more yards per game than Knoll punts.
Michael Walker is 49th in the country in kickoff return average at 23.26 yards. But who cares? Joey Slye who is first in the country in touchback percentage at 96.97%. There are only three players in the country with more tackles than Joey Slye has touchbacks.
Statistical Key to the Game
This game should be an easy win, but as with any game nothing is a given. While it would be a big surprise if the Eagles were able to move the ball consistently, the Hokies will still need to put points on the board. Not to overreact to Clemson, but it feels like turnovers are the one way Boston College could pull off the upset. Win or tie the turnover battle and Tech should cruise.
Statistical Prediction
The season gets back on track with a dominating victory. Josh Jackson throws for over 300, and Coleman Fox makes another late game entry to delight me.
Virginia Tech 37, Boston College 10
As always a thanks to Football Outsiders, cfbstats.com, and Minitab Statistical Software.