By many measures, the Hokies' matchup with Boston College could have gone either way as the teams posted similar yardage totals, conversion rates, penalties, etc. But no team that loses the turnover battle with a -4 margin has any business competing for a win, and in some sense a 7-point loss is nearly a miracle. For the most part, who recovers a fumble is a 50/50 proposition and it contributes a huge amount to luck in a game. While some interceptions involve the same luck (think of a ball bouncing off a receivers hands and straight to a defender several yards away), many are directly due to poor decisions or throws by the quarterback.
I'm not going to rehash in detail what so many have already called out — the poor throws and decision making — but rather bring this up to say those turnovers were not a fluke. Virginia Tech lost the game, and every other team on the schedule will watch the film and prepare to exploit the glaring shortcomings. It is deeply concerning that the flaws in Ryan Willis' game did not appear to improve since the end of 2018, and his starting — and completing — the first game tell me at least one of two things must be true:
Justin Fuente is loyal to his QB to a fault (a RB seems to get a much, much shorter turnover leash).
Justin Fuente isn't stupid and is playing the QB that gives the team the best chance to win, which is a significant indictment of Hendon Hooker and Quincy Patterson.
I don't know which one I hope is the case. Perhaps we will learn more against Old Dominion.
Unless you are completely new to Virginia Tech football, and maybe college football in general, you are well aware that in 2018 the Monarchs upset the heavily-favored Hokies and the game wasn't particularly close. The Massey computer ratings examine the most "extreme" results each season, and from that I'd like to offer some perspective:
The ODU loss wasn't event the biggest upset of the season, which by a large margin was Akron's defeat of Northwestern.
On the flip side, the Hokies' lopsided defeat of Duke was the 15th biggest upset of the year so Tech also delivered a surprise victory.
What really matters at this point is whether 2018 VT-ODU will be a statistical blip on the college football radar or the beginning of an embarrassing 2019 storyline. Could the Monarchs pull it off again?
Where the Season Stands
Virginia Tech is currently 0-1. The actual and predicted score difference and odds of winning each game are:
The odds of each possible regular season win total are now:
The drop in odds of a win against Virginia is most difficult to swallow. Preseason expectations still play a role, but certainly the Cavaliers gave much more reason for optimism in week one than the Hokies did.
Based on FPI, the odds of each ACC team beating the ACC teams on their schedule is: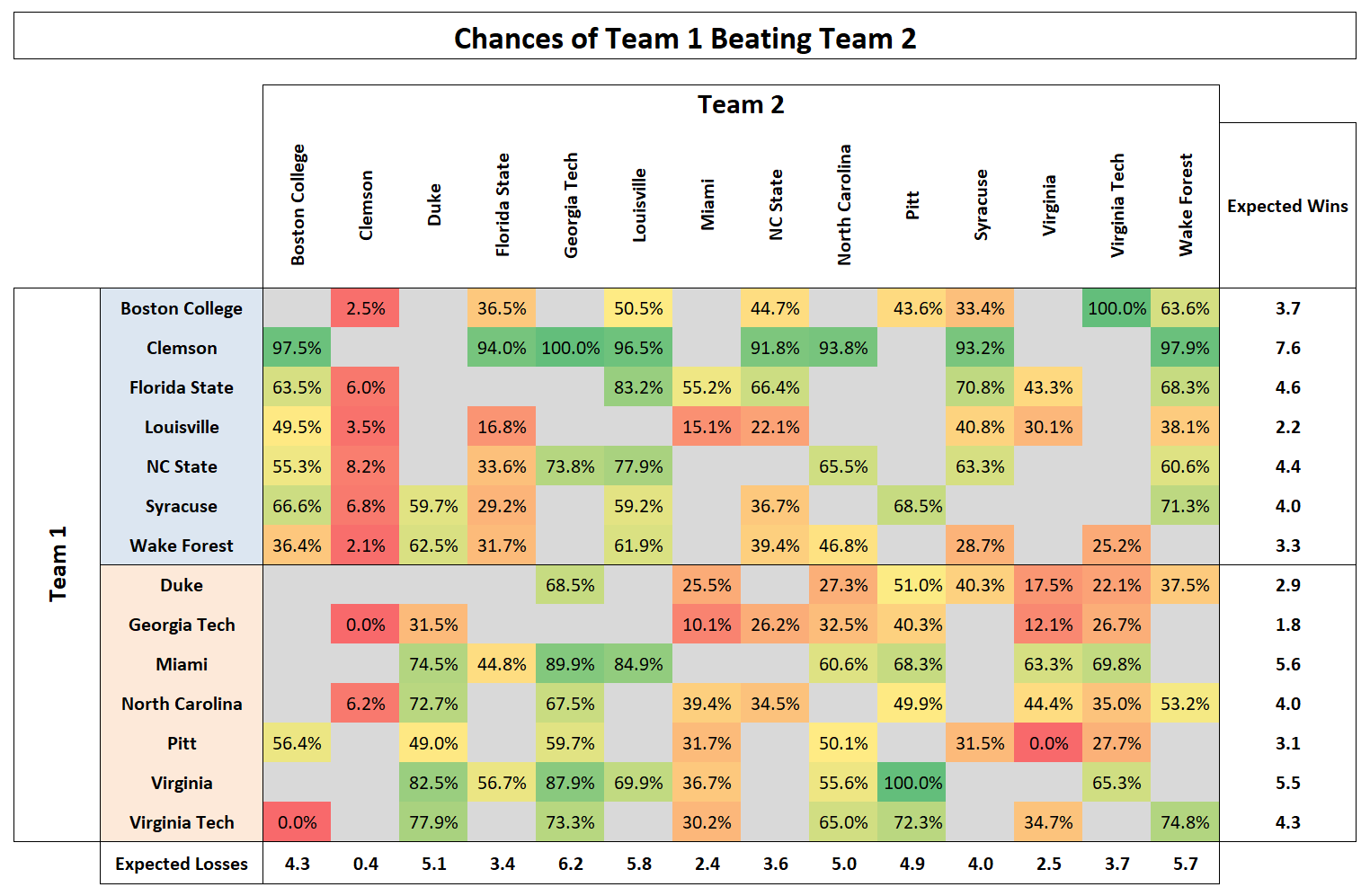 This translates to each team's odds of every possible conference record as:
What a difference a week makes...while the Hokies started the season as a near co-favorite in the Coastal, the team is now a clear third behind the Hurricanes and Hoos.
Virginia Tech Leads the Nation In...
Not quite nation-leading, but lost in the pain last Saturday was a high-level of discipline resulting in just 4 penalties for 20 yards, ranking 7th nationally. In what I'm sure was a frustrating game for the players on the field, this is one highlight.
In 2018 the Hokies averaged 5.8 penalties per game for 54.9 yards (70th nationally), highlighted by a 7/95 line against Old Dominion.
Rankings and Computer Predictions
The computer rankings and predictions for each team:
Last season's unexpected result aside, Virginia Tech is a much better team than Old Dominion. Nothing is certain, obviously, but let's not kid ourselves into thinking this would not be another huge upset. The odds of a 28-point favorite winning is 96.7%.
Who To Watch Out For
Oshane Ximines — who posted 2.0 sacks and disrupted the Hokie offensive line in 2018 — has graduated. Other significant statistical producers from the 2018 upset, including the RB and both WR's who tortured Bud Foster's defense and eclipsed 100 yards, are gone. Redshirt junior quarterback Blake LaRussa, who passed for 494 yards in last season's disaster, moved on to seminary school. So, who SHOULD fans be watching out for?
Heritage HS product Lala Davis topped the Monarchs in carries against Norfolk State (16 carries, 62 yards, 1 TD), and Eric Kumah had 4 catches for 65 yards.
Statistical Key to the Game
Old Dominion is replacing plenty of key players, and despite the obvious warnings, are unlikely to give the Hokies a run for their money. But there's a formula for a major upset, and it involves ball control to limit possessions and turnover luck. The Monarchs call their own plays and can run clock if they want, so not losing the turnover battle is really critical. If the Hokies can either win or tie in turnovers, it's hard to see a repeat of the debacle a year ago.
Statistical Prediction
I know how it is easy to be pessimistic, and Old Dominion did not exactly squeak by in 2018. But it was still a fluky result (ODU finished the season rated 18 points worse than VT on a neutral field), and most of the big playmakers from that team are gone. The Monarchs won't forget 2018, but neither will the Hokies and revenge will be very, very sweet.
Virginia Tech 52, Old Dominion 20
As always a thanks to ESPN, cfbstats.com, and Minitab Statistical Software.