By:

Joe Lanza
PUBLISHER
on April 10, 2010, 6:22 PM
Moving day at the Masters you say? Pfft, the Hokies held their first public scrimmage in Blacksburg today and thanks to campus correspondent James (if you're already not following him on Twitter you should be: @hokie8807.) we've got a rundown of everything that happened.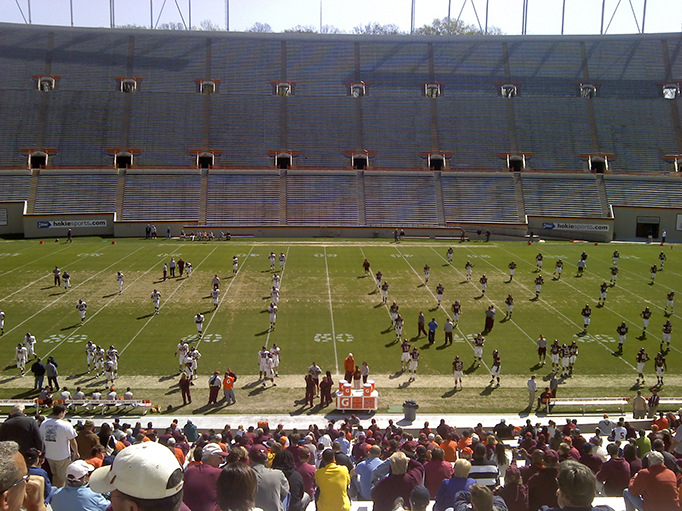 Let's do it.
The scrimmage began with some special teams work. Brian Saunders boomed a couple punts deep on the first team. Logan Thomas played as a blocker for the second team.
Tech kicked 3 field goals on the day, all were 32 yard makes by Justin Myer, Cody Journell, and (the mysterious) unidentified #14 (can anyone help us ID him?).
Nothing new from Tyrod or Ryan Williams. Both seemed to pick up right where they left off last year.
Darren Evans looked like he took a big step in the right direction towards getting over the mental hurdle (literally). On his second play, he ran off the right tackle and proceeded to hurdle a defender, resulting in about a 15 yard gain. His pass protection might be a little rusty however, he whiffed on a block on the next play.
With Tyrod in, Tech ran a lot of two running back sets from the shotgun (Tyrod flanked by either Williams and Oglesby or D. Evans and Oglesby).
On the 35 yard touchdown play from Taylor to Coale, the pocket collapsed and Tyrod scrambled out to his left. The offensive line regrouped and did a nice job picking off defenders in pursuit of Tyrod, giving him time to loft a pass over the safety for the TD.
Marcus Davis got tons of reps today with both the first and second team. He nearly had what would have been a 65 yard touchdown on a Go route, but the pass from Logan Thomas was just beyond his fingertips.
Ju-Ju may have had the better stats today, but I am still more impressed by what I see out of Logan Thomas. The guy just looks like he should be a great quarterback. He stands poised in the pocket, has a high, quick release, and a gun of an arm. He makes quick reads and is decisive with the ball. While not as fast as Tyrod, he showed the ability to get free, square up, and launch the ball down the field.
Ju-Ju still seems hesitant at times to me. However, in addition to the touchdown, he did have another very nice pass to Boyce on a quick corner route in which he laid the ball perfectly over Boyce's outside shoulder.
No position stood out in particular on the defense. The first couple plays (2nd team D) had a couple guys caught out of position. However, what this team lacks in experience, they appear to make up for it in speed. I saw defenders close on the ball very quickly all day.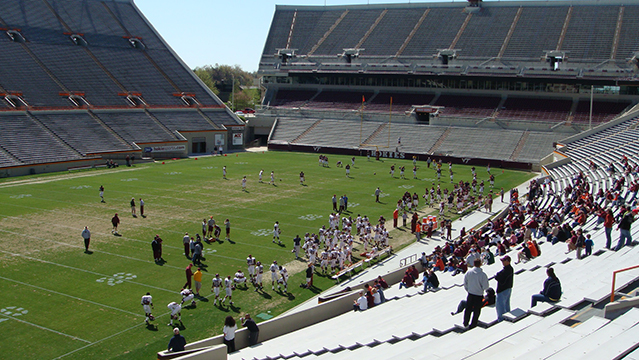 Worsham has seen better days.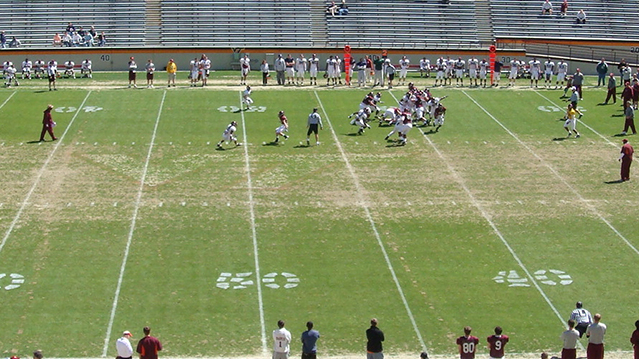 Tony Gregory is the ball carrier, cutting back to left.
The only addendum to James' notes above is that Painter suffered (what I believe is) a minor injury.
On the injury front, guard Vinston Painter injured his left knee on his third play of action. Tech's sports medicine staff diagnosed Painter with a subluxation of the patellar tendon. Essentially, the tendon popped out of place and then popped back into place. Painter will be re-evaluated on Sunday.
I'm encouraged to hear that the kicking game was solid throughout the day and Darren is getting his legs underneath him again. It seems like Josh O is going to play a prominent role in the offense. Having two backs that can provide Tyrod a check down and/or additional pocket protection will allow us to stretch the shit out of the field. Finally. While the defense is green, here's one thing to chew on. When's the last time we can say our defense practiced against a potent offense day in and out? Yeah, it's been a while. Hopefully it will give them more game like experience and hastens their progression.
From Hokie bloggers elsewhere: furrer4heisman has his thoughts on the high amount of carries for David Wilson, Kyle Tucker has the day's statistics and VT Hokie Fans have a gallery of pictures.