Arguably Stanford's most impressive win of the 2010 season was against #15 Arizona, a 42-17 pummeling of the Wildcats. The Cardinal never looked backed after jumping out to a 21-3 first half lead as Stanford maintained a comfortable 18-25 point separation throughout the second half. In 2010 Arizona held teams to an average of 343.25 yards (37th) and 21.58 points (33rd), Stanford gained 510 yards and held the ball for 37:03. Their defense surrendered yards (428), but made plays when they had to in order to keep points off the board.
Below is a breakdown of some game changing/interesting plays that caught my eye.
Stanford set the tone for the entire game with a well executed, forceful touchdown blow to Arizona's neck on their first possession by way of a play action touchdown pass to Chris Owusu.
After motioning, Stanford lines up in an offset I look. Arizona loads the box and defends with 8 men leaving their corners in one-on-one coverage with safety support over the top.
As soon as this ball is snapped the Arizona defense moves too quickly towards the line of scrimmage. The play fake suckered the linebackers in and kept the corners eyes' in the backfield. Up until this point Stanford has only run the ball once out of five plays; on reputation alone Arizona must respect the run.
The simple thing about this play is it's only a two man route: a Streak at the bottom and an In at the top. Chris Owusu is running the Streak and does an excellent job selling the Curl about 10 yards into the route to shake the corner free before jetting down the field.
Luck loads up and...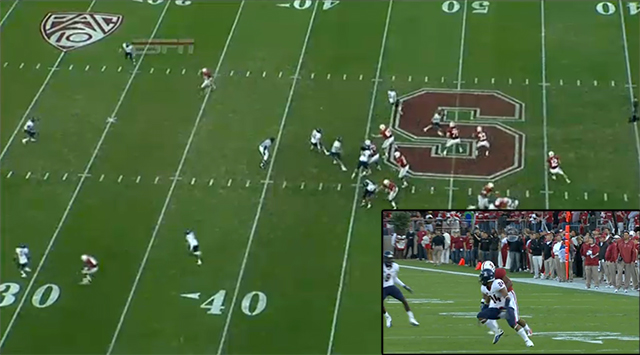 …Touchdown Owusu.
Here's Stanford running another zone read on another critical down (as was pointed out last week).
Owusu is lined up at flanker.
He motions behind Luck to become the pitch man, a nice little wrinkle.
Daylight.
Luck would later run another zone read on 3rd down, keeping the ball himself and picking up the first.
Then in the red zone Stanford would play off their tendency to run the zone read in crucial situations and have their brilliant play calling rewarded with a touchdown.
Owusu comes in motion again, across the formation from the slot.
Luck moves out to his right...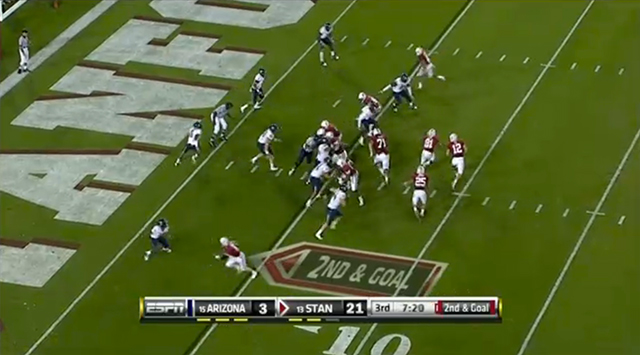 ...Then stops short and shovels the ball to Tyler Gaffney.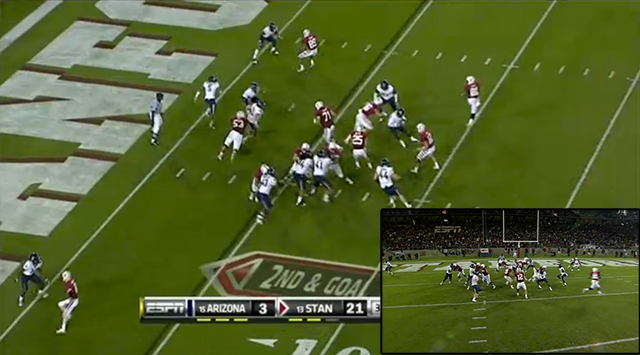 It's an all too easy touchdown.
The bottom line is, as much as a defense must defend Luck's arm they need to know his legs aren't too shabby either and he can run at any time.
And now, here are other observations I had while watching the game:
Andrew Luck cuts the meat, pretty much every ball he threw hit his receiver in stride and on the money.
In the 3-4 OLB Chase Thomas (6-4 239) played a lot of snaps with his hand on the ground.
Like against Oregon, the defense missed a lot of tackles in the open field.
Given that Stanford runs a base 3-4, the down linemen don't stunt on non-blitz plays as much as you might expect. When they do, they seem to favor twisting their two down inside linemen or bringing an end through the A-gap. Most of the time they just slant the line.
Stanford was stopped for very few negative plays, they're always making progress towards a first down.
Five different running backs got carries, but sophomore Stepfan Taylor and Anthony Wilkerson carried the load. Wilkerson is a true freshman and he looks like he's going to be a stud. He's a beast (6-1 220) that hits the hole square, and can accelerate nicely after impact.
In addition to catching balls Chris Owusu returns kicks and is sprinkled into the running game. He reminds me of Eddie Royal, which is high praise if you know me at all. I missed mentioning this last week, but he missed the second half of the Oregon game.
Again, the offensive line dominated. It's a joy to watch them pull around and get out and block in space.
Oh, as if I haven't hyped up Andrew Luck enough, that boy can throw a block too.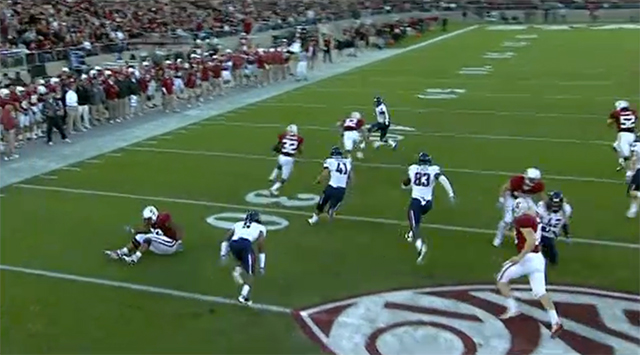 The more I watch Stanford the more impressed I become. They play smash-mouth football, pay attention to the details and have proper fundamentals–a product of outstanding and meticulous coaching. In fact, to speak to their discipline, I don't remember them getting flagged for a single personal foul in either the Oregon or Arizona game. In order to win, we are going to need to play smart and keep pace with their offense.
Check back next week for more on Stanford.