I became a temporary Terrapins fan when I found out Florida State would advance to the ACC Championship Game if NC State lost to Maryland. Yes, I felt dirty supporting those bozos, but I wanted us to play the 'Noles. When it came to fruition I popped off my Grandma's couch, swigged a mouthful of Maker's, pumped my fist, let out a hardy, "Woo!", then showered. For me it's not about redemption of championships lost five and ten years ago, and I do realize that of the two, the Wolfpack would provide the least amount of resistance on route to the Orange Bowl.
I think these Hokies are good. In fact, right now, as of December 3rd I think this team is unstoppable. Actions speak louder than words, so I want this team to be challenged and pushed, not merrily skip to the trophy. The Wolfpack already gave us a run for our money; I'm certain we'd run them out of the stadium in a second go around. I want and got the only marquee matchup available; bring on the 'Noles.
On this team there are ten other guys on offense, eleven on defense, Chris Hazley and Brian Saunders, but all of them have taken a backseat to Tyrod Taylor this season. Tyrod went Godzilla on the ACC this year, annihilating all challengers with a ground and air game that I don't believe we will see slash and pass through Blacksburg for quite sometime. He's done it with class and a quiet confidence that's taken hold of the team and guided this team through adversity and carried them gracefully to success. Point blank, with number five leading the way, I don't fear the spear.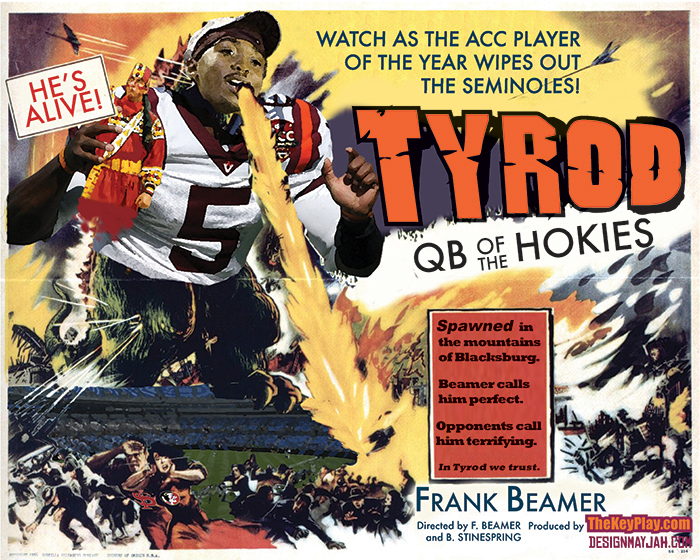 Once again magduffs makes the magic happen, we're not worthy and are eternally grateful for your efforts.
...or anyone else for that matter.
Let's go!