Oregon is responsible for the only blemish on an otherwise pristine Stanford record (11-1). The Cardinal took an early, and what looked like, commanding 21-3 lead over the Ducks, but could not hold on as day turned to night in a raucous Autzen Stadium. I wouldn't say Stanford lost the game as much as Oregon won it. Sure, Stanford turned the ball over four times in the second half, including once on downs starting from 3rd and goal at the 1 (finally stopped on 4th and 1 from the 6). Additionally, Luck's two interceptions were desperate attempts to get back into a game that was slipping away. Therefore, I believe it was more a case of Oregon executing flawlessly on offense and pressuring Luck in the pocket–something that was severely missing from the first half.
After watching the replay last night, I know more than ever that this is an excellent, tough as nails, and well coached football team.
Stanford on Offense
Their physicality, tempo, varied formations and precise execution reminds me of a NFL team.

The "Diamond" formation is all the rage these days.
Their offensive line is phenomenal. They pass protect beautifully, are very sound technically with their footwork and steps when pulling, which they do a lot, and they always seem to make their block. They make defenders disappear. The Power play, where the backside guard pulls around as a lead blocker, is a staple of their rushing attack. A couple of breakdowns are below:
Stanford is in a two tights wing formation.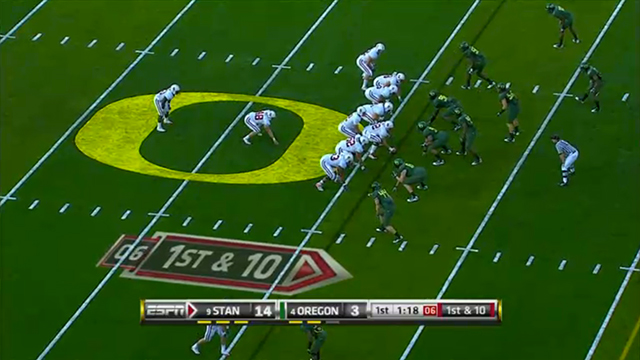 Backside guard David DeCastro is in the hole, set in a power position ready to dominate and the left side of the line has every defender accounted for. Beautiful.
Peace!
This time they run Power out of the Pistol.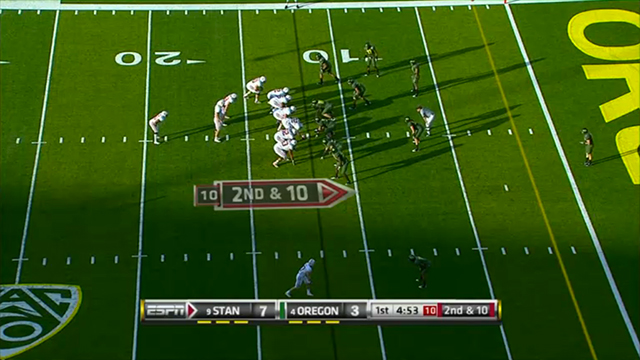 DeCastro is pulling around on his way to obliterating someone.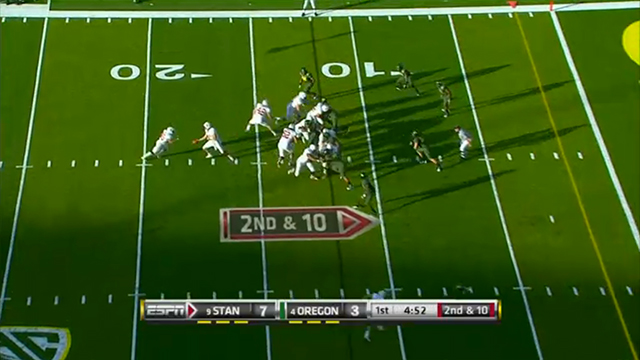 I could hit that hole.
They like to use a lot (read almost every play) of heavy sets with multiple tight ends, and the fullback Owen Marecic not only blocks but gets carries and is incorporated into the passing game. He goes both ways and starts at linebacker. That is beyond impressive.
Andrew Luck has outstanding field vision and an awareness to know where the play is progressing before it progresses. He can make high velocity accurate throws rolling either to his left or right. Oh, and he's got legs too. He scrambles if he's out of options and they run the occasional zone read for a quick big hit.
Here's a zone read out of the Pistol Stanford ran in the 4th quarter for 21 yards.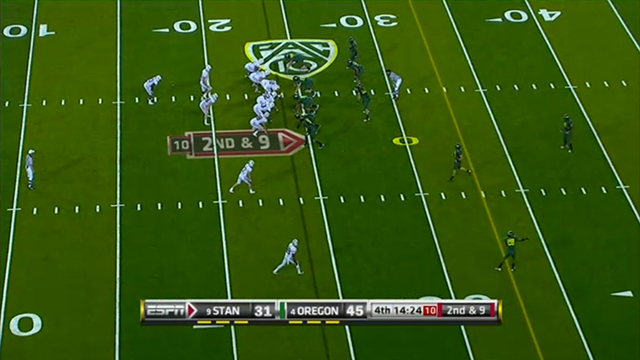 Luck's read fake is able to draw the defensive end to tackle the tailback so Owen Marecic doesn't even need to bother blocking him.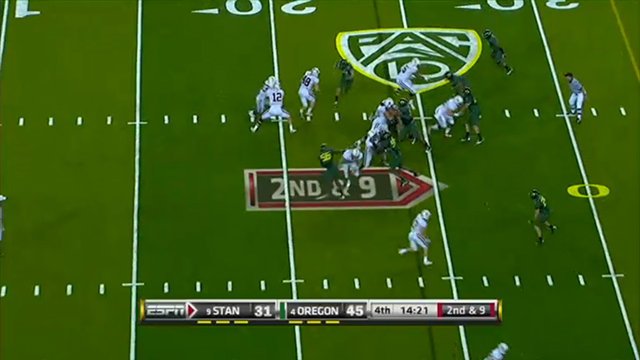 Instead, he peels outside and seals the edge for Luck...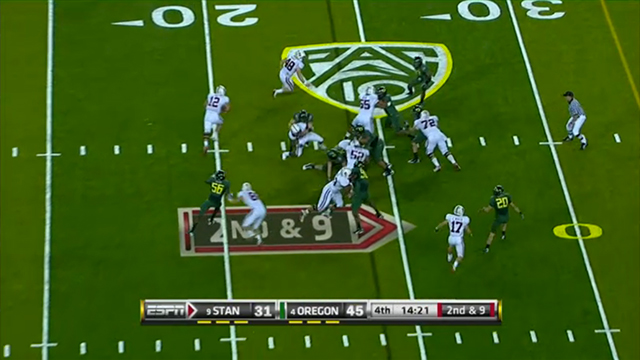 ...who has nothing but daylight in front of him.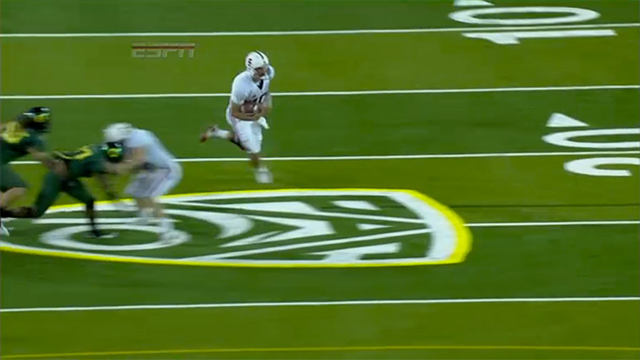 Stanford on Defense
They defended Oregon with a 3-4 and 3-3-5 scheme. They had a lot of different looks out of the 3-4. Sometimes there were only six guys in the box. They blitzed a bunch, from all over the place.

A blitz that resulted in an interception.
Oregon, like they do against every team, had success running the zone read, speed option and wide receiver screens. There were a couple of times when three or four plays in a row they would throw screens outside. Stanford's defense struggled to plays in space. The players lack makeup and closing speed necessary to defend an athletic offense and there were bunches of missed tackles.
Defensive (nose) tackle Sione Fua is not the anchor you need in a 3-4 defense. He can't maintain control of the A gaps or get off blocks quick enough.
The defense will make stops and is a little better than serviceable, but not anywhere near as dominate as the offense.
After re-watching this game it is evident we're going to have our hands full with Stanford. It's obvious though that we can have success attacking the Cardinal in space. Defensively we're going to have to be able to get off blocks better than we did against Georgia Tech and Boise State and play big inside the box. We must be able to turn any of Luck's mistakes into points.
That's all I have for today, next week I will take a look at Stanford's victory over Arizona.